The travel and tourism industry is a major contributor to local economies in many countries. Prior to the pandemic, the tourism sector accounted for 10.3% of global GDP, and is on track to recover.
But what are the different forms of tourism? How is each one defined?
In this article, we'll look at 8 of the main types of tourism and also at the classification of the UNWTO (UN's World Tourism Organization), which divides tourism into three main categories: domestic, inbound, and outbound tourism.
Let's dive in.
The three tourism categories
Broadly speaking, there are three main forms of tourism based on the destination and country of departure, according to the UNWTO: domestic tourism, inbound tourism, and outbound tourism.
Domestic tourism
Domestic tourism is defined as traveling within your own country of residence, either for business or leisure purposes.
It's usually much easier to organize than international travel, since you don't need additional paperwork, health checks, and you can simply take a domestic flight, bus, or train ride to your destination. For example, if you live in London and go to Manchester for the weekend, this is domestic tourism.
Language barriers and culture shock are also not a factor in domestic tourism (at least not in the majority of cases), making it less stressful.
Inbound tourism
When you enter another country, this is inbound tourism for the destination country. For example, if you travel from the USA to Spain, this is inbound tourism for Spain.
Inbound tourism is also a form of international tourism. This means that you need to prepare all necessary paperwork in advance, as well as take care of additional formalities as needed, such as vaccinations and health checks.
Outbound tourism
In outbound tourism, you go from your own country to another one. If we take the same example as in the previous section, if you go from the USA to Spain, this is outbound tourism for the USA, since you're leaving the country.
Outbound tourism is a form of international travel and comes with its own set of formal requirements.
Travel agents are familiar with those and might make traveling easier – but independent travelers can also venture on their own and take care of their own paperwork. Many online travel agencies are specialized in outbound tourism.
The 8 types of tourism according to motivation
We could also define the different tourism types based on the travelers' motivations, goals, and needs. These can be broken down into 8 main types of tourism:
Business tourism
Business tourism or business travel is a subset of tourism in which travelers go to another location (domestic or international) for professional reasons, such as to:
Meet with business partners or prospects
Attend an event, conference, or trade show
Visit another office location of the same company
Online booking has revolutionized business travel – and while there are many ways to manage business travel, among the most efficient options for travel managers and admin staff is to use a business travel platform such as TravelPerk. From one single platform you can plan, book, and manage travel plans as well as track travel spend. Plus, you can offset your carbon emissions with GreenPerk and change travel plans (even last minute!) with FlexiPerk and get 80% of your money back if you cancel up to 2 hours before traveling.
Sometimes, business travelers are extending their trips for leisure or are combining the two under what is now known as "Bleisure" (from business and leisure).
See how to save money on business travel
If you'd like to learn more about business travel and streamline travel management at your company to meet everyone's needs, reduce stress, and optimize expenses, download TravelPerk's Ultimate guide to travel management.
Leisure tourism
Leisure tourism is a broad category that can encompass many different things: adventure tourism, ecotourism, cultural tourism, urban tourism, and more.
Leisure tourism is simply defined as tourism during your free time, in which you relax and experience a different environment than your own.
Local tourist attractions are often a major focus of leisure tourism, although you might very well decide to chill in your resort complex and simply book a bunch of spa treatments, for example.
Food is also a major motivator for many leisure travelers: many tourists visit new destinations to taste authentic local foods. Food tourism can be considered a subset of leisure tourism.
Shopping tourism
Who doesn't love coming back with a suitcase full of exotic items, brand-new clothes, or new gadgets?
Shopping tourism is a popular type of travel among those who want to get a hold of brands and objects that aren't locally available, be it clothes, food, jewelry, souvenirs, electronics, or something entirely different.
Fashion tourism is a subset of shopping tourism and among the top tourist destinations for it are cities like Milan, New York, Paris, London, and more.
Cultural tourism
If you're passionate about other cultures, cultural tourism is probably your idea of a dream vacation, where you get to experience another country's cultural heritage, such as architectural monuments, literature, religion, festivals, theater, music, cuisine, and more.
Because of the rich tapestry of its history, Europe is a popular destination for cultural tourism, and many European countries see a large number of tourists each year.
For those who want to travel to experience different cultures, UNESCO's list of world heritage sites might be a list worth exploring, as it regroups the most significant cultural and natural sites of the whole world.
Sports tourism
Sports or adventure tourism is another type of leisure tourism that is related to a sports activity, such as rafting, skiing, snowboarding, surfing, diving, cycling, and more. Package tours might make it easier to engage in sports tourism at remote locations, rather than organizing everything on your own.
The location of choice will depend on the sport you want to do. For example, if you're into diving, you'll want to look for places with well-preserved coral reefs and a good choice of diving schools, while if you're into skiing or mountain biking, your top choice would obviously be a mountain location with ski-lifts or bicycle-friendly roads.
Teams traveling for sporting events tend to use the services of a travel management company like TravelPerk. There's no need to spend hours searching online for accommodation that will fit your whole sports team: let TravelPerk do the work for you. With the largest travel inventory on the market, we can arrange flights, trains, car hire and accommodation so your team can focus on winning!
On the other hand, sports tourism might also be related to traveling to see a major sporting event, such as, for example, the Olympics or the FIFA World Cup.
Rural tourism
Rural tourism is popular with vacationers who need a break from the hustle and bustle of city life.
Typically, it's a form of sustainable tourism where you go to remote, rural areas to experience a simpler lifestyle and a calmer, less polluted environment.
Local people might benefit from rural tourism in many different ways, while visitors might engage in different tourism activities, such as hiking, orienteering, hunting, fishing, and more.
Mountain tourism
If you love nature, going to the mountains might be the best way to spend your holidays. Mountain tourism is popular among sports enthusiasts, as it offers lots of opportunities to be active in nature: skiing, hiking, and mountain biking being just a few of the many.
Sustainability has been a major consideration in mountain tourism in recent years, because mountains often have fragile ecosystems that cannot tolerate a huge number of visitors or mass tourism. Itineraries follow mountain trails and visitors are often not allowed to stray off the path or camp outside designated areas.
Urban tourism
Urban tourism is a form of tourism that is hugely popular among different demographics, from backpackers to luxury travelers and from recent graduates to retirees.
Top urban tourist destinations in 2022 include Paris, Dubai, Amsterdam, Madrid, Rome, London, and New York, among others, and attract a large number of international tourists each year. In the top 100 list compiled by Euromonitor International, Europe is the most represented continent, with 40 cities out of 100.
Many people travel – but for completely different reasons
People travel for many different reasons and in many different ways – which means the travel industry has to adapt to travelers' needs.
Beyond the ones we listed, there are plenty of other types of tourism, such as medical tourism, religious tourism, wellness tourism, dark tourism, and more. Broadly speaking, however, we could consider leisure and business tourism to be among the two main categories based on travelers' motivation.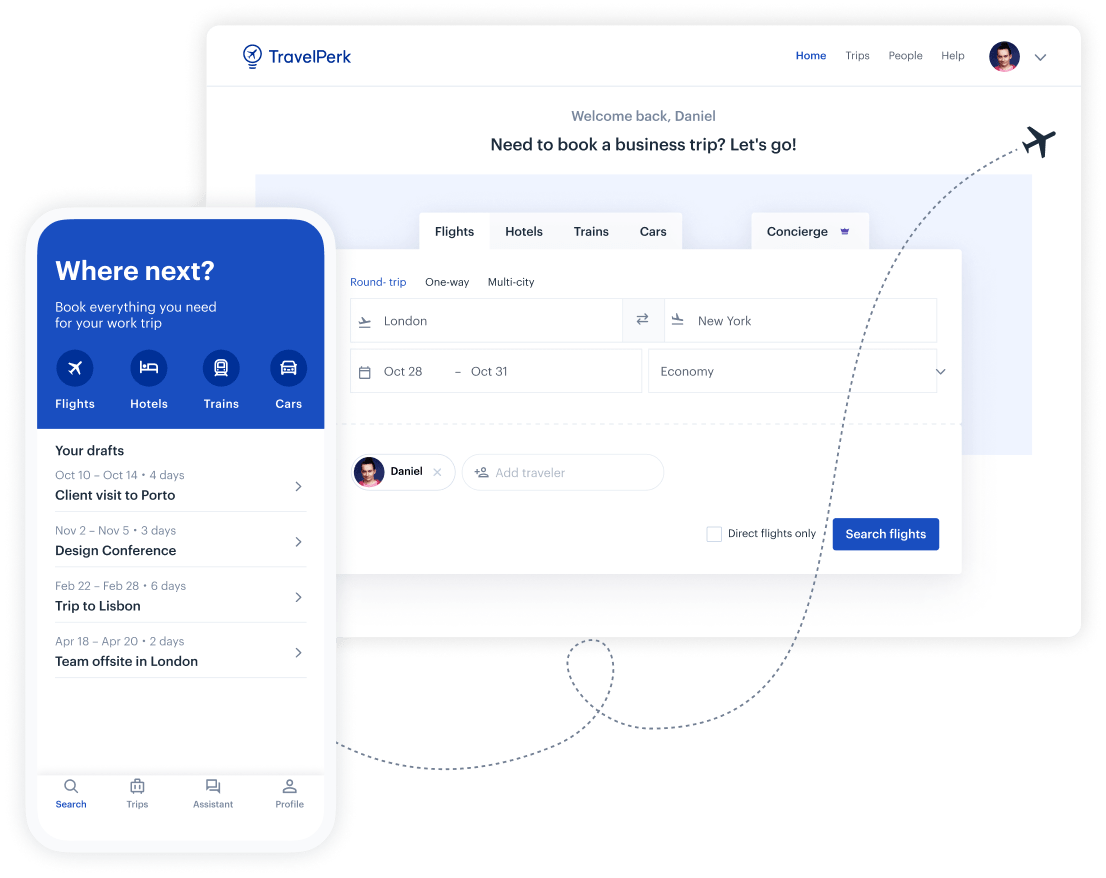 Make business travel simpler. Forever.
See our platform in action. Trusted by thousands of companies worldwide, TravelPerk makes business travel simpler to manage with more flexibility, full control of spending with easy reporting, and options to offset your carbon footprint.

Find hundreds of resources on all things business travel, from tips on traveling more sustainably, to advice on setting up a business travel policy, and managing your expenses. Our latest e-books and blog posts have you covered.

Never miss another update. Stay in touch with us on social for the latest product releases, upcoming events, and articles fresh off the press.