Professionals today are leveraging the same cloud-based technology they used to work remotely during the pandemic to allow them to work while traveling. While combining business and leisure—or "bleisure," as its become known—is hardly a new travel trend, its frequency and variability are.
Bleisure travel stems from a shift in attitudes about work flexibility and the widespread technology that allows us to connect remotely to the office from anywhere. Workers today can more easily incorporate leisure time into their business trips with the increase in hybrid and remote work options. About 47% of business travelers have extended a work trip for leisure in the past year, according to Morning Consult's May survey on behalf of the American Hotel & Lodging Association. But more want to try it: Around 82% are interested in taking a blended trip in the future.
To learn more about bleisure travel trends, TravelPerk compiled statistics from Morning Consult surveys from February and May 2022 (AHLA commissioned the latter) and the Greater Business Travel Association February 2022 business travel recovery poll. All data points are from surveys, which indicates some level of approximation.
Offset your business travel carbon footprint
TravelPerk provides eco-conscious business travel management in an easy-to-use, all-in-one travel planning platform. Offset 100% of your business travel carbon emissions and turn your corporate travel program green.
About 8 in 10 business travelers include leisure activities during trips
Once office workers learned to work from home during the pandemic, many realized they could work from anywhere.
As the digital nomad lifestyle became more mainstream, workers found ways to blend work and play. Of those workers, nearly 50% said they looked up things to do on their own for fun while at their business travel location—another 4 in 10 incorporated visits with family or friends while on a business trip. And 1 in 5 had a family member come with them on their business trip.
After the pandemic, some employees have been more inclined to extend work trips for leisure
About 3 in 10 of the Global Business Travel Association's member organizations said employees are more interested in extending work trips into vacations than before the pandemic.
More than half said the pandemic didn't change their employees' interest in extending trips for fun. Fewer than 20% said employees would be less interested in pursuing extended trips.
Regarding paying for the leisure component of a bleisure trip: 78% of companies polled said they reimbursed workers for the transportation element of the journey, such as a flight to and from the destination. And 4% said they reimbursed employees for other expenses associated with the leisure aspect of their trips, such as a hotel room, rental car, and meals.
The best business travel management software
Let your employees book for themselves using business travel management software that includes your custom company travel policy. Easy approval processes, automatic employee reimbursals, and nothing out of policy allowed – TravelPerk is business travel management made easy.
Most bleisure trips last between two and six days
Technology has expanded how people combine business and leisure travel. Blended travel has often involved adding on a day or two of fun before or after a business event. Now workers can bring the technology they need to work on the road for extended periods.
While most blended trips still last less than a week, Morning Consult found workers today can be on the road for longer. That means employees might take time off for vacation and then stay in that destination to work for several more days. Some who have to travel to multiple cities opt to stay in one place longer—or travel to a more conveniently located destination for their work trips—instead of returning home between trips.
The guide to corporate travel management
Don't leave your CEO stranded on the tarmac. Book all aspects of corporate travel easily, flexibly, and collaboratively – learn how with TravelPerk's guide to corporate travel management.
'Bleisure' travelers listed many reasons they preferred to blend business and leisure travel, including cost and connecting with people
In the Morning Consult survey, respondents said that the top reason for adding personal activities to a work trip is that it makes a trip more fun. Additional motivating factors are that it can offer quality time to visit with family and friends—or bring them along—so that travelers can connect with business colleagues as well as loved ones.
Saving money on costs was also viewed as an advantage. If an employer covers the transportation portion of a trip, travelers can better control their personal expenses. Adding some personal days to a trip can increase flexibility to travel during off-peak times or days of the week, saving employers money.
Morning Consult also notes that work travel can take people to locations that weren't previously on their radar, which is another incentive to add vacation onto a work trip.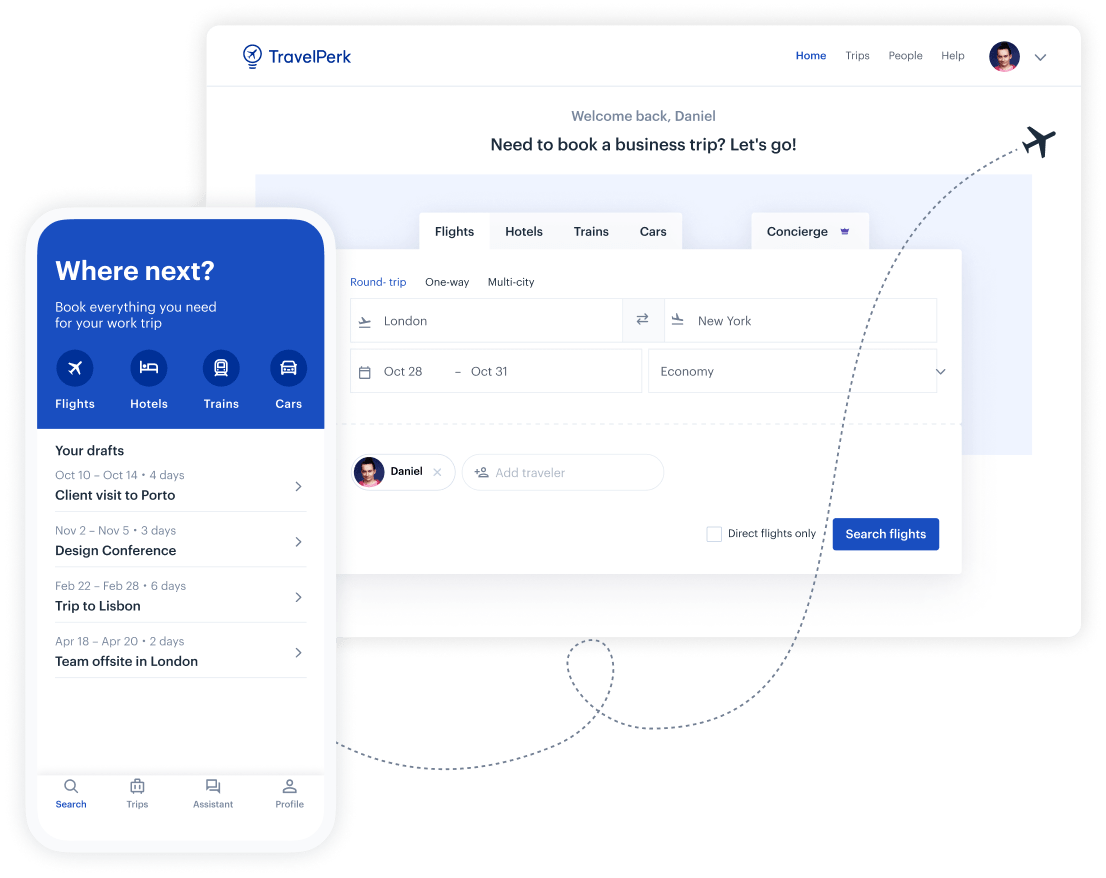 Make business travel simpler. Forever.
See our platform in action. Trusted by thousands of companies worldwide, TravelPerk makes business travel simpler to manage with more flexibility, full control of spending with easy reporting, and options to offset your carbon footprint.

Find hundreds of resources on all things business travel, from tips on traveling more sustainably, to advice on setting up a business travel policy, and managing your expenses. Our latest e-books and blog posts have you covered.

Never miss another update. Stay in touch with us on social for the latest product releases, upcoming events, and articles fresh off the press.