Did you know that on average, Americans exercised 25% more often during the quarantine than before? If you're one of those people who developed a great at-home workout routine over the past year and want to maintain it as you get back to traveling for business, you're not alone. 

Business travel will undoubtedly interfere with your daily routine. Maybe you got used to doing 30-minutes of yoga every morning before work, going for a run at lunchtime, or shredding a Sweat by Kayla workout at 6 pm.
Whatever you've been doing, it can be difficult to maintain this when you go on a business trip. But just because you can't do the workout you're used to doesn't mean you can't squeeze in a bit of time to work on your fitness goals on the go. 

So, what can you do to stay healthy and fit when traveling for business? Here's a quick list of our best fitness travel tips to keep you active!
1. Book a hotel with a fitness center
Whether you're booking a business trip for yourself or asking your company's travel manager to do it, make sure you stay in a hotel with a fitness center. Many good hotels will at least have a small gym with a treadmill or bike and a few weights. You can also find hotels with swimming pools or more complete gyms with group classes.
This is a great way to get in a bit of exercise before you start your day, or wind down when you get back to your hotel. Some hotel gyms will even be able to provide you with a personal trainer if you ask for one! 
2. Find some great running routes
Spend a bit of time at the airport before your flight researching the best running routes at your destination. You'd be surprised at how many fitness blogs there are out there with great tips on where to run, wherever you go.
Even just finding the nearest park or lake to your hotel will be enough to motivate you to squeeze in a 20-minute morning jog before your big meeting. Your mind and body will thank you!
3. Download a fitness app
There are fitness apps for pretty much everything nowadays. From the Nike Training Club to MyFitnessPal to Glo, there's no excuse not to have on-demand workout classes on your phone. Got 15 minutes to spare before your big work dinner?
That's a good time to get in a quick stretch or high-intensity workout to clear your mind and energize your body in your hotel room. This will help with both your physical and mental wellbeing, will make you more productive, and will even lift your spirits for the tasks ahead.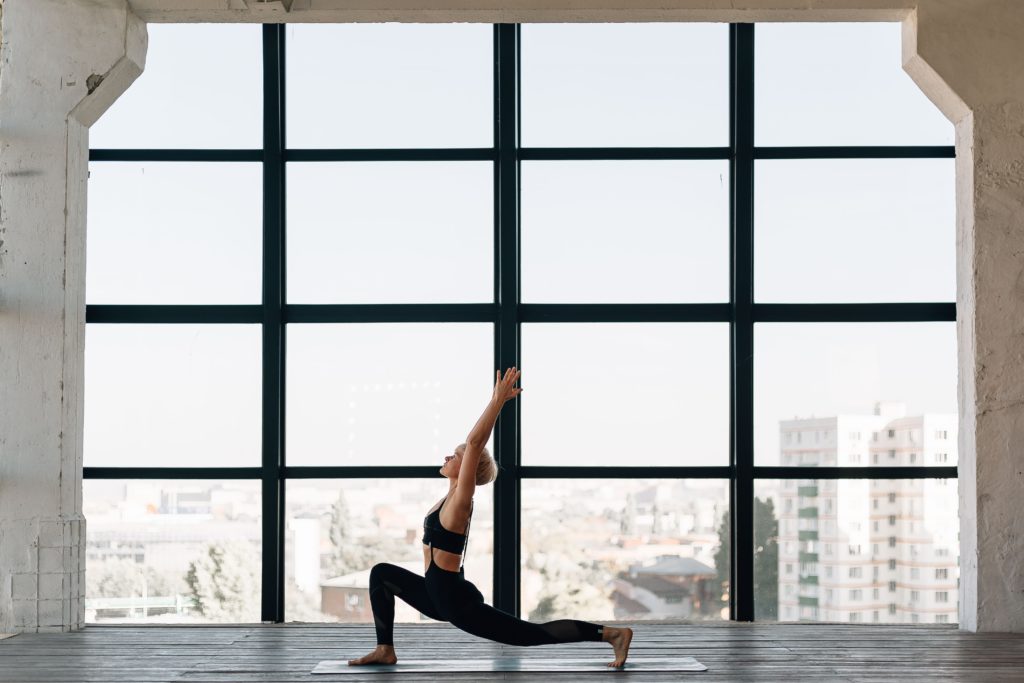 4. Get those legs moving
An easy but effective way to exercise without getting your sweat on is to walk through the city you're visiting. Skip the taxi ride or chauffeur service to take you from your hotel to the office! Get your legs moving and walk! Even just 20 minutes of walking a day can have incredible health benefits, from improving your mood to increasing your energy.
It's a great way to get your heart rate up (but not too high up) and is known to reduce the risk of heart disease and diabetes. 
5. Make time for a workout
We know you've got a busy schedule. We know you're on this trip to work and get things done. But you don't have to do it at the expense of your own well-being! Pencil a time into your agenda for a quick workout and stick to it.
Keeping a routine and committing to an activity of this kind is going to keep you grounded and healthy. It's important to carve out time for yourself on any business trip to rest and recharge. You don't flake out on your meetings with colleagues, so don't ditch your workout time either.
6. Don't forget to eat and sleep
This might be an obvious one, but you'd be surprised at how many business travelers get too busy to eat and sleep properly. From countless business lunches and dinners to staying up late to finish that report, there is a myriad of ways to neglect your most basic needs.
Eating healthy food and getting a good night's sleep is paramount to you being a productive team member. If you're not going to take care of your eating habits and sleep patterns for yourself, then do it for the better results you'll get! 
7. Mindfulness matters too
Sure, mindfulness isn't exactly fitness—but it's just as important to your overall well-being. Download an app like Headspace to help you clear your mind after a long day's work. You'll see how much just a few minutes of meditation can help boost your energy and put all the information you received into perspective.
There's nothing more frustrating than replaying every detail of your day in your head before bed, and practicing mindfulness and meditation can help with that. Mental health is just as important, if not more so, than physical wellness, so don't forget to care for your mind as well as your body.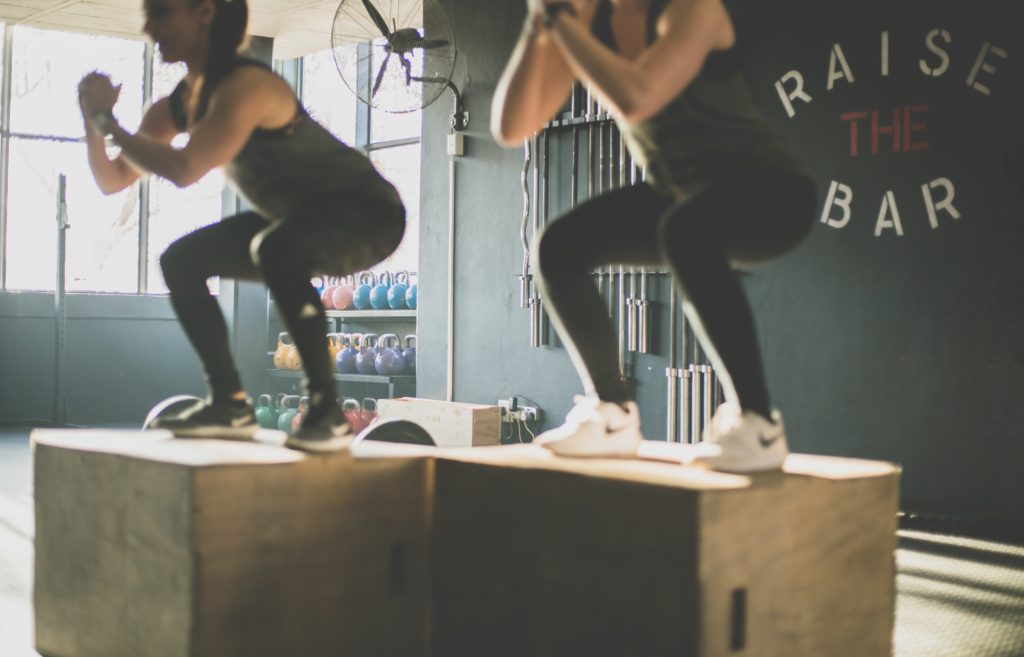 8. Don't forget to pack for fitness
When preparing your packing list, make sure you leave some room in your carry-on suitcase for your workout clothes and accessories. Make it easy for yourself to maintain your exercise routine by bringing everything you need with you, including running shoes, clothes, and even Fitbits if you use them!
Sure, a yoga mat might be a bit big to take with you, but something like resistance bands, a swimsuit, or small weights are sure to fit just fine. 
9. Use your free time to try something new
Why not take a few hours off and try a new sport activity? Find out what's trending at your destination and give it a go! Sign up for a Zumba class, aerial yoga, scuba diving, yogalates, kickboxing, or whatever the "it thing" is to do in the city you're visiting.
You'll disconnect from work, take a break from your routine, try something new, and maybe make some friends!
10. Be careful of overindulging
It can be very easy to take it a little too far at a business dinner or lunch. The company is paying, the drinks are flowing, the conversation is engaging… And the next thing you know, it's 3 days later and you haven't given your digestive system a break from any of it.
Healthy eating is one of the best methods for staying fit when you're away from home. Work on forming some healthy habits when you're on the road to eat well from the moment you wake up until you get back from that all-important dinner.
Did you find this article useful?
If you did, please follow us on our social media accounts on LinkedIn or Instagram. Please share the article with your friends or colleagues!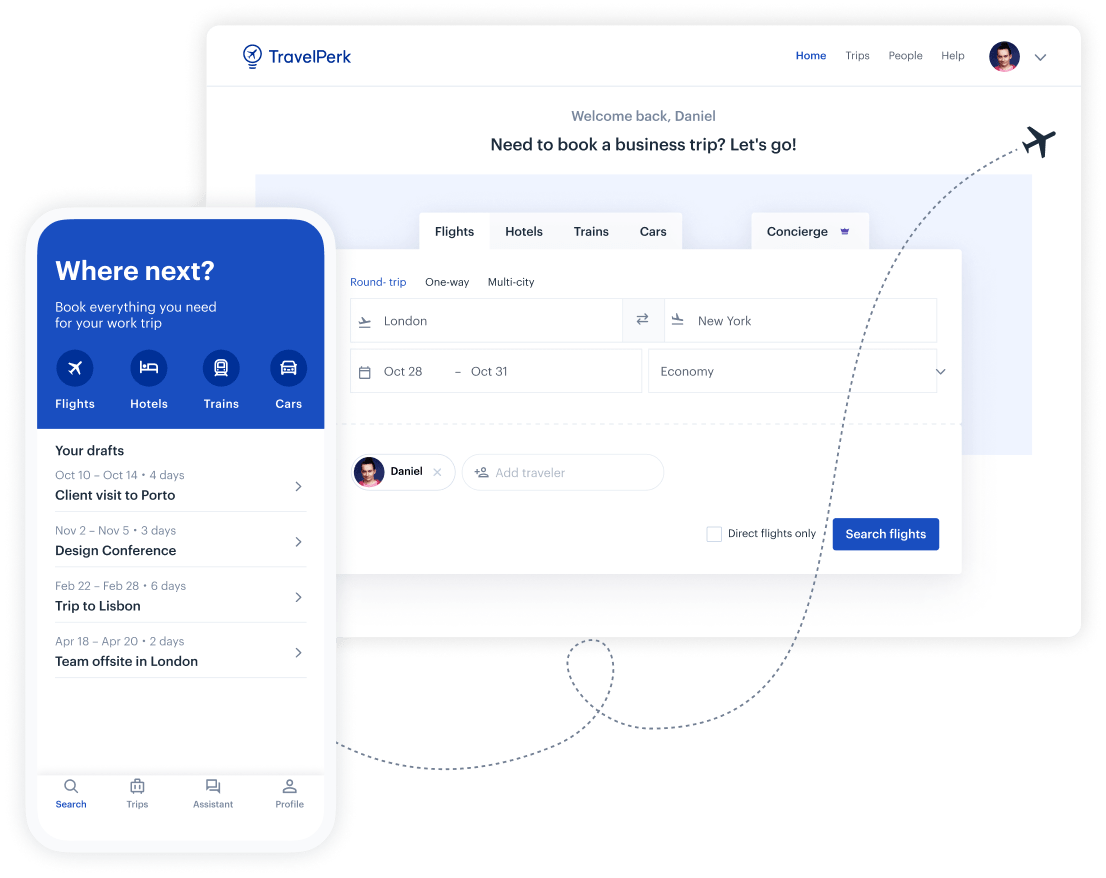 Make business travel simpler. Forever.
See our platform in action. Trusted by thousands of companies worldwide, TravelPerk makes business travel simpler to manage with more flexibility, full control of spending with easy reporting, and options to offset your carbon footprint.

Find hundreds of resources on all things business travel, from tips on traveling more sustainably, to advice on setting up a business travel policy, and managing your expenses. Our latest e-books and blog posts have you covered.

Never miss another update. Stay in touch with us on social for the latest product releases, upcoming events, and articles fresh off the press.