Let us paint you a picture.

You're in charge of managing business travel for your company. You're sitting at your desk, staring at your inbox with 1000 unread emails—most of which are marked "urgent". You've spent the whole morning on the phone with different airlines and travel agencies because you've got one business traveler, let's call him Bert, stuck in Paris. France has just extended its lockdown, and Bert's flight home has been canceled. He's called you 15 times. Your other tasks are starting to pile up, your checklist for the day is getting longer. You have to find a way to get him home today. It's a task that's proving harder at every turn.

Sound familiar?

We thought so. The thing that many travel managers like you don't know yet is that there is another way. An easier way. Enter the travel management platform.


What is a travel management platform?
A travel management platform, or travel management system, is a tool that helps professionals like you book, manage, report, track, and analyze your company's business travel. It's typically a digital platform that offers you a top-notch travel inventory and helps you oversee and manage everything related to business travel in one place.

By using a business travel platform, you can say goodbye to hours spent on the phone with agents. You can forget about calling different airlines, or opening countless tabs to online booking tools aimed at consumers, just to find the right itinerary. The days of searching for booking confirmations in your emails are gone. Suddenly, your job gives you fewer headaches, is more enjoyable, and you have a corporate travel program that people want to follow.

That's what this kind of travel technology can do for you.
How to know if you need a travel management solution
If you're wondering whether a travel management platform is really for you, ask yourself the following 10 questions.
1. How long does it take you to book a business trip for an employee?
If the booking process takes you any longer than a few minutes or a couple of clicks, you need a travel management platform.
2. Do you still need to use the phone, a travel agent, travel consultant, or email to manage business trips?
Step into the future of the business travel industry. You need a travel management platform!
3. How many invoices do you have for each trip you book?
If it's more than one, you need a travel management platform that helps you with expense management.
4. How long do your current service providers take to help you solve a problem or answer a query?
If it's any longer than 15 seconds, you need a travel management platform.
5. How do you track travel restrictions at home and at a traveler's destination?
If you're scouring the Internet for updates on government websites or in the news, you need a travel management platform.
6. Do you reclaim VAT on business travel expenses? How difficult is that process?
If you're not reclaiming VAT, or if you're jumping through hoops every time you need to do so, then you need a travel management platform.
7. Can travelers book their own trips, or do you always have to do it for them?
If it's only you booking these trips, then you need a travel management platform.
8. Do you end up spending more money booking flexible fares, or paying high cancellation or change fees?
If that's the case, especially in today's uncertain world, then you need a travel management platform.
9. Are you having a hard time getting travelers to adhere to your corporate travel policy?
If so, then you guessed it! You need a travel management platform.
10. Are you trying to make your travel policy greener, but don't know how?
If you want to put the planet first, and business travel second, you need a travel management platform.

What services should a good travel management company offer you?
Good question. It's one that we answer at length in our ebook "How to Choose a Business Travel Booking Solution", which you can download here. Read on below for a sneak peek into all the considerations you need to take into account when looking at travel management companies.

The first thing that you need to know is that business travel has changed. It's not the same landscape in 2021 as it was in 2019, and we all know why. The year 2020, marked by the global health crisis due to COVID-19, has transformed business travel. Travelers, travel managers, financial controllers, and travel agents are all having to adapt their needs and travel programs to suit our new reality. That's why working with a travel management company that has not only prepared for the future but is helping shape it, will be fundamental to your business. 
So, what do you need to think about when choosing a travel management company in the "new normal"?
1. Choose a company that understands how important flexible travel really is
One of the biggest trends we see going forward is the need for flexibility in your travel itinerary. We've long known that we live in a volatile world, and that holds even more true in the pandemic and post-pandemic eras. Travel stakeholders will need the ability to change, cancel, or modify any aspect of their trip at any time without incurring additional costs.
2. Choose a company that keeps you up-to-date on all the latest travel restrictions in real-time at every step of your journey
Traveler safety is paramount in our new reality. You shouldn't have to chase travel safety information when planning a business trip. It should at least be available to you at the point of booking, and ideally at every stage of the travel flow. A travel management company that provides you with this information as you browse through its inventory will make your job a lot easier. It should also keep you apprised of all travel restrictions affecting a booked business trip in the days leading up to the trip itself. It take your duty of care and risk management to the next level
3. Choose a company with a broad inventory that gives you options
Find the itinerary that suits your business and your business traveler best. You don't need to make concessions! With a good travel management platform, you can make business travel work for everyone. That starts with having a choice—the ability to select from a range of options (on flights, hotel rooms, train tickets, car rentals, and more) and decide what works for you and what doesn't.
4. Choose a company that empowers you to save on business travel spend
Yes, we do live in a time where cash is king. A great travel management company will provide you with the most cost-saving inventory to help take your business travel budget further. It will also guide you through finding new ways to save and optimize that budget through things like VAT reclaim.
5. Choose a company that offers a comprehensive, all-in-one service
Wave goodbye to calling different providers for different services. With a travel management platform, you can streamline every aspect of the travel management process in one place. Want to book a trip? Do it on the platform. Report on expenses? Get the info from your platform. Check the latest travel restriction information at a destination? Consult your platform. Get one invoice for everything relating to a trip? Yep, your platform should be able to do that too. Let your travelers access all this information straight from a mobile app? Yes, a good business travel management platform should empower them to do that too.
6. Choose a company that helps you make business travel greener
No, sustainable travel is not just a "nice-to-have" anymore. Business travel can play a significant role in helping the world achieve the 2030 Agenda. The travel management platform that you choose should understand that, and help you implement green travel policies across your company.
Yes, you do need a business travel management platform!
Looking for a business travel management software or company (a TMC) can be challenging. From understanding whether you need one in the first place to choosing the right solution for you, the process can be difficult. But, having the right travel services on hand with all the functionalities you need to make it work for your company can make a world of difference.

So, what's the verdict? We encourage corporate travel managers to give it a try! Whether you're looking for a travel tool to help you implement reimbursement policies, for example, or make the booking process and travel experience better for employees—getting the right tool is the answer. Your internal travel partners (like the business travellers themselves, or your finance and admin teams) will thank you!
Did you find this article useful?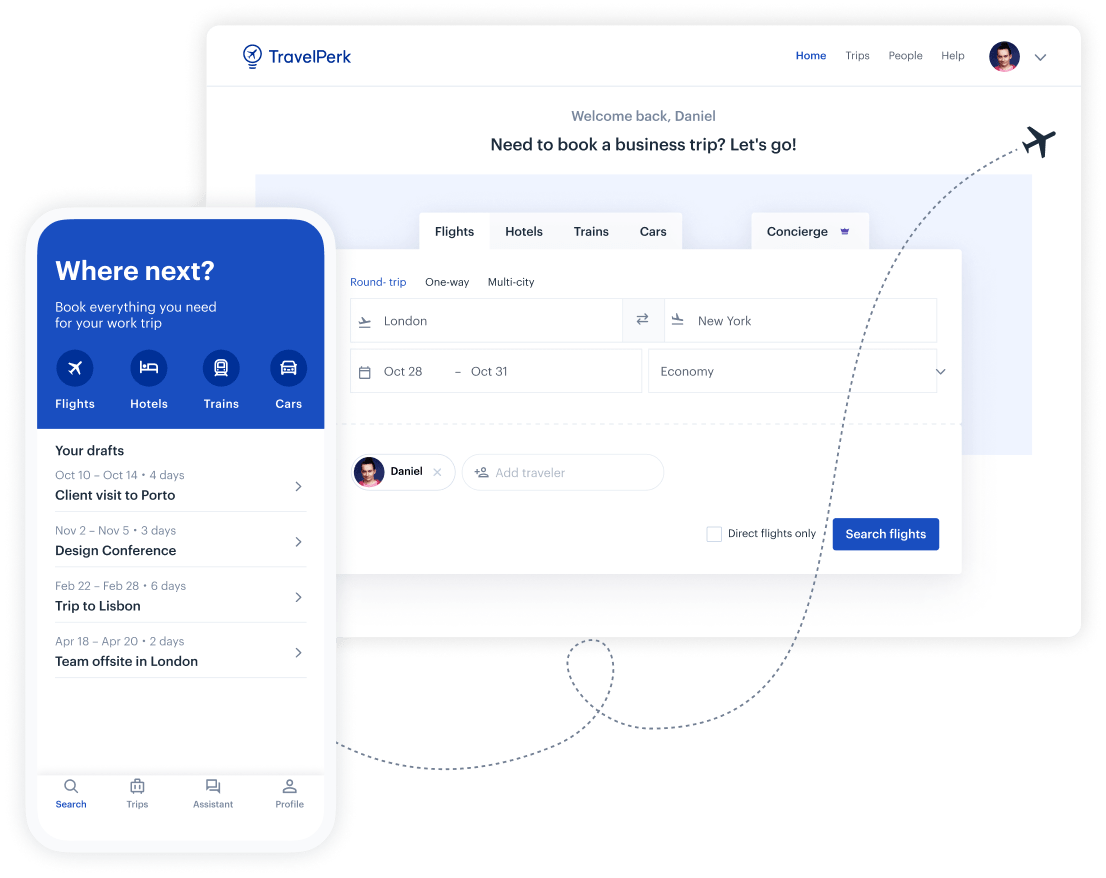 Make business travel simpler. Forever.
See our platform in action. Trusted by thousands of companies worldwide, TravelPerk makes business travel simpler to manage with more flexibility, full control of spending with easy reporting, and options to offset your carbon footprint.

Find hundreds of resources on all things business travel, from tips on traveling more sustainably, to advice on setting up a business travel policy, and managing your expenses. Our latest e-books and blog posts have you covered.

Never miss another update. Stay in touch with us on social for the latest product releases, upcoming events, and articles fresh off the press.