Is your organization stuck using spreadsheets, email threads, and Slack messages to manage important corporate travel arrangements?
Using a variety of different tools that aren't built for managing modern, often complex business trips is expensive, time-consuming, and opens you up to making many costly mistakes. Plus, without a centralized travel management solution, you have no insight into how efficiently your travel budget is being spent or how and where you can make savings.
Thankfully, if your organization is based in Dubai and you're looking to better manage your business travel needs, save time on tedious processes, and enjoy discounted travel rates, there are several travel management companies that can help you do just that.
For organizations looking to centralize and streamline their business travel management processes, we've put together this guide -- including a list of travel management companies in Dubai -- that covers:
The benefits of using a travel management company for booking and managing corporate travel
The core features to look for when choosing a travel management company
A review of the top six corporate travel management companies in Dubai
What are the advantages of using a travel management company?
No matter how many business trips your employees take, it's likely that a significant portion of your expenditure is spent on flights, accommodation, and other travel expenses.
Without proper management of the expenses involved in travel programs, your travel budgets, and therefore your future business travel plans are at risk of being cut short. In fact, it's common for organizations without a centralized travel management solution to run into many business travel challenges including inaccurate expense reporting, overspending, and high levels of non-compliance with business travel policies.
Here are just a few ways that modern corporate travel management companies in Dubai can streamline your travel management processes:
Centralized corporate travel management: Rather than sporadic spreadsheets and complicated email threads, travel management companies help you centralize all processes related to business travel. Nowadays, a modern travel management company should provide their own platform for maximum visibility into expenses, invoices, business travel plans, and travel policies.
Self-booking engines: Again, modern travel management companies should enable your employees to make their own travel arrangements via a self-booking engine, helping to streamline all travel booking processes.
Make data-driven decisions: When you use a travel management company to handle your business travel arrangements, all of your travel data is centralized in one place which helps them make suggestions on how you can best optimize your business travel plans.
Focus on your business travel needs: Organizations who don't use a travel management company to manage business travel often elect an existing employee to take on this task. However, this employee also has primary responsibilities and priorities, which means business travel management is often mismanaged. Travel management companies are focused solely on your business travel needs with no other distractions.
Save money on travel and accommodation costs: Travel management companies negotiate the best corporate travel rates on your behalf and can even help you establish long-term partnerships with hotels and airlines to help you save money on an ongoing basis.
Optimize your travel spend and budgets: Travel management companies compile travel and expense reports on travel spend, including breaking down expenses by team, department, or project to help you optimize future budgets.
Streamline travel policy compliance: Even organizations with travel policies in place are prone to employees making business travel arrangements that fall outside of your travel policy guidelines. Travel management companies can help you ensure that all of your business travelers are complying with your travel policy by flagging and/or blocking any unauthorized bookings.
Features to look for when choosing a travel management company
When comparing travel management companies in Dubai, you need to know the key features that a robust travel management company will offer.
When you choose a travel management company, you need to make sure that it's equipped to handle the intricacies of corporate travel programs. Travel management companies that don't offer the core features needed to support corporate travel management will have many of the same limitations as organizations that manage their own travel programs.
Below, we go through the key features to look out for to help you better manage your travel program, ensure the safety of your business travelers, and streamline cost-effective travel:
Extensive travel inventories: Access to a wide range of travel and accommodation providers allows you to compare prices, dates, and offers that best suit your business travel needs.
Flexible booking options: Flexible booking options allow organizations to make room for any last-minute changes to travel dates or cancellations after booking free of charge or for a minimal cost.
Centralized invoice collection: Some travel management companies don't act as a single vendor meaning that you'll still need to collect and collate invoices from various companies. Travel management companies that offer a system that consolidates all of your monthly invoices into one single vendor invoice can save you a lot of time and hassle.
Built-in approval workflows: The ability to embed travel approval workflows into your travel management company's system is a very important feature. Not only does this feature allow you to save time on the back and forth, but you can also customize the workflows according to each business traveler.
Stellar customer support: Unforeseen circumstances are a part of business travel, and you need to be sure that when things change, your travel management company is at hand to provide the support you need. Forget robo-calls, a human, easily-accessible customer support function is what you need to help you deal with any issues you and your travelers run into.
Multiple transportation options: Not every business travels internationally, plus, the ability to book different transportation options such as rental cars and trains via the same platform is an extremely helpful feature.
Integration with travel policies: Travel policies that can be built into a travel management company's platform helps organizations to enforce compliance while also enjoying cost savings on business travel.
Reporting capabilities: Travel management companies that compile reports that break down travel data by each business traveler, transport type, booking type, cancellations, and recoverable VAT helps organizations identify and implement spend optimization activities.
The 6 best corporate travel management companies in Dubai
Now that we've taken a look at the features a great travel management company offers, let's take a look at a handful of corporate travel companies and online booking tools that are equipped to serve your unique business needs, industry, and budget.
Below is our pick of six of the top travel management companies in Dubai.
TravelPerk is a travel management company that offers an all-in-one digital platform for corporate travel. Its innovative platform manages the entire business travel booking process from start to finish, with traveler self-management at its core -- every aspect of corporate travel can be managed from within TravelPerk's centralized platform.
As well as access to the world's largest travel inventory for flights and accommodation and a huge catalog of integrations with third-party software, users can also enjoy TravelPerk's other unique corporate travel services, including a VAT recovery solution, a carbon offsetting program, and FlexiPerk, a cancelation policy that grants users the ability to cancel business trip arrangements up to two hours before departure with a guaranteed refund of 80%.
On top of these features, TravelPerk users benefit from:
All of these features combine to form the end-to-end travel management platform that you can rely on to help optimize and streamline your travel management programs.
Although TravelPerk's platform and support function aren't available in Arabic yet, international companies with international travelers that are comfortable using the tool in English can still benefit from TravelPerk's intuitive, easy-to-use tool. For example, Changi and Drakken are just two very happy TravelPerk customers based in Dubai!
As you'll notice, TravelPerk is the only company on this list that focuses solely on corporate travel management and the needs of businesses. If you want to learn more about how TravelPerk can streamline your organization's business travel program, reach out today for a free demo.
2. Sky Line Travel
Sky Line Travel is a travel and tourism company with over 30 years of experience. The company also offers a corporate travel management service.
Sky Line Travel's main corporate travel management features include:
Large airline inventory (400+ airlines) including 220 low-cost carriers
Inventory of 3,000,000+ hotels & guesthouses
Corporate booking tool (including travel policy validation, trip requests, approvals, and bookings)
Worldwide car rental service
Dedicated business travel consultants
Support with travel policy creation
Management information system for travel report creation (including identification, "rogue" trip approvers, late bookers, and slow approvers)
Sky Line Travel offers many useful features, but isn't an end-to-end solution for businesses since it doesn't offer any support for invoicing or travel expense reporting, has no approval workflows in place to ensure compliance, and doesn't provide key features such as a VAT recovery feature nor a carbon offsetting program.
3. Omeir
Omeir is a travel management agency based in Abu Dhabi that offers customized travel solutions for customers and runs a specialist department for corporate travel.
Although Omeir isn't solely a corporate travel management company, it does offer many corporate travel services specifically for business travel:
Dedicated account manager
Personalized assistance in organizing travel plans
On-site office facilities (on clients' premises to exclusively cater to the travel needs of each company's employees)
Online booking portal for air travel
Accommodation booking
Itinerary management
Travel spend reports and analytics
Event management
Travel risk management
Omeir offers a good range of corporate travel features, however, since the company only offers an online portal for booking flights, corporate travelers miss out on the opportunity to book all of their travel arrangements via one centralized platform, meaning that users will come up against a lot of platform switching.
4. Al Naboodah Travel
Al Naboodah Travel is a Dubai-based travel agency that also provides corporate services. Established 60 years ago, the company is committed to delivering "high quality and innovative customer service" and "blending professional advice with innovative travel products at competitive prices".
Al Naboodah Travel's main corporate travel management features and services include:
Travel policy integration
Travel spend analysis
Conference and meeting planning
Airline, hotel, car rental, and train reservations
Traveler tracking
After office hours and holiday emergency travel assistance
Although AL Naboodah Travel offers clients a range of helpful corporate travel features, it lacks a centralized travel management platform, support for invoicing and travel expenses, as well as a VAT recovery solution.
5. AMR Travel
Established in 2009, AMR Travel is a young travel and tourism company based in Dubai that also provides corporate travel management assistance.
AMR Travel offers the following services to corporate business customers:
Management of traveler safety and security
Data management
Credit card management
Negotiated corporate airfares and hotel rooms
While AMR Travel does offer some corporate travel features, since the company is not dedicated to corporate travel, without invoicing support, a 24/7 customer support function, or any reporting capabilities, it lacks the holistic platform businesses need for reliable travel management.
6. Al-Futtaim Travel
Al-Futtaim Travel is a leading travel management company in the United Arab Emirates (UAE) that also offers corporate travel services.
Although the company isn't wholly dedicated to corporate travel management, it does offer several important business travel features, including:
Dedicated account management
24/7/365 service with an out-of-hours team for emergency assistance and last-minute changes
Global reporting tool
Travel policy creation
As a corporate travel management tool, however, Al-Futtaim Travel has its limitations. For example, the company doesn't offer an integration with travel policies for 100% booking compliance, any third-party integrations, or a significant inventory for flights or accommodation.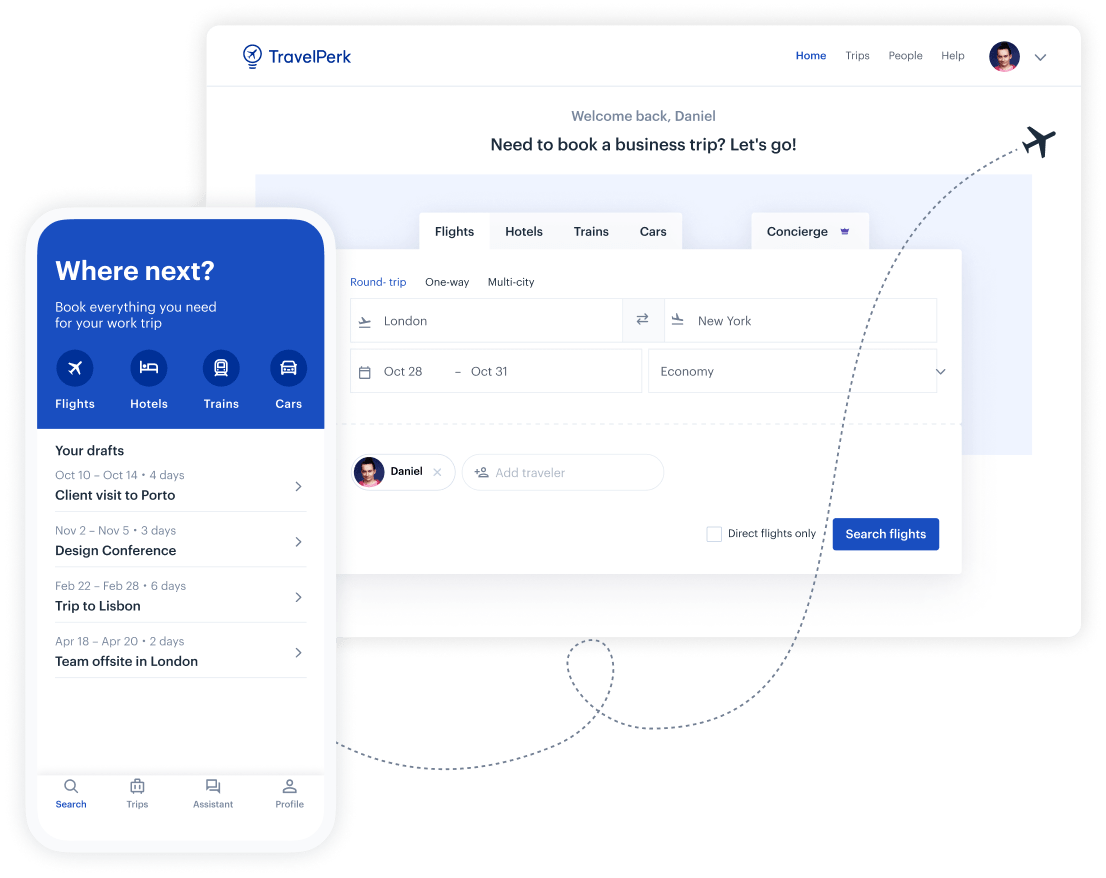 Make business travel simpler. Forever.
See our platform in action. Trusted by thousands of companies worldwide, TravelPerk makes business travel simpler to manage with more flexibility, full control of spending with easy reporting, and options to offset your carbon footprint.

Find hundreds of resources on all things business travel, from tips on traveling more sustainably, to advice on setting up a business travel policy, and managing your expenses. Our latest e-books and blog posts have you covered.

Never miss another update. Stay in touch with us on social for the latest product releases, upcoming events, and articles fresh off the press.