If there's one thing a modern employee doesn't like, it's being micromanaged. Especially if it's something they could easily do – and would enjoy doing – their own way, like business travel. With modern employees demanding more flexibility in their job and lifestyle, it's natural that business travel falls into the same realm. The priority for the modern employee is work-life balance.
The problem with managed corporate travel
The new generation of business travelers are tech-savvy and less likely to stick with strict, outdated travel policies and methods. Companies that understand the importance of keeping their employees happy are adapting the ways they let business travelers book and organize their business travel.

Business travelers are increasingly going rogue. Why? They simply prefer self-booking over the agency route. Self-booking lets them collect loyalty points, fly with their favorite airlines, even have the eco-friendly option to choose trains over planes. Travel agencies lack options and and the freedom travelers want to arrange their own trips. Without the middleman, the business traveler tends to save a lot of time after eliminating the back-and-forth usually required to book travel. Overall, self-booking is just less annoying and more satisfying.

Managed corporate travel also tends to be more expensive than unmanaged business travel. Having travel managers, office managers or assistants book company travel requires effort that destroys productivity and stresses out admin teams.
The solution
Let business travelers book their own trips!

But do it strategically....

Employees can use corporate travel sites to book their own business travel with the same freedom as when they book their leisure travel, but can do so in a way that stays within your travel policy and saves your company money. By using a smart booking tool, employees can still get the freedom they need within policy.

This will:
Improve employee satisfaction
Improve adherence to travel policy
Save company money
Below, we break down the three reasons why you should let employees book their own travel.

1. Improved Employee Satisfaction
Employees who feel they have control are more satisfied with their jobs. Most modern business travelers enjoy researching the area they're going to travel to and how they want to do it.

Today's business traveler prefers an à-la-carte trip. They like to make their travel decisions the same way they do for leisure travel: reading online from a variety of sources and choosing what suits them best.

Nobody likes having limited choices. One employee might want a hotel room in city center, right next to all the action. The other might want an Airbnb in a quieter residential area, with a kitchen so they can cook a healthy meal at the end of the day. In the bad old days of travel management, this might not have been a possibility, but in the good new days, it's completely possible .

It's also important to remember is that frequent travel is stressful and can have major consequences on health. If employees are forced to travel outside of their own terms, long-term consequences can be anxiety, depression, poor sleep, and ultimately unsatisfied and poorly performing employees.

Modern business travel doesn't look all business anymore—it's creeping closer to resembling leisure travel. The majority of business travelers today extend their business trips for leisure activities. They want to discover and explore and some want those Instagram-worthy shots. Allowing travelers a flexible date range so they can stay and sight-see or leave early to have a day to themselves is more of a necessity than a bonus these days.

Offering travelers control and flexibility lets them feel their best, thus performing their best—87% of travelers say that the quality of their travel has a direct effect on their business performance.
2. Employees Find the Best Deals
It's not just a plus for the business travelers. Companies can also save more money by letting employees book their own travel. Being open to trusting business travelers to self-book empowers them and holds them accountable which equals savings for the company.

The traditional corporate travel booking routes are weighed down with disadvantages. Leisure booking sites are often non-refundable and have no customer support, business travel agencies often have above-market travel prices, and clunky traditional corporate software is overly complicated and unpleasant for business travelers to use.

It's simply an experience that business travelers do not enjoy, and it doesn't help the company.

Left to their own devices, most business travelers enjoy finding good deals and racking up their own points and rewards. Many will prefer Airbnb over hotels (Airbnb can be up to 40% cheaper than hotels, especially with their weekly rates on longer trips). Business Travelers are usually well informed, taking time to read reviews and gather social proof. They're unwilling to waste money on something that won't be a great experience for them.

Companies that embrace this new approach will gain the benefit of optimising their travel spend and savings as well as creating the type of company culture employees love to be a part of.
3. Corporate Travel Management Platforms Have Improved
Travel management is shifting away from micromanagement and restrictions and toward trust, transparency and simplicity.

Modern travel management platforms make it easy for business travelers to book their own trips within company policy so that travel managers can easily control costs without micromanaging. Employees won't use a booking solution they don't like, but if you give them one they love, it's less likely they'll go rogue and use a different platform.

Travel managers can still control the budget, policy, and travel program through these platforms, with automated expense reports being the more economical choice for a modern business allowing:
Insights into how your employees are traveling and spending so you're able to adapt your travel policies accordingly.
Employees to boost their productivity as they get to spend time doing something more essential for the company instead of sorting out their expenses.
There's simply no reason not to let employees book their own travel with travel management having moved away from the outdated corporate travel agency model.

Discover how to find the best booking solution for your company with our free guide below. It contains exhaustive information on where your current solution might be falling short, and contains a checklist of all the criteria you need to start achieving 90%+ compliance on your company's business trips!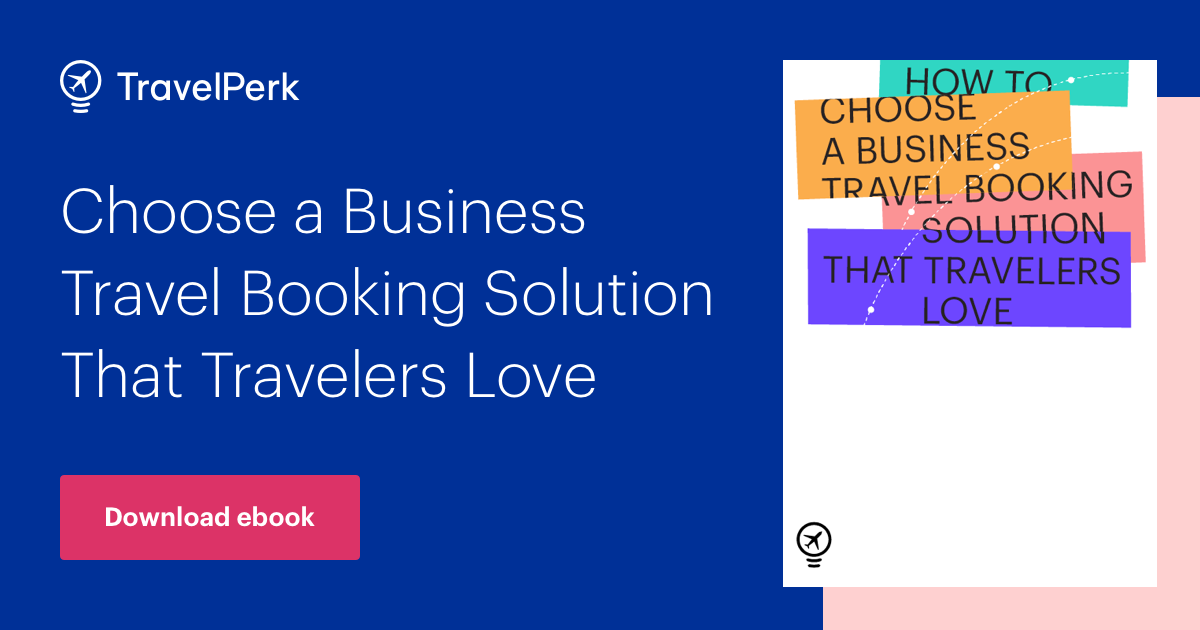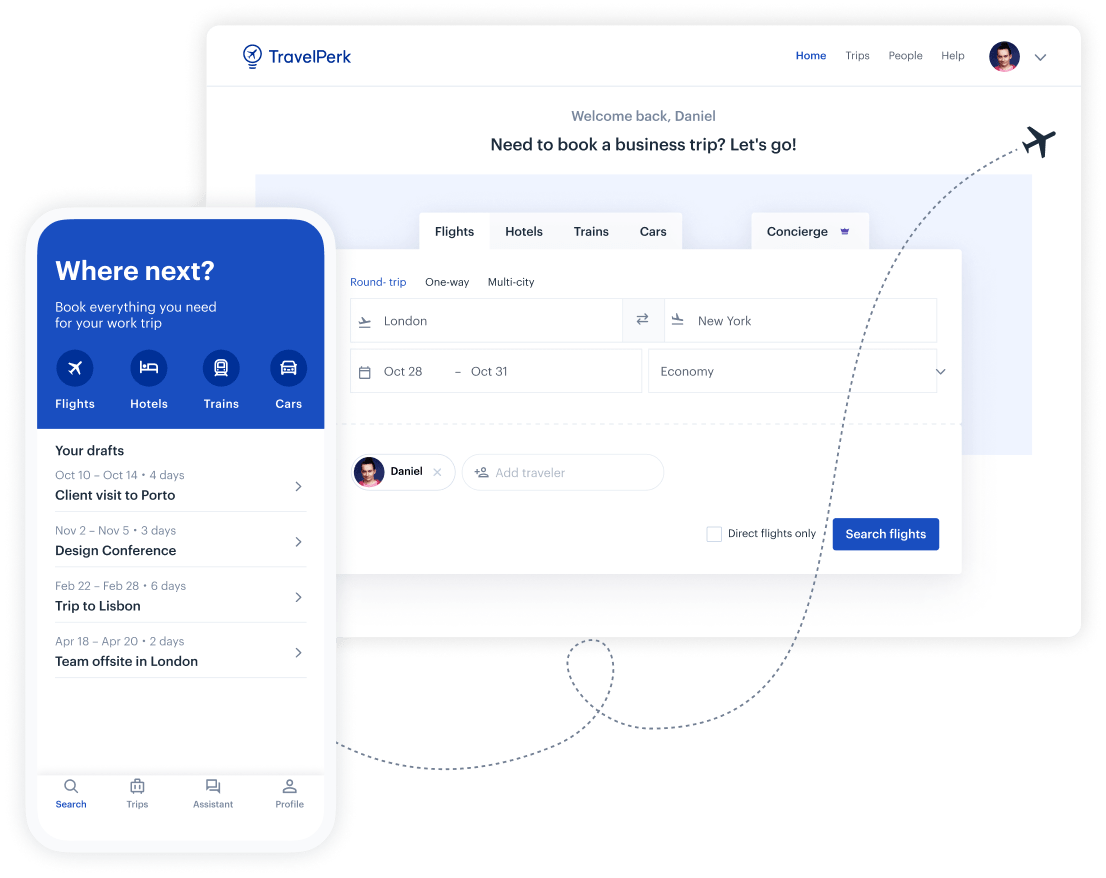 Make business travel simpler. Forever.
See our platform in action. Trusted by thousands of companies worldwide, TravelPerk makes business travel simpler to manage with more flexibility, full control of spending with easy reporting, and options to offset your carbon footprint.

Find hundreds of resources on all things business travel, from tips on traveling more sustainably, to advice on setting up a business travel policy, and managing your expenses. Our latest e-books and blog posts have you covered.

Never miss another update. Stay in touch with us on social for the latest product releases, upcoming events, and articles fresh off the press.