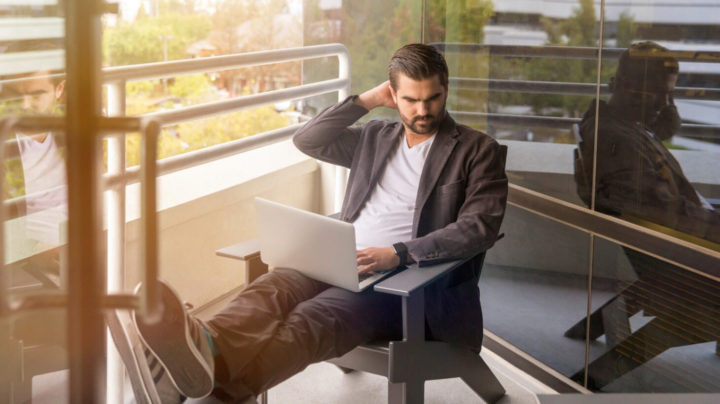 Airbnb for business travel has taken off.

With an increased focus on engaging and retaining employees, approving bleisure trips and booking alternative lodging to hotels is becoming increasingly prevalent.

At TravelPerk, Airbnb listings are part of our offering for clients, as we've seen an uptick in business travelers searching for alternatives to hotels.

But is it really suitable for business travel? Are Airbnb hosts vetted? Can they guarantee lodgings suitable for teams at work? And how do they really stack up against hotels?

We'll explore this, plus give you a glimpse of what companies think of Airbnb when used for business travel.

Let's dive in.
Airbnb takes a chunk of the business travel market
Airbnb isn't shy when shouting about how business travelers, and their employers, benefit when using its service.

Companies save time and money, as well as boost the well-being and engagement of employees when booking lodging with Airbnb.

In addition, Airbnb is releasing creative solutions to specifically focus on business travelers. Unlike leisure travelers, business travelers don't want to spend time browsing the site for inspiration and discovery. They know when and where they're traveling, so they want a solution that's quick, convenient, and reliable.

One-click expensing is an example of catering to this need. Rather than booking on a personal card and being reimbursed by the company, travelers can bill lodging expenses directly to the company.

This makes cash flow management easier for the employee, and makes payments easier for the company – which they can then manage through a personalized dashboard.
Airbnb accommodates for work getaway demands
Closely connected to engagement, companies can often feel the pressure to deliver something remarkable for company retreats and conferences. Airbnb can cater to this by allowing companies to rent an entire home for the team to stay in. With private rooms for collaborations, the team can either be productive where they are, or use the home as a base for whatever activity the day has planned.

Their partnership with WeWork also creates an opportunity to exist in a relaxed corporate environment while not paying a penny for the experience (you're offered a free day at WeWork when booking an Airbnb home).

To easily identify which homes are suitable for business travel, Airbnb has added the 'for work' filter. When you create an account with a business email address, you're automatically given the option to filter search results vetted for business travel only. This makes it faster and easier to book a location for a business trip, knowing the home has been chosen specifically with business travelers in mind.

Hotels have a slight upper hand
Despite the efficiency and suitability, Airbnb has to modern business travel, it still has a little way to go before offering everything a hotel does.

Firstly, a guarantee of quality. Although it has a list of quality standards each host and home is vetted for, it's difficult for Airbnb to guarantee the quality of the home. When booking with Airbnb, there is still a risk for a company or traveler, albeit small. To address this, Airbnb has added a 'super host' filter so business travelers can book with a host that offers a high-quality service for their guests.

Secondly, hotels are conveniently located close to business parks and conference centers, making it easier for the traveler to commute between where they stay and where they work. This is a challenge for Airbnb since most business parks don't have homes near them, making options limited for business travelers. However, given the changing landscape of business travel, employees are likely more flexible with where they like to stay, and don't necessarily want to be tied to the business park (which is sometimes far from the city center).

Finally, despite trust being at the heart of the sharing economy, safety and security are a concern for travel managers. Hotels offer safes, security cameras, and on-site staff to ensure travelers and their belongings are safe. Also, most company travel policies offer insurance against property theft or damage when staying at a recognized hotel.

While Airbnb doesn't offer the same things, it's going a long way to address the safety issue. It conducts background checks on hosts, offers a dashboard where travel managers can keep track of travelers (helpful for duty of care), plus has a 24/7 Trust and Safety and Customer Service team that travelers or travel managers can call should an emergency arise.
Airbnb vs hotels – how do they stack up?
When we compare hotels to Airbnb directly, here's what we get:
Airbnb
Hotel
Cost
Up to 40% cheaper than hotels
Struggling to compete with Airbnb on price
Location
Offer more exciting and edgy locations – perfect for business retreats, team building days and millennials love them!
Conveniently located in business parks and city centers for an easy commute
Check-in
Flexible check in times can be arranged with the host.
Some install a lock-box with keys to access the home so the traveler can check in at a time that suits them
Check-in times are set, and there's usually pressure to check-out at a time that's convenient for the hotel.
Check-in is always done with someone at reception
Wi-fi & entertainment
A lodging always has wi-fi and a TV – the guidelines for homes suitable for business travel define this
Wi-fi and TVs are in rooms, but sometimes wi-fi comes at an extra cost
Amenities (laundry, safe, toiletries)
Homes aren't expected to have a washing machine or safe, but toiletries and other home essentials are a requirement
Toiletries in the bathroom are common, with a safe and laundry service also available
Meeting rooms & facilities
Homes can be found with private rooms that can be used for collaborations. Large conference facilities aren't a guarantee, but options are wider
Meeting rooms or large conference room are booked at an additional cost to the rooms
Experiences
Local experiences with Airbnb can be booked directly on the platform and range from wine tasting, cooking classes, and outdoor activities
Have agreements with local experience providers but these are sometimes limited to traditional activities (like tours or theatre shows)
Laptop friendly work spaces
Guidelines for homes suitable for business travel define this as a requirement
Hotel rooms usually have a desk, but this isn't guaranteed
From this comparison, hotels clearly offer more in terms of safety and ease of travel to business parks.

However, Airbnb makes up for this by offering a wider range of lodging solutions that meet the need of the modern business traveler (including affordable pricing).
Alternative lodgings for business travel
While Airbnb is the industry leader for hotel-alternative lodgings, new companies are coming to the table with niche solutions. Here are a few:

Domio is a US-based platform that asks you to stay in the comfort of home, with the confidence of a hotel. Homes are individually vetted by the company before being offered on the platform.

TP Corporate Lodging, also US-based, is focused on apartments only. In addition to lodging for business, they offer relocation assistance and specific projects for government agencies and hospitals.

The luxury travel market presents a high-end business travel alternative, with platforms like Boutique Homes, DOM, and Le Collectionist offering luxury homes for teams to book.
Travelers currently using Airbnb for business travel
If your company is considering Airbnb, here are some business travel experiences to inspire you:

Oliver Ahlberg from Skeleton Technologies says: "We typically use Airbnb for longer term stays – over a week or so. It's more convenient for cooking, washing, etc." In fact, many companies use Airbnb apartments when employees relocate to a new country. Oliver reveals: "Currently, I'm staying at an Airbnb as I just moved to Berlin. I don't want to rent something long term as I don't know the city yet."

Reflecting on price, Heidy Kerma from Starship Technologies shares: "At the end, Airbnb is cheaper when you optimize business travel by planning ahead. We choose apartments and houses if we need to send someone for an extended period of time, or if many people are on a business trip in the same location at the same time."

The sharing economy has clearly changed the way we view personal and business practices. Companies such as Uber, Glovo, Task Rabbit and Airbnb are disrupting industries and helping us live more efficiently.

Airbnb is giving companies a new perspective on how they manage business travel. A hotel may offer large conference rooms and a pool for a strategy day, but Airbnb for Work now provides a more unique and memorable option of a historic mansion or peaceful farmhouse.

Now, how do you think this might impact employee engagement, productivity and retention?