In the fast-paced world of corporate travel, businesses have long relied on the expertise of corporate travel agents to manage their travel programs effectively. However, as the industry evolves, corporate travel consultants have increasingly gained popularity.
Let's explore the distinct responsibilities of a corporate travel consultant, highlight the differences between a corporate travel consultant and a travel agent, and discuss the path to becoming a corporate travel consultant. Most importantly, let's evaluate whether a corporate travel consultant is the best option for your company.
What is a corporate travel consultant?
A corporate travel consultant, also known as a business travel consultant, is an industry professional employed by a company to oversee and optimize their business travel program. These experts work closely with both travelers and management to ensure that all travel-related activities align with the company's goals, policies, and budget requirements.
While corporate travel agents primarily focus on executing travel arrangements, corporate travel consultants take on a more strategic and advisory role.
What does a corporate travel consultant do?
Corporate travel consultants possess a diverse skill set to address the multifaceted aspects of managing a company's travel program. Their responsibilities go beyond simply booking flights and accommodations.
Let's delve into some of the key tasks performed by these consultants:
Crafting travel policies and procedures: Corporate travel consultants develop comprehensive policies and guidelines that govern employee travel. These policies ensure consistency, cost-effectiveness, and compliance with legal and safety regulations, as well as the travel needs of the business.
Negotiating contracts: With their industry expertise and networking skills, corporate travel consultants establish partnerships with airlines, hotels, and other travel suppliers to secure competitive rates and favorable terms for their company. These negotiated contracts can significantly reduce travel expenses.
Analyzing travel data: Corporate travel consultants leverage advanced analytics tools to analyze travel data and identify opportunities for cost savings. By monitoring travel patterns, expenditure trends, and performance metrics, they can make informed recommendations to optimize the travel program.
Ensuring policy adherence: It is the responsibility of corporate travel consultants to educate employees about the company's travel policies and guidelines. They work closely with travelers, providing guidance and support to ensure adherence to these policies and maximize the benefits of the travel program.
Providing travel reports and data insights: By generating comprehensive travel reports, corporate travel consultants offer valuable insights into travel expenditure, compliance rates, and traveler behavior. These reports help management make data-driven decisions and identify areas for improvement.
What's the difference between a corporate travel consultant and a travel agent?
While the terms "corporate travel consultant" and "travel agent" are sometimes used interchangeably, there are crucial distinctions between these roles. A travel agent, often employed by a travel agency or management company, primarily focuses on executing travel arrangements for clients. They handle tasks such as:
Organizing airfare
Booking hotels
Car rentals
Visas and healthcare insurance
Travel policy compliance and duty of care
Managing reimbursements
Assistance with travel-related issues during the trip
On the other hand, a corporate travel consultant takes a more strategic and advisory role within a company. They are responsible for managing the entire travel program, including policy development, supplier negotiations, data analysis, and ensuring policy adherence by employees during their business trips.
While there may be some overlap in responsibilities, a corporate travel consultant offers a broader scope of expertise and acts as a strategic partner to the company.
How to become a corporate travel consultant?
Becoming a corporate travel consultant requires a combination of skills, knowledge, and experience. While there is no single path to entering this field or requirements seen in all job descriptions, here are some steps to help you pursue a career as a corporate travel consultant:
Acquire relevant education and training: A degree or diploma in travel and tourism, business management, or a related field can provide a solid foundation. Consider enrolling in specialized courses or certifications that focus on corporate travel management.
Gain industry experience: Entry-level positions in the travel industry, such as a travel agent or travel coordinator, can provide valuable insights and practical experience in managing travel arrangements. This experience will help you understand the intricacies of corporate travel and develop essential skills.
Develop strong communication and negotiation skills: Effective communication is crucial when dealing with various stakeholders, including travelers, suppliers, and management. Sharpen your negotiation skills to secure favorable contracts and build long-lasting partnerships.
Stay updated with industry trends: The corporate travel industry is constantly evolving. Keep yourself informed about emerging technologies, travel management platforms, and industry best practices. Attend industry conferences and participate in relevant professional associations to expand your network and stay abreast of the latest developments.
Is using the services of a travel consultant the best option for my company?
While corporate travel consultants offer a range of advantages, it's important to evaluate whether their services align with your company's needs and preferences.
In recent years, an increasing number of businesses have opted for travel management platforms, such as TravelPerk, to streamline their travel processes. This can be seen in the expected growth of the travel management software market, which is projected to reach US$5.933 billion in 2028, rocketing from US$2.314 billion in 2021.
These platforms provide the same services as a travel consultant, plus additional services including negotiating corporate rates, providing data insights, ensuring better compliance to the company's travel policy, and offering traveler support.
TravelPerk, for example, offers numerous benefits to companies including:
Negotiated rates with airlines and hotels to secure cost-effective options.
Accessing a massive inventory of corporate accommodations, including hotel rooms, at the best prices, all within a single platform.
Providing comprehensive travel reports and data analytics to optimize your business travel program.
Offering a user-friendly booking tool that simplifies the process for employees—who knew creating itineraries, managing travel costs, and improving the travel experience could be done with one, simple process?
Defining and automating your travel policy guidelines and approval workflow for better compliance.
Assisting with traveler support, including rearranging transportation and advising on safety measures for national and international travel.
Your employees also have a direct line to contact our Customer Care team for immediate assistance, 365 days a year, 24/7.
Ultimately, the choice between a travel consultant and a travel management platform depends on your company's specific requirements, budget, and desired level of control over the travel program. Carefully evaluate the options and select the solution that best aligns with your business objectives.

Start saving money on business travel for your company today!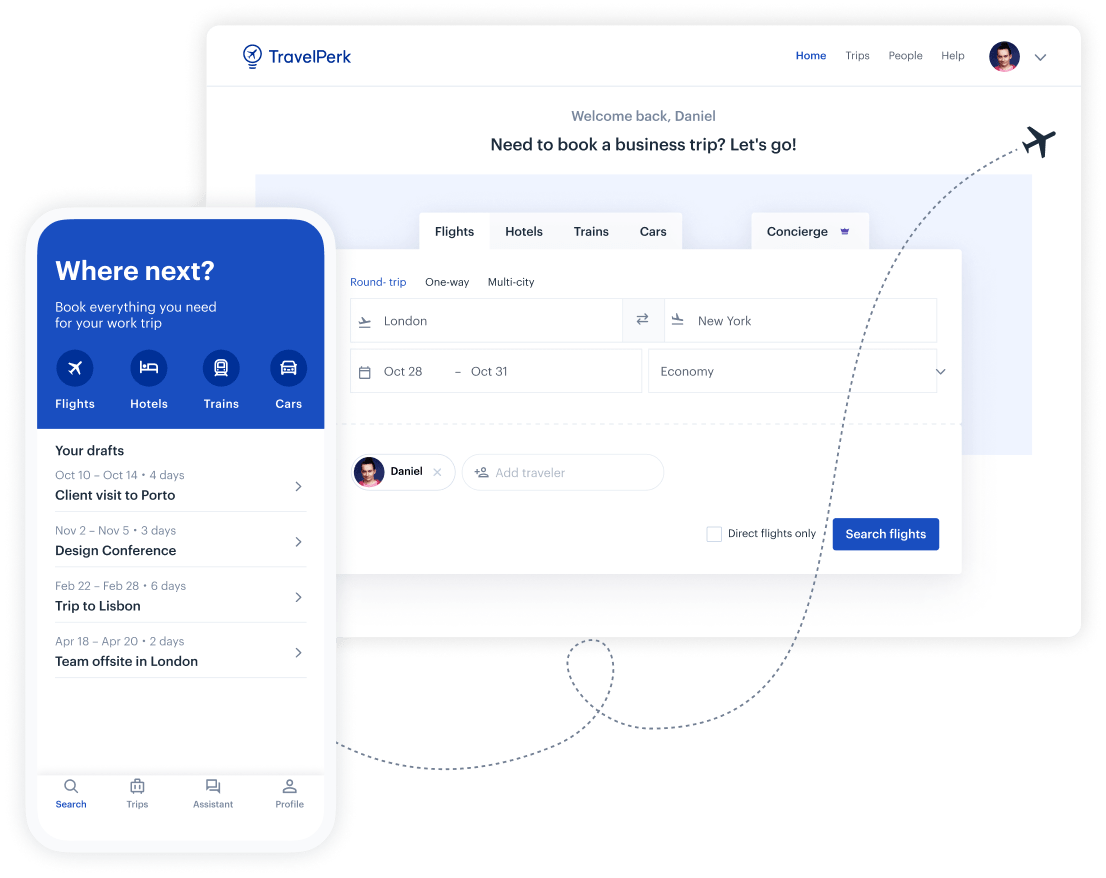 Make business travel simpler. Forever.
See our platform in action. Trusted by thousands of companies worldwide, TravelPerk makes business travel simpler to manage with more flexibility, full control of spending with easy reporting, and options to offset your carbon footprint.

Find hundreds of resources on all things business travel, from tips on traveling more sustainably, to advice on setting up a business travel policy, and managing your expenses. Our latest e-books and blog posts have you covered.

Never miss another update. Stay in touch with us on social for the latest product releases, upcoming events, and articles fresh off the press.