Steeped in history, culture, and natural beauty, the United Kingdom (UK) offers a diverse range of experiences for travelers. However, the UK's travel and tourism sector faced significant challenges beginning in 2020 as the coronavirus pandemic swept across the globe.
Despite the impact of the pandemic and global travel restrictions, the UK's travel sector is bouncing back with force. According to the latest UK travel and tourism statistics, the sector contributes a massive 4.11 million jobs to the UK's workforce and just under 10% to the UK's total GDP.
Plus, as forecasts point to a remarkable 3.8% expansion and a valuation of £257 billion by 2025, it's clear that tourism is set to become one of Great Britain's fastest-growing sectors.
In this guide, we explore the top tourism statistics, shedding light on international and domestic travel trends, as well as tourism statistics related to sports, adventure, business, and much much more.
Reviving inbound tourism: The UK's journey to recovery
The latest inbound tourism forecast for 2023 anticipates 37.5 million visits, an impressive 92% recovery compared to the pre-pandemic level in 2019.
In 2023, inbound visitors are projected to spend £30.9 billion, surpassing the 2019 level by 109% in nominal terms.
Travel and tourism's total contribution to the UK's GDP in 2017 was 5.3%. By 2028, travel and tourism's contribution to the UK's GDP is expected to decrease significantly to only 2%.
Overseas residents made 31.2 million visits to the UK in 2022.
By 2024 and 2025, both domestic and international tourism in the UK is projected to bounce back to pre-pandemic levels.
Ranked the sixth largest in the world, the UK tourism industry generates £155.4 billion in revenue for the UK economy annually.
In 2022, London remained the most visited city by international visitors with just over 16 million international visits. However, this figure was approximately 26% lower than the pre-pandemic levels in 2019.
Edinburgh and Manchester welcomed a considerable number of tourists in 2022 — 1.8 million and 1.2 million respectively — making them the second and third most popular destinations.
In 2022, the United States topped the list as the leading inbound travel market for the UK based on the number of visits, with approximately 4.6 million inbound trips from American travelers.
Following closely were tourist arrivals from France, the Republic of Ireland, and Germany.
In 2019, Americans spent a record £4.18bn while visiting the UK.
In 2022, overseas visitors to the UK enjoyed an average stay of 8.4 nights, compared to just over 7 nights in 2019.
The National History Museum, Brighton Pier, and the British Museum topped the list of the most popular free attractions in England in 2022.
The Tower of London, the Royal Botanic Gardens, and the RHS Garden Wisley topped the list of the most popular paid attractions in England in 2022.
The Windsor Great Park was the most visited tourist attraction throughout the UK in 2022, attracting 5.6 million visitors.
Sources: Statista, McKinsey, VisitBritain, The Office for National Statistics (ONS), Association of Leading Visitor Attractions, The International Passenger Survey (IPS)
A surge in travel staycations: UK domestic tourism statistics
Between April and December 2021, Brits enjoyed nearly 45 million overnight stays within the UK.
In 2021, domestic travelers in the UK spent £98.7 billion on trips around the UK.
In 2019, British tourists embarked on almost 123 million domestic holidays.
The number of outbound international travel trips in 2019 amounted to 93 million.
Brits took an average of 2.3 domestic vacations between September 2021 and August 2022.
20% of Brits say that the South West of the UK is their top destination for overnight domestic trips during summer.
With staycations on the rise, Brits spent an average of almost £770 on UK getaways in 2021.
Throughout 2022, British residents made 1.1 billion day trips to places within the UK, spending £45 billion on these trips alone.
Sources: Tourism Alliance, Statista, IBIS World, UNWTO
Adventure tourism statistics: Visitors to the UK have caught the adventure bug
The UNWTO reports that the UK boasts Europe's largest adventure tourism market, accounting for 19% of the world's adventure travel tourists.
By 2024, the adventure tourism industry revenue is projected to reach £3.8 billion.
From 2011 to 2019, spending on adventure and water sports in the UK increased from £1.5 billion to £1.8 billion.
The number of people taking part in adventure and water sports activities in the UK has also increased from 57 million in 2011 to 100 million in 2019.
In 2021, UK spending on camping trips rose to £2.7 billion.
In 2019, outdoor-related activities in urban settings accounted for over 60% of all nature-based spending.
59% of European millennials have had at least one kind of adventure experience.
Sources: ONS, Condor Ferries, CBI, Business Gateway
Healthcare tourism statistics beyond borders: Medical tourism in the UK is on the rise
The UK medical tourism market is expected to reach a valuation of over £17 billion by 2032.
The global medical tourism market is projected to be worth $35.9 billion by 2032.
In 2020, the UK ranked fifth in the global destination environment ranking for medical tourism.
In 2021, a total of 34,000 inbound visits to the UK were for medical treatment.
Of the 34,000 medical tourists in 2021, 62% were from countries in the EU-15, and less than 3% were from North America.
Tourist spending on medical treatment in the UK is between £178 million to £325 million annually.
Inbound medical travelers and their companions contribute approximately £219 million to the UK economy through additional tourism expenditures every year.
Dental care, cosmetic surgery, fertility treatments, organ and tissue transplantation, and cancer treatment top the list of popular procedures for medical tourism trips.
Sources: Statista, Future Market Insights, National Library of Medicine, CDC, Market.US
Sports tourism statistic scoring big: Football rules UK sports tourism
In 2022, 76.2 million people attended professional sporting events throughout the UK.
According to the latest figures, inbound tourism expenditure on sport and recreation reached an impressive £231 million in the UK.
In 2019, around 1.5 million inbound visitors attended a live football match, accounting for approximately 1 in every 27 visitors.
Football is the number one sporting attraction for international tourists visiting the UK, with over 800,000 visitors annually attending a football match.
Cricket is the second biggest sporting draw with 225,000 annual visitors.
Since 2010, the value of sport to the UK economy has increased by 40%.
In 2019, inbound football tourists spent an average of £909 per visit, 31% higher than the average visitor spend of £696 by other inbound tourists.
In 2019, the Old Trafford Stadium in Manchester and the Anfield Stadium in Liverpool had the highest attendance at 440,000 tourist visits.
The amount spent on golfing activities in the UK grew by 40% between 2011 and 2019, from £800 million to £1.1 billion
Sources: ONS, VisitBritain, Gov.uk, Statista
Business tourism statistics: Meetings, incentive trips, and exhibitions fuel the business tourism boom in the UK
In 2022, there were 5.1 million visits to the UK for business reasons.
Business contributed £5.8 billion in spend in 2019, representing an incredible 20% of all inbound spend.
Business travelers tend to make flying visits to the UK. In 2019, almost two-thirds of all business visits to the UK lasted between 1 and 3 nights.
Unlike typical tourism flows, business visits to the UK don't show much seasonality, which means there's a steady number of visitors year-round.
In 2019, conferences, conventions, and congresses took the lead among the MICE sub-categories, accounting for 742,000 visits and a whopping total spend of £716 million.
Large meetings consisting of over 21 people in 2019 accounted for approximately 7% of all business visits (646,000 visits in total), and these travelers spent £573 million.
In 2019, incentive and team-building trips made 67,000 visits and spent £69 million, making them one of the top-spending business groups with an expenditure of £1,039 per visit.
In 2019, attendees of exhibitions, events, and trade shows spent a total of £319 million during 319,000 visits.
In 2021, UK residents made an estimated total of 8.3 million business trips.
Two-thirds of UK businesses plan to boost business travel spend by 50% or more in 2023.
The Travel and Tourism Development Index ranked the UK as the fifth-best country for non-leisure travel worldwide in 2021, and the first-best country in Europe.
Business travelers flocked to London in 2019, with a remarkable 3.98 million visits from abroad, solidifying its position as the top business travel destination in the UK.
As of 2023, London is the third most expensive business travel location in Europe.
Ranked as the eighth most expensive city in the world for business travel, a trip to London costs around £497 per day visit.
The average spend per domestic business trip in 2019 was £280.
Sources: ONS, VisitBritain, Statista, American Express, ECA International, Stratos
TravelPerk's Meetings & Events team can help you book venues and get exclusive discounts on group travel
Rural tourism statistics: The charm of rural tourism and sustainable travel is on the rise
A testament to its beauty, UK nature contributed a remarkable £12 billion to tourism and outdoor leisure in 2019.
In 2021, the Gross Value Added (GVA) from tourism in Predominantly Rural areas was worth an impressive £11.5 billion.
During 2019/20, rural areas boasted 66,800 registered tourist-related businesses, making up 11% of the total registered businesses in those regions.
Tourism-related industries play a more substantial role in rural employment, representing 15% of the total workforce, compared to 11% in urban areas.
The majority of UK travelers (71%) and US travelers (69%) say that sustainable travel practices are important to them and strive to make more eco-conscious journeys.
In a bid to enhance rural tourism, Scotland allocated £3 million in 2022 to support 10 infrastructure projects, focusing on visitor facilities, access improvements, and promoting eco-friendly transport options.
An estimated 34% of holidays in Wales involve camping or caravanning, compared to 20% in England and 21% in Scotland.
Sources: ONS, Gov.uk, Savills, Booking.com, Highland.gov.uk, Pitchup

Music tourism is hitting high notes in the UK
In 2022, the global music tourism market value was valued at $5.5 billion and is on track to rock 'n' roll all the way up to an incredible $11.3 billion by 2032.
The thriving music tourism sector sustained a total of 56,000 jobs across the UK in 2022, massively contributing to overall tourism employment statistics in the country.
In 2022, the UK's music scene drew in an impressive 1.1 million foreign music tourists and 13.3 million domestic music tourists.
2022 marked a crescendo in music tourism spending in the UK, peaking at an impressive £6.6 billion — surpassing the pre-pandemic total in 2019 of £4.7 billion.
Attracting a staggering 4.9 million music tourists, London is a major magnet for music lovers.
Thanks to the draw of legendary groups The Beatles, The Stone Roses, and Oasis, the North West region is close behind with 1.9 million music tourists.
10% of British people would travel eight hours by plane to see their favorite artists.
63% of Brits have been on trips that combined travel with a gig or festival.
New York and Barcelona are the top dream travel destinations for British music lovers.
Sources: Future Market Insights, UK Music, Statista, UK Music Report, NME
Ready to plan your next trip to the UK?
Request a demo today and see firsthand how TravelPerk streamlines and elevates travel management, saving you time and money along the way.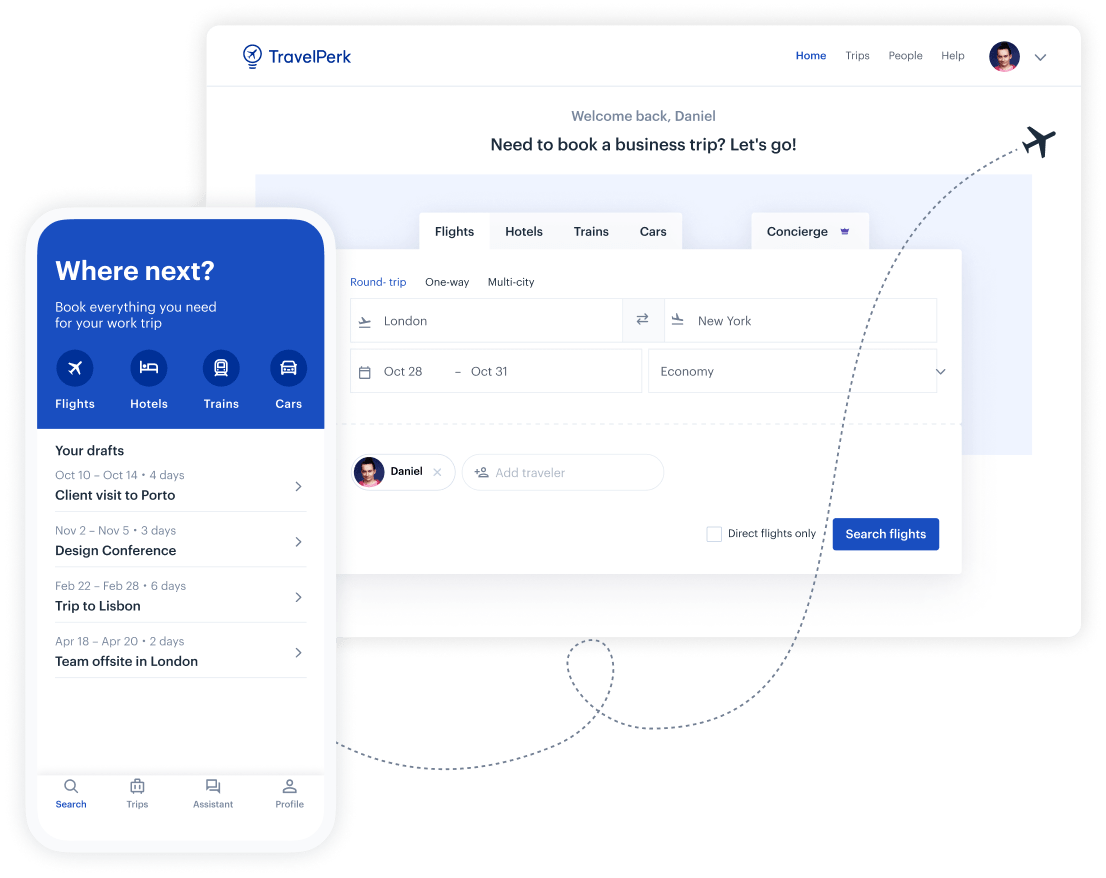 Make business travel simpler. Forever.
See our platform in action. Trusted by thousands of companies worldwide, TravelPerk makes business travel simpler to manage with more flexibility, full control of spending with easy reporting, and options to offset your carbon footprint.

Find hundreds of resources on all things business travel, from tips on traveling more sustainably, to advice on setting up a business travel policy, and managing your expenses. Our latest e-books and blog posts have you covered.

Never miss another update. Stay in touch with us on social for the latest product releases, upcoming events, and articles fresh off the press.