TravelPerk's partnerships team has been hard at work this past month, and many contributors have shared their latest progress to keep our community informed. Continue reading to learn more about our on-site training sessions with our partners, the value of meeting in real life (IRL), and our adventures traveling around Europe to meet with the wider teams.
Top TravelPerk News
Circula
This month we welcomed the cheerful faces of our partner Circula's, sales team. We had the opportunity to get the teams together, learn new things about each other's teams, collaborate, and also have fun together at dinners and activities in Barcelona.

As Juliette Korauer, Head of Partnerships at Circula says ''While we're used to working together virtually, having the opportunity to meet face-to-face was an invaluable experience for both our teams as we've created an even stronger partnership. We got to dive deeper into the benefits for our common customer base – and our sales team is more than ready to spread the word about TravelPerk! We want to thank TravelPerk for the warm welcome and are looking forward to our next visit! - Greetings to you TravelPerkees from your 26 Circulator visitors ''
About Circula:
Circula sets the new standard in travel and expense management. With the GoBD-tested app, you create compliance in your company, increase the productivity of your employees and save time in your accounting department through intelligent automation and smart APIs

Meeting in person is not only valuable for educational reasons, but also for us to get to know each other better, and have fun. It helps both teams understand each other better, and this is also confirmed by a recent study by Forbes Insight, where 85% of people say that they built stronger, more meaningful business relationships during in-person meetings and conferences.
It wasn't just our partners who came to us, the TravelPerk team also traveled this month! TravelPerk was on the road to meet our spend management partners in Europe IRL! Starting with…
Rydoo
Another opportunity we had this quarter was to meet with our partners from Mechelen, Belgium. The foundation of any partnership is trust, communication, and transparency, and this is what we are building through our IRL meetings around Europe. Either meeting in London, or Barcelona and other times in Belgium, meeting with our partners is a great opportunity for good laughs, team bonding, and future plans.
''Having the opportunity to meet our partners in person provides an unmatched value. Our face-to-face meetings have helped us create a meaningful relationship with our TravelPerk peers and we are excited to continue building a stronger and better joint solution together'' said Justin Borja, Head of Partnerships at Rydoo.
About Rydoo
Rydoo is the first mobile app that clears away administrative tasks for employees and the finance team. Giving people more time to focus on what matters. With over 1 million happy users from over 160 countries, Rydoo is a best-in-class expense management solution.
SesameHR
Moving to our HR partners, SesameHR, the TravelPerk team visited themat their offices in Valencia.
As Leticia Gonzalbez, Head of Marketing, SesameHR says
''Welcoming Travelperk into our offices was really interesting to understand how their tool works and how easy it is to manage business trips with them. Our sales team found it very enriching to have the possibility to suggest scenarios that may happen during business trips and see how TravelPerk is able to find a solution for them all. In Sesame we take protecting the environment very seriously. That is why we loved Greeperk, their tool for calculating and compensating for CO2 emissions generated by bookings made through their platform. The meetings that matter happen in person, indeed''
About SesameHR:
Sesame HR is the human resources software that optimizes and centralizes employee management processes on a single platform. Through a series of tools and automation, it helps companies to digitize and simplify routine tasks so that they can spend more time and effort on building the best experience for their employees.

Next stop…FRANCE 🇫🇷
Jenji
We were really excited to meet our partner Jenji's, sales team in person. We took a tour of their offices and had some free time together with nice food and drinks. Meeting in-person is always a good opportunity to elaborate on our plans, meet the wider team and get to know each other better.
As Jordi Calli, Partner Manager at TravelPerk says
''Meeting with our partners IRL always feels different than doing a zoom meeting. Meeting face-to-face right off the bat instantly sets the vibe for the natural development of the relationship, and makes it easier for the teams to bond with each other and achieve better results.''
About Jenji:
Jenji has reinvented expense management solutions by relying on Cloud and AI technologies to create a user interface accessible across several devices, everywhere in the world, giving finance departments real-time and consistent data. From receipt scanning to analyzing your expenses, Jenji automates every single step of the process. It is as easy as taking a picture of a receipt and it will be automatically uploaded and submitted for approval. Jenji's solution will adapt to your company's expense policy which will leverage the manager's work of approving expenses.
Next stop… UK 🇬🇧
Webexpenses
As Clare Mackey, Partner Manager at TravelPerk says
''When you meet in person, you are able to see someone in their natural habitat. This is a great opportunity for all of us in the partnerships team, to get to know our partners, build meaningful relationships and create a joint solution with deep roots both at the tech level but also personal level ''
About Webexpenses:
Webexpenses' online expense management software automates how you manage business expenses. Submitting, approving, and reporting expense spend is simplified through our intuitive digital platform. Our multi-level workflow is configured to meet your needs, providing automatic compliance and custom reporting to ensure control and visibility.
Meeting with our partners in person is an invaluable tool. When we meet in person, the conversation can be expanded on, allowing us to dive into more in-depth topics and then touch on all the important aspects of the business relationship.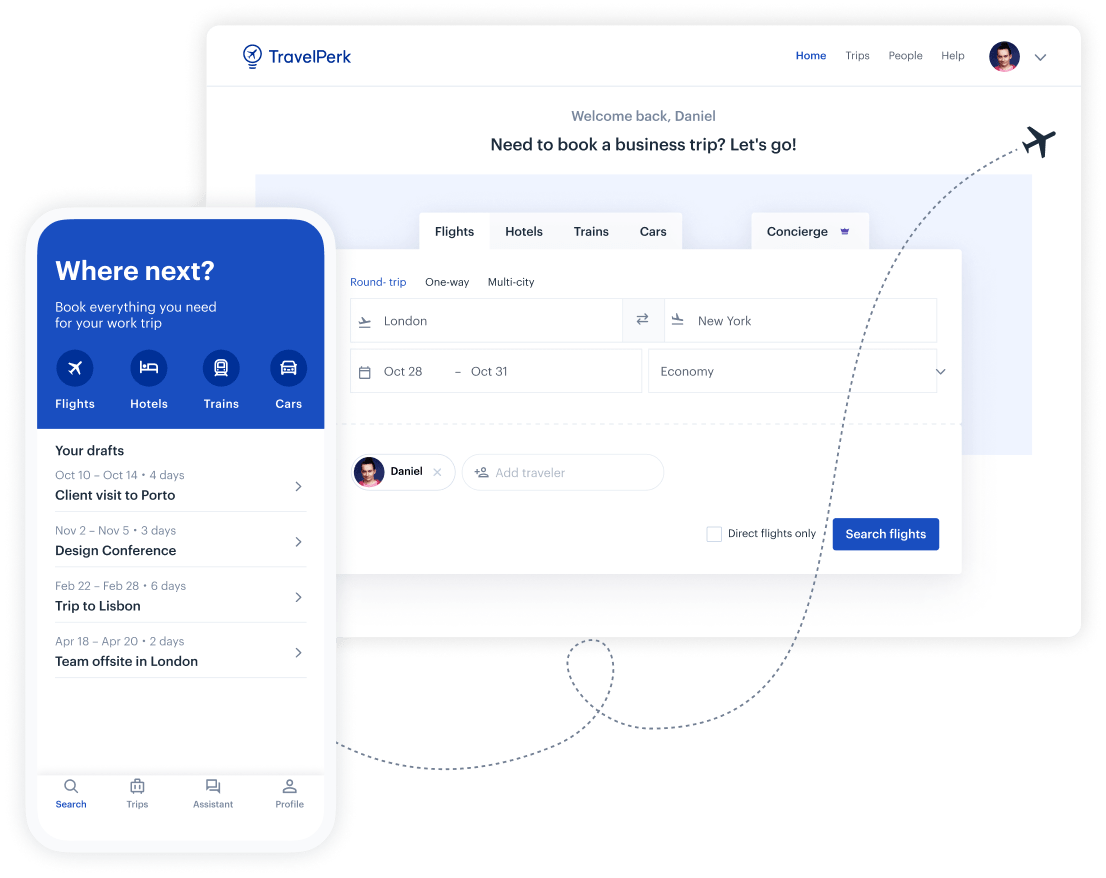 Make business travel simpler. Forever.
See our platform in action. Trusted by thousands of companies worldwide, TravelPerk makes business travel simpler to manage with more flexibility, full control of spending with easy reporting, and options to offset your carbon footprint.

Find hundreds of resources on all things business travel, from tips on traveling more sustainably, to advice on setting up a business travel policy, and managing your expenses. Our latest e-books and blog posts have you covered.

Never miss another update. Stay in touch with us on social for the latest product releases, upcoming events, and articles fresh off the press.