The chaos of an airport is an inevitable part of business travel, and 9 out of 10 times ends up ranging from being a bit to a lot of a nuisance. Despite the days, months and even years of endless travel, it still remains impossible to figure out the algorithms of airports – you just never know which moments are going to be smooth sailing or which will be an extreme headache. No matter how seasoned a traveler you may be, your favourite airport on a busy day might still test your professional patience.

One of our goals at TravelPerk has always been making the journey from A to B simpler, smoother and more comfortable for business travelers, leaving you less likely to rip your hair out.

So let's save all that turbulence for the plane – we've pulled together 8 simple business travel hacks that will allow you to breeze through your next business trip and make your overall airport experience as problem free as humanly possible.
1. Take advantage of smart luggage
Before you even begin packing for your airport business trip, you'll need the right suitcase. Smart luggage has the ability to connect and synchronize your online boarding pass to your bag, so when you arrive at the airport you can directly go to the Bag Drop. Another worthwhile investment is carry-on luggage that has a built-in electronic device charger, if you're notorious for letting your phone die at the airport. Oh, technology. What would we do without you?
2. Rideshare to and from the airport
Did you know that you can get an Uber ride to most major airports and get picked up at more than 500 airports? This is somewhat of a no-brainer for millennial travelers, but studies have shown that baby boomers are still forking out cash for taxis and parking because they don't have a rideshare app. Save some money next time you head to the airport by snagging an Uber or Lyft. A little app on your phone can make quite a difference when airport parking is $20-30/day.
3. Download your airline app
Almost every airline has their own mobile app which features booking and check in capabilities, flight statuses, travel advisories, and lounge locations, making for a much easier airport experience. You can also access your boarding pass directly from the app vs. scrolling through your email. But what we love most about these airline apps are the reminders they send on when to leave for the airport, helping you to manage your time a lot easier.

4. Check Seatmaestro
Not flying in first class this time? No worries. The Seatmaestro website can help you pick out the best spots to sit in on the plane, before you book your flight. Whether it's a short-haul or long-haul flight, Seatmaestro has options for those who love legroom, watching TV, or need a seat with a power outlet or USB port.
5. Keep left
The dreaded security line at the airport is a complete annoyance for business travelers who often travel with electronics and large carry-ons. Of course, there's the basic tips to ensure you speed through the process (keep your laptop accessible, remember to toss any liquids beforehand, etc). But one most don't know is to keep left when the security line splits. As people tend to veer towards their dominant right side (i.e. most people are right-handed), the lines that veer left are usually shorter.
6. Sign up for a credit card that gives added benefits and/or lounge access
Certain credit cards work closely with different airlines, or develop their own travel rewards program to benefit their card holders. These rewards programs can help you save money on flights, provide you with travel insurance, or even give you more benefits beyond travel expenses. But some of the best perks we've seen with these credit card companies include TSA PreCheck, airport lounge access, and business class seating. Some names include Capital One Venture Rewards Credit Card, HSBC Premier World Elite Mastercard, Virgin Atlantic Premium Mastercard and Chase Sapphire Preferred Card.
7. Book a red-eye flight
The most quick and painless way to almost completely skip the crowds when you arrive at an airport? A red-eye flight. Booking a red-eye flight will have you departing and arriving during off-peak times. So if you have the option, take it. This ultimately should mean fewer fellow passengers, shorter lines, and a quicker trip through the airport. Not only do red-eye flights tend to be a bit cheaper in price than flights at other times, but they also appeal to business travelers who want to avoid losing a work day in transit.
8. Collect airline loyalty points
Who doesn't want that little bit of added luxury during business travel? The best airline loyalty programs will give you access to airport lounges, priority boarding and check in, extra baggage allowance, free seat selection and upgrades, free spa treatments, and other exciting perks! The TravelPerk platform allows you to save your airline loyalty programs to your profile, so you don't have to waste time filling them in each time, and you'll never have to worry about forgetting.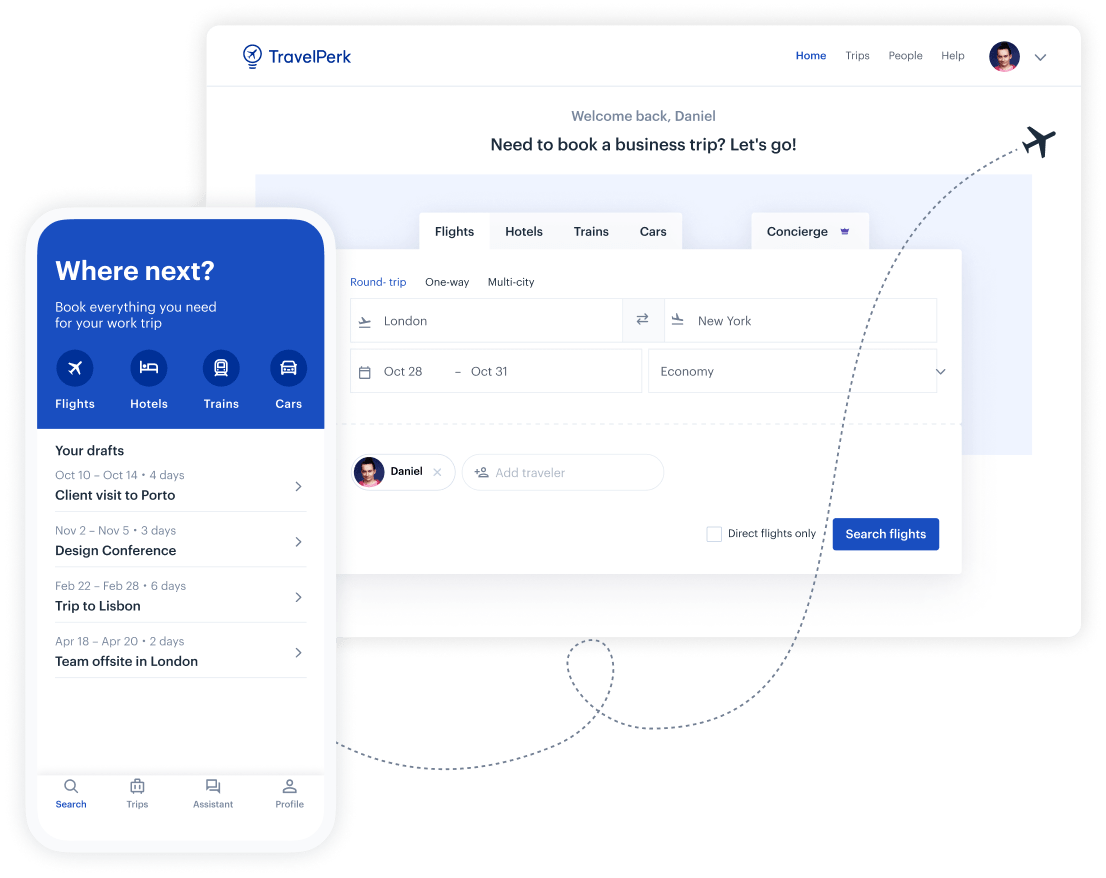 Make business travel simpler. Forever.
See our platform in action. Trusted by thousands of companies worldwide, TravelPerk makes business travel simpler to manage with more flexibility, full control of spending with easy reporting, and options to offset your carbon footprint.

Find hundreds of resources on all things business travel, from tips on traveling more sustainably, to advice on setting up a business travel policy, and managing your expenses. Our latest e-books and blog posts have you covered.

Never miss another update. Stay in touch with us on social for the latest product releases, upcoming events, and articles fresh off the press.