It's no secret, team events are more popular than ever. If you're an event manager or an HR professional in charge of putting together team events, it's very likely that your calendar in the past 12 months has been pretty busy. (With even more corporate events in the pipeline…)
And you're not the only one.
In a recent survey that included hybrid, remote, and fully in-person teams, 25% of admin and event managers said they are organizing team get-togethers every month, with 22% saying their team preferred to meet quarterly.
There's no doubt that companies continue to see the value in real-life interactions, whether that be a team-building event, company offsite, or bringing colleagues together for one of the many tech conferences around the world. But as the appetite for face-to-face events continues to grow, it's essential you invest in the right tools for stress-free and cost-effective planning.
Booking travel and accommodation for your team event can be one of the most expensive and challenging aspects of the planning process, but there are software tools specifically designed for group travel to help with this. This allows companies and event managers to save time, get better control of their event budget, and easily coordinate plans with colleagues.
3 ways TravelPerk can simplify travel management for your next team event:
1. Plan, organize, and share your event from one single platform
Those days of having multiple tabs open on your internet browser and frantically having to flick between email, calendar, slack, excel sheets, and multiple booking confirmations are well and truly over.
With TravelPerk Events, you can invite participants, organize attendees, communicate plans, as well as book and manage travel all from the same platform.
This not only saves you time as an event planner but also means that your team has one source of information for everything related to your upcoming event. No more repetitive slack questions or back-and-forth emails – all the important information participants need about your team get together can be added to TravelPerk Events.
Once you've created an event on the TravelPerk platform, you can see who has accepted the invitation or not (and give them a nudge if you need to!) and see each attendee's travel plans at a glance. In just a few clicks, you can see when they're arriving, which hotel they're staying at, and communicate new activities all from within the same platform.
Other event attendees can also have visibility of their colleagues' travel plans, so team members traveling from the same city can catch the same train for example, or book the same hotel, helping to maximize cross-team collaboration and fostering those all-important in real life connections.
See how easy it is to track event attendees' travel plans:
Easily keep track of travel plans for your next team event
If you're planning a team event, managing everyone's individual travel plans can be a real headache with multiple itineraries and booking confirmations. With TravelPerk Events you can see all attendees' flights, trains & accommodation at a glance, making organization smoother and simpler.
2. Empower employees to book their own event travel
In many companies, the responsibility of booking business travel for a company event often falls on a few specific people in the organization. But the truth is, this process can be really inefficient. It can cause bottlenecks in your processes, and in many cases, leave employees feeling disgruntled and frustrated.

With TravelPerk's integrated travel policies you can empower employees to book their own travel and accommodation for your next team event, with the peace of mind that they won't overspend your budget and book the penthouse suite at a 5* hotel…
In just a few minutes, you can set separate travel policies for different teams in your organization and decide how you want the approval process to work. For example, if a team member books flights and accommodation that are 'in policy' you can choose to have this automatically approved within the platform.
Conversely, if an employee tries to book a trip that's out of policy, you can set who in the company will need to 'approve' that trip before it gets booked. Our platform also has easy integration with Slack, which sends a notification to the designated 'approver' for trips out of policy. On average, this integration speeds up the approval process by 80%. Giving you full control of your event and travel budget without micromanagement. A true win, win for all.
3. Easily keep an eye on your event budget
Organizing an unforgettable team event, while trying to stick to your budget can be one of the most challenging aspects of bringing your team together.
Of the many ways TravelPerk can help you save money on corporate events, one of the most valued features on our platform for event managers and finance teams alike is the ability to track your travel spend in real time.
One of the common reasons event managers tend to overspend their event budget is because they're tracking costs retrospectively – usually having to collate travel invoices and receipts from all over the place, without a clear overview of what they've spent in real time. And before you know it, you realize half the budget has been spent on accommodation before you've even had a chance to organize refreshments or entertainment.
TravelPerk makes tracking travel spend for your team event incredibly easy. Simply apply a customized 'label' to the event you're organizing and then all costs attributed to this event, can be tracked via our sophisticated reporting dashboard. No more chasing multiple invoices and receipts to get ahead of your event budget!
See how it works below.
Tracking costs for your company events
If you're planning a team get-together soon, TravelPerk Events allows you to track how much you're spending on travel and accommodation in real time. Simply apply your own customized labels and track what you're spending using our personalized reporting tools. Staying on budget has never been so easy.
If, like many companies around the world, you're looking to future-proof your organization with trusted business travel software, that will make bringing the team together simple and easy to manage, then book a free demo with TravelPerk.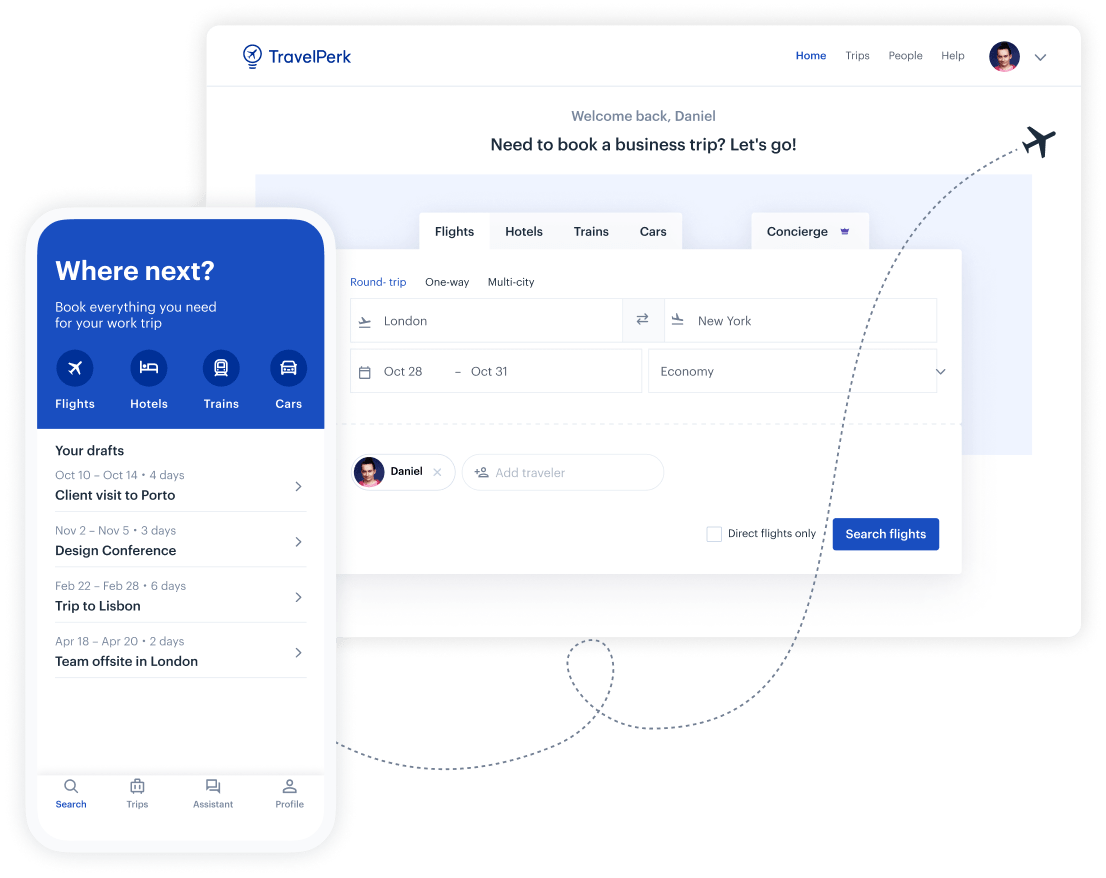 Make business travel simpler. Forever.
See our platform in action. Trusted by thousands of companies worldwide, TravelPerk makes business travel simpler to manage with more flexibility, full control of spending with easy reporting, and options to offset your carbon footprint.

Find hundreds of resources on all things business travel, from tips on traveling more sustainably, to advice on setting up a business travel policy, and managing your expenses. Our latest e-books and blog posts have you covered.

Never miss another update. Stay in touch with us on social for the latest product releases, upcoming events, and articles fresh off the press.