However your team does their best work, whether that be fully remote, hybrid, or in real life (IRL) 5 days a week, one thing is for sure, companies are organizing more face-to-face events than ever before. In fact, in a recent survey, 83% of travel managers and admins said they were planning more IRL events compared to the past 12 months.
But as any experienced event manager will know, pulling off an outstanding team event is no easy task. It usually involves a never-ending to-do list: finding dates that suit everyone to maximize attendance; picking a unique location; organizing travel and accommodation so everyone gets there in one piece, and choosing exciting activities to keep everyone engaged. All while trying to stay within budget!
With companies becoming increasingly cost-conscious, how can you pull off a successful team event, without disappointing your CFO?
Whether you're arranging an upcoming team-building event or a company-wide retreat, TravelPerk can help you save money on travel and accommodation while also reducing company admin costs. Here's how:
5 ways TravelPerk can save you money on team events
1. Exclusive corporate discounts and the largest travel inventory
If you're booking business travel on websites designed for consumer travel or via a traditional travel agent, chances are you're paying a lot more than you need to.
TravelPerk integrates directly with numerous travel providers such as airlines, hotels, trains, and car rental companies so you can book everything from one place. We use the combined buying power of our large customer base to get you exclusive rates and discounts you won't find anywhere else. Plus, if you regularly use a specific hotel chain, we're also happy to negotiate special discounts on your behalf. Our customers save an average of 20% on business travel when they book with us.
2. Track your event spend in real-time
However big or small your team events are, it's very easy to overspend your budget; especially if you're booking travel and accommodation on multiple websites and having to keep track of invoices and receipts manually. In most cases, overspending happens because you're always chasing costs incurred retrospectively, rather than seeing what's being spent in real-time.
With TravelPerk, you can apply different labels to your company events and then track your costs in real-time within our sophisticated reporting tools. You can also drill down costs for each event in one simple, easy-to-use report. Your finance team can also filter reports by date, travel type, team, recoverable VAT, and more. See how it works below.
Easily track your event budget spend
If you're planning a team get-together soon, TravelPerk Events allows you to track how much you're spending on travel and accommodation in real time. Simply apply your own customized labels and track what you're spending using our personalized reporting tools. Staying on budget has never been so easy.
3. Integrated travel policies so everyone stays on budget
Another way companies save money planning their team get-togethers is with customized travel policies baked into the TravelPerk platform. You can set up travel policies in our tool in minutes and apply rules for different teams, meaning employees are empowered to book their own travel while safe in the knowledge they're not overspending the company budget.
If an employee tries to book a flight or hotel that falls out of policy, it'll be flagged by our booking tool. Plus, with the freedom to create customized trip approvals, you'll have total peace of mind that you're achieving maximum travel policy compliance while also keeping your event within budget. A win, win for everyone.
How TravelPerk makes travel policy compliance simple
When you book your business travel through TravelPerk, your travel policy is seamlessly integrated into our platform. This means, when booking a trip, our platform automatically detects when something is out of policy, empowering your employess to make more informed choices with ease. Not to mention, more control and peace of mind for your finance team too!
4. Plan, organize, and share details of your event from one platform
At TravelPerk, we're always listening to customer feedback and looking for innovative ways to make our customers' lives easier.
When it comes to organizing travel and accommodation for team events, most companies don't use specialized collaboration tools, relying predominantly on email, Outlook calendar, and Microsoft Excel to coordinate their team get-togethers. Juggling multiple different platforms to organize travel for your company event can cause a lot of headaches, additional stress, and manual organization for your employees.
With TravelPerk Events, you can invite participants, organize attendees, communicate plans, as well as book and manage travel all from the same platform. (Those days of having 25+ tabs open on your internet browser are over…)
Once employees have accepted the event invitation, event managers and attendees can see their colleagues' travel bookings, which hotel they're staying at, and communicate updates from one single tool. What used to take hours, several back-and-forth emails, and multiple different spreadsheets to keep track of everything, now takes just a few minutes. With TravelPerk events you can save your team time and money.
How to invite people to your company event
Say goodbye to chaotic excel sheets and hundreds of tabs open on your internet browser. With TravelPerk events you can seamlessly organize your next team get together with ease. Our tool allows you to invite participants, organize attendees, communicate plans, as well as book and manage travel all from the same platform.
5. We've got your back if plans need to change.
If there's one thing that's for certain when it comes to planning events, you always have to be prepared for the unexpected.
Sometimes travel plans have to change, employees get sick or the sales conference you were planning to go to with your team gets canceled.
Last-minute changes are sometimes unavoidable.
With FlexiPerk, you're covered for any eventuality. For a small fee, you can add FlexiPerk to your booking, and should you need to, you're free to cancel up to 2 hours before departure and get 80% of the cost of your trip back. No questions asked. Now that's peace of mind.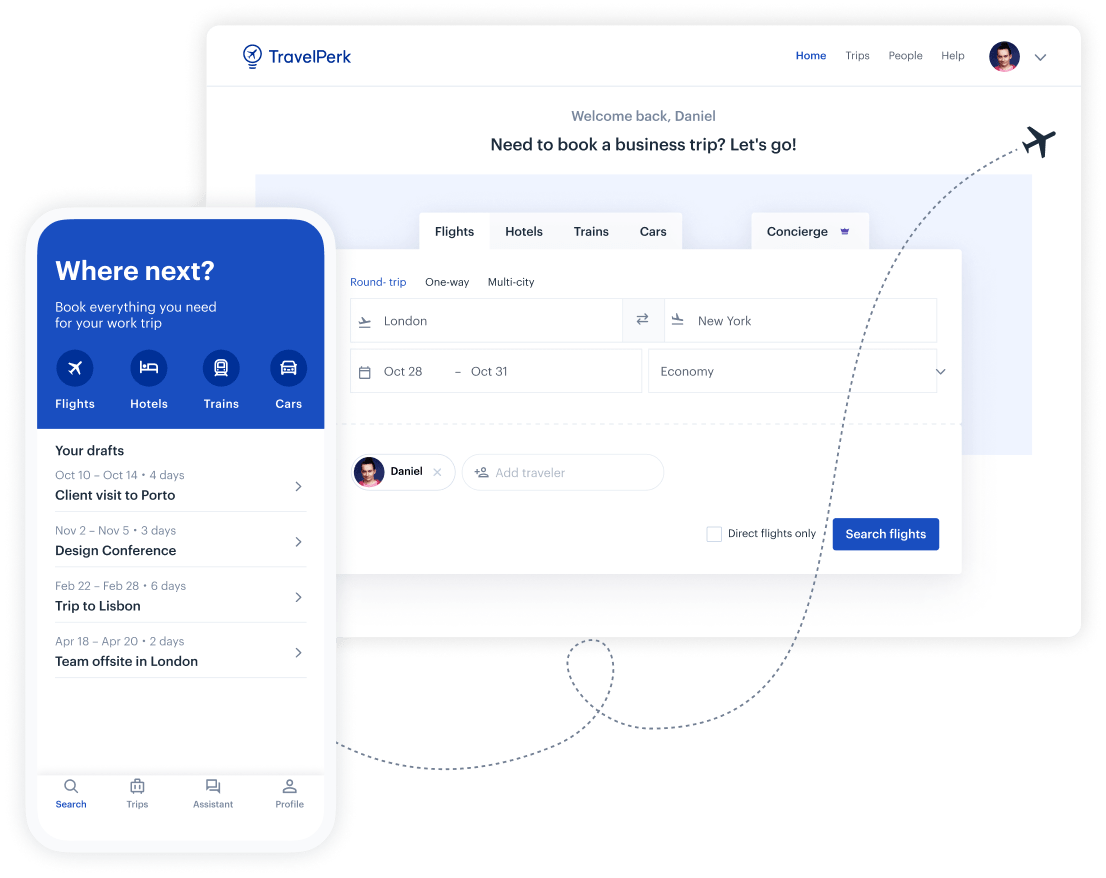 Make business travel simpler. Forever.
See our platform in action. Trusted by thousands of companies worldwide, TravelPerk makes business travel simpler to manage with more flexibility, full control of spending with easy reporting, and options to offset your carbon footprint.

Find hundreds of resources on all things business travel, from tips on traveling more sustainably, to advice on setting up a business travel policy, and managing your expenses. Our latest e-books and blog posts have you covered.

Never miss another update. Stay in touch with us on social for the latest product releases, upcoming events, and articles fresh off the press.