Over the last few years, it has become increasingly apparent how vital travel management software can be. Thanks to powerful AI, it has never been simpler to track corporate travelers, keep on top of shifting travel regulations and make quick and painless changes to itineraries, among other financial and time-saving benefits.
As with any service, there are multiple providers out there. But at TravelPerk, we strive to offer the most comprehensive corporate travel system on the market. We are consistently updating our list of partners and integrations, offering software solutions for everything from VAT recovery to risk management.
"We book a lot of very difficult travel itineraries, and TravelPerk is always happy to step in and put in the grunt work. Their offices are filled with very enthusiastic staff."

Mandi R.
We designed our platform to tackle all the challenges business travelers face. We are passionate about helping employees and organizations get the most from their corporate travel, from providing the most flexible fares available to ensuring travel policy compliance
Should you have any issues while you are on the road, TravelPerk's team of human customer care agents is on call 24/7, 365 days a year. We pride ourselves on our rapid response times, with our teams on hand to handle any questions in just 15 seconds.
"Customer service reacted immediately when I was left on the ground in Belgium by airline cancellation. Very satisfied with Travelperk!"

Carina R.
We want our corporate travelers to have excellent experiences when using our services. If you have any feedback on how we can improve and make your business travel more seamless, please reach out to our team and let us know.


In the meantime, we will share a breakdown of TravelPerk competitors in 2023 and demonstrate why we are still the best corporate travel company around! So let's dive in.
What are the top 5 TravelPerk alternatives in 2023?
Egencia
Part of the Expedia Group, Egencia currently offers support to almost 2 million business travelers worldwide. Egencia can assist organizations with corporate travel management, expense reporting, and traveler safety thanks to its array of features.
Egencia's main offerings:
Egencia provides an online booking tool with an inventory pulled from the Expedia group's renowned brands.
Users can set parameters for different categories of corporate travelers and establish different approval workflows for high-risk destinations.
Egencia's travel risk management features also include an interactive map that highlights any potential issues that could influence business travelers' itineraries.
What do users highlight when reviewing our corporate travel solutions to Egencia:
Egencia users commented that the service is tricky to initiate, with setup taking well over a week.
The mobile app that supports Egencia's travelers on the road has received negative reviews with several reports of temperamental functionality.
The pricing structure for Egencia's services is complicated, with costs incurred for initiating services and account management on top of regular monthly subscription fees.
Corporate travelers comment that TravelPerk has a more extensive inventory and comprehensive customer support.
BCD Travel
BCD Travel initially built its reputation as a traditional travel management company. Today they have offices in over 109 countries worldwide and have pivoted to offer a travel agency and digital solutions to assist corporate travelers.
BCD Travel's main offerings:
BCD Travel provides support for corporate travel through agents and various online tools.
Aimed at supporting small businesses to medium-sized enterprises, users can choose from three platforms based on their organizations' needs.
BCD Travel uses APIs from a handful of partners to streamline payments and spend management.
What do users highlight when reviewing our corporate travel solutions to BCD Travel:
Their experience of signing up for TravelPerk's range of corporate travel solutions tends to be simpler.
TravelPerk's 7 star customer service is "like having a personal assistant".
They love TravelPerk's flexible fare solution, FlexiPerk, which offers cancellation benefits which are much more generous than those offered as standard by other agencies.
They find TravelPerk's platform saves "time and stress" - and who wants their business travel to be stressful?
Click below for a more detailed comparison between both platforms:


SAP Concur
One of the oldest travel management platforms on the market, SAP Concur has provided a host of travel & expense management features since 1993. Aimed at medium to large-sized organizations, their services are available in seven different languages.
SAP Concur's main offerings:
Concur Travel allows corporate travelers to book their own flights, hotels, and transportation in one online tool.
Users of this travel management solution can track their data in a consolidated dashboard regardless of where arrangements are booked.
SAP Concur uses machine learning to help finance teams audit their employees' travel expenses.
What do users highlight when reviewing our corporate travel solutions to SAP Concur:
While SAP Concur has a long-standing reputation, many users remark that its interface is outdated and difficult to use.
SAP Concur users frequently note how difficult it is to reach customer service teams, and little to no accountability is offered when issues arise.
TravelPerk's inventory is the largest in the world. SAP Concur, by contrast, is lacking in options, especially for ground transportation.
Organizations also remark that it takes months to get set up with SAP Concur. TravelPerk, on the other hand, can be accessed instantly, with most companies fully up and running in less than a week. Plus, unlike SAP Concur, TravelPerk doesn't charge any fees for implementation or account management.
Navan
US-based Navan offers business travelers a range of solutions for the most common challenges, including travel policy management and expenditure reconciliation through an easy-to-use desktop interface and mobile applications. 
Navan' main offerings:
Navan boasts a substantial but not exhaustive inventory of corporate travel options. 
Users can take advantage of Navan' mobile app on android and IOS to use services on the go. 
Navan' AI-powered solutions provide greater visibility over travel finances, including automation for blocking out of policy spending. 
What do users highlight when reviewing our corporate travel solutions to Navan:
While Navan does have a large inventory of travel products, they do not have the scope or negotiating power of TravelPerk, which includes options for low-cost carriers, trains, and Airbnb. 
Users commented that they preferred TravelPerk's pay-as-you travel pricing system. With Navan, organizations are required to take out a subscription and can face extra fees on certain types of travel. 
Customers remarked that TravelPerk has more integrations making it easier to link travel solutions with existing HR and expense management software.
Customer service was another major point of comparison, with Navan having limited in-house options compared to TravelPerk's team of dedicated human support agents.  
TravelBank
TravelBank provides corporate travelers with a range of online tools to simplify booking and expensing their business trips through its subscription-based service. Offering access to industry rates for accommodation and transportation, companies can sign up to TravelBank on a per-user basis.
TravelBank's main offerings:
TravelBank features an all-in-one travel booking dashboard where corporate travelers can arrange hotels, flights, and ground transportation with automated approvals.
Their expense tracking solutions aim to streamline invoicing and reimbursement and can be integrated with a handful of credit cards and accounting software.
With TravelBank, users can sync their card transactions to track any missing expenditure.
What do users highlight when reviewing our corporate travel solutions to TravelBank:
TravelBank users reported that reaching customer service was more challenging, with response times being much longer than they experienced with TravelPerk.
The pricing model for TravelBank leaves companies paying a monthly subscription whether they use the service or not.
TravelBank lacks duty of care features, while TravelPerk offers comprehensive solutions, including real-time notifications to help managers make informed decisions and keep business travelers safe throughout their itinerary.
TravelBank's systems make it trickier to automate multi-level approvals.
Click below for a more detailed comparison between both platforms:
At TravelPerk, we are constantly working to remove the pain points of corporate travel. We have designed our solutions to offer comprehensive support to our users from the booking stage to finance management and business traveler safety. We strive to provide 7* customer service, and our team of advisors is always available to assist with any issues or questions. Should you need us, please do not hesitate to reach out. We are at your disposal 24/7, 365 days a year.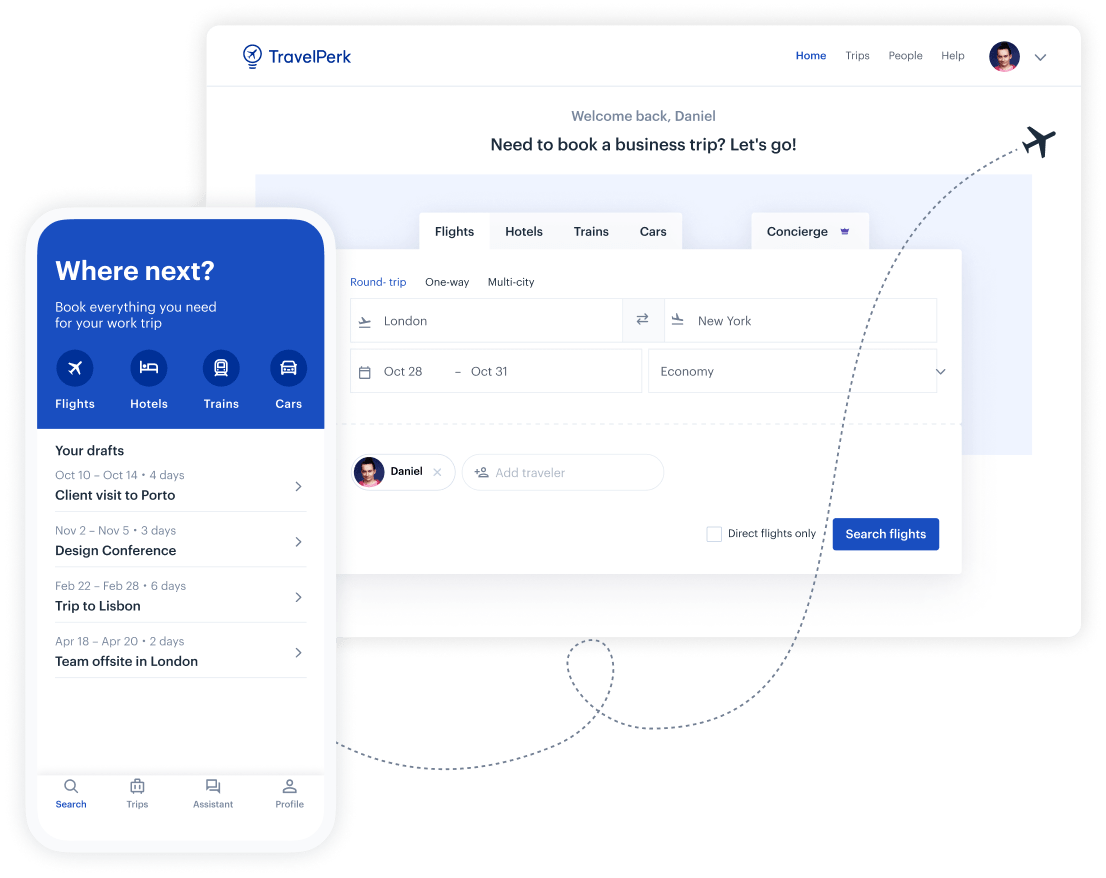 Make business travel simpler. Forever.
See our platform in action. Trusted by thousands of companies worldwide, TravelPerk makes business travel simpler to manage with more flexibility, full control of spending with easy reporting, and options to offset your carbon footprint.

Find hundreds of resources on all things business travel, from tips on traveling more sustainably, to advice on setting up a business travel policy, and managing your expenses. Our latest e-books and blog posts have you covered.

Never miss another update. Stay in touch with us on social for the latest product releases, upcoming events, and articles fresh off the press.