Lithuania is a cultural jewel in the heart of the Baltic region in Europe. The Lithuanian Song and Dance Festival, which is recognized by UNESCO, is one of the most unique cultural travel experiences you can get in the world. Similarly, you can also get a glimpse of the rich history of Lithuania by exploring the remnants of the Grand Duchy of Lithuania.
As a country, Lithuania balances its old-world charm and modern vibrancy quite well. It's most beautifully visible in Vilnius where you get a blend of modern skylines coexisting alongside ancient historic streets. If you're visiting Lithuania for the famous Rasa festival or a corporate tour through the Baltic states, your trip will never be boring when you book it with these five best online tour operators in Lithuania.
Let's go!
Best online travel agency for business travel
1. TravelPerk: the one agency for all your business travel needs

TravelPerk is a modern solution for modern corporate travel. Its easy-to-use online booking tool is a refreshing change from the clunky UI often associated with business travel. TravelPerk enables you to make flexible bookings for employees, and even offers the option to offset your carbon footprint.
This platform is more than just an OTA, it's a comprehensive corporate travel management tool that helps your team book, manage, and report on business travel. TravelPerk ensures employees are traveling stress-free on the cheapest flights available, at no sacrifice to experience.
Main offerings and features:
TravelPerk gives employees access to the information and the security they need to travel with peace of mind. It gives organizations and travel managers access to the best corporate travel rates that you won't find on the market.
Start saving money on business travel for your company today!
Best online travel agencies for leisure travel
2. Novaturas: personalized holiday bookings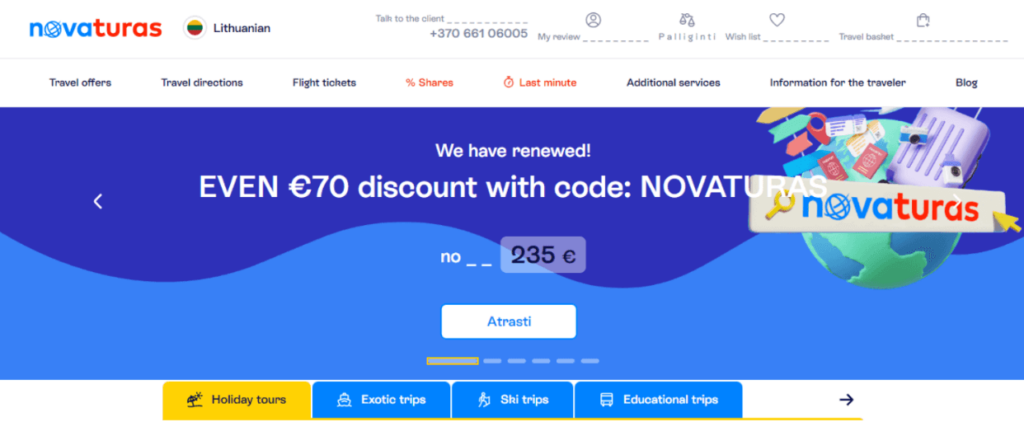 If you like traveling with pre-booked and personalized holidays, Novaturas can help you. Just by answering a few queries on their website, you can get a complete travel itinerary curated by travel experts available for booking. This helps you save time and create special holidays for the important moments of your life.
As a travel agency with over 25 years of experience in the industry, they can help you book holidays at over 30 destinations on over 100 sightseeing routes across the three Baltic countries, Lithuania, Estonia, and Latvia. Whether you're looking for ski trips, family vacations, or adventure travel, you can book it all with Novaturas.
Main offering and features:
Offers personalized holiday itineraries including flights and accommodation
Book your stay anywhere at over 30 destinations across the Baltic states
Wide variety of trip booking options for everyone from solo travelers to small groups
Offers Lithuanian-speaking representatives abroad
3. West Express: the leaders of self-guided travel in Lithuania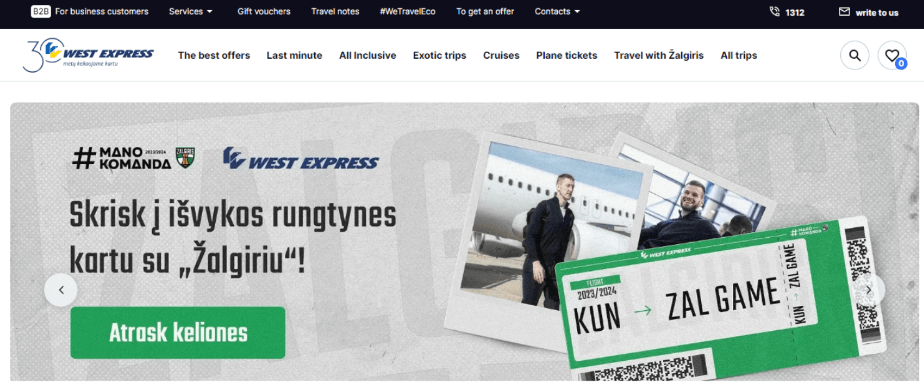 West Express is a leading Lithuania travel agency adept at providing both business and leisure trips. They take pride in providing responsibly prepared and tested travel routes for a seamless travel service for its customers. West Express aims to develop and deploy the latest tourism technologies into their services to become the top providers for different destinations like Spain, Poland, and even Germany.
Sometimes self-guided tour packages aren't enough for travel enthusiasts, West Express understands that. So, they made incentives like travel gift vouchers available for customers who want to share the joy of traveling with their friends and family.
Main offering and features:
Travel gift vouchers available
Last-minute economic and luxury holiday bookings available
Option to book plane tickets, cruises, and exotic trips from their website
Discounted rates when booking all-inclusive tours
4. Lithuanian Tours: tour operator for Christmas tours to Lithuania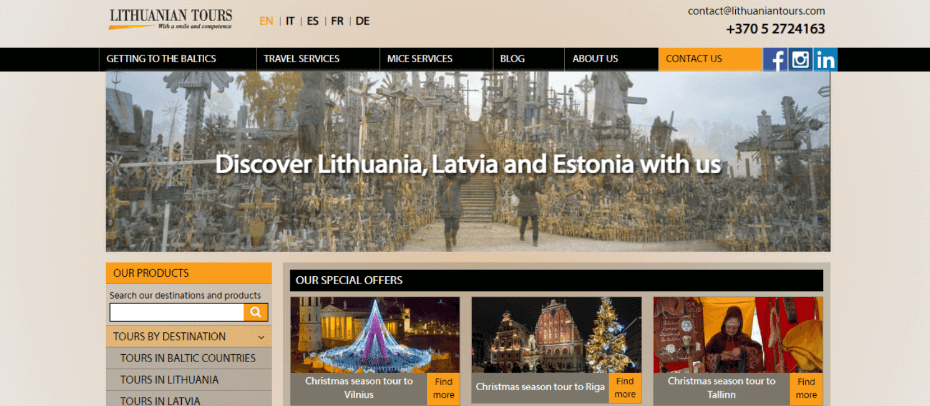 Lithuanian Tours are seasoned travel experts who help you book the best seasonal holidays to exotic locations like Tallinn and Riga and other cities across Lithuania, Latvia, and Estonia. As an experienced travel agency, they understand the pain points of travelers and curate their services to help their customers in the best way they can. This includes ensuring each booking also has the option for airport and hotel transfers in Baltic capitals that suit their style and budget.
Each booking also comes with knowledgeable and professional multilingual local guides experienced in both English and local languages. You also get a chance to enjoy the best of Lithuanian food from the top restaurants in the country. You also get access to cultural shows and performances by popular folk singers to make your travel experience as authentic and enjoyable as possible.
Main offering and features:
Offers special Christmas tours to Lithuania
Airport and hotel transfers available for booking
English-speaking multilingual local guides available
Access to cultural festivals in Lithuania with your booking
Holiday bookings available across all Baltic countries
5. Travel Addicts Club: the travel agency of choice for group trips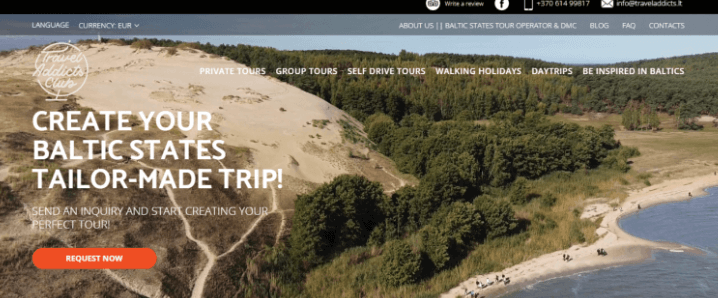 Travel Addicts Club is best suited for, you guessed it, travel addicts! They offer an incredible amount of variety in terms of the tours and holiday types they offer. From Kaunas day trips to the various iconic destinations in Lithuania to walking holidays, self-drive exploration trips, and group tours for travel groups—they offer it all. Each of their holidays is meticulously curated by travel experts and providers to make them exciting and achievable for all travelers.
If you want to explore the Baltics in luxury, you can do that too with Travel Addicts Club as they offer private tours that offer the best sightseeing and travel experience in Lithuania. Each tour booking has a clearly mentioned list of inclusions, exclusions, and options to ensure you always know exactly what you are paying for when you book a trip with Travel Addicts Club.
Main offering and features:
Wide variety of tour types available for booking
Offers specialized group trip bookings
Airport transfers available to book as optional extras with every booking
English-speaking local guide available for all bookings
Only two people are required for private tour bookings
Experience the Baltic states in its glory with these Lithuania tour operators
As a country, Lithuania offers an extensive range of travel opportunities for both leisure and business travelers making it the perfect destination for your next holiday. So, what are you waiting for? Book your holiday to Lithuania and the Baltic countries with these travel companies, today!
While you are at it, if you are visiting Lithuania for business, you can choose to book your holiday with TravelPerk. They offer helpful corporate and business travel features that make traveling easier, quicker, and more sustainable. Features like FlexiPerk allow you to cancel bookings anytime with an 80% refund, making business travel more affordable and hassle-free.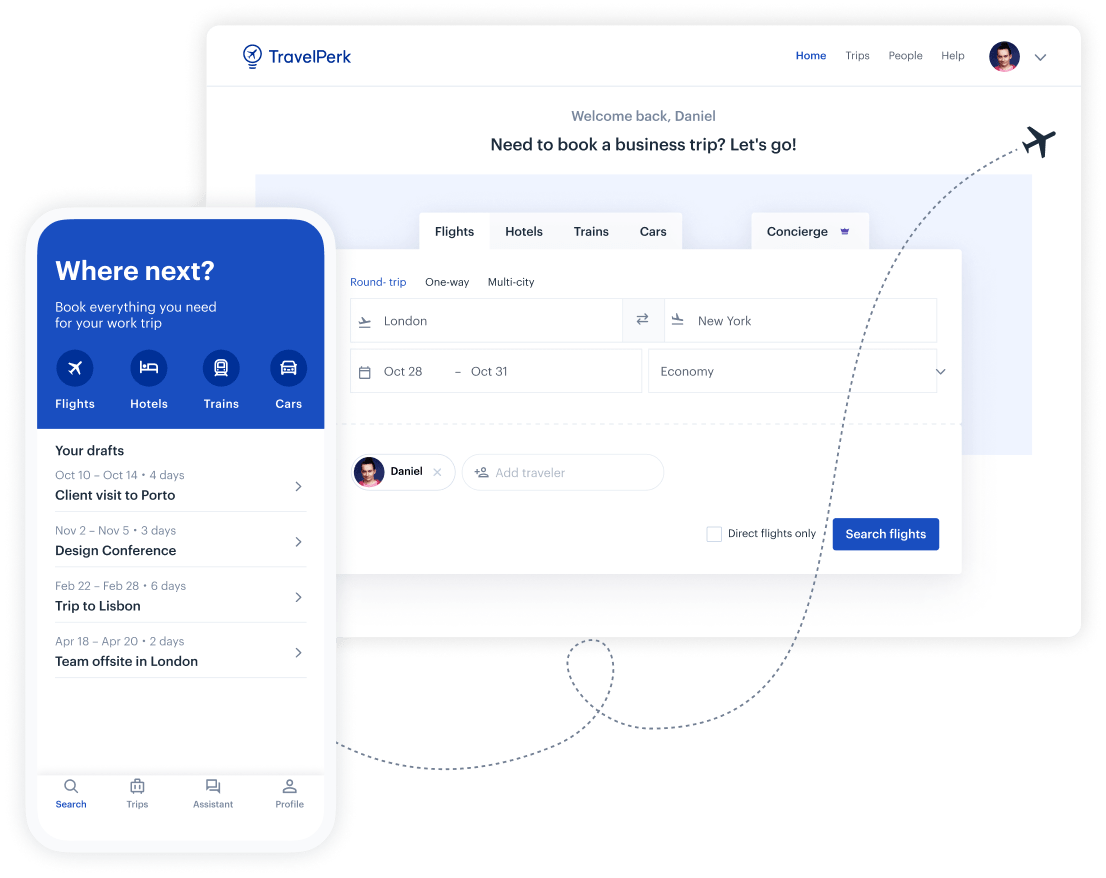 Make business travel simpler. Forever.
See our platform in action. Trusted by thousands of companies worldwide, TravelPerk makes business travel simpler to manage with more flexibility, full control of spending with easy reporting, and options to offset your carbon footprint.

Find hundreds of resources on all things business travel, from tips on traveling more sustainably, to advice on setting up a business travel policy, and managing your expenses. Our latest e-books and blog posts have you covered.

Never miss another update. Stay in touch with us on social for the latest product releases, upcoming events, and articles fresh off the press.