Streamlined expense management is a crucial element of the financial health of any organization, so having the right expense management software solution is key. Expensify is one example – but there are many alternatives to it.
And since travel expenses make up an important part of businesses' overall expenses (and with the business travel industry expected to reach $2 trillion by 2028) many companies are using comprehensive travel management solutions like TravelPerk to make the most of their corporate travel program and manage their budgets efficiently.
Given that both expense management software and travel management platforms are essential tools for many businesses,, it's important to make sure that any new software you choose, seamlessly integrates into your current tech stack.
Expensify is one of the most popular expense management systems out there, but it might not be the perfect fit for everyone. In this article, we'll compare the 5 best Expensify alternatives, along with detailed information about their most important features and customer reviews.
1. Divvy
Divvy is a SaaS platform for expense management that gives businesses access to a range of financial services and credit. It's built for small and mid-sized enterprises (SMEs) and was recently purchased by BILL, a financial automation company.
It's free to use, which makes it a particularly attractive option for businesses on a tight budget.
Divvy's key features include:
An intuitive dashboard that gives you a full overview of all business expenses in real time
Facilitated access to business credit, regardless of the size of your company
Automated expense management and detailed expense reports
Real-time tracking and control of your company's budgets and spending
Automatic reconciliation of credit statements into your accounting system
Easy-to-use virtual cards to protect your company against fraud
G2 rating: 4.5/5
Capterra rating: 4.7/5
Pricing: Free
Languages supported: English
(Info checked on January 30, 2023).
Expensify vs. Divvy
On G2, the two companies have the same global rating, 4.5/5. Customers found Divvy somewhat easier to set up and use, and rated its customer service higher, but the differences aren't drastic: both platforms' scores are above 8/10 across all categories. Currency conversions and employee reimbursements were easier with Expensify, which also scored better at meeting users' requirements.
On Capterra, Divvy's overall rating is better than that of Expensify (4.7/5 vs. 4.4/5). Feature-wise, both solutions are ranked similarly. Customers found Divvy's customer support to be excellent but mentioned that the platform could use some tweaks on its notifications (for example, for approaching spending limits) or reimbursements.
2. Ramp
Ramp is another Expensify competitor that provides companies with the right tools for better spend management and expense tracking. It offers corporate credit cards with an attractive cashback of 1.5%, which helps companies save on expenses, and enables super-fast bill payments.
Ramp is geared towards small and mid-sized businesses (SMBs) and mid-market enterprises. Similar to Divvy, it's free as its revenue comes from merchant fees.
Ramp's key features include:
Streamlined expense management with digitized approval and spend policies
Physical and virtual credit cards with granular control options, enabling you to block a single merchant or a category
1.5% cashback on all Ramp cards
Efficient accounting automation helping you be fully compliant and audit-ready at all times
Super fast bill payments via card, automated clearing house (ACH), check, or wire transfers
Detailed expense reports and real-time reviews of out-of-policy expenses
Easy integrations with 1000+ software apps, such as accounting platforms (such as Xero, Oracle Netsuite, and QuickBooks Online), ERP software, productivity and project management apps, and more
G2 rating: 4.7/5
Capterra rating: 4.9/5
Pricing: Free
Languages supported: English
(Info checked on January 30, 2023).
Expensify vs. Ramp
On G2, customers were particularly impressed with Ramp's ease of use and found it to be the more user-friendly platform of the two. Its overall rating is also higher: 4.7/5 vs. 4.5/5 for Expensify. Ramp also scored better in terms of customer support and general product direction.
The two tools have a similar feature profile on Capterra, but Ramp's overall rating of 4.9/5 make it one of the highest-rated apps in its category, with over 97% of users likely to recommend it to others. Expensify's overall rating is at 4.4/5 and fewer customers are likely to recommend it: 76.5%.
Ramp doesn't yet have an Android application but it has already launched one for iOS. Expensify has an iOS app (that has a rating of 4.7/5 with over 121k reviews) and an Android app, too.
3. Airbase
Airbase is a comprehensive spend management system that combines three core products – accounts payable (AP), corporate credit cards, and expense reimbursements for employees – enabling you to control all non-payroll spend workflows and processes in a single location.
It's a scalable solution that is suitable for startups and larger enterprises alike and helps them streamline financial reporting, compliance, and control.
Airbase's key features include:
Real-time visibility and reporting on all spend for improved budget management and bookkeeping
Automated, intuitive spend control and approval workflows and processes
Virtual and physical credit cards to protect the company against fraud and control spending
Multi-currency payments and cards to facilitate travel expense management
Instant receipt scanning via OCR technology for streamlined reimbursements of employee expenses
Integrations with all major accounting software providers (Oracle Netsuite, Sage Intacct, Xero, QuickBooks Online, and more)
G2 rating: 4.8/5
Capterra rating: 5/5
Pricing: Free Essentials plan (up to 10 employees), quote-based pricing for their Growth and Enterprise plans
Languages supported: English
(Info checked on January 31, 2023).
Expensify vs. Airbase
Based on customer reviews on G2, Airbase performs better than Expensify across most categories, from ease of use and setup to employee reimbursements, credit card integration, and general product direction. Airbase's overall rating is also higher: 4.8/5 compared to 4.5/5 for Expensify.
On Capterra, things look similar: Airbase has a rating of 5/5, while Expensify is at 4.4/5 and customers are more likely to recommend the platform to others (97.9% vs. 76.5%). Expensify has more of the core features included in Capterra's comparison, however, and also has a desktop version for iOS and Microsoft Windows.
4. Brex
Brex is a SaaS company that provides an integrated expense management solution and easy-to-use corporate cards. It's geared towards startups and small businesses and large enterprises alike, providing customized financial management solutions based on their needs.
Some of Brex's key features are:
An all-in-one cloud-based financial management solution that scales with your business
Flexible spend limits for different categories and needs
Easy access to corporate cards and business accounts
Tracking of burn rate and comprehensive runaway forecasts for startups
Fast, secure payments to service providers, freelancers, and partners via ACH, wire transfers, or card payments
Automatic onboarding and offboarding of employees and easy control of spend limits for newcomers
API integrations with other enterprise software applications such as SAP Concur, Slack, Zapier, Bamboo HR, and different accounting solutions (Inuit QuickBooks, Xero, Sage Intacct, and more)
G2 rating: 4.7/5
Capterra rating: 4.5/5
Pricing: Free
Languages supported: English
(Info checked on January 31, 2023).
Expensify vs. Brex
Brex has a slightly higher rating than Expensify on G2 (4.7/5 vs. 4.5/5) and performs better in most categories, such as ease of use and ease of admin, quality of support, and smart categorization. Expensify is better at mileage tracking and employee reimbursement, according to reviewers.
Expensify is the more feature-rich solution of the two, according to Capterra, but overall ratings are similar (4.4/5 for Expensify vs. 4.5/5 for Brex). Both are accessible on a mobile device via their mobile apps.
5. Spendesk
Spendesk is an all-in-one spend management solution for modern businesses that saves time for busy finance teams, alleviating the need for manual data entry. Spendesk combines smart cards, spend management and invoice management with approvals, budgets, digital accounting and reporting in one single platform.
Spendesk's key features include:
Physical cards and unlimited virtual cards
Native integration with Quickbooks, Netsuite, Xero, and more
Invoice management for paying suppliers directly from Spendesk
Live budgets and full visibility over spend
Individual spending limits and team approval workflows
G2 rating: 4.7/5
Capterra rating: 4.8/5
Pricing: Free, Essentials, Scale, Premium
Languages supported: English, French, German, Italian, Spanish
Expensify vs. Spendesk
Reviews show that both products meet the requirements at a comparable rate. Spendesk has a better overall rating on G2, compared to Expensify (4.7 vs. 4.5) and, according to reviews, is easier to use, set up, and administer. It also performs better in terms of ongoing product support. When it comes to feature updates and roadmaps, reviewers praise Spendesk over Expensify.
According to Capterra, Expensify offers more features but has a lower rating of 4.4 compared to Spendesk's 4.8.
Conclusion
In the same way that forward-thinking companies are no longer relying on travel agencies but are instead using dedicated platforms like TravelPerk to manage their corporate travel, they're no longer using Excel spreadsheets to track and oversee their expenses but are relying on automated expense management software.
Expensify is one such solution, and although many users like it, it might not be the best fit for your business; that's why, in this article, we've looked into the top 5 Expensify alternatives to help you choose the best one.
One factor that's important to consider is how well your expense management platform integrates with your corporate travel management system. Having the two platforms communicate seamlessly with each other enables you to have a birdseye overview of all relevant travel and expense data, get real-time updates on travel spend, and make sure everyone's swiftly reimbursed for their out-of-pocket expenses.
Schedule a demo today to see how TravelPerk can streamline travel expenses and make business travel simpler for everyone.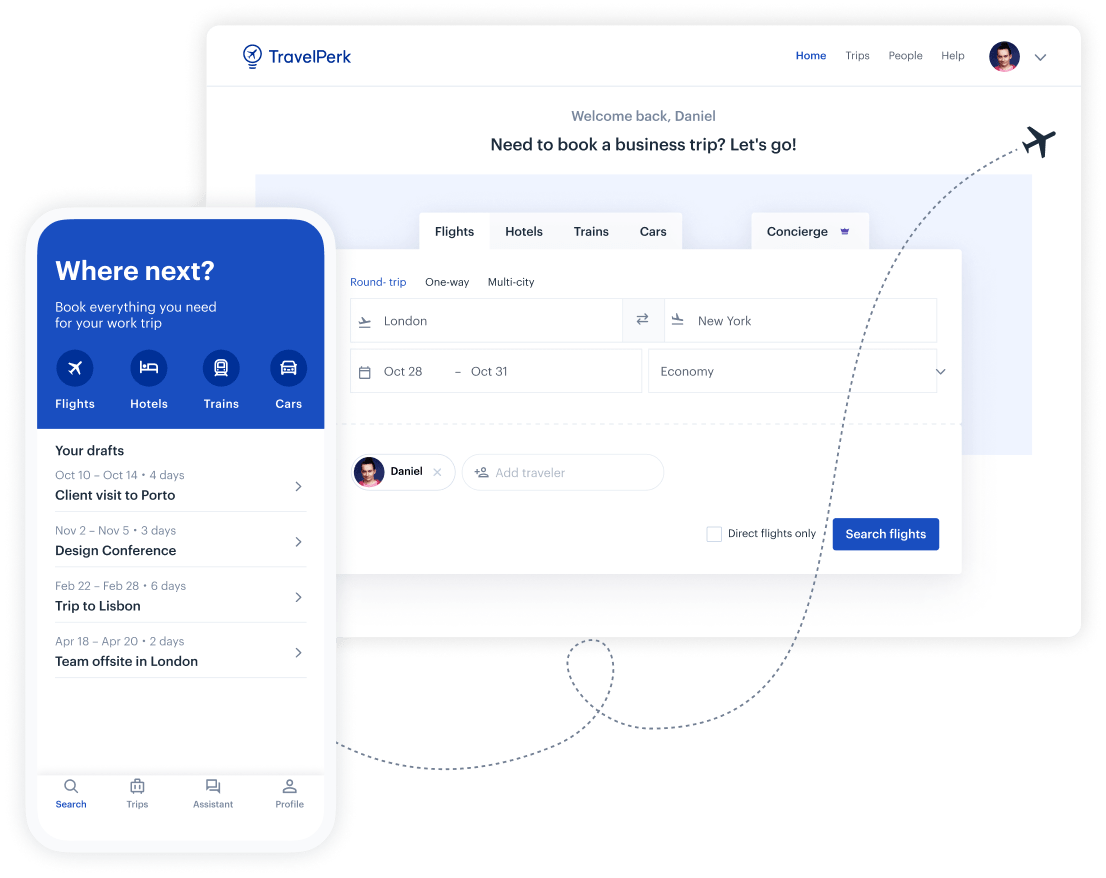 Make business travel simpler. Forever.
See our platform in action. Trusted by thousands of companies worldwide, TravelPerk makes business travel simpler to manage with more flexibility, full control of spending with easy reporting, and options to offset your carbon footprint.

Find hundreds of resources on all things business travel, from tips on traveling more sustainably, to advice on setting up a business travel policy, and managing your expenses. Our latest e-books and blog posts have you covered.

Never miss another update. Stay in touch with us on social for the latest product releases, upcoming events, and articles fresh off the press.