Thinking about hosting your next corporate event in Chicago? You're not alone. In May 2023, Chicago was the leading US city for the US meetings and events industry. But planning a corporate event takes a massive amount of work and coordination.
From managing vendors coordinating public relations, travel plans and hospitality, the planning process is not for the faint of heart.
With the level of complexity corporate events have, having an event management company on your team can help ensure a successful event.
Best Chicago event management companies
Here are some of the best Chicago-based event planners to support your event vision and execution.
1. TravelPerk

TravelPerk is a best-in-class business travel platform that empowers travelers to connect with their colleagues in real life. With TravelPerk, booking, managing, and coordinating event travel is made easy.

TravelPerk customers also benefit from a comprehensive MICE (Meetings, Incentives, Conferences, and Exhibitions) service. An in-house team of event experts is available to help you with venue sourcing, booking management, timeline management, duty of care, and more.

Due to hybrid and remote working, we recognize that companies are increasingly eager to gather team members in person. Our close relationships with suppliers mean you'll get the best deal, every time. You'll also benefit from consolidated invoicing and payment, all on the TravelPerk platform.
Headquarters: Barcelona, Spain
Offices: Chicago, Boston, Miami, London, Birmingham, Edinburgh, Berlin
What types of events can you plan with TravelPerk? 
We offer support for a variety of event types, including:
Meetings of 2-50 attendees

Conferences of 50-1000+ attendees

Awards ceremonies

Charity nights

Team building events

Hybrid events

Roadshows

Offsites
What event planning services does TravelPerk offer?
TravelPerk offers event management services to customers in the US, the UK, Spain, Germany, France, and other European countries. These may include:
Group bookings
Audio/visual effects
Incentive programs
Ground transportation
Theming and production
Project bookings
Delegate registration
And more!
We can be involved in your event as much or as little as you want, depending on your needs. Request a demo below!
TravelPerk's Meetings & Events team can help you book venues and get exclusive discounts on group travel
2. Paulette Wolf Events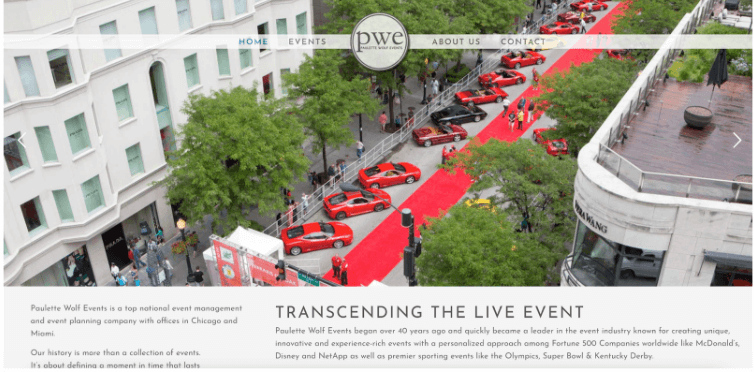 Paulette Wolf Events is a full-service event management company with decades of experience creating unique, innovative and experiential events. They specialize in high-end, personalized events for Fortune 500 companies, premier sporting leagues and more.
Headquarters: Chicago, Illinois
Other Offices: Miami, Florida
What type of events can you plan with Paulette Wolf Events?
They handle all kinds of live events, from festivals and sporting events to grand openings, product launches, special events and more.
What services does Paulette Wolf offer?
Their emphasis is on high-end, luxury, live events and experiences, with services such as:
Event design and management
Event marketing
Festival management
Transportation and logistics
Vendor sourcing and negotiation
Red Carpet management
Hospitality and Catering
and more
3. Revel Global Events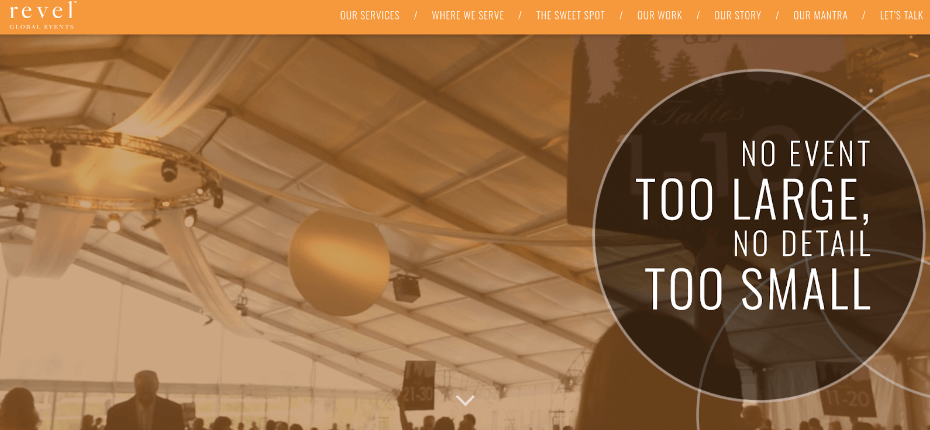 Revel Global Events is a Chicago-based event management company specializing in bold, innovative events that are meaningful, memorable and impactful.
Headquarters: Chicago, IL
What type of events can you plan with Revel Global Events?
They can handle everything from formal galas and corporate celebrations to experiential events, brand launches, trade shows and more.
What services does Revel Global Events offer?
Concepts and strategy
Creative design and decor
Celebrities and entertainment
Non-profit management and sponsorship
Logistics and permitting
and more
4. Ladidadi Events & Incentives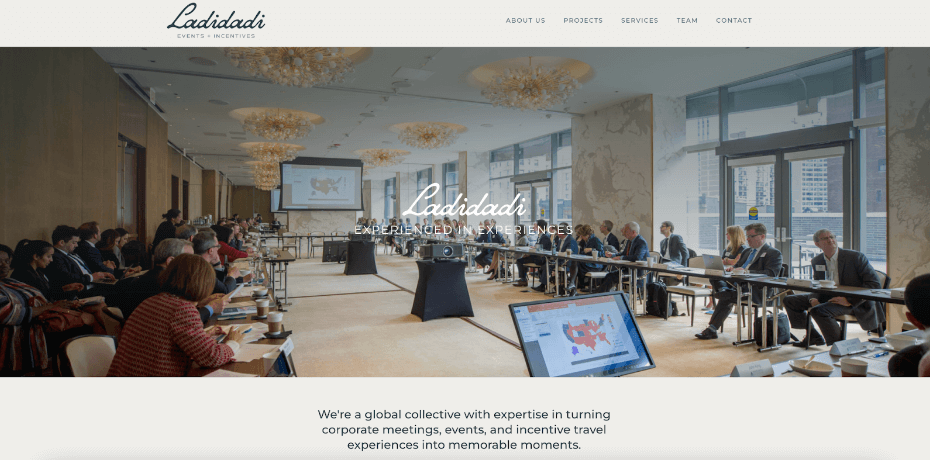 Ladidadi is a global collective with designing and executing memorable corporate events and experiences. With a unique flexible pricing and services model, you can reduce the number of service providers you work with and pay only for the services you need.
Headquarters: Chicago, IL
What type of events can you plan with Ladidadi?
Any type of corporate event, from company meetings and offsites to board dinners, holiday parties, trainings, tradeshows and conventions and more.
What services does Ladidadi offer?
Creative concepting and strategy
Branding and event promotion
Contract negotiation
Vendor coordination
Talent management
On-site staffing
and more
5. Next Level Event Design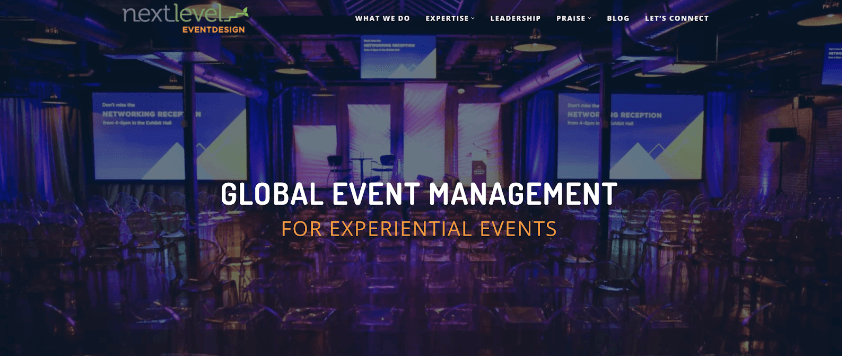 Next Level Event Design is an award-winning full-service event planning company specializing in unforgettable, innovative events that will leave a lasting impression for your guests.
Headquarters: Chicago, IL
What type of events can you plan with Next Level Events?
Anything from building openings and product launches to conferences, galas, experiential events and more.
What services does Next Level Events offer?
Website design
Event scheduling and strategy
Translation services
Transportation and logistics
and more
6. Absolute Production Services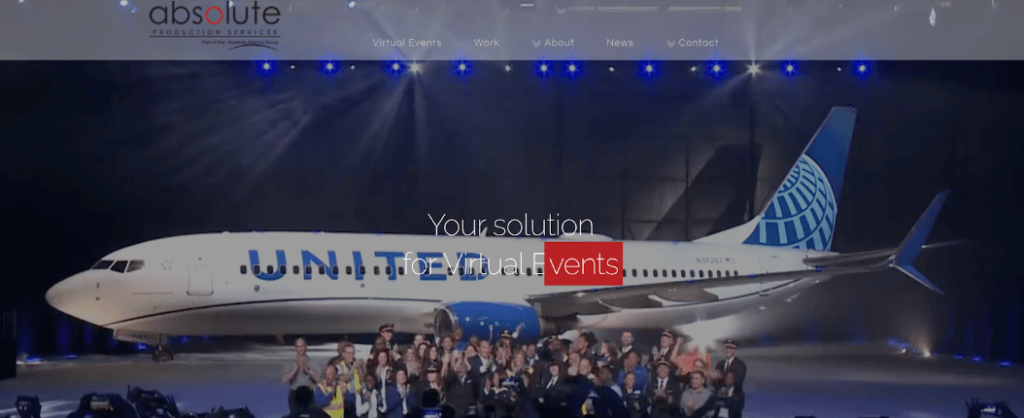 Absolute Production Services specializes in virtual and hybrid events, giving you endless possibilities for unforgettable events, whether you're meeting together in person or remotely from around the world.
Headquarters: Chicago, IL
What type of events can you plan with Absolute Production Services?
Virtual events of all kinds, including press conferences, award ceremonies, fundraisers, community events, conferences and more.
What services does Absolute Production Services offer?
Custom landing pages
Scrolling agendas
Up to 5 live presenters on the stream
High-quality, broadcast-like production elements
Custom transitions and integrations
and more
7. 360 Destination Group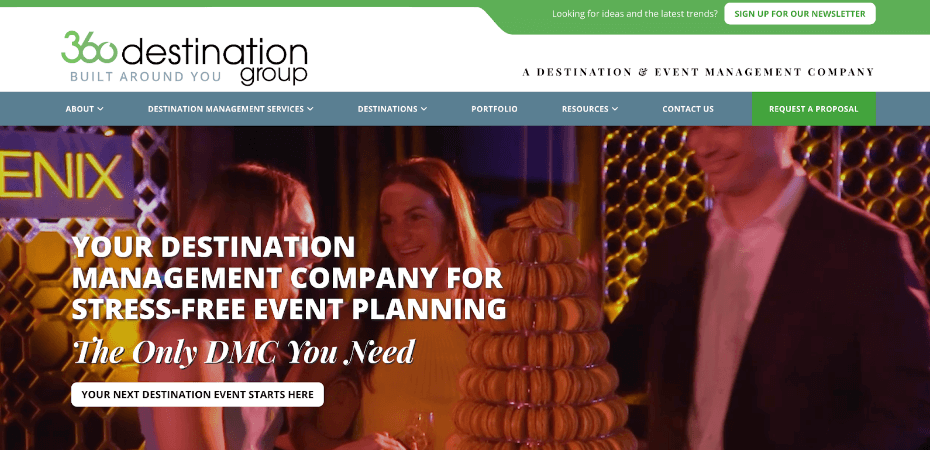 360 Destination Group is a destination management company (DMC) specializing in elevated destination and event management, allowing you to host unforgettable events in destinations around the US, with carefully curated details that match your brand.
Headquarters: Chicago, IL
What type of events can you plan with 360 Destination Group?
They specialize in destination events, including incentive events, company retreats, annual business meetings and more.
What services does 360 Destination Group offer?
Event design and development
Entertainment
Dining experiences
Tours and activities
Team building
Hospitality management
and more
The bottom line
Whether you're looking to plan a virtual awards ceremony, an annual company offsite, or a major conference, these Chicago events management teams will help ensure your next event is unforgettable.
For an ongoing partner in travel and events management, look to TravelPerk. Our all-in-one corporate travel management platform allows you to organize company events that bring everyone together, minus the messy spreadsheets. Plus, you'll get access to our comprehensive in-house team for venue sourcing, event planning and more.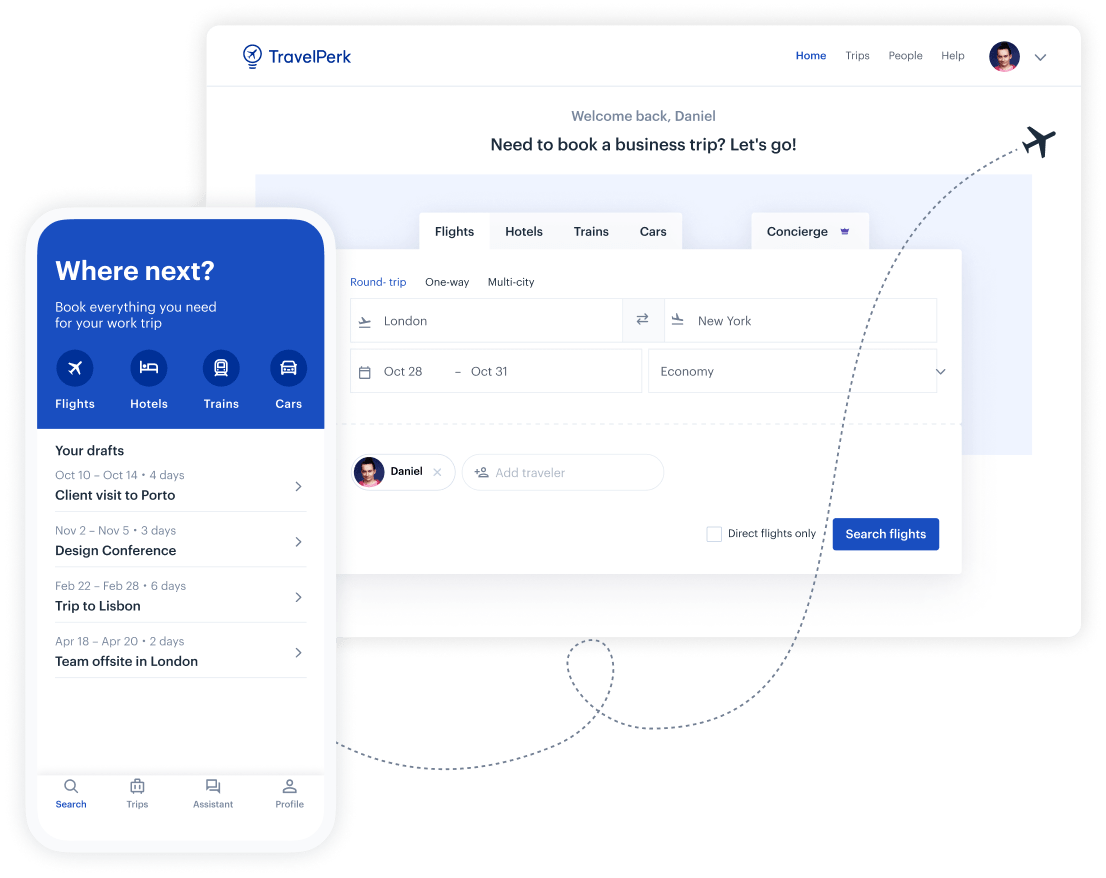 Make business travel simpler. Forever.
See our platform in action. Trusted by thousands of companies worldwide, TravelPerk makes business travel simpler to manage with more flexibility, full control of spending with easy reporting, and options to offset your carbon footprint.

Find hundreds of resources on all things business travel, from tips on traveling more sustainably, to advice on setting up a business travel policy, and managing your expenses. Our latest e-books and blog posts have you covered.

Never miss another update. Stay in touch with us on social for the latest product releases, upcoming events, and articles fresh off the press.