Planning a holiday party or an evening out with your team might be simple enough, but what about corporate events where the stakes are higher? Things like:
fundraising events and galas
important board meetings or trade shows
large conferences or team incentive trips
When it comes to organizing a corporate event, things can become complex quickly. There are so many touchpoints to consider, from the planning process to public relations to coordinating with service providers and rentals and vendors. But with 98% of US federal employees agreeing that in-person events and conferences are "important to advancing their agency's mission," you can't just ignore events altogether.
Instead, hiring an event management company can save your team tons of headaches and help you create on-brand events that wow your attendees.
Best event management companies in Boston
No matter what type of event you're looking to host, from fundraisers to board meetings to incentive trips or more, one of these companies will have you covered.
1. TravelPerk

TravelPerk is a best-in-class business travel platform that empowers travelers to connect with their colleagues in real life. With TravelPerk, booking, managing, and coordinating event travel is made easy.

TravelPerk customers also benefit from a comprehensive MICE (Meetings, Incentives, Conferences, and Exhibitions) service. An in-house team of event experts is available to help you with venue sourcing, booking management, timeline management, duty of care, and more.

Due to hybrid and remote working, we recognize that companies are increasingly eager to gather team members in person. Our close relationships with suppliers mean you'll get the best deal, every time. You'll also benefit from consolidated invoicing and payment, all on the TravelPerk platform.
Headquarters: Barcelona, Spain
Offices: Boston, Chicago, Miami, London, Birmingham, Edinburgh, Berlin
What types of events can you plan with TravelPerk? 
We offer support for a variety of event types, including:
Meetings of 2-50 attendees

Conferences of 50-1000+ attendees

Awards ceremonies

Charity nights

Team building events

Hybrid events

Roadshows

Offsites
What event planning services does TravelPerk offer?
TravelPerk offers event management services to customers in the US, the UK, Spain, Germany, France, and other European countries. These may include:
Group bookings
Audio/visual effects
Incentive programs
Ground transportation
Theming and production
Project bookings
Delegate registration
And more!
We can be involved in your event as much or as little as you want, depending on your needs. Request a demo below!
TravelPerk's Meetings & Events team can help you book venues and get exclusive discounts on group travel
2. Nxtevent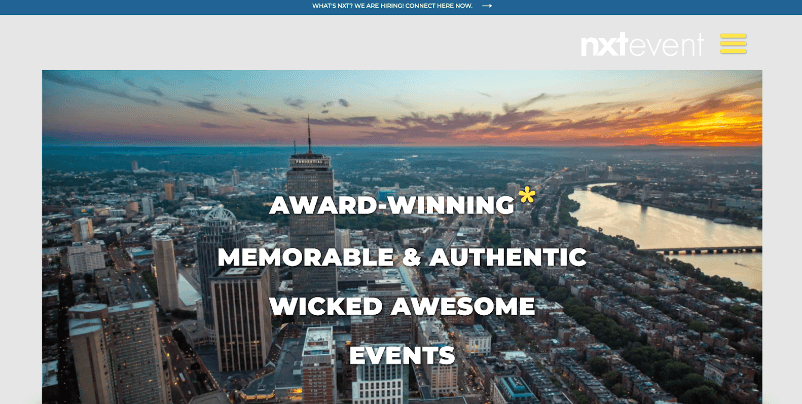 Nxtevent has over 20 years of experience hosting corporate events in the Boston area and beyond. As award-winning event planners and designers, they can help create everything from simple, elegant dinners to complex, unforgettable conferences.
Headquarters: Boston, Massachusetts
What type of events can you plan with Nxtevent?
Nxtevent specializes in memorable live events, including conferences, evening excursions, teambuilding, and special events.
What services does Nxtevent offer?
Invitation design and execution
Venue research
Contract negotiation and management
Catering management
Event decor
Entertainment
and more!
3. AE Events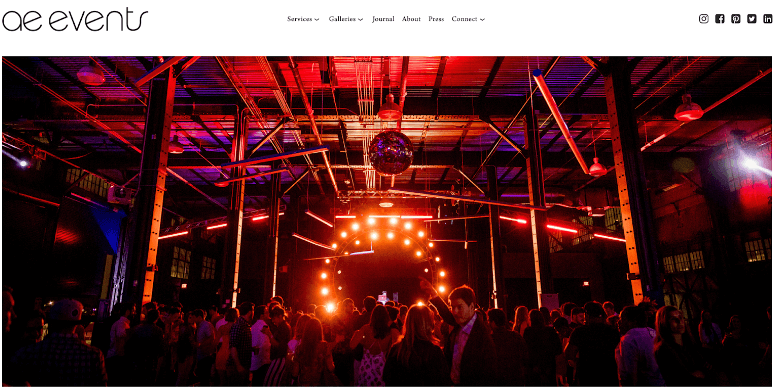 AE Events is a premier Boston event coordination company that manages high-end, production-level events for clients. They focus on ensuring the event aligns with your brand throughout every detail, whether it's a milestone celebration or an annual meeting.
Headquarters: Boston, MA
What type of events can you plan with AE Events?
They cover the whole spectrum, from conferences and meetings to non-profit events and galas, campaign launches and ceremonies and even virtual and hybrid events.
What services does AE Events offer?
Concept and branding work
Strategic planning
Contract negotiation
Vendor coordination
Event production and design
VIP luxury experiences
Database management
and more
4. Castle Group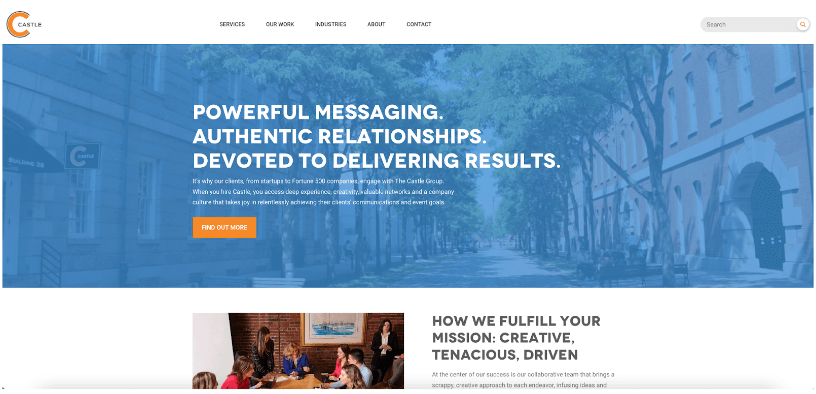 Castle Group is an event-management company in Boston that has worked with clients in dozens of industries from startups to Fortune 500 companies. They focus on four core elements: creativity, client-centricity, communications and connectivity.
Headquarters: Boston, MA
What type of events can you plan with Castle Group?
They'll handle anything from meetings to conferences, corporate incentive programs to special events, anniversary campaigns, product launches and non-profit galas. They can also manage hybrid and virtual events.
What services does Castle Group offer?
Event production
Event sustainability
Budget management
Event marketing
Entertainment / leisure activity coordination
Post-event analysis
Website design
and more!
5. SYB Event Planning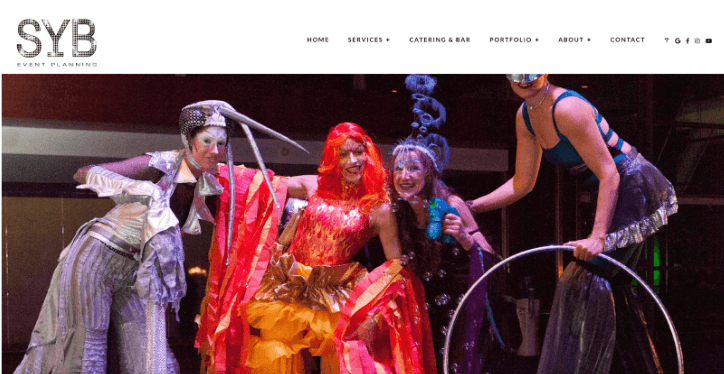 This New England-based event planning company specializes in ensuring that your event flawlessly matches your brand and creates an exceptional experience for you and your guests.
Headquarters: Boston, MA
What type of events can you plan with SYB Event Planning?
They manage conferences, banquets, galas, receptions, client appreciation events, destination events and more.
What services does SYB Event Planning offer?
Catering and bar services
On-brand events
Charity events
Vendor relationships
Sponsorship management
and more!
6. Corinthian Events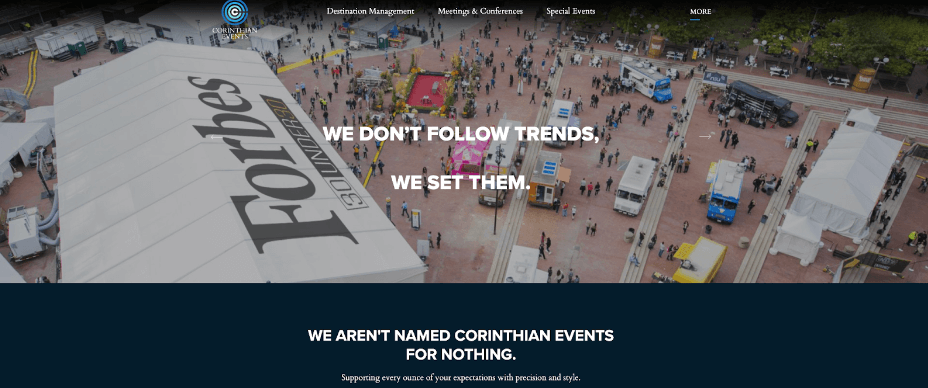 Corinthian Events is a full-service event company with 20+ years of experience specializing in high-touch, memorable events and experiences. They are also destination managers, allowing your guests to experience the fullness of a city during their visit.
Headquarters: Boston, MA
What type of events can you plan with Corinthian Events?
They specialize in destination-focused events, special events, conferences, and meetings, but can also coordinate think tanks, festivals, symposiums, tradeshows and more.
What services does Corinthian Events offer?
Venue selection and contract management
Transportation logistics
Airport Meet & Greet
Hospitality and staffing
Event design and production
Speakers and headliners
Guest communication
and more!
7. Rafanelli Events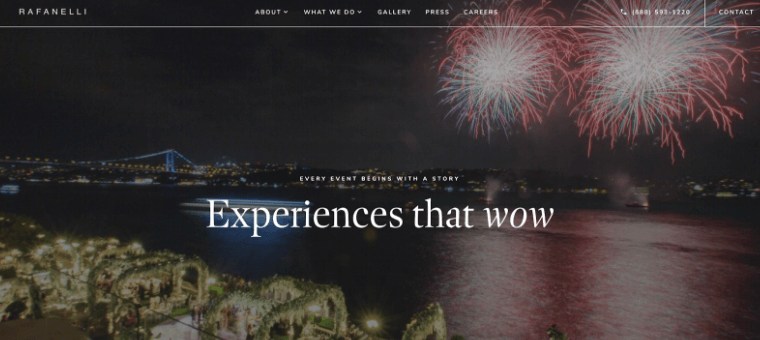 Rafanelli Events works with organizations of all sizes, from Fortune 500 companies to non-profits, to create exceptional, world-class events that go above and beyond and showcase your brand and mission.
Headquarters: Boston, MA
Other Offices: New York, NY, and Palm Beach, FL
What type of events can you plan with Rafanelli Events?
They'll manage events up to 15,000 attendees, including galas, fundraisers, award ceremonies, after-parties, incentive trips and more. They can also coordinate hybrid or virtual events.
What services does Rafanelli Events offer?
Activities coordination
Budget planning
Entertainment
On-site management
Meeting planning
Itineraries and timelines
Transportation
and more!
The bottom line
Whether you're planning an annual board meeting or an evening gala, hosting 10,000 attendees for a conference or inviting just your 20-person executive team, having an events management company on your side makes it much easier to have a successful event.
If you're looking for a trustworthy partner for your next event, TravelPerk is here for companies of all shapes and sizes. Our all-in-one corporate travel management platform enables you to organize company events that bring everyone together, for a fraction of the cost.
Say goodbye to messy spreadsheets and long email chains, and say hello to managing your attendees, venues, scheduling, travel plans and more in one user-friendly hub.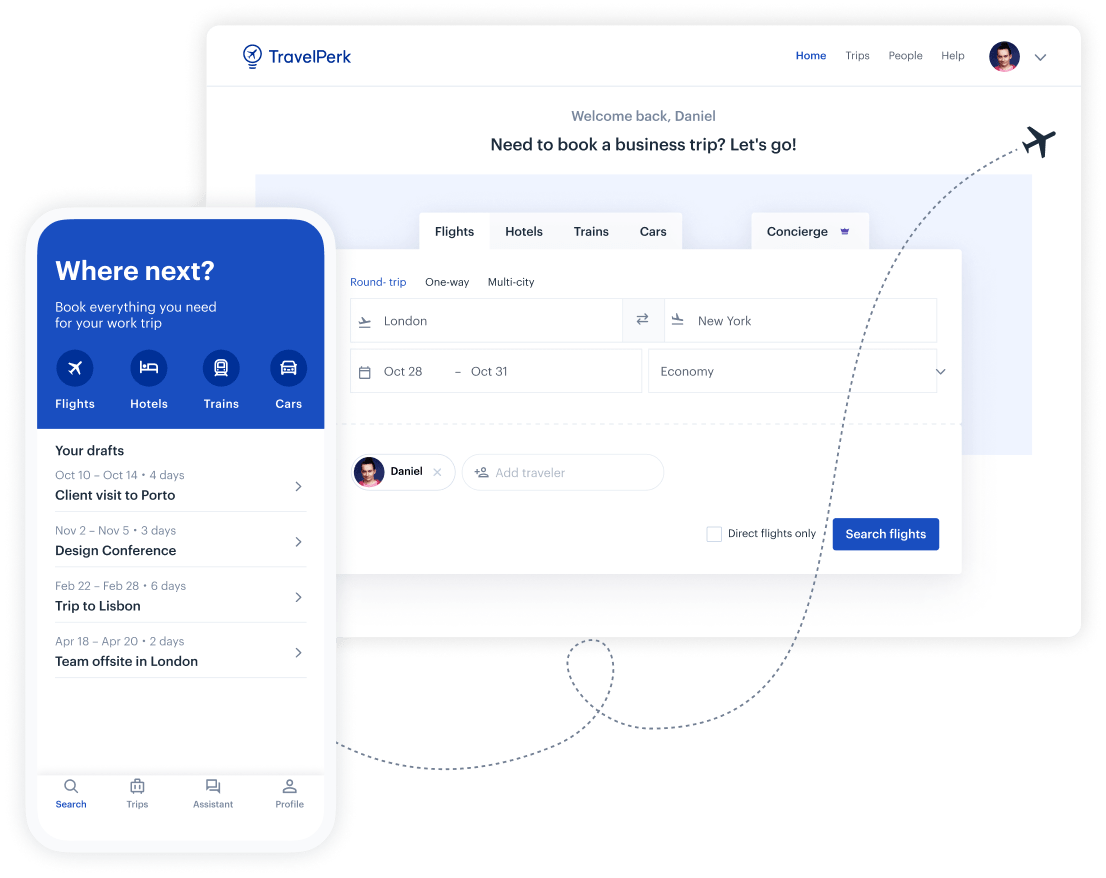 Make business travel simpler. Forever.
See our platform in action. Trusted by thousands of companies worldwide, TravelPerk makes business travel simpler to manage with more flexibility, full control of spending with easy reporting, and options to offset your carbon footprint.

Find hundreds of resources on all things business travel, from tips on traveling more sustainably, to advice on setting up a business travel policy, and managing your expenses. Our latest e-books and blog posts have you covered.

Never miss another update. Stay in touch with us on social for the latest product releases, upcoming events, and articles fresh off the press.