Compare the best corporate travel management companies Singapore has to offer, right here. If you're involved in managing business trips for your Singapore-based business, you need a flexible, totally transparent, centralized solution that gives you complete control and visibility over your travel needs.
Using spreadsheets, email threads and instant messaging tools to manage important business trips leads to one thing… frustration - for travel managers and travelers alike. Trying to keep track of everything using separate apps and tools is extremely time-consuming, costly, and can lead to expensive errors.
The key benefit of using a corporate travel management company in Singapore, Asia, is a streamlined process that gives you all the flexibility you need to manage modern business travel.
How to choose the right corporate travel management company in Singapore
Amid a changing business travel industry landscape, you need the right corporate travel management support from your TMC. When selecting a TMC, the following key attributes are crucial:
Technology - The driving force of modern travel, your chosen corporate travel company in Singapore should be able to integrate the right travel tech for your business. The right travel technologies can help you manage risk, automate repetitive processes, and identify time and cost savings.

Flexibility - Travel plans can change. A TMC that makes adjusting travel arrangements simple is a must to make life easier for travel planners and travelers alike.

Responsiveness - Travel disruptions happen. When they do, you want a business travel management company in Singapore that's available and responsive to tackle any problems that arise. Ideally, you want to communicate with a real human rather than a bot when time is of the essence.
Comprehensiveness - You want a corporate travel management company that covers everything. A TMC should be your one-stop shop for all things business travel related. From booking flights and accommodation to managing travel expenses and goods and services tax recovery, you want to limit the number of touchpoints to ensure a streamlined travel management process.

For the best in business travel management in Singapore, try these top corporate travel agencies:
The best in business travel management in Singapore overall
TravelPerk gives you everything you need to manage corporate business trips all in one place. Book, manage and report on business travel with the integrated online booking tool.
Find the best fares and enjoy exclusive rates for flights, rail, car rental, and accommodation worldwide. Get the latest travel alerts and safety information, and enjoy the flexibility to cancel or change what you need to and get an 80% refund for added peace of mind.
Access 24-7 support from actual people when you need it most, and utilize modern technology for a more efficient way to manage corporate travel all year round. TravelPerk is packed with an arsenal of awesome features including:

FlexiPerk - Gives you the most flexible business travel, ever. Book any flight, hotel, car, or train at any rate, and cancel anytime with no questions asked.
Largest inventory worldwide - Book flights, trains, hotels, car rentals, or even an Airbnb for a hassle-free corporate travel experience.

Fast, 24/7 customer support - Speak to a real person within 20 seconds by phone or 90 seconds by online chat to get your travel issues resolved immediately. Available 24-7 all year round, you're never left in the lurch when a travel emergency arises.

Goods and services tax reclaim - Save up to 25% on business travel expenses by maximizing your goods and services tax  recovery. 
Integration with third-party software - Easily connect with a catalog of third-party software integration partners and access some great apps from health and wellness to meeting spaces.

Events management - From kick-offs and offsites to seasonal parties, organize your work events with ease and enable remote and hybrid teams to connect in real life.
TravelPerk is a leading travel management company offering businesses and travelers complete control and visibility over the travel management process. Everyone benefits from time and money saved, while all aspects of managing business trips are connected and aligned.
See how TravelPerk makes business travel stress free
#2 - CoTS - Corporate Travel Services
Established in 1988, CoTS describe themselves as one of the 'best corporate travel management services Singapore has to offer'. CoTS main business travel management features include:
CoTS TripPAL - A corporate travel management app, similar to the TravelPerk app, which acts just like a personal assistant to manage all the details of a traveler's trip.

Travel management reporting - A reporting system that tracks and stores travel data to help businesses plan and manage their corporate travel management programs.

Consulting - Face-to-face meetings with business leaders, travel planners and finance teams to plan corporate travel solutions and identify potential cost savings.

Duty of care - Offering travelers peace of mind with safety and security management before, during, and after business trips.

Although CoTS is one of the more established corporate travel agencies in Singapore, it only covers some aspects of business travel management. Unlike other corporate travel management companies in Singapore, it's not a complete end-to-end solution because it lacks several key features.
For example, it doesn't offer any support for invoicing or travel expense management, VAT recovery, and it doesn't have a carbon offsetting program.
#3 - Global Travel
With over 120 awards, Global Travel is widely regarded as one of the leading corporate travel agencies in Singapore. Established in 1975, the agency describes itself as a 'locally-owned independent travel management company with a global network'. Some of the agency's key corporate travel management features include:
Business travel coordination including flight and hotel reservations, visa services and travel insurance arrangements
Travel policy management
Travel management reporting
Crisis management
Despite being around for nearly 50 years, Global Travel has a number of limitations, not least the current inability to book flights directly from the GTView mobile app. There is also no support for invoicing, travel expense management or VAT recovery, a lack of a sustainability program, and staff are only available Monday to Friday 8.30am - 6.30pm.
#4 - FCM Travel
FCM Travel describes itself as an 'alternative corporate travel company', and offers a full suite of services including:
Checking airfares
Booking flights, hotels, transfers, and car hire
Travel approval system customized to suit company travel policies
Duty of care
Payments and expense management
Reporting and analytics
Intuitive mobile app for travelers to manage trips
Sustainability program
24-7 support
Despite a range of great global business travel features, some user reviews indicate several issues with the level of support provided when travel problems occur. The customer service experience for some FCM Travel users has also been negative.
Click below for a more detailed comparison between both platforms:
#5 - Egencia
Describing itself as the only proven global B2B travel tech platform, Egencia is a corporate travel management company that focuses on helping businesses to manage traveler risk and ensure their well-being. Despite often receiving praise for its travel management software interface, users have said it can overwhelm them with information. Nevertheless, Egencia offers some key features including:
Expense management
Policy compliance
Travel itinerary management
Risk management
Profile management
However, despite being a popular companion for many business travelers, Egencia does not include VAT recovery, lacks free account management, has no flat fee and extra charges apply - including costs for customer support. Plus, using Egencia means you will pay to use it whether a traveler travels or not. With several additional fees to consider, Egencia might not be the most cost-effective option.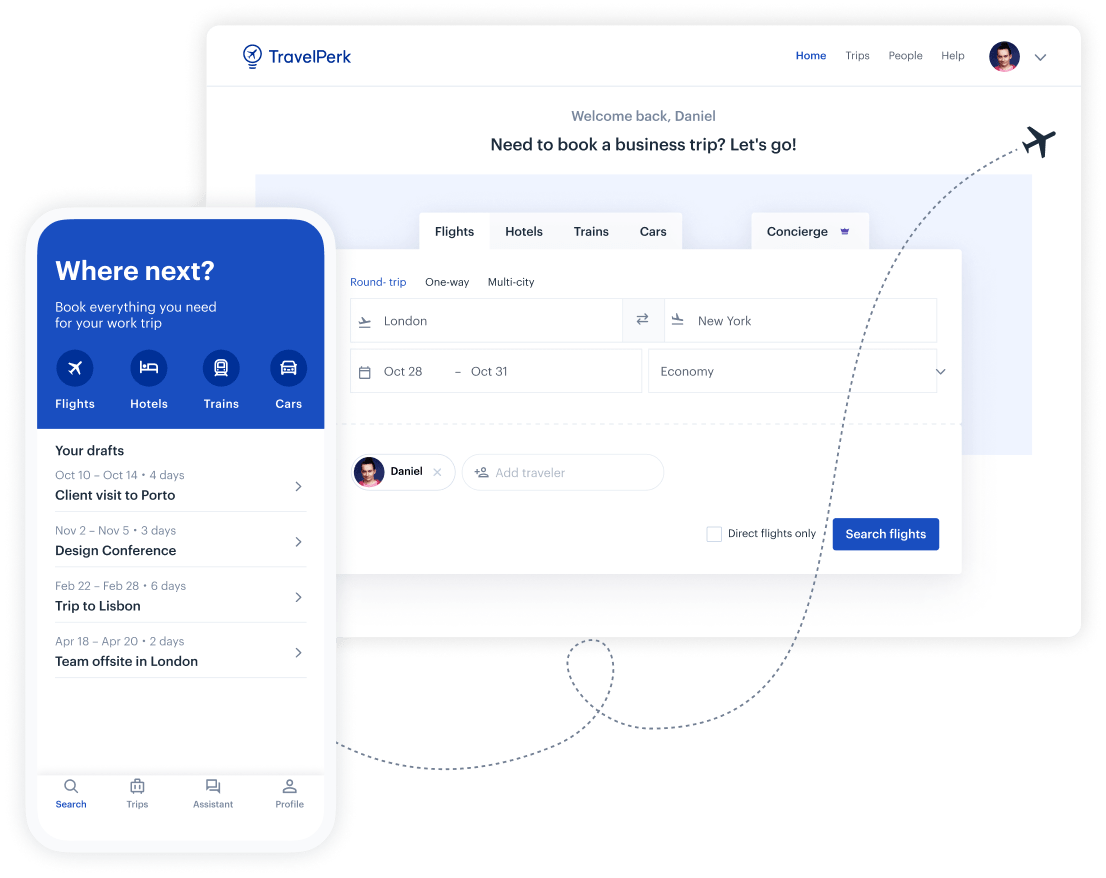 Make business travel simpler. Forever.
See our platform in action. Trusted by thousands of companies worldwide, TravelPerk makes business travel simpler to manage with more flexibility, full control of spending with easy reporting, and options to offset your carbon footprint.

Find hundreds of resources on all things business travel, from tips on traveling more sustainably, to advice on setting up a business travel policy, and managing your expenses. Our latest e-books and blog posts have you covered.

Never miss another update. Stay in touch with us on social for the latest product releases, upcoming events, and articles fresh off the press.