When choosing an expense management platform – which is a critical element of your software stack – it's important to pick a tool that meets all your teams' needs.
For many companies, travel expenses make up a large portion of a businesses' total expenses. In 2021, it was estimated that business travelers spent more than $740 billion worldwide – so, to optimize travel spend, many companies are using a modern travel management solution like TravelPerk, and prioritzing an expense management tool that seamlessly integrates into their corporate travel software, too.
Brex is a SaaS company that offers corporate credit cards and spend management software to startups and larger tech companies to facilitate accounting, budgeting, and spend management.
Brex might not be the best solution for everyone, though. So, in this article, we'll look into the 5 best Brex alternatives and give you more details about each one.
Let's dive in.
1. Divvy
Divvy is an all-in-one expense management solution geared towards small and mid-sized enterprises (SMEs) and gives them access to both banking services and business credit.
Divvy is free to use – its revenue comes from merchant fees – making it a budget-friendly solution, too. It was recently acquired by BILL, a financial automation software company for SMEs.
Here are some of Divvy's features:
A comprehensive dashboard enabling you to see and review all expenses in real time
Virtual payment cards that simplify eCommerce purchases and protect against overspending and fraud (by keeping real card numbers hidden)
Automated expense reports, receipt matching, and rule-based auto-categorization
Automated reconciliation between credit statements and your expense management system
Real-time visibility of all your company spending in one place
Intelligent accounts payable (AP) software that helps save time through automation
A mobile app that enables you to manage spending, budgets, and virtual cards on the go
G2 rating: 4.5/5
Capterra rating: 4.7/5
Pricing: Free
Languages supported: English
(Info checked on January 26, 2023).
Brex vs. Divvy
On G2, Brex has a slightly higher rating (4.7/5 vs. 4.5/5 for Divvy). Their ratings by category are very similar, both solutions faring very well across the board (9+/10 for nearly all categories), with Brex scoring slightly higher in terms of ease of use and ease of setup and Divvy being considered as the better business partner overall. Divvy offers currency conversions, too, which Brex doesn't.
The comparison between the two on Capterra paints a slightly different picture, with Divvy being recognized as the more feature-rich solution that customers are more likely to recommend to others. Overall, both platforms seem to be offering a service that clients are happy with.
2. Ramp
Ramp is a corporate card and expense management platform that businesses use to control their spending, optimize budgets, and streamline business banking.
Ramp provides financial services to companies of all sizes, from small businesses and startups to medium and large enterprises, and, similarly to Divvy, is free to use.
Here are some of Ramp's top features:
Unlimited physical and virtual corporate cards with a 1.5% cashback
Automated expense management, smart categorization, and expense reports
Automated review of every expense in real-time, flagging out-of-policy items for inspection
Fast bill payments via card, automated clearing house (ACH), check, or international wire transfers
Accounting automation enabling you to streamline bookkeeping and close your books faster
1000+ integrations to other enterprise software tools, including accounting software (such as Xero and QuickBooks Online), productivity apps, ERP software, HRIS tools, and more
G2 rating: 4.7/5
Capterra rating: 4.9/5
Pricing: Free
Languages supported: English
(Info checked on January 26, 2023).
Brex vs. Ramp
Brex and Ramp seem to be on par with each other across most categories in G2's comparison tool, with Ramp scoring slightly higher in terms of ease of setup and ease of admin, as well as the general product direction.
In Capterra, Ramp seems to have more features than Brex, making it potentially more flexible for different business needs. It's also recognized as a top performer in Expense Report Software and Spend Management Software for 2022.
3. Airbase
Airbase is a SaaS spend management platform that consolidates all workflows and processes for all non-payroll spend for startups and larger enterprises alike, making the work of finance teams and business owners easier.
It combines three core functionalities – bill payments, a corporate card program, and employee expense reimbursements – to simplify compliance, risk management, and financial control.
Here are the top features of Airbase:
A single automated spend platform to replace complex manual processes
Full visibility and control over all non-payroll spending
Easy compliance management and retrieval of documentation for audits
Physical and virtual corporate cards you can reimburse easily, allowing for granular spend control
Silicon Valley Bank (SVB) and American Express (AMEX) card program integration
A consolidated payment platform for all bill payments: cards, ACH, checks, vendor credits, and wire transfers
Easy 3-way matching of invoices to reduce financial risk
G2 rating: 4.8/5
Capterra rating: 5/5
Pricing: Free Essentials plan (up to 10 employees), quote-based pricing for their Growth and Enterprise plans
Languages supported: English
(Info checked on January 26, 2023).
Brex vs. Airbase
On G2, Airbase is performing slightly better than Brex across most categories, although the two have very similar scores (9+/10 for most criteria). Airbase fares a bit better in meeting clients' requirements and its customer support is better rated but Brex is easier to set up and use, according to the ratings.
On Capterra, Airbase is better rated in terms of features and overall customer satisfaction and is also a top performer in the Procurement software category for 2022.
4. Expensify
Expensify is a SaaS payments application enabling businesses, freelancers, and individuals to manage their money better.
It aims to make receipt scanning, reconciliation, and expense reports simpler to provide admin staff with customizable expense policies and facilitate the approval process. It automatically syncs with the accounting system you're using and makes it easier to close your books and manage your organization's expenses.
Here are some of the key features of Expensify:
One-click receipt scanning and automatic expense categorization
Easy-to-setup approval workflows with the option to add multiple approval levels
Easy credit card import and checking account integration for automatic receipt merging and reconciliation
A virtual or physical Expensify corporate credit card with 1% to 4% cashback
Real-time compliance and fraud protection
A mobile app that you can use to approve reports and get real-time visibility into expenses on the go
G2 rating: 4.5/5
Capterra rating: 4.4/5
Pricing: Free plan, Collect at $5/user per month, Control at $9/user per month
Languages supported: English
(Info checked on January 26, 2023).
Brex vs. Expensify
According to the data available on G2, Brex performs slightly better in most categories, such as ease of use, receipt capture, API integrations, and performance and reliability. Expensify scores better for the categories of employee reimbursement, currency conversions, and mileage tracking, among others.
According to Capterra, Expensify has more features than Brex but a slightly lower overall score (4.4/5 compared to 4.5/5 for Brex).
5. Zoho Expense 
Zoho Expense is a part of the Zoho suite, which includes Zoho CRM, Zoho Desk, Zoho Books, and more. It's a travel and expense management solution that caters to businesses of all sizes and helps them streamline expense reporting and better control corporate spend.
Here are some of Zoho Expense's top features:
Automated expense reporting from A to Z to simplify approvals and speed up reimbursements
The possibility to add company credit and debit cards for easier expense tracking and bank account reconciliation
Comprehensive purchase requests and approvals, which facilitate the work of procurement teams
25+ analytics reports on expenses, travel, cards, reimbursements, and more
Customizable policies, expense rules, and budgets for better spend control
Streamlined compliance management enabling you to stay compliant with local tax laws
G2 rating: 4.5/5
Capterra rating: 4.6/5
Pricing: Free, Standard ($3/user per month), Premium ($5/user per month), and Enterprise ($8/user per month) plans
Languages supported: German, English, French, Italian, Japanese, Portuguese, Spanish, Chinese (Simplified)
(Info checked on January 26, 2023).
Brex vs. Zoho Expense
On G2, Brex performs better than Zoho Expense across most categories, although the difference is sometimes minimal. Some users complain about Brex's lack of transparency, while others praise the ease with which they can upload receipts and submit expenses for reimbursement.
On Capterra, Zoho Expense performs better in terms of available features, while their overall rating is very similar (4.5 for Brex and 4.6 for Zoho Expense).
Conclusion
Brex is a good choice for expense management, but depending on your exact needs and requirements, you might be better served by one of its competitors. Hopefully, this article will help you make the right choice!.
And, if your employees are traveling for business, you also need to make sure you have the right travel management solution, such as TravelPerk, so that you can streamline and automate travel and expense management.
TravelPerk is designed to fit seamlessly into your current tech stack and you can easily integrate it with all the other systems you're using. And, what's more, with our FlexiPerk feature, you get to change plans and cancel trips up to 2 hours before departure and get 80% of your money back, while with GreenPerk, you can offset the carbon footprint of your business travel program.
Schedule a demo today to see how TravelPerk can simplify business travel for you and improve the travel experience from A to Z.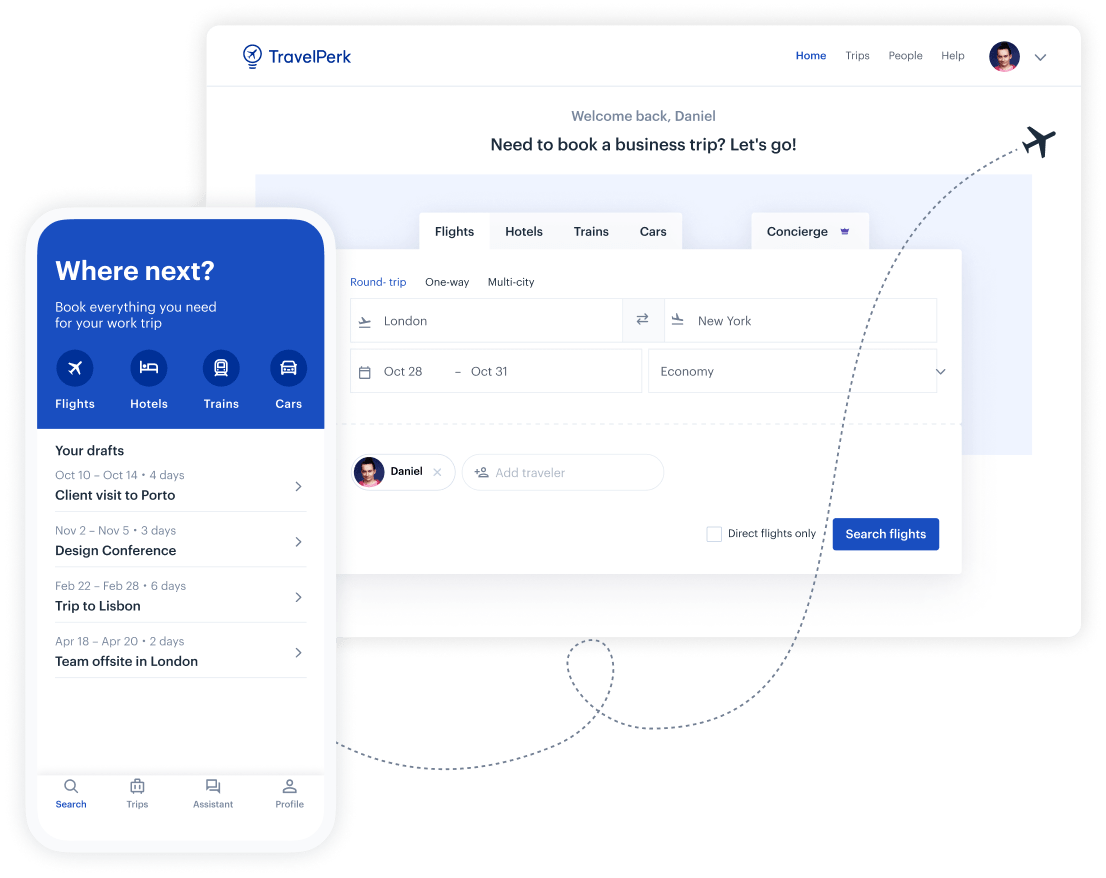 Make business travel simpler. Forever.
See our platform in action. Trusted by thousands of companies worldwide, TravelPerk makes business travel simpler to manage with more flexibility, full control of spending with easy reporting, and options to offset your carbon footprint.

Find hundreds of resources on all things business travel, from tips on traveling more sustainably, to advice on setting up a business travel policy, and managing your expenses. Our latest e-books and blog posts have you covered.

Never miss another update. Stay in touch with us on social for the latest product releases, upcoming events, and articles fresh off the press.