It's not so easy to stay healthy during business travel. Even a single trip can be quite exhausting and challenging for our mind and body. Naturally, the more we travel for business, the larger the impact on our health. However, whether you travel just a few times per year or whether you're a frequent flyer, taking care of your health while traveling is important for your short and long-term success and vitality. Here are some frequent flyer tips for staying healthy during your business trip.
7 Tips To Stay Healthy During Business Travel
1. Wash Your Hands
When we take off on a business trip, hygiene is of the utmost importance. Airports, train stations, taxis, and subways are probably the busiest, and thus filthiest, places in the world. As this is a perfect environment for all sorts of viruses and germs to grow and spread, you should take extra care to avoid infection. To avoid falling ill during business travel, wash your hands thoroughly whenever you can, especially before eating. You should also carry a hand sanitizer in your carry-on luggage and take some vitamin C to boost your immune system before takeoff.
2. Pack Your Own Food
Prepare snacks beforehand so you don't have to be forced to eat unhealthy food.

Food gives us the energy we need to feel our best and stay productive. When traveling, we can easily fall into the trap of being forced to eat unhealthy and overpriced food at odd hours, but this zaps our energy and leaves us susceptible to illness. To avoid these situations, it's a smart idea to prepare healthy snacks for your business travel. Pack a sandwich or a salad for yourself before heading out and skip the airplane food. Mixed nuts and fruits are also light and healthy snacks to keep your appetite satisfied between meals. For more tips healthy food on trips, check our "Business Traveler's Guide to Eating Well".
3. Stay Hydrated
Flights can be very dry due to low humidity on board which hovers around 10-20%, a stark contrast to the 30-60% humidity levels at which most people feel comfortable. Besides causing dry skin, eyes, throat, and nose, this unnaturally dry environment leads to us losing a lot of water. Dehydration should be taken seriously as it significantly impacts our health: cognition, attention, memory, critical thinking, tiredness, fatigue, and irritability all take a toll and we become more susceptible to bacteria and viruses.

To stay healthy during business travel, keep your hydration levels topped up. The Aerospace Medical Association recommends drinking about 0,25 liters of water for every hour spent on the plane. This can often be hard to achieve when we're on the move, but luckily there are a few tricks. Always take an empty water bottle with you so once you pass the security control (yes, it's allowed) you can easily refill it at one of the water fountains and take it onboard. Otherwise, bite the bullet and buy that ridiculously expensive water bottle from the kiosk before boarding. It's still a low investment for your health and it beats having to wait for the flight attendant to bring you a tiny cup of water. Additionally, always ask for an extra water when the cart comes around, especially if you order an alcoholic beverage.
4. Get Enough Sleep
The impact sleep has on our health is undeniable, but getting enough of it during a business trip can be tricky. Whether it's the redeye flight, the time zone change or late night drinks with clients, you're almost guaranteed to fall behind on sleep. You may intend to catch some shuteye on the plane, but this is easier said than done. The three best tricks to sleep on a plane include choosing the window seat so nobody will annoy you when they get up, wear headphones to block out any noise, and invest in a u-shaped travel pillow to support your neck.

Our favorite flight hack includes asking whether there is an empty row when you board the plane and pouncing on that open space once boarding has finished. Additionally, sleeping pills work for some people, but others have difficulty finding the right dosage to match the flight time. They can also pose a danger in case of an emergency or even just an unexpected delay. Besides taking a nap on board, also plan your daily agenda taking into consideration the jetlag you are going to suffer. Schedule extra time to rest in the mornings and longer breaks between meetings than you would usually require.
5. Dress Accordingly
Unless it's a short flight, it's better to carry your suit rather than wear it on the plane.

In short, wear comfortable clothes and remember to pack an extra layer for the flight. Whether you're flying to Oslo or Barcelona, make sure to bring a small sweater or hoodie on the plane. When you're thousand of miles in the air, it can get cold quickly and you'll regret it if you didn't bring anything to keep you warm. Needless to say, if you're cold on the plane, it will be difficult to sleep or concentrate on work during your flight. Lastly, don't wear your dress shoes and definitely leave the flip-flops in the suitcase or bring socks. Comfortable tennis shoes offer more support during the pre-flight chaos and provide reliable footwear in case there's an emergency.
6. Move & Stretch
A lack of movement when traveling can be extremely damaging to your health and sitting too long in one position can lead to blood clots, even in otherwise healthy people. This is especially true for long-haul flights when you're stuck in your seat for long periods of time. To counter this, make a point to stand up and stretch your legs every 90 minutes and do some mini exercises, like foot twirls, right in your seat. You can also take advantage of your time before boarding the plane to stretch and walk around the terminal. Lastly, if the hotel you're staying at has a gym, do a quick work-out there to get your blood pumping a bit before heading to the airport.
7. Plan Ahead to Minimize Stress
Arriving at the airport ahead of time can help avoid stressful situations.

Stress often has the biggest impact on our health, even though it's full effects won't show up right away. The best ways to deal with stress is to avoid it altogether, but that's impossible, so instead take some simple measures to keep the small stuff in check, such as:
Pack a couple days before your flight instead of last minute. Draft a checklist that you can reuse every trip to make sure you never forget any essential items.
Plan to get to the airport at least two hours before takeoff. This will give you a buffer when your taxi is stuck in traffic or security lines are long.
Know your flying rights and rules. Check if your baggage size and weight fit with the allowed limits.
Pack a powerbank to boost your phone when your battery runs low.
Have a trusted and experienced contact person available that you can reach out to in case of an emergency.
Of course, if you're using TravelPerk, you'll enjoy 24/7 outstanding travel support standing by to help you at any time.
BONUS: Stay Fit
Find ways to continue your normal workout routine when you're traveling. Don't let yourself off the hook just because you're on a business trip. If lifting weights or nautilus machines are your thing, make sure to book a hotel with a proper gym. If you're a runner, find accommodation located next to a park or a trail. Or try something new and book a yoga class or fitness bootcamp in a cool location. Whatever you choose, plan your schedule accordingly and you might even be able to take advantage of your jet lag with an early morning run or late night training session.
Conclusion
These simple tips should help you stay healthy during business travel in the short and long-term. As you can see, it mostly comes down to preparation before your trip and optimizing the time you have while traveling. If you're looking for insights on how to make your business travel experiences better, you might also be interested in checking our article about "Apps That Prepare You for Any Business Trip".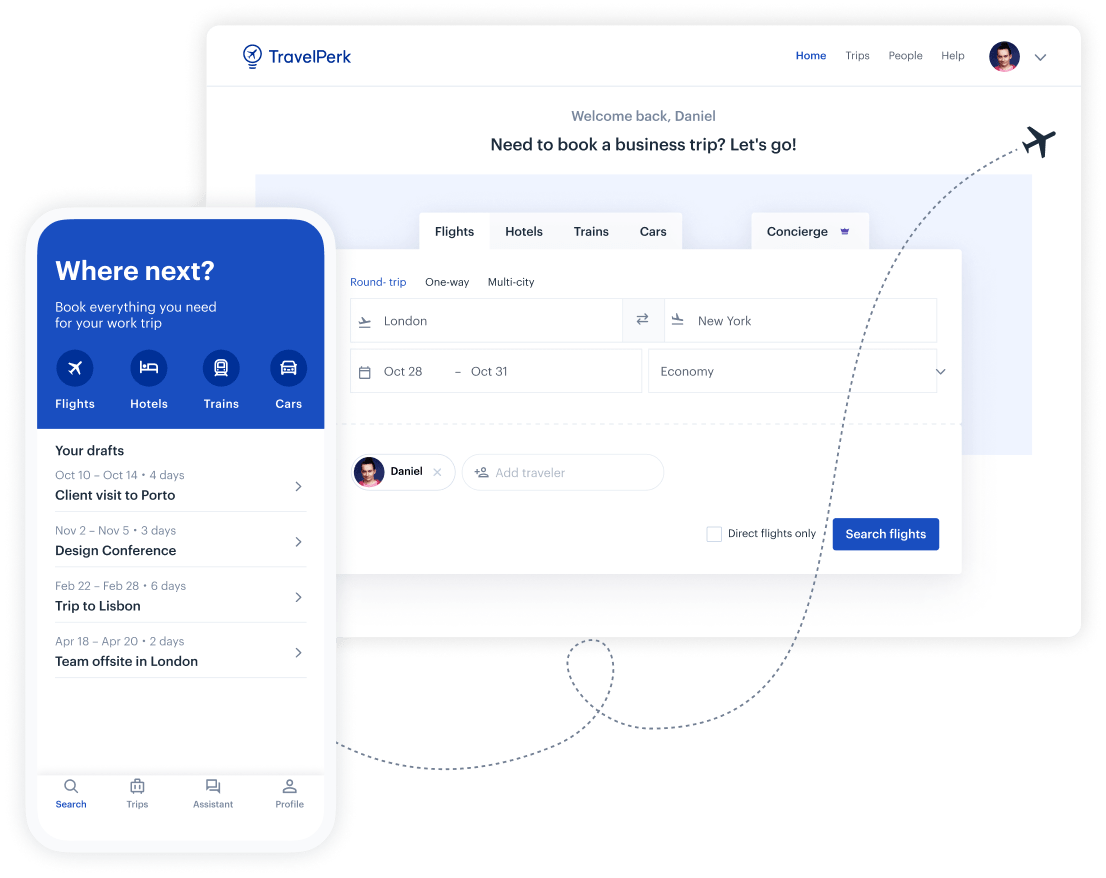 Make business travel simpler. Forever.
See our platform in action. Trusted by thousands of companies worldwide, TravelPerk makes business travel simpler to manage with more flexibility, full control of spending with easy reporting, and options to offset your carbon footprint.

Find hundreds of resources on all things business travel, from tips on traveling more sustainably, to advice on setting up a business travel policy, and managing your expenses. Our latest e-books and blog posts have you covered.

Never miss another update. Stay in touch with us on social for the latest product releases, upcoming events, and articles fresh off the press.