72% of businesses haven't met their desired level of travel policy compliance. It's tempting to increase compliance by being even more controlling, but the answer might just lie in less control and more traveler satisfaction.

What if rather than be more controlling, travel and finance managers focused on making their business travelers happy?

This is not a hypothetical experiment. Businesses are finding that trust, autonomy, and freedom lead to higher levels of traveler satisfaction and travel policy compliance. The two really do go hand in hand. Read on to find out why.
What is a successful travel program?
Before we dive into it...what makes a travel program successful?

A successful travel program is one that:
Improves the traveler's experience
Increases fairness and transparency
Meets budget requirements
Allows all necessary trips to be taken
1) Self booking is here to stay
Sometimes, a trend is a trend. It will come and it will go. But the trends that hit business travel are more like movements. Such is the case with self booking.

In fact, when surveyed, today's business travelers overwhelmingly prefer to book their own trips rather than call an external travel management company or send a request to an internal travel manager. The fact that millennials now make up the largest percentage of business travelers certainly contributes to this preference, but Generation Y loves to self book too.

Why all this love for self booking? Just think about it. Today's business travelers are accustomed to booking their own vacations online and probably have never used a travel agent.

When you allow travelers to book for themselves within policy (using a business travel booking tool with travel policies baked inside), then you increase traveler satisfaction and compliance all in one go.

2) Travel policies are actually incredibly easy to enforce
Newsflash: most employees don't want to break from company policy.

Struggles with compliance are typically caused by:
Confusion over policy limits
No self booking tool built for corporate travel (causing travelers to "go rogue" and book on consumer sites)
Lack of employee training on which processes and tools to use
By focusing on traveler satisfaction first and foremost, travel compliance follows easily. Travelers want to know clear limits on travel, such as max cost per night for a hotel in London or max cost per international flight. Better believe that they want to know how to get reimbursed when necessary.

Realizing that travel policies are not hard to enforce requires a mindset shift and oftentimes the use of new processes and tools. You need a tool that lets travelers book within policy limits, and you might also need to update your travel policy to include easy-to-read information that travelers really care about (like reimbursement processes).

One smart strategy is to create a quick video course on how your company manages travel. Use a corporate training platform like Zunos or Docebo. Before you start creating content, just remember to make the mindset shift first: If you give employees the guidelines they need and the tools they want, travel compliance will be easy.
3) A culture of trust pays off
Over 50% of CEOs from PWC's 2016 Global CEO Survey said that lack of trust is a major threat to organizational growth. Unsurprisingly, lack of trust is also a threat to your travel program.

If you want to have a travel program that allows travelers to take the trips they need, enjoy them, and complete them under budget, then trust is a major factor. Trust isn't something that you build into only the travel program. It's something you build into the whole company culture.

Instead of asking, "Where can we get more controlling?" you might need to ask, "Where can we get more trusting?"

How can you implement trust into your travel program?

TransferWise does this by opting out of limits on self booked travel. "We have opted for the choice of not having the approval round. We trust our people. We hire smart people and we trust them to do the right thing, so people generally know what they need to book. If they don't know, they will ask us."

Other ways to foster trust are to give employees more options and more control over their own travel, whether that's what they book or how.
"We hire smart people and we trust them to do the right thing."

Marta Kutt, Global Facilities Manager at TransferWise


4) Employees know what they want and need
When trying to cut costs, it's easy to just focus on the money. You need to save money, so you need to cut costs, right? But a travel program based on traveler satisfaction can potentially result in lower costs faster and easier.

64% of employees would sacrifice a 10% raise to have more control over their work environment and work-life balance. This goes to show that not everything is about money. Business travelers don't want room service, they want free Wi-Fi.

When trying to figure out how to make your travel program more successful, ask your travelers. What do they want? What do they need? Don't just apply more rules and guidelines when changing your travel program. Also, built-in features that satisfy your travelers, whether that's a different hotel chain for a corporate rate negotiation, the inclusion of Airbnb, or something else.
5) Guidelines create standard experiences
Of course, some limits are necessary. Guidelines promote fairness. But even when setting limits, you can give travelers control on how they use them. Most travelers prefer global limits like max cost per flight and per diem. That way they can spend in a way that fits them. One traveler might use public transportation to have a nicer dinner, while another might book a cheaper room a mile from the meeting site just to get in a nice walk before the workday. Per city guidelines help standardize the experience for travelers, so they're not living large in Johannesburg and slumming it in Tokyo.

When setting up guidelines for a successful travel program, don't think of creating a bajillion rules that no one will understand. Instead, make another mindset shift and focus on the traveler. What guidelines do individual travelers need to have a smooth (but affordable) experience in every city? What guidelines does the company need to keep spend fair across the board?

Happy employees are happy travelers and vice versa. When improving your travel program, always remember that it must serve the traveler so the traveler can better serve the business.

Do you need to revamp your company travel policy? Check out our guide and template.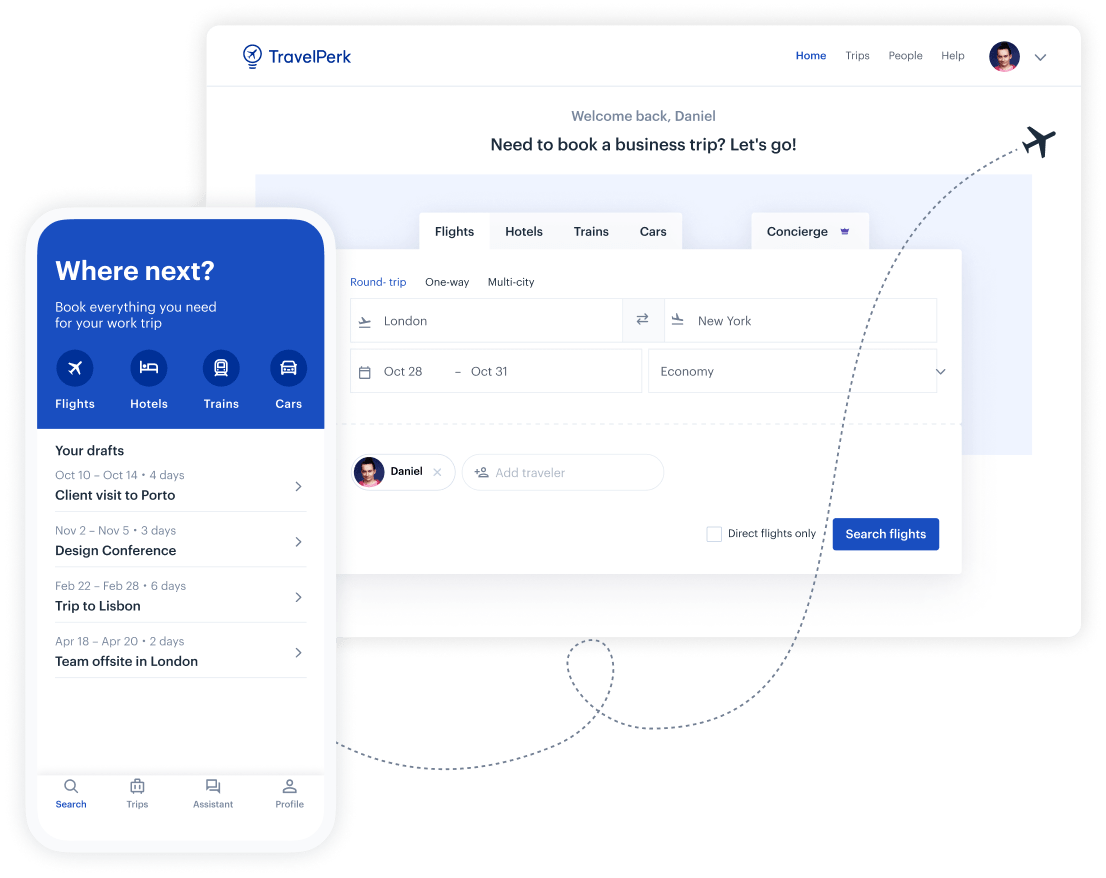 Make business travel simpler. Forever.
See our platform in action. Trusted by thousands of companies worldwide, TravelPerk makes business travel simpler to manage with more flexibility, full control of spending with easy reporting, and options to offset your carbon footprint.

Find hundreds of resources on all things business travel, from tips on traveling more sustainably, to advice on setting up a business travel policy, and managing your expenses. Our latest e-books and blog posts have you covered.

Never miss another update. Stay in touch with us on social for the latest product releases, upcoming events, and articles fresh off the press.