Unused tickets are a common occurrence in the travel industry, affecting both individual and corporate travel. What many companies don't know is that unused airline tickets or flight credits can have a significant financial impact.
In this article, we'll explore the best practices for utilizing unused tickets and maximizing their value.
What are unused tickets?
An unused travel ticket is a non-refundable ticket that cannot be used, due to a change in plans. With meetings falling through, readjusting priorities and staff turnover, business travel often results in a portion of unused tickets, which according to our data, can represent 5-7% of a company's travel spend.
In 2021, companies had about 11% of their spend locked into unused tickets (coming to over $200,000 in total). Larger players typically hold over $1 million's worth of unused tickets.
We've put together our top tips and practical strategies for capitalizing on unused tickets.
Let's dive in.
Actionable tips to minimize unused tickets
1. Assess balances and expiration dates
The first step in unused ticket management is examining ticket balances and expiry dates to check for any loopholes. Consider establishing a travel policy where business travelers must notify the person responsible for managing unused flight tickets about the expiration date—at least two months in advance.
This proactive approach allows ample time to take necessary action and make informed decisions.
2. Prioritize flexible cancellation policies
When booking, opt for tickets that allow changes or refunds, reducing the risk of ending up with non-refundable tickets. This is particularly important during uncertain times when travel plans may change unexpectedly. Additionally, some airlines offer vouchers that can be used for future travel, providing an alternative to expiration dates and allowing for greater trip flexibility.
By using travel management software, such as TravelPerk, with features like Flexiperk, companies can claim a full or partial refund in case of last-minute cancellation. Any part of a business trip can be refunded, whether a flight, hotel, train, or car. This approach yields average savings of 40% compared to traditional flexible fares—not to mention the savings in headaches and wasted hours.

3. Use automated ticket tracking systems
Automation plays a crucial role leveraging unused ticket value. Many corporate travel management companies (TMCs) offer technology solutions that track unused tickets and notify travelers and travel managers of upcoming expiration dates.
These online booking tools can facilitate the process of rebooking or using unused ticket credits. Automating these tasks ensures that valuable assets are not overlooked or wasted.
4. Change names where possible
Another important aspect of managing unused tickets is understanding specific airline policies regarding name changes, new ticket issuance, and notifications. Familiarize yourself with the specific guidelines set by airlines, as they may have different procedures for handling unused tickets.
If, for example, an employee leaves your company before a scheduled work trip, you may be able to convert unused tickets to airline credits or—even better—reissue the same ticket under a different name.
5. Leverage external perks and travel benefits
Using credit cards that offer travel-related benefits can bring significant benefits to your company. Some credit cards provide coverage for unused tickets, allowing travelers to recover the value of non-refundable tickets under certain circumstances. If the opportunity's there, take advantage of it!
6. Get support for unused airline tickets
Enlisting the help of a specialist travel management company (TMC) can give you the necessary support to avoid piling up unused tickets, and make the most of existing ones.
For example, companies using TravelPerk can ask their dedicated Account Managers for a bespoke report with the data explaining available credits from unused tickets. These figures are translated into voucher credits or available funds, streamlining the refund process and making sure each ticket is correctly valued.
Additionally, TMCs like TravelPerk can help you collect and redeem supplier credits, making savings on future flights and upcoming trips.
Start claiming your business travel money back today
By incorporating flexible cancellation policies, utilizing automation, and understanding airline procedures, individuals and businesses can minimize the financial impact of unused tickets. Effective management of unused tickets requires a proactive approach, but it usually demands significant time and energy to resolve.
With the help of a corporate travel management company like TravelPerk, businesses are saved hours of dead-end support calls and negotiations, and get the most out of their unused tickets in a click.
Want to find out more about streamlining corporate travel and reducing expenses?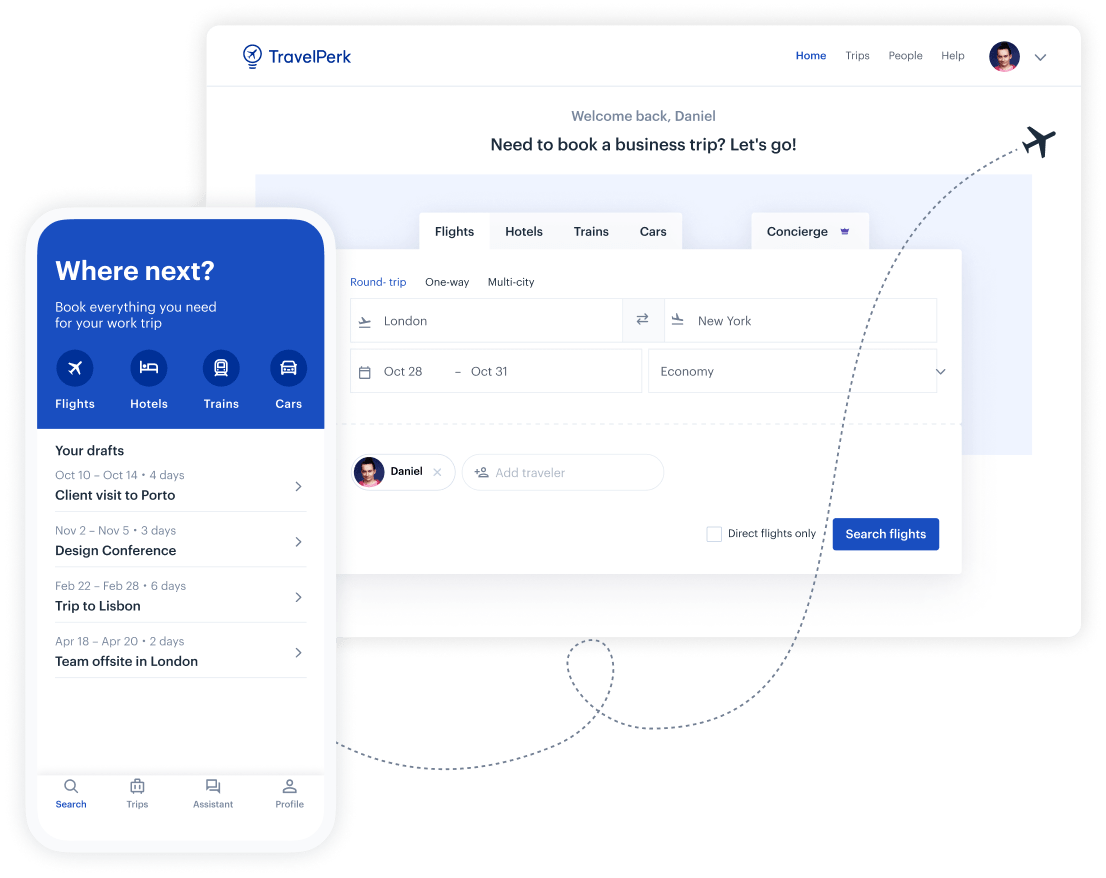 Make business travel simpler. Forever.
See our platform in action. Trusted by thousands of companies worldwide, TravelPerk makes business travel simpler to manage with more flexibility, full control of spending with easy reporting, and options to offset your carbon footprint.

Find hundreds of resources on all things business travel, from tips on traveling more sustainably, to advice on setting up a business travel policy, and managing your expenses. Our latest e-books and blog posts have you covered.

Never miss another update. Stay in touch with us on social for the latest product releases, upcoming events, and articles fresh off the press.