There's no denying that the world is changing because of the coronavirus pandemic. Over the course of the past 2-ish years (yep, it's really been that long), we've lived something out of a science fiction novel. Borders closed, restaurants shut, empty streets, and more time at home than we've ever thought we'd spend have characterized the COVID and post-COVID world for us.

We couldn't be happier that international vaccine rollout is advancing and that life can slowly start to return to normal... Well, the new normal, at least. One of the most pressing questions for businesses in our current reality has to do with the future of work. What exactly will it be like? What working models are going to dominate and what do employees want going forward?

At TravelPerk, we're actually asking ourselves these very questions. And many more. So, we decided to go back to basics and start asking people what they think the future of work holds. We turned to our followers on social media for answers, and here's what some of them had to say.
People don't just want hybrid cars. They want hybrid work, too.

72% of working professionals who responded to our survey claim that they would like to go back to the office 1-2 days a week. The labor market is changing from the traditional 9-5, office-first model. The work environment is becoming more flexible, with remote work no longer just being a perk reserved for the world's coolest companies. The ability to work from home part of the time and come to the office for face-to-face meetings is turning into not just a reality, but an expectation.
In fact, it's this increased flexibility that workers crave the most. In a recent survey, we found that the working model respondents overwhelmingly preferred was one where they could decide when to go to the office themselves. They crave the autonomy that such a working model provides, giving them the possibility to work from wherever when they need to, and meet in person for the meetings that matter. The least popular options were a 100% office-first policy at just 7% of respondents, and the 100% remote option at 13%.

Business leaders worldwide are now taking this as a time to reflect and consider what work model is right for their companies. This implies many serious questions, like:
Will office-first, remote-first, or hybrid work best suit our company culture and values?
How can we maintain our employee's mental health and physical well-being in this new way of working?
How might the expenses of running an office change? How will offices themselves change?
What new technologies and tools will we need to provide employees to facilitate a seamless transition between home and office?
How do we mark what teams should meet face-to-face for and what they can do digitally? Where does the value of meeting in person truly lie?
All these questions, and many more, are fundamental to this decision-making process. If you're currently trying to figure out what model best suits your company or business, we suggest you get back to the basics of who you are. Start at the beginning, a very good place to start!
Entrepreneurs and remote workers are on the move.
The COVID-19 crisis provoked a lot of people to rethink their living and working circumstances. With "work from anywhere" and full-time remote work becoming a very real possibility for many office-based workers globally, people are looking to shake things up a little.

And, funnily enough, whether these people are looking for full-time jobs in a new place or hoping to start something of their own, it's quite clear that talented human capital is drawn to… (drumroll please!)... Barcelona. Can't say we're surprised.

Entrepreneurs and remote workers alike are setting up camp in Barcelona for its bustling tech and startup scene. In fact, 70% of respondents to our survey on what European city is the best for entrepreneurship declared Barcelona their top choice!

The city's startup community is thriving, with literally thousands of startups, accelerators, and incubators making their mark on business and society. And we can't say it's surprising—the reasonable cost of living, major tech events like the World Mobile Congress, and great weather year-round make Barcelona a very attractive choice for young professionals. Startups and scale-ups in fintech, travel tech, artificial intelligence, automation, cryptocurrency, and more, are popping up faster than you can say paella!
People want to see the world face-to-face. Not screen-to-screen.
Remember that day when Facebook went down and took WhatsApp and Instagram with it? October 4th, 2020 was a strange day for us all—a day when we were suddenly completely disconnected from each other. After almost 2 years of relying on technology basically exclusively for social interaction, we went radio silent for 6 hours.

And guess what? People loved it. According to our own survey, 55% of people didn't miss any of their social networking platforms at all. In fact, they desperately needed a break!

So, what does that mean? At the height of the COVID-19 crisis, screen time spiked to an average of 13 hours a day among adults. It makes sense if you think about it. Between video conferencing for work, video calling friends on WhatsApp for fun, and watching hours and hours of Tiger King or reruns of Breaking Bad—the hours add up! Can we really say it comes as a shock that people are sick and tired of always being connected to a device? Human begins are naturally social creatures (that's not just us saying so) that thrive on collaboration and cooperation. It's simple biology. We need to see each other in person. It's just hard-wired into who we are.
And that holds even more true in the workplace. With these changing work models, one thing is clear—people want to meet face-to-face again. In fact, over 50% of respondents believe that they should meet with their teams in person at least once a week!

... And that's why professionals actually want to travel for business again.

39% of respondents to our survey claimed that they're what they're most looking forward to about traveling for business again is the ability to meet face-to-face. Yes, the world of work has changed. Not all meetings need to happen in person—but there are some that do. Tactical meetings, catch-ups, and quick alignments on projects can happen on Zoom, no problem. But brainstorming sessions, creative tête-à-têtes, and even sales meetings are much better in person.

An interesting new type of business trip is also emerging—one where teams travel to meet one another in person. Team building events and company offsites are growing in relevance in this new hybrid world, with employees indicating a clear desire for more frequent offsites. Rather than just having offsites once a year, employees are keen on having them once a quarter so they can get together, exchange ideas, and build memories beyond the scope of their daily responsibilities.

Wrapping up
Whether you're thinking about how to set hybrid work parameters for your company, or you're an employee looking at how to structure your hybrid work schedule, the question is the same. What kinds of meetings do you think should happen face-to-face? What kinds of meetings are you OK running online?

The bottom line of making this decision comes down to the nature of work and what you have to do. Think about what results you want to achieve, the process you need to go through, and decide based on that where the value comes in.

At the end of the day, the future of work is all about shifting your mindset to suit your new reality. The value of heading to specific workspaces in person or meeting online will soon become clear.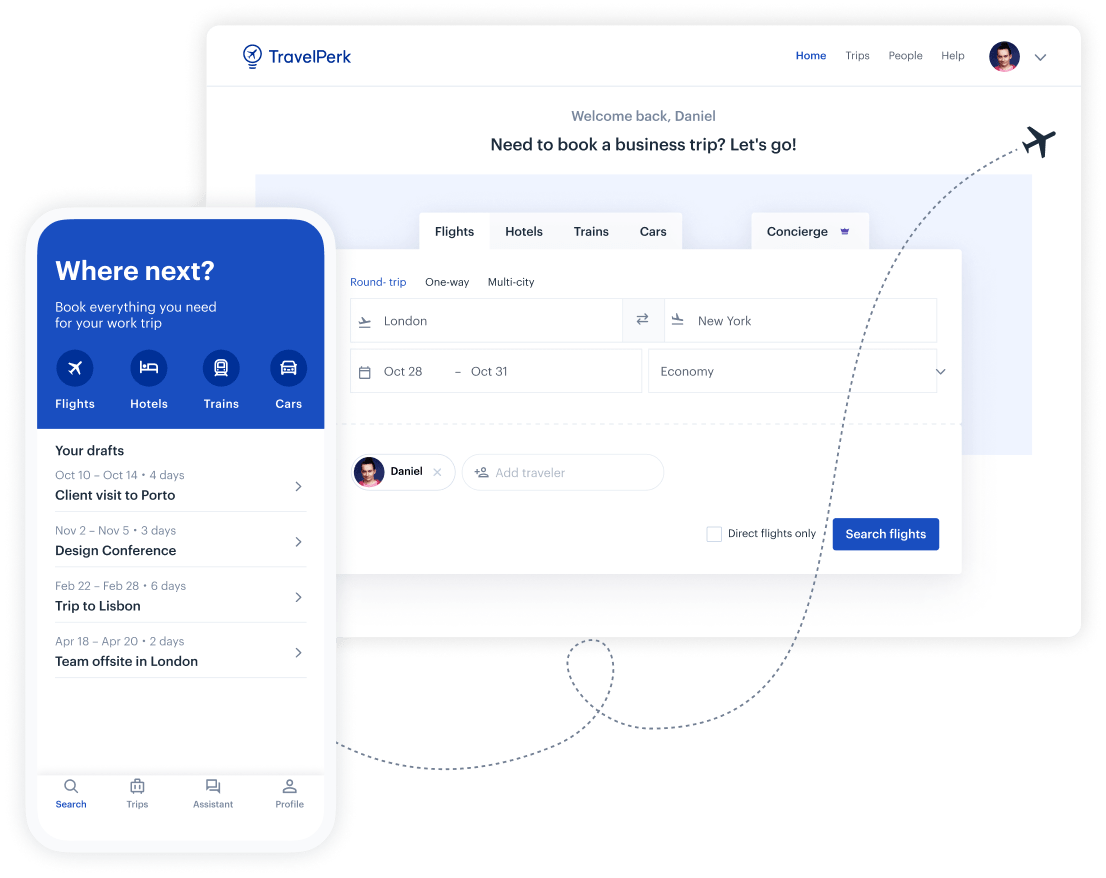 Make business travel simpler. Forever.
See our platform in action. Trusted by thousands of companies worldwide, TravelPerk makes business travel simpler to manage with more flexibility, full control of spending with easy reporting, and options to offset your carbon footprint.

Find hundreds of resources on all things business travel, from tips on traveling more sustainably, to advice on setting up a business travel policy, and managing your expenses. Our latest e-books and blog posts have you covered.

Never miss another update. Stay in touch with us on social for the latest product releases, upcoming events, and articles fresh off the press.