The tourism industry is still rebounding from the sharp declines it experienced due to the coronavirus pandemic, particularly during the periods of lockdowns and heavy travel restrictions that plagued 2020. And that is especially true for air travel, both for business and pleasure.
The U.S. Travel Association is forecasting a surge in air travel that will not only surpass pre-pandemic numbers from 2019, but may become the biggest demand the U.S. has ever experienced. At the same time, airports throughout the country are undergoing major transformations and, in some cases, being entirely rebuilt. The goal for many is to offer new travel experiences for the modern age—U.S. terminals are over 40 years old on average, according to the Airports Council International-North America.
The transformations are thanks in part to the Biden Administration's Bipartisan Infrastructure Law, which most recently allocated $1 billion to 99 airports nationwide for terminal expansions, improved security screening areas, better passenger experiences (including baggage handling), and more. In some cases, funding is also coming from the airlines themselves.
To take a deeper look at some of the transformations happening across the country, TravelPerk compiled a list of 15 U.S. airports whose renovations are well underway, about to begin, or have recently been completed, using data from the Federal Aviation Administration, news organizations, and local airport authorities.
While these projects are ongoing, passengers may experience varying levels of upheaval on their way to wheels-up, so logistics may get worse before they get better. No matter the destination, travelers should expect construction, congestion, limited parking, detours, and closures in the coming years. That means arriving early is now more important than ever.
Fortunately, most airports offer updates and alerts on their websites, through email signups, and, in some cases, on a mobile app. Read on to see if your local airport is getting a facelift and what you can expect on your way to the friendly skies.
Eric Glenn // Shutterstock
Los Angeles International Airport (LAX)
At Los Angeles International Airport, construction on an Automated People Mover has been in the works since 2019. This new electric-powered transit system will connect LAX to the city's public rail system via the future LAX/Metro Transit Center Station, both of which are scheduled to open in 2024. However, this is just one aspect of the $15 billion overhaul of the airport, whose "jet age" iteration dates back to 1961.
The investment is helping modernize terminals, build new parking facilities, improve roadways, consolidate rental car facilities, and more—all in preparation for the city to host the 2028 Olympic and Paralympic Games.
In the meantime, there are road closures between parking structures 3 and 4 and around the Theme Building, and there's ongoing construction inside Terminal 3 (which will allow direct passenger access to the Tom Bradley International Terminal without getting screened again) and Terminal 4 (where the People Mover will connect).
EQRoy // Shutterstock
John F. Kennedy International Airport (JFK)
The Port Authority of New York and New Jersey is entering the heavy construction phase of its $19 billion project to build "A New JFK"—a major transformation of one of the busiest airports in the U.S.
The Queens facility originally opened in 1948. Although new terminals have been added since then (most notably, the JetBlue terminal in 2008), this latest effort involves building a new international terminal, which broke ground in September 2022 and is slated to open in 2026, replacing Terminal 2 (demolished in early 2023) and Terminal 3 (aka the former Pan Am Worldport, which was razed in 2013). A new mega-terminal will also replace Terminals 6 and 7 (forecasted to open in 2028 fully), and Terminals 4 and 8 will both see reboots as well.
All this means that some traffic is being rerouted, some parking options have changed, and some rideshare pickups have been relocated. The Port Authority recommends taking public transportation to the airport while these improvements are underway.
Multiple rail lines (including Long Island Railroad and the MTA's A, E, J, and Z subway lines) and bus lines connect to the AirTrain driverless people mover. However, the AirTrain station at Terminal 1 will experience a long-term closure during the construction of the new terminal, so service to and from there will be replaced by a shuttle bus.
Renata Ty // Shutterstock
LaGuardia Airport (LGA)
New York City's LaGuardia Airport—the little sibling to the much-larger JFK Airport, also in Queens—has just undergone an $8 billion transformation that essentially constructed a whole new airport, the first of its kind to be built in the U.S. in the last 25 years.
Since the work began in 2016, there's a new Terminal B (which opened in 2020, replacing the original 1964 terminal) and Delta's new Terminal C (which replaced the old Terminals C and D in 2022)—both of which now operate alongside the historic Art Deco-style Marine Air Terminal (aka Terminal A), built in 1939.
According to New York Gov. Kathy Hochul, these new terminals replace what was widely considered one of the worst airport travel experiences, as reported by The New York Times. However, despite the recent improvements, the Port Authority has not yet upgraded transport to LaGuardia airport, as plans for its own AirTrain people mover (like the one at JFK) were scrapped earlier in 2023. In the meantime, the only options for getting to and from LGA are taxi/rideshare, driving, or MTA bus.
EQRoy // Shutterstock
Dallas Fort Worth International Airport (DFW)
Dallas Fort Worth International Airport is the second-busiest airport in the world, according to Airports Council International. And with its new $4.8 billion plan, it'll increase its passenger and flight capacity with a new 15-gate Terminal F. That project alone, set to take place from 2024 to 2026, will cost $1.63 billion.
And then there's the $2.72 billion renovation of the airport's Terminal C, which dates back to the airport's opening in 1974 (when it was known as DFW Regional Airport). Terminal C is the country's largest airport hub for American Airlines, which already constitutes 80% of the airport's traffic.
DFW plans to open up the space by removing columns, increasing the height of ceilings, and letting in more natural light—improvements that should be finished by 2028. Over the next several years, airport roads will also be improved—and that will hopefully help traffic flow better through the property, which covers more surface area than the entire island of Manhattan.
VIAVAL TOURS // Shutterstock
Orlando International Airport (MCO)
Florida's Orlando International Airport became the world's seventh-biggest airport in 2021—despite pandemic-imposed travel restrictions and even before the completion of its new Terminal C, which increased capacity by more than 10 million passengers. The terminal became fully functional in September 2022. That project clocked in at $2.8 billion, thanks to technology improvements like facial recognition at gates and automated TSA checkpoints.
The Greater Orlando Aviation Authority's investments continue with $69 million in federal funds going toward new connections to high-speed rail, additional parking facilities, a pedestrian bridge, and a rental car lobby.
But travelers should beware that making flight connections within Terminal C may require a lengthy walk—as much as a half-mile long—without the aid of moving walkways, which are not currently included in any phase of the construction. However, passengers can transfer between the main terminals (Terminals A and B, which were constructed in 1981) and Terminal C by hopping on the Terminal Link people mover or a shuttle bus, both of which operate 24 hours a day.
The complex has come a long way from its humble beginnings in 1942 as Orlando Army Air Field #2. It was later renamed McCoy Air Force Base in honor of Col. Michael Norman Wright McCoy, who died during a flight demonstration in 1957—hence the airport's present-day abbreviation, MCO.
Wspin // Shutterstock
Kansas City International Airport (MCI)
The airport in Kansas City, Missouri, has a new single terminal consisting of 1 million square feet and 39 gates—and, at a cost of $1.5 billion, it's the most expensive standalone infrastructure project in the city's history.
MCI was completed in 1972 as a three-terminal airport. This configuration was modern at the time but had become cramped and outdated over the last half-century, especially with the city anticipating the NFL Draft in 2023 and the World Cup in 2026.
Besides brand-new eateries and lounges, other new amenities include a sensory room and a "practice" opportunity for people who are anxious about traveling, individuals who may be neurodivergent or have sensory differences, or those who have dementia. The new terminal, which opened in February 2023, was built on the former site of Terminal A (demolished in 2019), next to the now-closed Terminals B and C (also slated for demolition later this year).
Although the old terminals' furniture was auctioned off, some of the decorative mosaic medallions from the floors are finding new homes in both municipal buildings and the new terminal. Part of a 2004 public art project called "Polarities" by Kristin Jones and Andrew Ginzel, the medallions were embedded in blue terrazzo flooring, some of which was also removed from Terminal A for reinstallation in its replacement.
ruimc // Shutterstock
Boston Logan International Airport (BOS)
The Logan Forward initiative from Massport, the airport authority of Massachusetts, involves modernizing and expanding Boston Logan Airport's international terminal, Terminal E—which will receive four new gates (three of which were approved back in 1995) and a new 320,000-square-foot addition, set to open in late summer or early fall of 2023.
Upgrades will also make the 1974 terminal more sustainable, with less water waste, fewer greenhouse gas emissions, and better energy efficiency—thanks partly to special solar panels.
A couple of Logan's other terminals are getting some work done, too—including Terminal C, which will get a post-security connection to Terminal B, improved traffic flow at the curb, and curbside protection from the elements. That means, however, that there are some road closures, lane closures, and detours on the Arrivals level that will affect travelers at both Terminals B and C until future notice.
Surprisingly, though, Logan Airport has kept all of its terminals open and functional during this massive construction project, which is a $2 billion investment for Massport ($62 million of which came from the Biden administration).
Learn more about the top 6 business travel agencies and companies including tips on what to consider when choosing a business travel company and detailed comparisons.
EQRoy // Shutterstock
Chicago O'Hare International Airport (ORD)
O'Hare 21 is a $12.1 billion plan to overhaul Chicago's largest airport "from curb to gate"—and it's already well underway. Although improvements will take place over the course of a decade, the year 2023 will see two major milestones: the completion of Terminal 5's expansion, which began in March 2019 and cost $1.3 billion, and the start of construction on two satellite courses.
Once completed, the new satellites will allow Terminal 2 to be demolished and replaced by a new Global Terminal for both domestic and international flights—without the airport losing gate capacity. Terminal 2 originally opened in 1962, when Chicago's Midway Airport's operations transferred to O'Hare, making it the world's busiest airport. The Global Terminal construction doesn't begin until 2026, but changes to Terminal 2 are already afoot: Delta moved its operations from Terminal 2 into the new Terminal 5 at the end of 2022.
Right now, parking options are extremely limited at O'Hare while a new, six-story parking garage is under construction. If Lot D is full, alternatives include Economy Lots G and H and the main parking garage, which is a short ride away via the Airport Transit System.
EQRoy // Shutterstock
Denver International Airport (DEN)
United Airlines' Rocky Mountain region hub—its second-largest hub in the country—is at Denver International Airport. And now, the airline is doubling down on its presence in the Mile High City with 12 new gates, three new United Club locations, six new routes, and almost 200 brand-new Boeing planes. The gate expansion, which is part of an overall $1 billion infrastructure investment, will be completed in mid-2024.
Meanwhile, DEN is also currently undergoing the Great Hall Project, which will improve the Jeppesen Terminal's ticketing areas and create a new security checkpoint, among other renovations. Although the project is currently in its $1.3 billion completion phase, it's not slated to wrap up until 2028. Fortunately for travelers, the airport's CEO, Phillip A. Washington, has promised that the worst of the disruptions are over.
EQRoy // Shutterstock
San Diego International Airport (SAN)
San Diego Airport's Terminal 1 opened in 1967 when 2.5 million passengers annually passed through this Southern California city. Fast-forward nearly six decades, and the airport has outgrown its facility, serving 15.6 million travelers in 2021.
In response, the San Diego Airport Authority broke ground on a $3.4 billion replacement terminal—or, the New T1, as it's called—in 2021. Its first phase is slated to open in late summer 2025, featuring high-profile restaurants and bars to greatly expand upon the airport's dining (as well as shopping) options. But once it's completed in early 2028, it will offer 30 total new gates, more gate-area seating, a streamlined new security checkpoint, and added energy and water conservation.
In the meantime, demolition on the existing Terminal 1 is happening at night to minimize the effects on those passing through the airport. But at any time of day or night, expect heavy traffic with road closures, detours, and the temporary relocation of the Terminal 1 Ground Transportation Center (where travelers can find courtesy shuttles, taxis, and rideshares). Because parking spots are hard to come by at this small airport to begin with, reservations are recommended.
FloridaStock // Shutterstock
Baltimore/Washington International Thurgood Marshall Airport (BWI)
Major terminal improvements at Baltimore's BWI Airport began in 2022 and are set to wrap up in 2026. It cost an estimated $332 million. That's no chump change—and for that capital investment, passengers will get an advanced luggage system and the option to connect directly between Concourses A and B. But that's just part of an overall $425 million glow-up for the Baltimore airport, originally dedicated in 1950 and now one of three major airports that serve the Washington D.C. area.
Additionally, the biggest terminal improvement project ever for BWI will allow passengers to freshen up in upgraded restrooms and dine and shop at new concession offerings. Airport parking may become scarce as a result of the work, especially during holiday weekends and other peak times. A nationwide driver shortage is also causing potential delays on the free courtesy shuttles.
fritz16 // Shutterstock
Hollywood Burbank Airport (BUR)
In 2017, the Los Angeles metro area airport in Burbank rebranded from Bob Hope Airport (its name since 2003) to Hollywood Burbank Airport. But no matter what you call it, BUR is about to take a huge leap forward with a new 14-gate terminal slated to open in early 2024.
The Burbank–Glendale–Pasadena Airport Authority plans a state-of-the-art facility with more space for passengers—a plus for any traveler who has felt cramped in the narrow corridors, couldn't find a seat in the small waiting areas at the gate, or had to elbow their way to claim their baggage.
These improvements aren't just part of good customer service and community relations, though: The airport has to replace the original airport building, which no longer complies with the FAA requirements for distance between structures and the runways. The new terminal will be built alongside the current one, which will be demolished after the upgraded version is up and running.
EQRoy // Shutterstock
Seattle-Tacoma International Airport (SEA)
Seattle-Tacoma International Airport is the best airport in North America this year, according to Skytrax's World Airport Awards—but SeaTac isn't resting on its laurels, as it prepares to expand its C Concourse by building four new floors on top of the existing building.
With a $340 million budget already approved, initial construction began in 2022 and things are expected to rev up in 2023 as the airport moves toward a completion date of 2027. The concourse expansion is part of a larger $4.6 billion plan called Upgrade SEA. New membership lounges are also coming to an enlarged Concourse A in 2024, and the SEA Gateway Project will bring an improved experience from the start of the travel experience, including ticketing services, check-in, and baggage check.
The $986 million International Arrivals Facility and the $21.8 million makeover of the Central Terminal are already completed. The latter features new sit-down dining options and the first beer and wine garden ever in a U.S. airport.
Passengers are urged to arrive early, as some services and facilities may have been moved. An added bonus: TSA PreCheck isn't necessary to speed through security at SeaTac; the online SEA Spot Saver allows travelers to save their spot in the security line for free.
Brandon Jenner // Shutterstock
Salt Lake City International Airport (SLC)
Travelers to and from Salt Lake City are already experiencing an entirely new airport, The New SLC, which opened in September 2020. One of its biggest improvements is less passenger-centric: clearing airplane traffic jams from the tarmac.
But this LEED Gold-certified terminal complex won't actually be fully done until 2024. The eastern part of Delta's new Concourse A is only half-opened (with 17 more gates scheduled to open by the end of October 2023) and Concourse B will be expanding by nine gates and more concessions in fall 2024.
Although there's still technically just one building at SLC, it's a doozy—and the distance from Terminal A to Terminal D is over a half-mile long, which could take an estimated 15 minutes to walk. And that's on top of the walk from the parking garage to the terminal. Fortunately, there are moving walkways, but walking on them will only shave about a minute or two off that travel time.
Explore a list of the top 20 best travel management software tools with useful insights to help you navigate the travel management software market.
David Gaylor // Shutterstock
Portland International Airport (PDX)
Portland International Airport's $2 billion renovation project, PDX Next, includes a new main terminal opening in mid-2024, which the Port of Portland is touting as "less like an airport" and "more like a neighborhood."
With local dining and shopping options (including made-in-Oregon goods), and a woodsy design aesthetic under a Douglas fir timber roof in a pre-security area called The Garden, it'll bring the Pacific Northwest experience to Portlanders and out-of-towners alike. Visitors will even be able to take a hike inside the terminal, although it'll be up a flight of stadium stairs instead of up the side of Mount Hood.
All the quirky new features coming to PDX also mean some sacrifices: Concourse A was demolished in 2019, and the 33-year-old Clocktower Plaza was razed in 2022. But there's reason to rejoice, too: One of PDX's most beloved icons—a 1980s teal carpet, with a runway-inspired geometric pattern—is coming back, after having been controversially torn out in 2015. The new main terminal will feature 10 carpeted shoe-selfie stations featuring the original pattern throughout.
Until the new terminal opens, travelers won't have access to pre-security shopping options, and they'll have to walk long distances along a detoured route between security and Concourses C and D (at least until 2025). It's also not as easy to move freely between the concourses once through security (passengers are assigned a TSA checkpoint based on their gate); but fortunately, a new Concourse Connector is coming in 2024.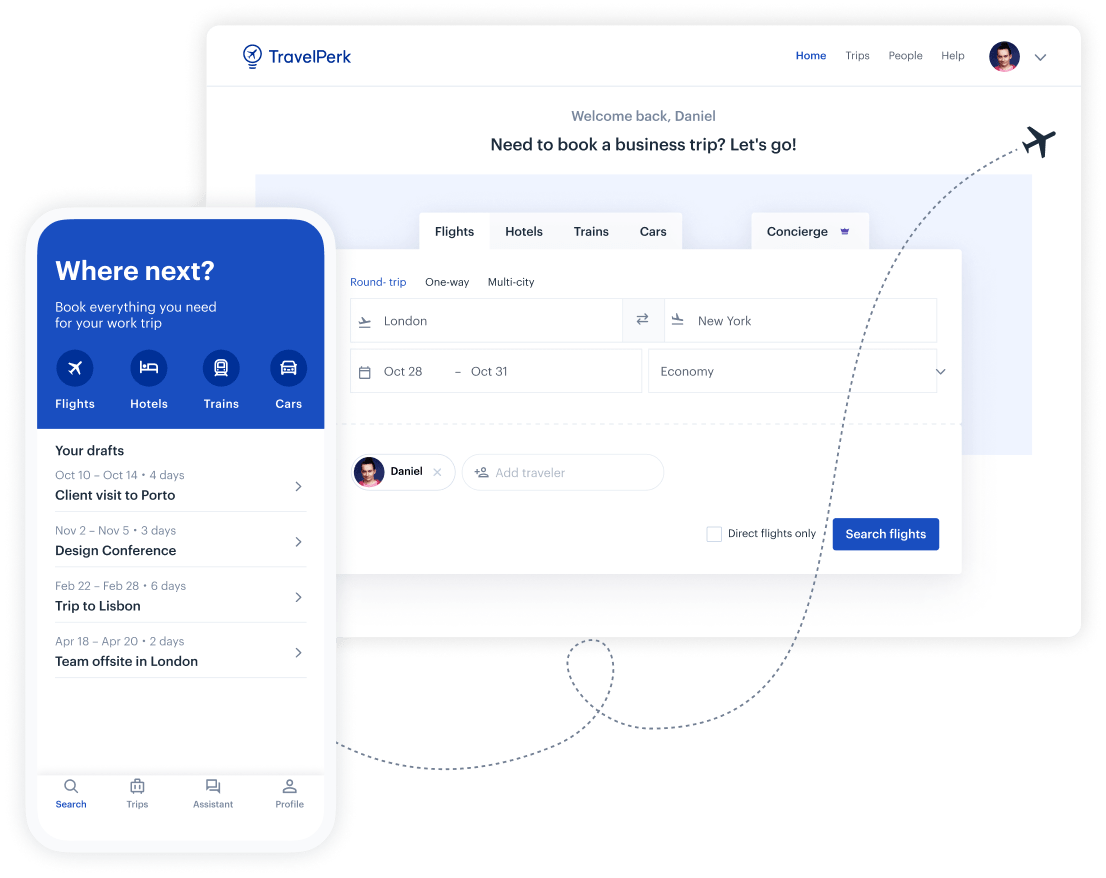 Make business travel simpler. Forever.
See our platform in action. Trusted by thousands of companies worldwide, TravelPerk makes business travel simpler to manage with more flexibility, full control of spending with easy reporting, and options to offset your carbon footprint.

Find hundreds of resources on all things business travel, from tips on traveling more sustainably, to advice on setting up a business travel policy, and managing your expenses. Our latest e-books and blog posts have you covered.

Never miss another update. Stay in touch with us on social for the latest product releases, upcoming events, and articles fresh off the press.