Since journalist Don Hoefler dubbed the Bay Area "Silicon Valley" in 1971, this suburb of San Francisco has been synonymous with technology and innovation. Home to iconic tech organizations, there is no greater backdrop for gathering the industry's finest minds for a few days of networking and exchanging knowledge!
With in-person events thankfully returning, many tech professionals are keen to get back out there and meet with like-minded peers. Whether you want to brush up on the latest trends or meet key decision-makers, attending a conference in the heart of San Francisco's buzzing tech scene could help catapult your career to new heights in 2023!
However, the heart of North America's tech industry plays host to a wide range of events throughout the year, and narrowing down which ones to attend can be time-consuming! At TravelPerk, we have curated our list of the top 12 technology conferences taking place in San Francisco in 2023.
Whether you are a developer, digital marketer, or VP looking to meet fellow execs, there is something for everyone on the list below. So let's dive in, and as ever, if you need help turning your travel ideas into an itinerary, we are just a quick call away!
15th - 17th February 2023
Oakland Convention Center
Are you a developer or engineer looking to level up in 2023? Join over 8000 like-minded professionals at Developer Week for three days of discovery with over 250 workshops, panel discussions, boot camps, and keynote speeches on the agenda. Boasting an exciting roster of speakers, this year's cohort includes Steve Wood, SVP of Product at Slack, and Teresa Wu, VP Software Engineer at JP Morgan Chase & Co.
Looking for a new role? This unique developer conference is a hive of hiring, with executives seeking out top talent making up 44% of attendees. If you want to make an impression, sign up for the hackathon, where hundreds of developers battle to impress the crowds with their innovative solutions to real-world challenges.
21st - 22nd March 2023
Pier 27, The Embarcadero
Women Impact Tech (WIT) is kicking off its year of empowering events in San Francisco. With partners including LinkedIn, Airbnb, and Adobe, you will be mingling with the tech industry's leading female thinkers. A chance to peak inside the world's top tech companies, 2023's speakers include Elizabeth Churchill, Senior Director of UX at Google, and Nichole Barnes Marshall, Global Head of Diversity and Inclusion at Pinterest.
While WIT's agenda has ample opportunities to network, they also have a fantastic mentoring program for those looking for long-time guidance. Pairing mentees with tech leaders from across the industry, WITS could introduce you to a decision-maker from a tech giant like Netflix, Uber, or Oracle. If you can make it to the tech capital WIT has events in several major cities including New York, Denver and Boston throughout the year.
TravelPerk's Meetings & Events team can help you book venues and get exclusive discounts on group travel
19th - 20th April 2023
Westfield San Francisco Center
Hosted in the center of San Francisco, SaaS Connect brings over 400 experts to swap stories and share insights at this two-day tech conference. Advertised as a retreat for tech pioneers, SaaS Connect is focused on securing meaningful partnerships for its attendees. The ideal event for companies looking to scale up, organizers take the pain out of networking with useful introductions.
With big names in attendance, you could be shaking hands with SaaS professionals from Google, Salesforce, Zoom, and PayPal, to name just a few. Want to attend? Check out their website for their handy Dear Manager letter you can send to outline the opportunities on offer!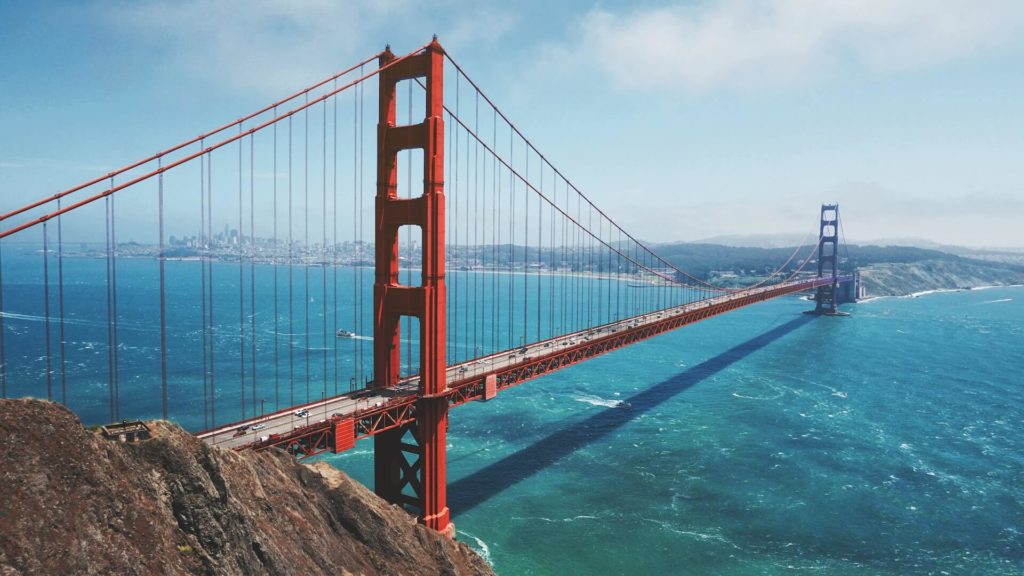 17th - 19th May 2023
Embassy Suites by Hilton San Francisco Airport Waterfront
Cybersecurity analysts looking to pick the brains of their peers can meet in May for three days of in-depth career enlightenment. More specialized than your average tech summit, this forum is hosted by the Silicon Valley Cybersecurity Institute, a non-profit organization dedicated to sharing the latest industry advances.
Entering its 4th edition in 2023, the Silicon Valley Cybersecurity Conference features research seminars, live tutorials, and an exhibition to ensure attendees have access to all the upcoming industry developments. A hands-on learning experience, professionals can try out the newest cybersecurity techniques in interactive lab sessions or tests their skills in the CyberWarrior competition.
25th May 2023
Hotel Nikko
Join 600 female leaders at San Francisco's most exclusive tech event. Women of Silicon Valley draws together the industry's most senior decision-makers to discuss the future of tech in a dazzling array of roundtable talks. This year's one-day event aims at empowering professionals to tackle the challenges ahead with the latest tech developments.
Fascinating keynotes will be hosted by speakers like Salesforce's VP of Software Engineering, Maria Yuin, and Catherine Blackmore, Group Vice President of Customer Success at Oracle. With abundant opportunities to meet inspirational professionals, you can opt for one-on-one speed networking sessions or share your story at the innovative Soapbox Corner.  
22nd June 2023
Location TBC
For 7 years, Bloomberg has been hosting a veritable who's who of the tech industry for an insightful analysis. With CEOs, investors, and entrepreneurs all attending this annual conference, hosts Brad Stone and Emily Chang will be probing top thought leaders on what lies ahead. This year's focus will be on the evolution of social media, increasing regulations, and the ethical dilemmas raised by the latest wave of artificial intelligence and machine learning.
Previous speakers at this well-respected event have included Amazon CEO Andy Jassy, and in 2023 Vanessa E. Wyche, Director of NASA's Johnson Space Center, will be taking to the stage. While this one-day bonanza is also available as a virtual event, with so many tech A-listers walking the halls, it's well worth making the trip to the sunny state!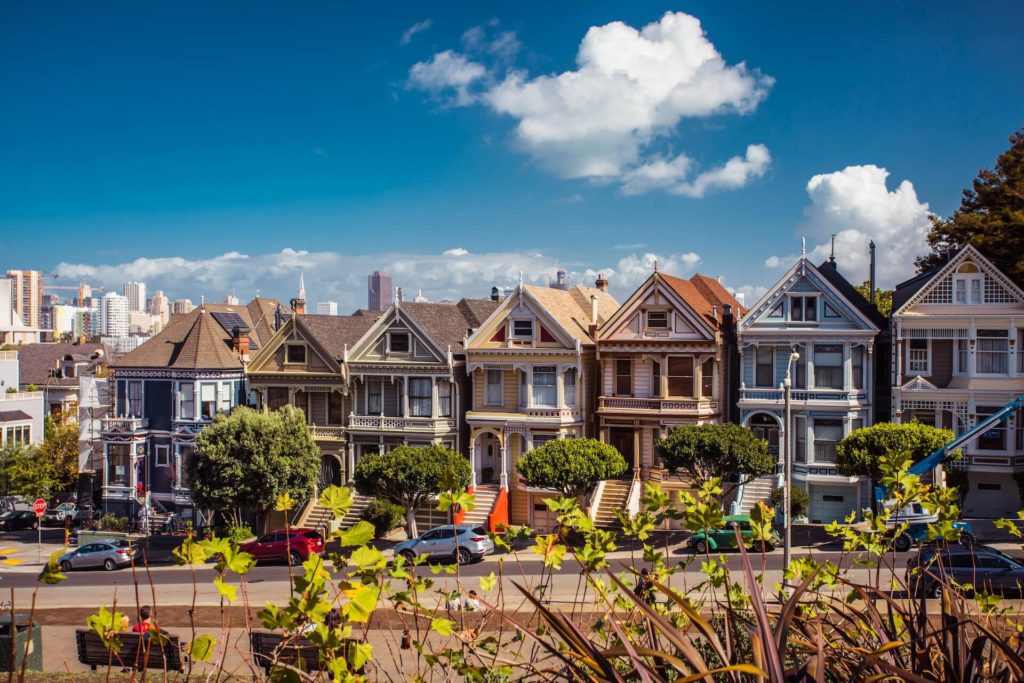 22nd - 23rd June 2023
222 Mason Street, San Francisco
With over 100 speakers, San Francisco Tech Summit offers an action-packed agenda of professional development. Bursting with networking opportunities, attendees can rub shoulders with innovators and decision-makers from across the industry. A smorgasbord of masterclasses, workshops, and clinics, there are ample chances to strengthen your knowledge for the second half of 2023.
The perfect place to expand your business, startups can apply for a special program of events, including opportunities to demo their product in front of industry leaders and elevator pitch sessions with investors. While we are still waiting for this year's speakers to be revealed, previous names to grace the stage have included Pinterest's Tech Lead Thothathri Srinivasan, YouTube CEO Susan Wojcicki, and Guy Kawasaki, former Chief Evangelist at Apple.
10th-11th July 2023
Westin San Francisco Airport Hotel
TECHSPO is a two-day trade show that brings leading developers, designers, and marketers to revel in the industry's latest innovations. An international conference series TECHSPO also hosts events in several cities including Toronto, Orlando, Sydney, Los Angeles and Singapore. Covering all aspects of tech from IoT to SaaS to Mobile, the halls are filled with enthusiasts looking to discover what's next in their field. The perfect chance to launch your new idea, the exhibitions are also visited by the world's media, with CNN, ABC, and CBS all in attendance.
If you are a digital marketer, check out their adjoining event. At the DigiMarCon Silicon Valley Digital Marketing Conference, you can ensure you are ahead of the curve with inspiring speakers sharing the latest techniques for boosting your organization's profile online. Tickets are limited, so sign up soon!
6th - 8th September 2023
San Mateo County Events Center
We can't help but be biased when it comes to SaaStr! This three-day festival sees over 12,500 of the SaaS industry's top minds come together to swap insights and ideas in exhilarating surroundings. In 2022 our Chief People Officer Sally Sourbron made her debut alongside COO Huw Slater, joining other illustrious speakers such as Ben Chestnut, CEO of Mailchimp, and Cameron Deatsch, CRO of Atlassian.
With over 150 workshops and 300 talks, our attendees were seriously impressed by the knowledge on offer. Plus, if you are looking to partner with other industry innovators, there are over 1000 investors and 2000 networking sessions on the schedule.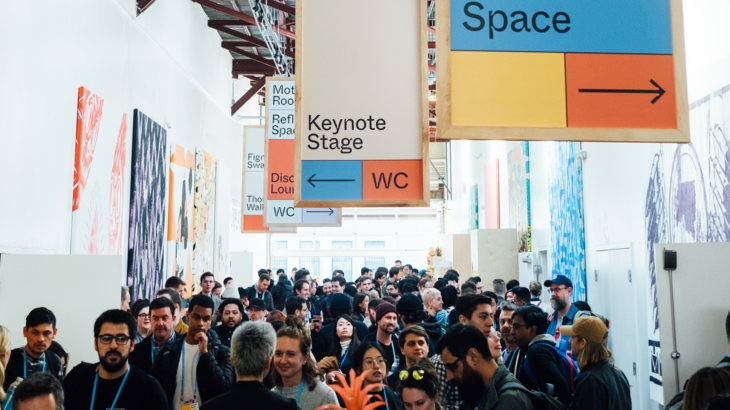 19th - 21st September 2023
Moscone West Convention Center
As the name suggests, TechCrunch Disrupt is a three-day conference highlighting the tech industry's most revolutionary ideas. Sponsored by well-respected organizations like AT&T and Dell Technologies, TechCrunch Disrupt features an expo, keynote speeches, panel discussions, and plenty of networking parties. Last year's fascinating talks included How To Build Your Early VC Network: Turning Social Capital Into Financial Capital and The Art of Inclusivity with comedian Kevin Hart.
At the center of this event is the Startup Battlefield 200, a unique opportunity for early-stage exhibitors to demonstrate their innovative ideas. In a battle of the best and brightest, 20 finalists will be selected to compete for $100,000. A prestigious competition, previous participants have gone on to secure $9.7 billion in funding.
TBC October 2023
Palace of Fine Arts
The largest gathering of product management professionals in the world, ProductCon holds four editions of its prestigious symposiums throughout the year. October will see San Francisco take its turn, with 3000 attendees gathering at the illustrious Palace of Fine Arts to uncover the hottest industry developments. With participants from the world's most renowned brands, discussions will include panelists from Typeform, Amazon, and Salesforce, to name but a few.
While dates are being finalized, the schedule of speakers has already been announced. Covering various topics, Social Impact as Your North Star: Building Mission-Driven Products from Emily Dalton Smith, VP of Product, Social Impact at Meta, and The Most Underrated PM Virtue from Ajay Arora, SVP of Product at Disney have already caught our eye.
Dates and location TBC
Hosted by VentureBeat, this AI summit attracts over 3500 professionals each year. With over 50 speakers and 5 separate networking events, Transform offers opportunities for providers to discuss the changes and challenges of working in the AI ecosystem.
Drawing an impressive crowd, 64% of attendees are at the director level. Plus, thanks to clever industry-focused tracks for healthcare, finance, retail, manufacturing, and security, professionals can connect with peers in their specific sectors. Kicking off this premier gathering is the Executive Summit. An invite-only event, 100 c-level professionals can get the inside scoop at a half day of exclusive keynotes, panels, and boardroom discussions.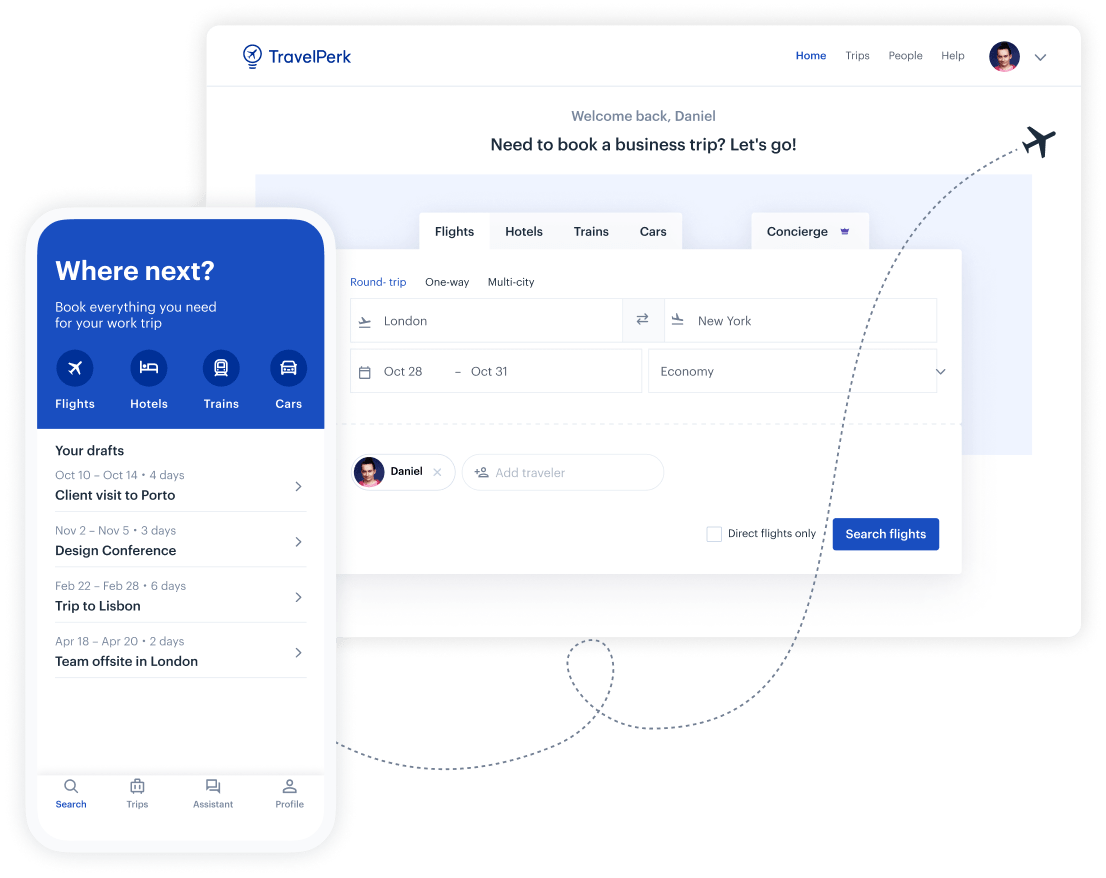 Make business travel simpler. Forever.
See our platform in action. Trusted by thousands of companies worldwide, TravelPerk makes business travel simpler to manage with more flexibility, full control of spending with easy reporting, and options to offset your carbon footprint.

Find hundreds of resources on all things business travel, from tips on traveling more sustainably, to advice on setting up a business travel policy, and managing your expenses. Our latest e-books and blog posts have you covered.

Never miss another update. Stay in touch with us on social for the latest product releases, upcoming events, and articles fresh off the press.