California's more than just beaches, mountains, and the Hollywood sign: it's a hotspot for innovation and tech. With global companies thriving in this coastal state Silicon Valley has become a top tech hub in North America. It's home to over 30 Fortune 1000 companies, high-tech corporations, and startups.
In this article, we're covering the top 10 tech conferences in California in 2023. If you're interested in virtual or in-person tech events in California, we have all the information you need to pick the best one.
Top 10 tech conferences in California in 2023
1. Tech Summit 2023: join tech experts and leaders for innovation insights
Dates: 22-23rd June 2023
Location: Hotel Nikko 222 Mason St, San Francisco, CA 94102 USA
Cost: US $195 - US $995
Speakers: Ken Westin, Elijah Young, Vivienne Wei, Kavitha Prasad, Lillian Macchi, Scott Penberthy, Amy Gershkoff Bolles, Parmida Beigi
This conference brings together tech disruptors, leaders, and innovators to help you learn from and network with industry peers. Pick from masterclasses, roundtables, and workshops conducted by 100+ speakers. Attendees will get the chance to learn more about data migration, AI, cloud technology, DevOps, and tech investing at this event.
2. Data + AI Summit 2023: learn to apply large language models (LLM)
Dates: 26-29th June 2023
Location: Moscone Center, 747 Howard Street, San Francisco, California, United States
Cost: US $1,795
Speakers: Adi Polak, Lin Qiao, Sai Ravuru, Satya Nadella, Robin Sutara, Dawn Song, Nat Friedman
The Data + AI Summit brings together the global data community to help you learn about the latest LLM developments from scientists, business leaders, and data engineers. Besides immersive in-person training, you'll also gain insights into industry-leading open-source technologies that are shaping the future of data and AI. Pick from more than 250 sessions that deliver deep dives and hands-on training on AI/ML, data warehousing, and data engineering.
3. TECHSPO Silicon Valley 2023: attend the largest technology expo series
Dates: 10-11th July 2023
Location: The Westin San Francisco Airport Hotel, CA, United States
Cost: US $0 - US $697
Speakers: Aaron Polmeer, Adam Gausepohl, Brian Mac Mahon, Forest Cassidy, Henry Schuck, Loni Stark, Rand Fishkin, Sameer Khan
This two-day technology expo brings together innovators, technology providers, and developers looking to showcase tech advances, connect with peers, and build networks. Alongside the tech exhibits on offer, attendees can also join digital marketing, media, and advertising conference training sessions at DigiMarCon. If you're in the mobile, AdTech, MarTech, SaaS, or internet industry, this event is for you.
Need to organize travel for your team for an upcoming conference?
4. TDWI San Diego: get insider access to data and analytics insights
Dates: 6-11th August 2023
Location: San Diego, CA
Cost: US $1775 - US $3820
Speakers: Deanne Larson, Michael L. Gonzales, Stephen Brobst, David Langer, Richard Hines, Keith McCormick, Mark Peco, John O'Brien
This six-day conference is ideal for data and analytics professionals looking to upskill their knowledge, network with peers, and learn about the latest tech. Pick from 46 courses, 13 tracks, and three bootcamps covering data strategy, machine learning, data governance, BI, and more. You can also get Guru Sessions, aka, free one-on-one consulting sessions with data warehousing and business intelligence experts.
5. VSLive! Developer Conference: learn enterprise engineering hacks
Dates: 7-11th August 2023
Location: Sheraton San Diego Hotel & Marina, San Diego, CA
Cost: US $650 - US $3100
Speakers: Benjamin Day, Denny Cherry, Rockford Lhotka, Jason Bock, Leonard Lobel, Jon Flanders, Josh Johanning
This tech conference is for enterprise developers and software architects looking to polish their Microsoft Visual Studio 2022, JavaScript, TypeScript, Angular, and Blazor skills. Besides speaker sessions, this event features eight tracks and three instructor-led workshops. Plus, you get to meet industry experts and peers from the development industry.
6. DeveloperWeek CloudX: hear from the cloud ecosystem maestros
Dates: 15-16th August 2023
Location: San Mateo Events Center, 1346 Saratoga Dr, San Mateo, CA 94403, United States
Cost: US $530 - US $860
Speakers: James Wickett, Jiri Kobelka, Dwayne McDaniel, Genevieve Haldeman, Tiago Mendo, James Luterek, Shlomo Heigh, Rohit Sinha, Colin Fallwell, Matt Spitz
This tech conference and expo brings together 3,500+ IT infrastructure professionals to discuss the latest in cloud ecosystem architecture. Choose from four tracks: cloud-native development, DevOps summit, cloud strategy, and cloud architecture. This event is for cloud engineers, developers, and IT managers looking to stay up-to-date on cloud computing innovations.
7. QCon San Francisco International Software Development Conference: elevate your knowledge of emerging software trends
Dates: 2-6th October 2023
Location: Hyatt Regency San Francisco, 5 Embarcadero Center, San Francisco, CA 94111
Cost: US $920 - US $4080
Speakers: Wes Reisz, Haley Tucker, Courtney Hemphill, Sid Anand, Monica Beckwith, Justin Cormack
This tech summit is for software developers looking to learn how IT leaders at early adopter companies are using emerging tech stack. Access curated learning sets and tracks on topics like green tech, MLOps, DevSecOps, automation, data engineering, GraphQL, and more. Plus, you get to learn how domain leaders are pushing boundaries as they solve development challenges you face regularly.
8. CIO Los Angeles: listen to Los Angeles's top IT leaders
Dates: 12th October 2023
Location: Los Angeles, California
Cost: To be announced
Speakers: Bhupesh Arora, Brian Maury
Attend this conference to learn more from fintech digital strategies and IT thought leaders as they discuss the best ways to overcome digital adoption challenges. Don't miss out on the collaboration roundtables where you can get in on IT roadmaps, in addition to fireside chats and speaker panels.
9. API World: attend the world's largest API & microservices event
Dates: 24-26th October 2023
Location: Santa Clara Convention Center, 5001 Great America Pkwy, Santa Clara, CA 95054
Cost: US $715 - US $990
Speakers: Quinn Hou, Michelle Nguyen, Ritika Kanade, Ala Dewberry, Cecille Reyes, Asanka Abeysinghe, Arpit Chaudhary
This is the definitive API industry conference that brings together thousands of leaders, software engineers, and architects to share the latest in API & microservices. Choose a track depending on your interest in API lifecycle, innovation, or microservices. Take part in the API World Hackathon, where teams compete to build Big Data and IoT solutions. You can also attend the virtual event from October 31, 2023—it's the same event, but online at a later date.
10. Global GRC, Data Privacy, & Cyber Security ConfEx: a dynamic legal and technology conference
Dates: 8th November 2023
Location: San Francisco, California
Cost: US $699 - US $1999
Speakers: Leila Golchehreh, Jonathan Tam, Tarique Mustafa, Kori Kelley Meehan, David Cederquist, Ray Everett, Tiffini Smith
Legal and tech pros come together at this conference to help you stay up-to-date on data privacy and cyber security trends, best practices, and insights. Pick from 13 speaker sessions, case study presentations, roundtable discussions, and business dialogues at this event. Plus, you get to expand your professional network as you meet industry sponsors, exhibitors, and peers.
Level yourself up at these California technology events
These upcoming events, seminars, symposiums, and trade shows in California bring the perfect opportunity for technology professionals to meet startup founders, learn from institutional thought-leaders, and network with industry organizers and peers.
Whether you're looking to attend events in San Jose, Santa Monica, or Las Vegas, make sure to bookmark this list of IoT, automation, machine learning, or healthcare tech conferences.
Start sorting your group travel today with TravelPerk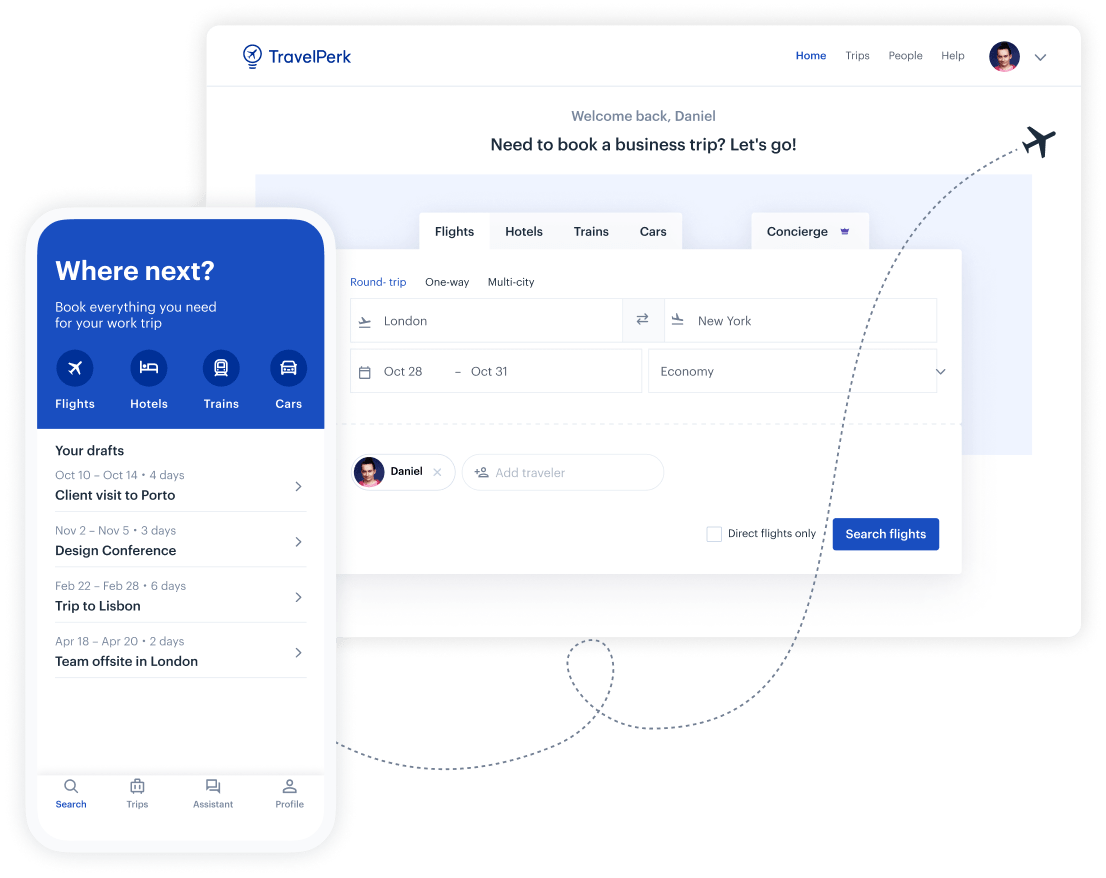 Make business travel simpler. Forever.
See our platform in action. Trusted by thousands of companies worldwide, TravelPerk makes business travel simpler to manage with more flexibility, full control of spending with easy reporting, and options to offset your carbon footprint.

Find hundreds of resources on all things business travel, from tips on traveling more sustainably, to advice on setting up a business travel policy, and managing your expenses. Our latest e-books and blog posts have you covered.

Never miss another update. Stay in touch with us on social for the latest product releases, upcoming events, and articles fresh off the press.