Salut, France! Whether you're based in France or just visiting, if you're looking for the best activities to get your team together, you've come to the right place. We've put together a list of the top ten most stimulating, varied activities across the country to get your team moving, engaged and motivated.
There's no shortage of food-and-drink-based activities in France, so we've got you covered when it comes to cheese and wine, but we've also made sure to include a few, slightly more physical activities to get your team up on their feet.
While Paris is an incredible city, recognized across the world for its beauty, charm, and culture, France has so much more to offer, so we've detailed activities from Normandy to the Dordogne, to Toulouse.
With these team-building activities, you'll be able to enjoy this spectacular country, while helping your team get the most out of activities designed to develop group cohesion and team spirit.
Bienvenue en France!
Top team-building activities in France you need to consider
1. Walk the streets of Paris: with local guides and content employees
Sometimes simplicity is best. If you and your team are visiting Paris, the greatest way to explore this iconic city is undeniably on foot—even better if you schedule in some food and drink stops along the way. Corporate team-building has never looked this cultured.
You'll probably have a list of sights to see, including Notre Dame Cathedral, the Louvre, and the Arc de Triomphe (the Eiffel Tower goes without saying), but a lot of the magic of Paris lies in the general feel of it.
With your team, you can experience the city as a Parisian with knowledgeable local guides who can offer a fun but educational tour of the city of love. There's a huge choice of private walking tours to choose from, so we've narrowed it down for you.
Walks: with skip-the-queue access and a choice of 3 to 9-hour tours, Walks offers an unrivaled view of Paris. It's on the pricier end, but has stellar reviews which claim it's worth the extra cash.
Le Vrai Paris: if you're looking for a cheaper, slightly shorter tour of 2-2.5 hours, this option is for you. The company offers specific tours of smaller areas, for example Montmartre or the Quartier Latin, perfect if you're fitting a walking tour into a jam-packed day.
The Paris Food Tour: if you thought a three-hour walking tour of Paris couldn't get any better, try combining it with a culinary tour! This tour offers a walk punctuated by stops for trying typical French gastronomy—think traditional French dishes from escargots to French onion soup to tarte tatin. It's pricier, but (some would argue) offers a more complete experience.
2. Soar above Paris: in a simulator jetpack using virtual reality technology
If you don't have time to plan a walking tour, or if it's pouring with rain, fear not. Arguably an even better option, you can give the team a truly unforgettable experience with FlyView. It doesn't matter if you explore Paris on foot or through a VR headset, it must be seen.
Here's the best bit about FlyView for team-building events: it offers a corporate event space for up to 150 people, which combines a professional meeting space with virtual reality experiences. The venue offers optional photo sessions, food and drink, and other services specifically catered to your company.
A unique concept in the center of Paris with wildly enthusiastic reviews from corporate teams, this activity is not one to miss.
3. Hunting for Starry Night: in the Musée d'Orsay
If you're looking for a more interactive activity in Paris, what could be better than a treasure hunt, or "chasse au trésor" in the famous Musée d'Orsay in the heart of Paris?
Treasure and scavenger hunts are among the most popular team-building activities: they encourage leadership, communication, and team spirit in face-to-face interactions, increasingly rare in the world of Slack, Zoom, and online meetings.
Bursting with art and history and full of corners and secret passageways, the Musée d'Orsay is an ideal place for a team treasure hunt. Groups will follow a series of clues leading to a hidden painting of Van Gogh's "Starry Night", relying on teamwork and team cohesion in order to find the prize and win the hunt.
The company also offers treasure hunts in the Louvre, Montmartre, and other locations, so you can pick whichever works best for you.
4. Try a cheese-tasting: with experienced cheesemongers in Paris
It would be a crime not to schedule some cheese-tasting for your team. Officially 'the cheese capital of the world' (although strongly contested by Switzerland), France is the place to do it.
With a bunch of five-star reviews, this place offers two hours of cheese-tasting with an English-speaking cheese guide, who combines a class with an experience. You'll taste six different types of farmstead cheeses while you learn that cheese is not just a food, but an art.
Some of the highest quality wine, cider, bread, and jams will also be provided throughout the cheese-ified 'Tour de France', as your team learns about the making, storing, and eating of cheese in each region.
5. An afternoon of Olympic Games: in a Bordeaux Château
If you're looking to get your team up on their feet, this is the perfect activity for you: a fun scaled-down take on "Les Jeux Olympiques" in one of France's most beautiful regions.
Think barrel-building, relay races, and wine-tasting challenges: your team will take part in a variety of stimulating activities, with a pinch of healthy competition added to fuel the team spirit.
Encouraging quick thinking, good decision-making skills, and teamwork, this is an ideal French team-building activity, set in the beautiful countryside around Bordeaux.
If you're looking for a less physical option, the company also offers wine tasting workshops, 2CV rallies and bike tours of the Saint-Emilion vineyard.
6. A cooking class: in the land of Calvados and Camembert
As a pretty underrated region of France, northern Normandy has so much to offer, and at the top of this list is its gastronomy.
As team-building experiences go, cooking classes are one of the most popular options. Teams must focus, but can display their creative sides at the same time. So, what could be better than a team cookery workshop in Normandy?
With various options on offer, from Norman menu workshops around a wood fire to desserts workshops, and classes that begin buying ingredients at the local market, you and your team will learn from an experienced chef, and enjoy your creations afterward. Bon appetite!


7. Dive in to accrobranche and rafting: in the Dordogne
If you're really intent on getting your team up and about, this 100% adventure day in the Dordogne is ideal.
You'll start with an accrobranche adventure course lasting three hours. Complete with footbridges, Himalayan bridges, and ziplines, your team can safely release their inner Tarzan, with experienced supervisors explaining each step along the way.
You'll then enjoy a picnic lunch, with food optionally provided by the organization. Next stop is a rafting trip on the Vézère river, lasting an hour and a half. One of the most beautiful rivers in France, and voted the most ideal for white water rafting, your team will share boats of 6-8 people, with a guide present in each.
Every step can be significantly adapted to suit different abilities among your team, with different options (Beginner, Intermediate, Advanced) available.
8. Craft lavender bags: in the purple fields of Provence
If you're in Provence between April and October, visiting its world-famous lavender fields is a must. For a totally unforgettable experience for your team, together you can uncover the secrets of extracting lavender oils and harvesting the plants at this workshop.
Using traditional methods, you'll be taught about the history of the lavender fields, and the traditional methods used to distill essential oil at this organic farm.
A multi-sensory experience requiring patience and teamwork, this is a perfect activity if you're looking for a calm, educational team-building event—with some beautiful results to take home!
9. Team up for canoeing and kayaking: in Toulouse
With this specifically-corporate team-building activity just outside Toulouse, you and your team can enjoy a morning of kayaking on the Garonne-Ariège river, with a BBQ lunch on your return.
Ideal for spring and summer, the company's experienced supervisors will guide your whole group safely through the water, helping you to navigate and talk about the region's wildlife.
Game trails are also part of the day, making the activity fun and interactive, with a healthy dose of light competition! The activity has great ratings, with something for everyone.
10. Tackle an urban escape room: in Marseille
Escape rooms are one of the best team-building activities. Not only do they encourage team cohesion and group dynamic, but more importantly, your team will really enjoy themselves. Even better, you can discover the historical city of Marseille at the same time.
With a varied, stimulating range of puzzles and activities, your team will have to rack their brains to overcome different obstacles across Marseille.
Your group will be divided into small teams of 5-6 players—the activity's also a brilliant icebreaker for new employees or those in different departments. No equipment is needed, except for one smartphone per team, and the games are available in several languages.
Start planning your next team-building event
France is absolutely full of ideas to bring your workforce together with a number of truly memorable experiences for you and your team. Hopefully, you'll be feeling inspired by our list —so time to get planning!
Travelperk can take care of all the logistics required to make your event a huge success. From travel to accommodation, TravelPerk will ensure a stress-free experience for your next team-building in France.
Start saving money on business travel for your company today!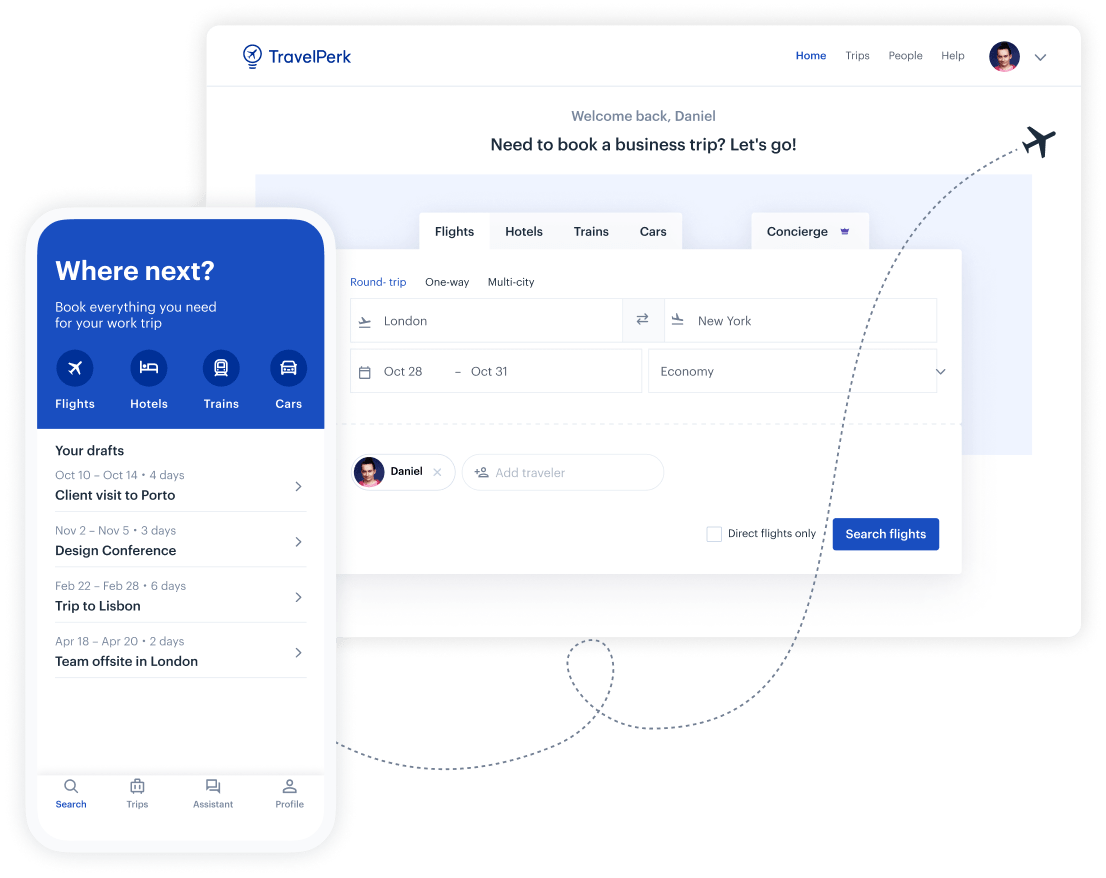 Make business travel simpler. Forever.
See our platform in action. Trusted by thousands of companies worldwide, TravelPerk makes business travel simpler to manage with more flexibility, full control of spending with easy reporting, and options to offset your carbon footprint.

Find hundreds of resources on all things business travel, from tips on traveling more sustainably, to advice on setting up a business travel policy, and managing your expenses. Our latest e-books and blog posts have you covered.

Never miss another update. Stay in touch with us on social for the latest product releases, upcoming events, and articles fresh off the press.