The role of CEO is not a simple one. From the different hats you put on every day to the never-ending task list, sometimes it can really pay off to take a step outside and engage with like-minded professionals to boost motivation and innovation.
A leadership conference brings together company executives and experts to discuss leadership, collaboration, and more. They offer a chance to learn from new perspectives, interact with global leaders, and make use of networking opportunities, in a way that will contribute to both personal and professional development.
By bringing together CEOs and business leaders from across the world, the best leadership conferences promote the sharing of tips and experiences from entreleadership to leadership development.
From keynote speakers to breakout sessions, a variety of events will ensure you get the most out of these popular events. In this list, we've compiled the best leadership conferences in the US this year, promising the best insights and strategies, workshops, and professional networks around.
Let's dive in.
1. Diversity, Equity and Inclusion Excellence Conference: a crash-course in scaling your business
From systemic transformation to network growth, this conference focuses on equipping CEOs and C-suite executives with the tools to optimize their businesses using actionable strategies, case studies, and hands-on workshops. Previous attendees have consistently praised the agenda variety, the range of perspectives, and the clarity of the insights.
Expect next level advice and expert tips, a holistic DEI strategy ready to incorporate into your business, and a strong new professional network.
2. Collision: the unmissable tech conference for business leaders
This up-and-coming conference brings together the leaders and companies redefining the global tech world, hosting 2,000 startups and 40,000 attendees. It's one of the fastest-growing corporate events in North America, winning prizes and hosting some of the biggest names in tech every year.
If you're a leader in tech and you're seeking some fresh insights, networking opportunities and world-class speakers, this one's for you.
3. eWN ICON 2023: where successful women in business come together
Calling all women entrepreneurs and business leaders! If you're looking to be inspired, stimulated, and informed over the course of a three-day conference, eWN is a brilliant option. From seminars on digital marketing to reimagining the rules of business engagement, this is an ideal event for women CEOs looking to develop on both a personal and professional level.
The conference has been praised for its friendly atmosphere, excellent networking opportunities, focus on social media in business, and encouragement of women-led startups. A ticket to this event is an investment in both your leadership skills, and your holistic approach to leading a business.
Want to improve your travel experience?
4. The Global Leadership Summit 2023: prepare to be inspired and equipped to move towards the future
Aka GLS, the Global Leadership Summit is all about envisioning the future, and finding a way to get there. It's the 'largest leadership experience in the world', partnering with local organizations around the US to help leaders grow and become a catalyst for real, meaningful change.
There are several ways to attend: the flagship, in-person event takes place in Chicago, but you can also attend online. Alternatively, you can find one of the most cost-effective local events, which aim to bring together local companies and kickstart innovative programs through collaboration and connection.
5. Inbound by HubSpot: an exclusive hybrid event for leaders and top professionals
On the Inbound website, the event promises "the energy of an incubator and the intel of an accelerator", and previous reviews of this prestigious event agree. This innovation conference is about showcasing the best of SaaS giant HubSpot's culture, innovation, and creativity, and transferring that to companies and their leaders to inspire collective growth and progress.
Inbound offers world-class networking opportunities and exclusive events designed to propel careers forward and scale businesses.
6. Forbes Power Women's Summit: bringing together barrier-breaking women across industries
Available as both an in-person and virtual event, this event is for the high-powered women who are leading their companies and workforces towards the future. This is a unique opportunity to connect with like-minded women leaders, share insights, and learn from industry experts.
With a stellar list of previous speakers including Blake Lively, Emma Grede, Valerie Jarrett, and Chloe Kim, you can expect to come across world-class thought leaders, cofounders, and anyone else who's at the forefront of their field. This conference is an investment in you, your leadership skills, and the future of your team.
7. Culture Summit: corporate decision-makers on workplace culture transformation
This conference is for those CEOs who are looking for ways to handle layoffs, boost staff retention, and re-engage their workforce. The Culture Summit brings together founders, thought leaders, and culture champions from across countries and industries to share insights and best practices on transforming workplace culture.
The content at this summit is inspirational, but more importantly actionable: you can expect to see results in your team when you return after this popular three-day event.
Ready to start planning your trip to your next tech leadership conference?
8. Ernst & Young Strategic Growth Forum: learn from the best in an exclusive gathering
The annual invite-only EY growth forum is one of the world's most prestigious events for C-suite executives, high-growth entrepreneurs and CEOs from around the world. It's a two-day event designed to give attendees a fresh take on their leadership roles, through keynote speeches from industry leaders, case studies, showcasing initiatives, and exhibitions.
This is a golden opportunity to develop as a CEO, learning the latest on the strategic transaction marketplace, listening to inspiring stories from those at the top of their game, and making the most of the event's networking potential.
9. The World Business Forum Summit 2023: where innovative and passionate entrepreneurs come together to share ideas
Known as 'the most important management event in the world', this is a top event for C-suite executives looking to develop in both a professional and personal capacity. The world-renowned speakers will cover topics from sustainability to the importance of industry partnerships, delivering key insights to the 2,000 business owners and executives in attendance.
The theme of the 2023 event is purpose: navigating uncharted waters, encouraging innovation in leadership and confidence to disrupt. It is on the pricier end of the scale, but if you book far in advance you can access corporate team packages.
10. Slush 2023: the 'most founder-focused event on Earth'
Slush is a non-profit gathering of global leaders designed to bring together the people shaping the start-up world. Whether you're looking to meet founders, startup operators, investors, media or policymakers, this is the place for entrepreneurs.
The Slush Meeting Area has 300 tables to host one-on-one meetings to boost your network. In fact, in 2022 over 20,500 meetings took place during the two-day event. That's more than 800 meetings per hour.
Plus, the Slush Matchmaking Tool allows you to connect with people based on the most extensive, self-submitted dataset on early-stage startups there is—this is not one to miss for those founders seeking partnerships.
Get involved in world-renowned leadership conferences
Being a CEO or leader can often feel like you're expected to do everything—and more—to keep your company thriving. Attending an inspirational, informative leadership conference can be incredibly worthwhile for your professional and personal development.
If you're feeling the need to fire up your imagination, think outside the box, or simply connect with others in the industry—these conferences are the place to be. Leaders aren't born, after all, they're made—through experiences, professional development, and conferences like these.
So, go make yourself a top leader.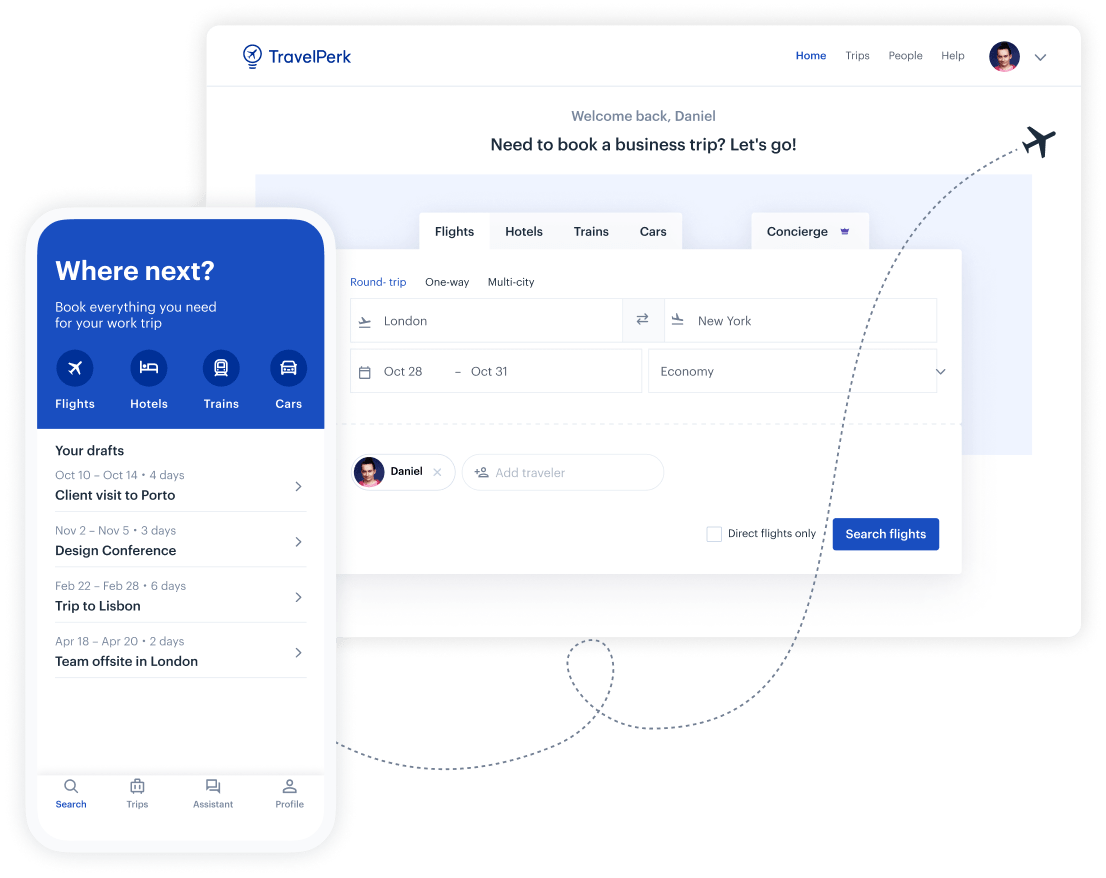 Make business travel simpler. Forever.
See our platform in action. Trusted by thousands of companies worldwide, TravelPerk makes business travel simpler to manage with more flexibility, full control of spending with easy reporting, and options to offset your carbon footprint.

Find hundreds of resources on all things business travel, from tips on traveling more sustainably, to advice on setting up a business travel policy, and managing your expenses. Our latest e-books and blog posts have you covered.

Never miss another update. Stay in touch with us on social for the latest product releases, upcoming events, and articles fresh off the press.