If you've ever organized a corporate event, you'll know that it's no mean feat. Getting it right involves a great deal of research and planning. With multiple factors to bear in mind, a successful, smooth-running event depends on the right venue.
Luckily, the steep streets of San Francisco, California, are home to some ideal corporate event venues to wow your team and event attendees. From Alcatraz and the Golden Gate Bridge to Nob Hill and Dogpatch, we've compiled a list of the top corporate meeting venues so you don't have to spend the time searching for the perfect venue any longer.
All venues are reachable by public transport and all offer wifi access. Whether you're looking for a large convention center or convenient meeting rooms, we've got you covered.
What to look for when sourcing a venue
Finding the right venue involves juggling several factors. First, the venue must accommodate the right number of attendees and have suitable event spaces with the right equipment and facilities. The location should also have good transport links and sufficient parking if required.
If you're hosting a drinks reception or a conference of several days, it's important to think about food and beverage options, as well as accommodation if required. The overall cost, including any additional fees (important to keep an eye out for hidden costs) will also determine your venue hire.
The venue you ultimately pick will also be determined by the type of event you're hosting. Some of the events companies hold at corporate meeting venues might include:
Meetings with clients or customers: a meeting venue can provide a professional setting creating a positive impression and helping to build constructive relationships.
Internal meetings or training sessions: an external venue can provide a neutral location for team meetings or training sessions, supporting productive discussions and encouraging participation.
Conferencing or events: the right space can provide the facilities required for larger-scale hybrid events such as seminars, lectures or product launches.
Team building activities: the ideal location for off-site training or group activities, helping to develop team cohesion and boost morale.
Let's see what the San Francisco bay has to offer.
Need help organizing your team event or corporate meeting?
TravelPerk's Group Travel and Meetings & Events team can help you book venues and get exclusive discounts on group travel. Schedule a demo to find out more.
1. Park James Hotel: for meetings in Silicon Valley itself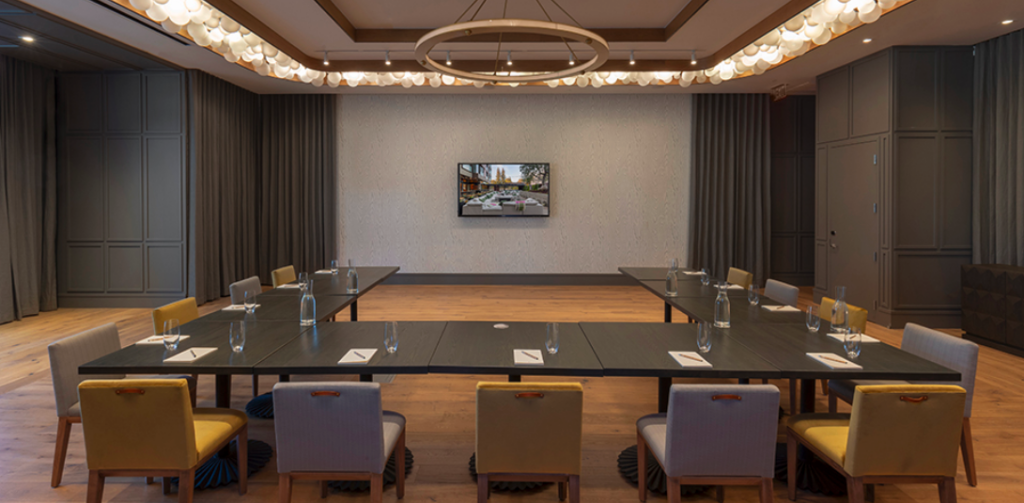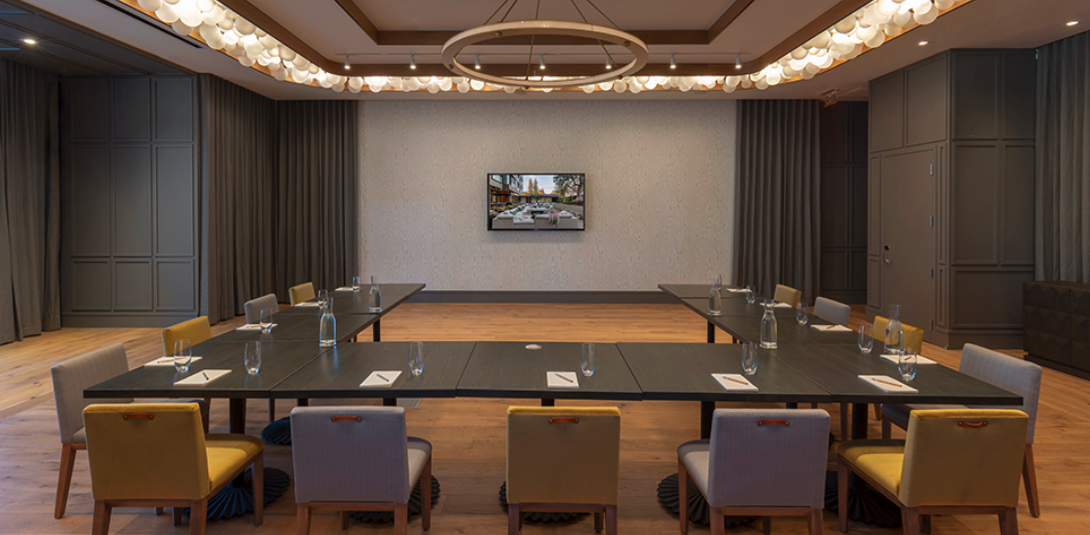 The Park James Hotel is a great venue for corporate meetings in Silicon Valley—just a short trip away from the hub of startups and tech HQs. The meeting space can be configured to your needs and leads straight onto an outside terrace for a seamless transition between business and 'bleisure'.
Check out the virtual tour for an idea of the space and how you could use it.
Location: Silicon Valley
Capacity: up to 80
Cost: $$$
2. The Box SF: for four floors of rustic meeting space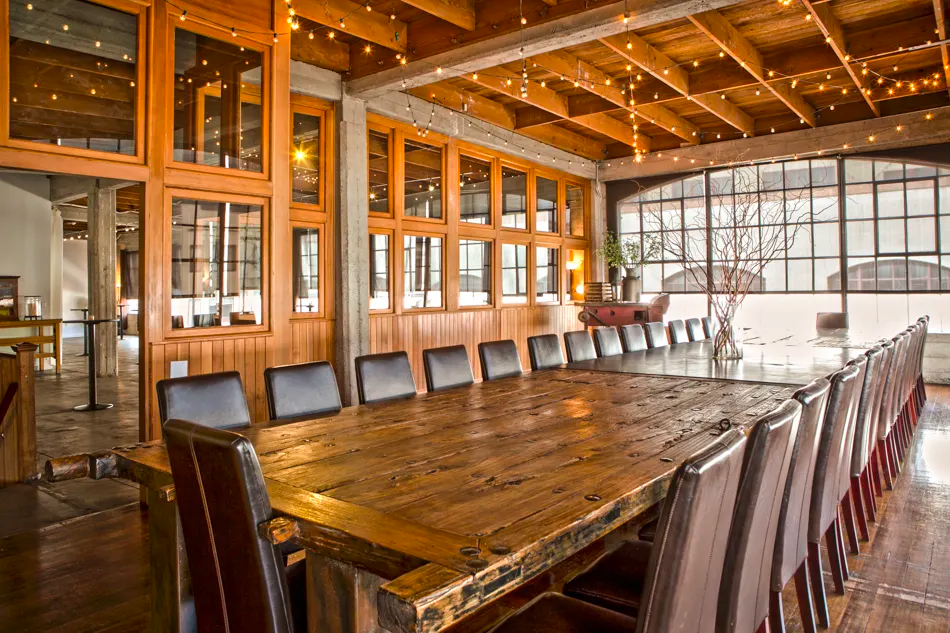 The Box SF is one of the more unique venues on our list, complete with six different corporate meeting spaces to choose from. The 337-year-old wooden table in The Gate Room is a great spot for corporate meetings, and the drop-down projector makes sharing ideas simple. Plus, the on-site Venue Managers are always available to help you with facility use.
Location: Soma
Capacity: up to 50
Cost: $$$
3. WeWork 475 Sansome Street: for meeting rooms and office space on a whim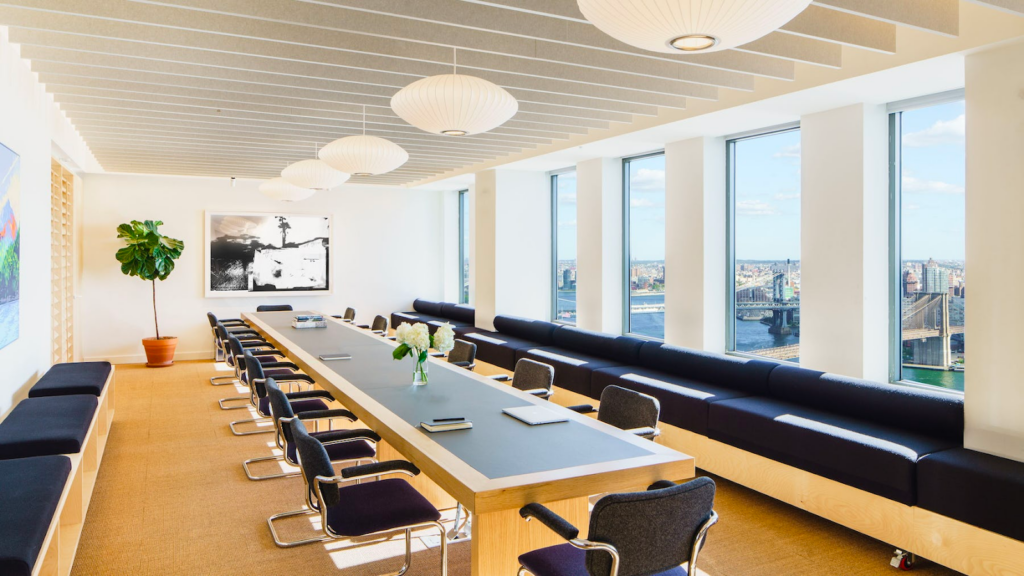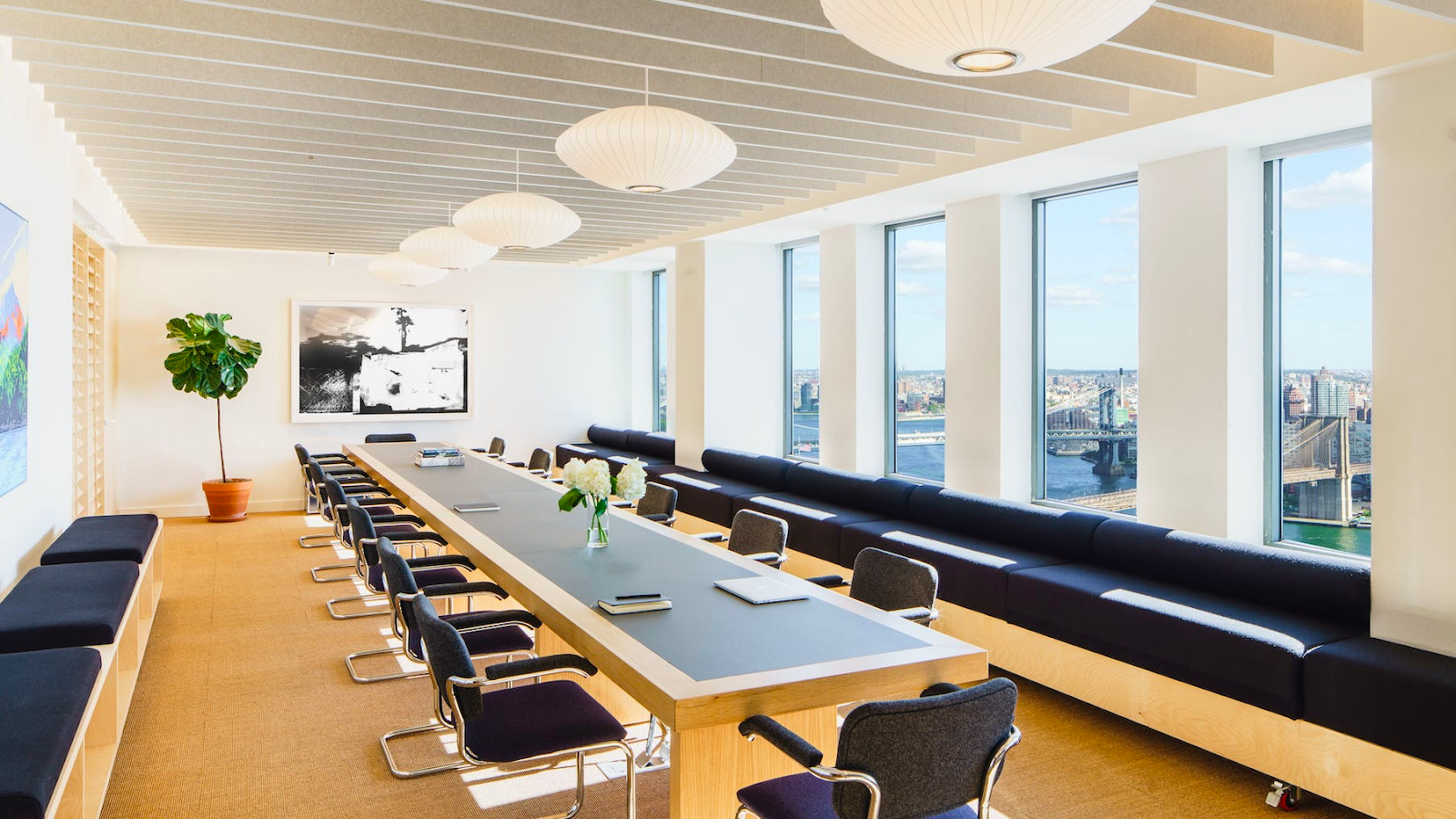 You'll be unsurprised to find out that WeWork has multiple locations across San Francisco, but the views from the conference room in 475 Sansome St. help this one stand out from the rest. The stylish and functional meeting room provides a welcoming environment for your next corporate meeting, and the Community Team is on-hand to ensure everything runs smoothly.
Location: Financial District
Capacity: up to 14
Cost: $
4. The Emblem Hotel: for sleek meeting rooms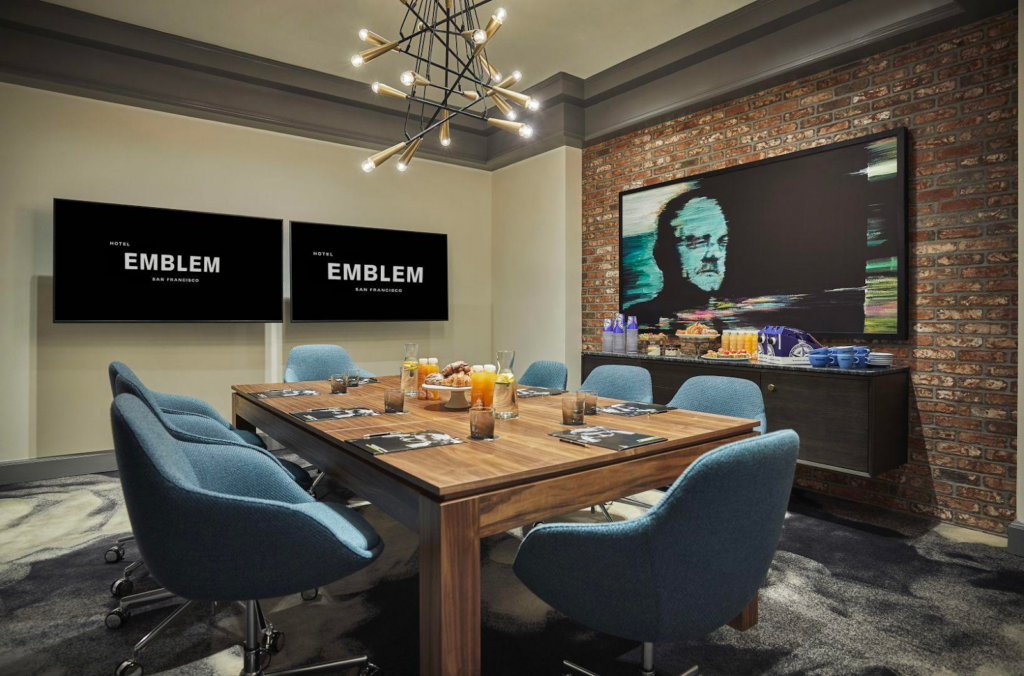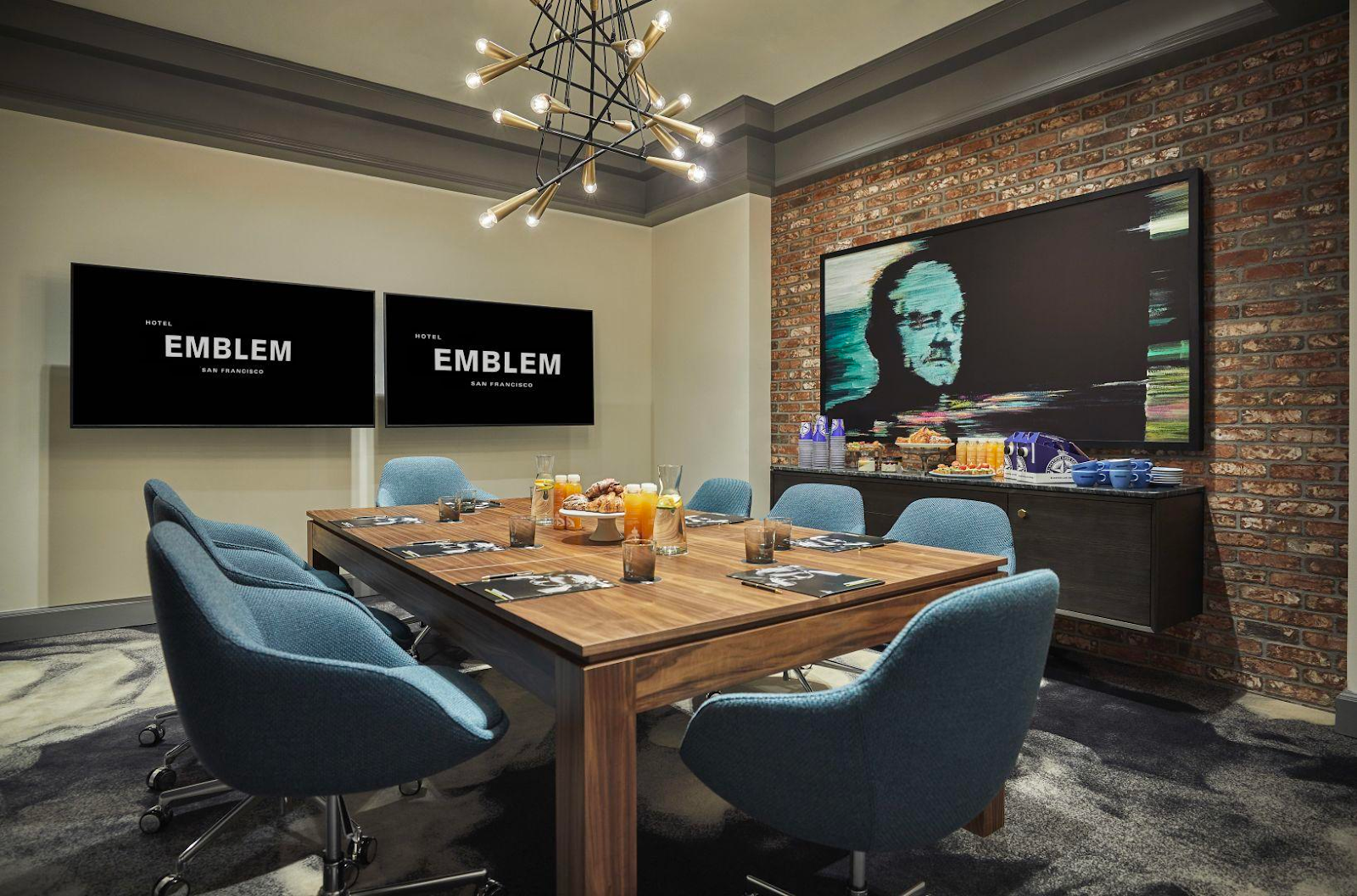 The Emblem Hotel offers three different meeting rooms to choose from, each with a stylish design and all the audiovisual equipment you could need. Its Union Square location is easy to reach and only 13 miles from SF airport, making it a great option for meetings with international or out-of-state attendees. Plus, you'll have up to 2,000 square feet of event space to play with.
Location: Union Square
Capacity: up to 35
Cost: $$$
5. Mindspace SF: for meeting rooms in the heart of San Francisco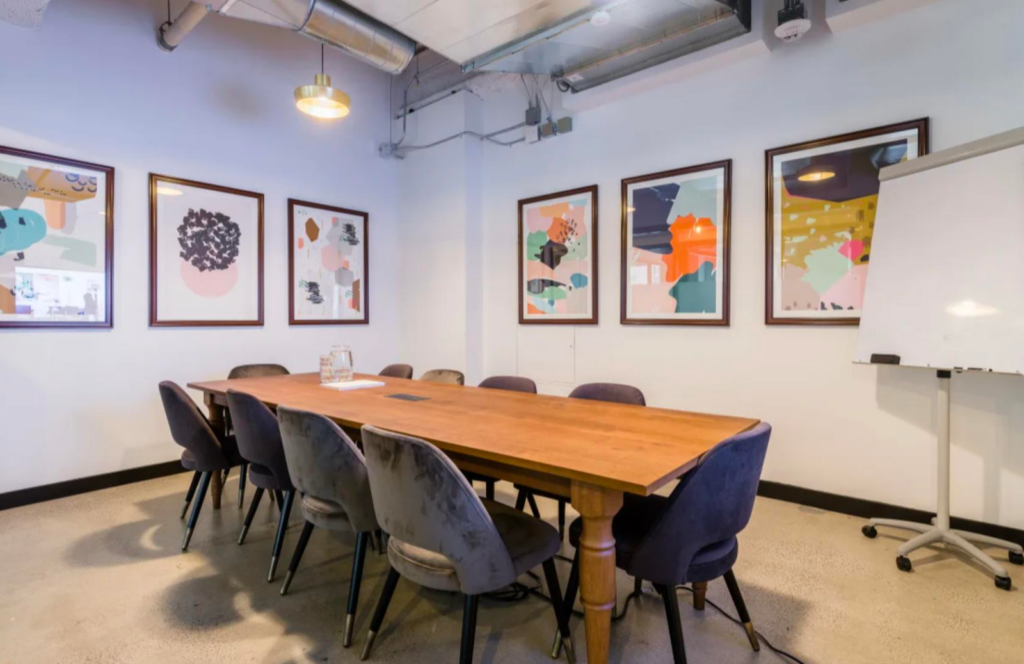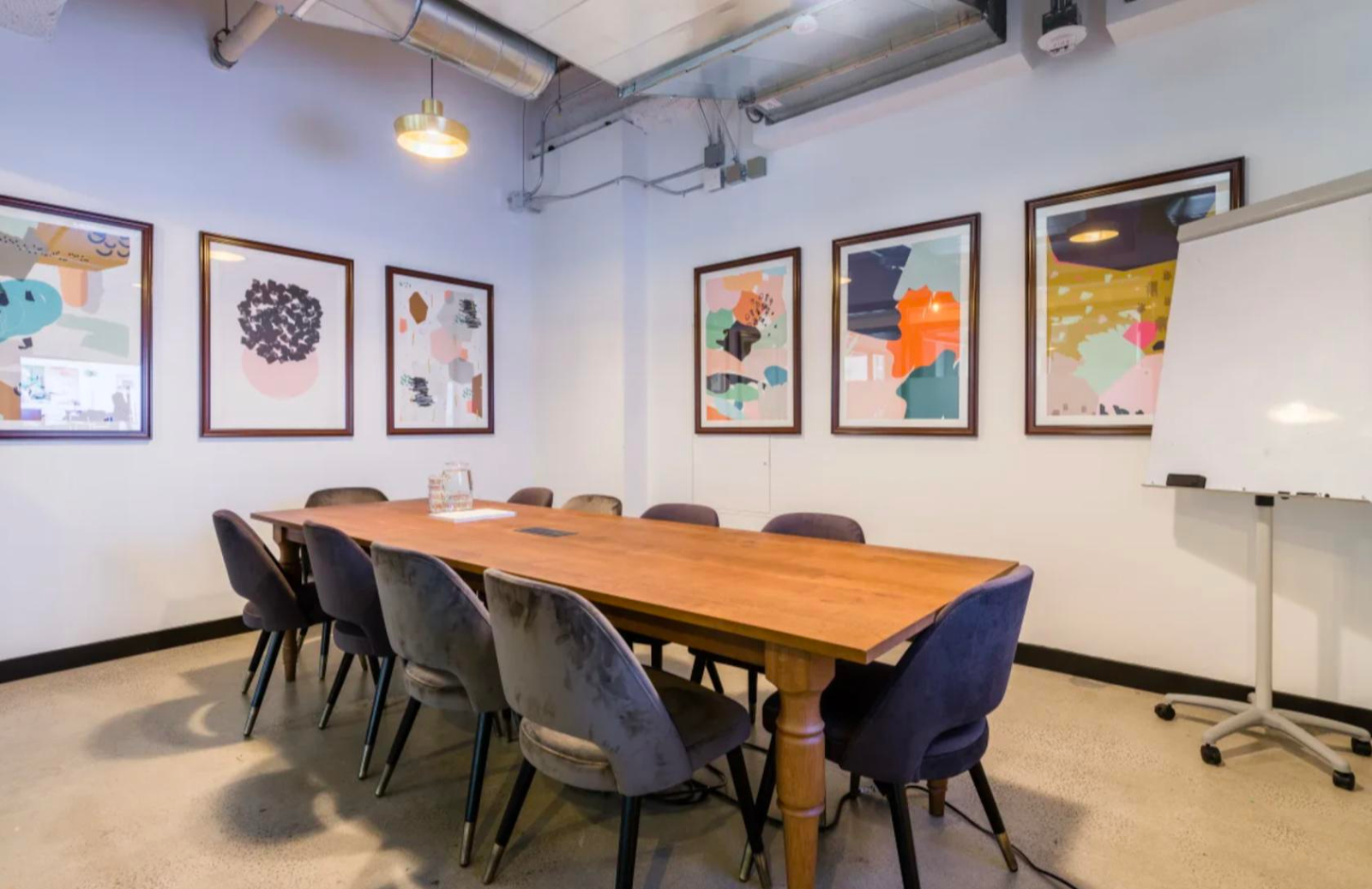 This coworking space is a great meeting venue for laid-back corporate meetings and brainstorming sessions. It's easily accessible by all major public transport and within walking distance of some of SF's most famous hotspots—ideal if you plan to head out and grab lunch during a meeting break.
Location: Chinatown, near Financial District
Capacity: up to 10
Cost: $
Looking for support with corporate event management?
6. Home2 Suites by Hilton: for hosting traveling attendees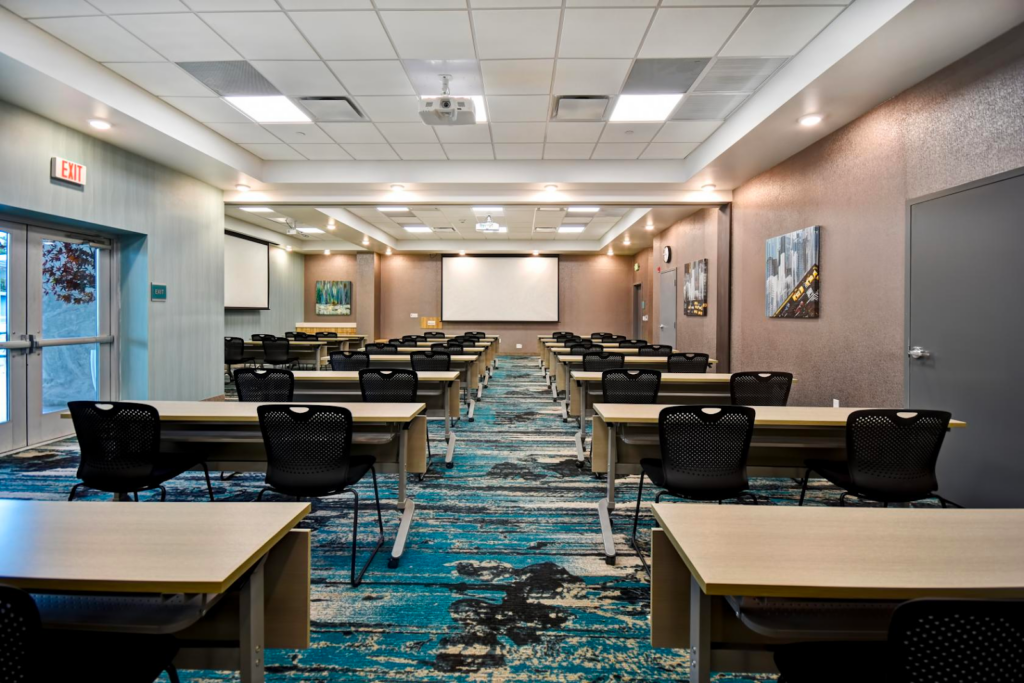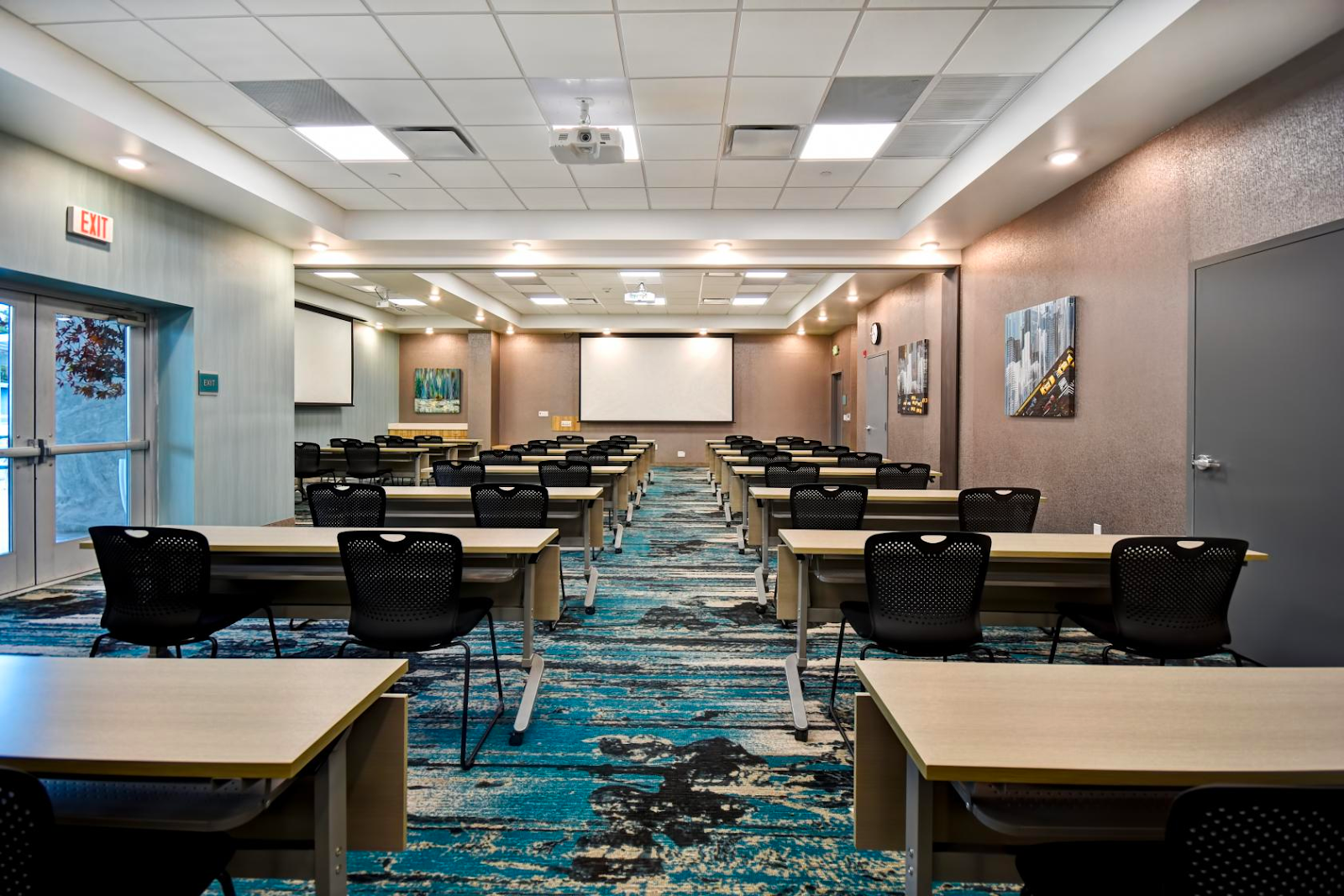 This one's great if you're hosting attendees from across the country or globe—it's a mere 5 miles from SF airport (SFO). There are a number of accessible meeting rooms available, some big and some small, and all equipped with the tech you need to engage attendees. Plus it's just a couple minutes' walk from all the restaurants and bars that Downtown San Francisco offers.
Location: South San Francisco
Capacity: up to 50
Cost: $$
7. The Ritz-Carlton SF: for luxury meeting spaces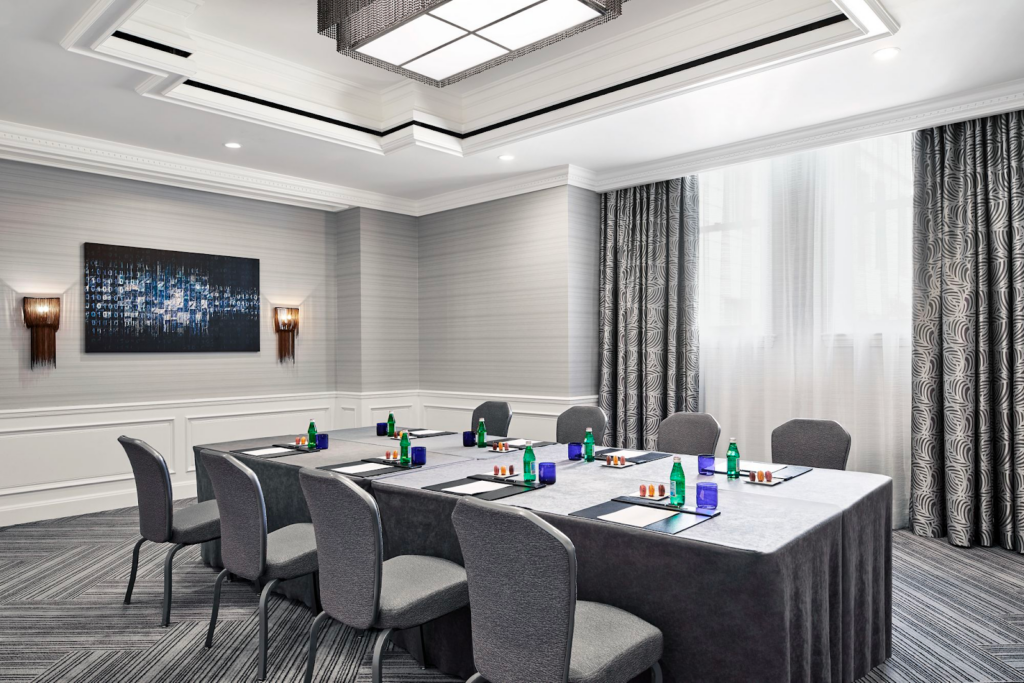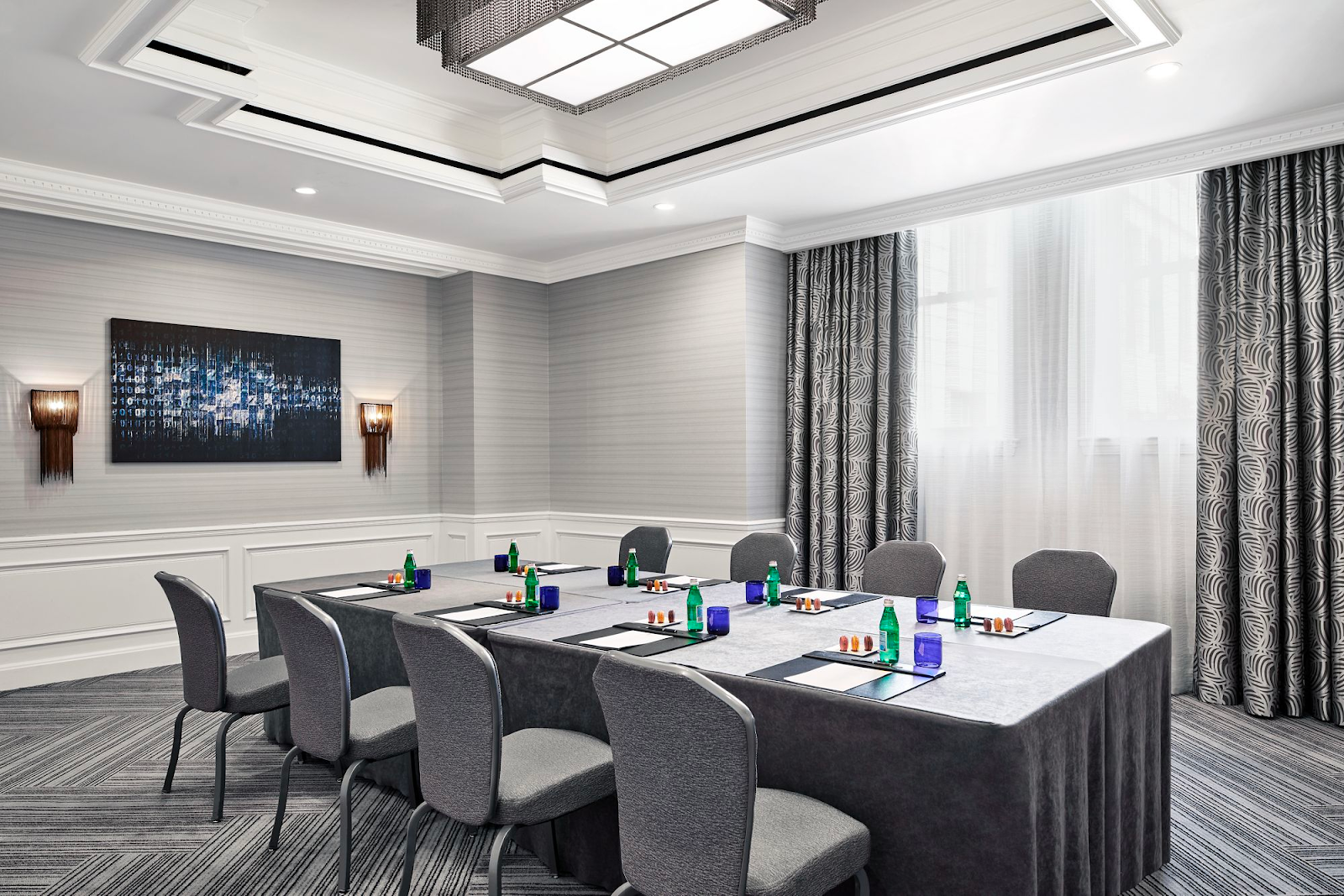 You don't get much more glitz and glam than The Ritz-Carlton:this well-known luxury hotel chain is a recognizable name worldwide. There are a number of meeting rooms available, from smaller rooms for breakout meetings to large ballrooms for company-wide meetings.
As you'd expect, all rooms are fully equipped with top-of-the-range equipment, and the hotel offers catering and private dining options for mid-meeting refueling. The Terrace Courtyard also provides a lovely location to meet up and relax following a corporate meeting—if that's something you're keeping in mind.
Location: Chinatown
Capacity: up to 500
Cost: $$$$
8. Spaces Levi's Plaza: for a fresh take on corporate meetings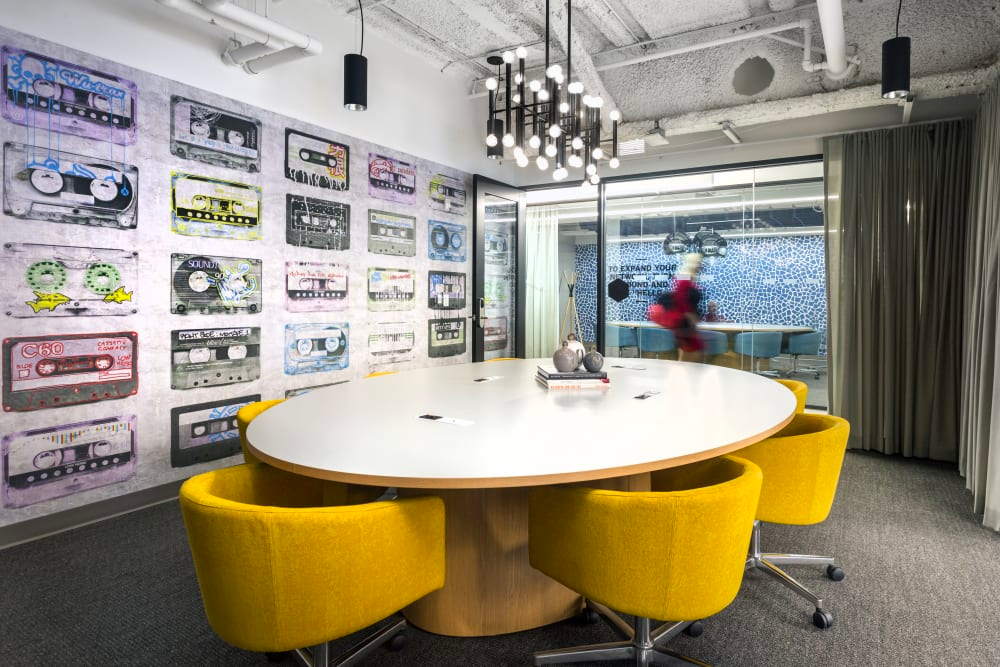 Want a funky meeting space that attendees will remember? The Levi's Plaza Spaces coworking sees the functionalities of a conference center blend perfectly with the quirky style of a boutique coworking—it's definitely one to consider. It's better suited to smaller meetings—and is the perfect place to buckle down and get into the nitty gritty of your meeting purpose.
Location: Telegraph Hill, near Embarcadero
Capacity: up to 8
Cost: $
9. The Marker: for stylish meeting rooms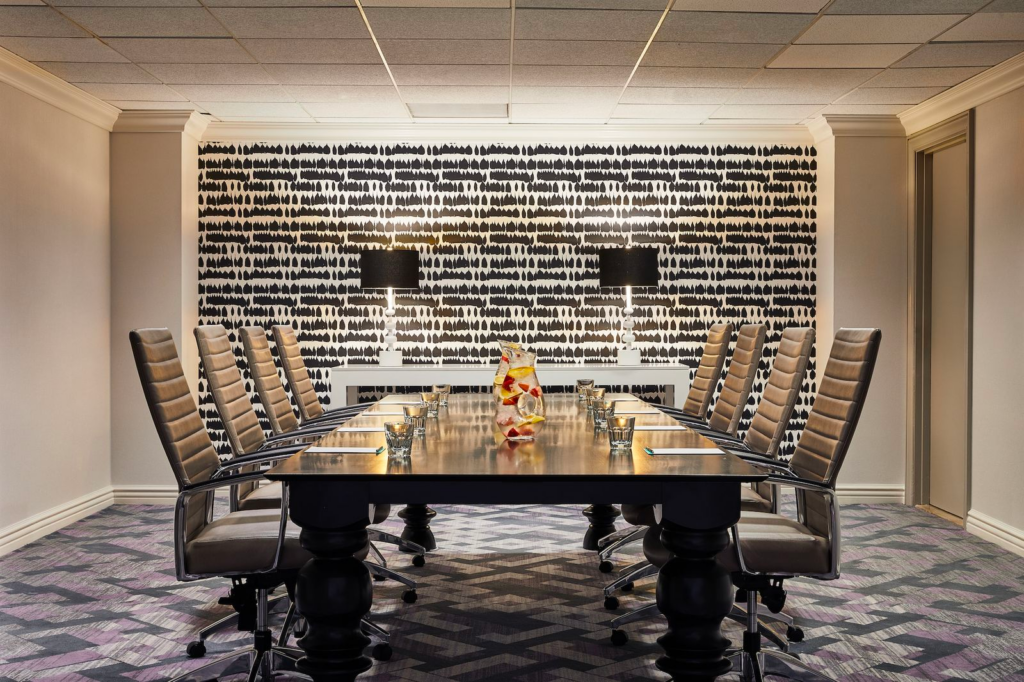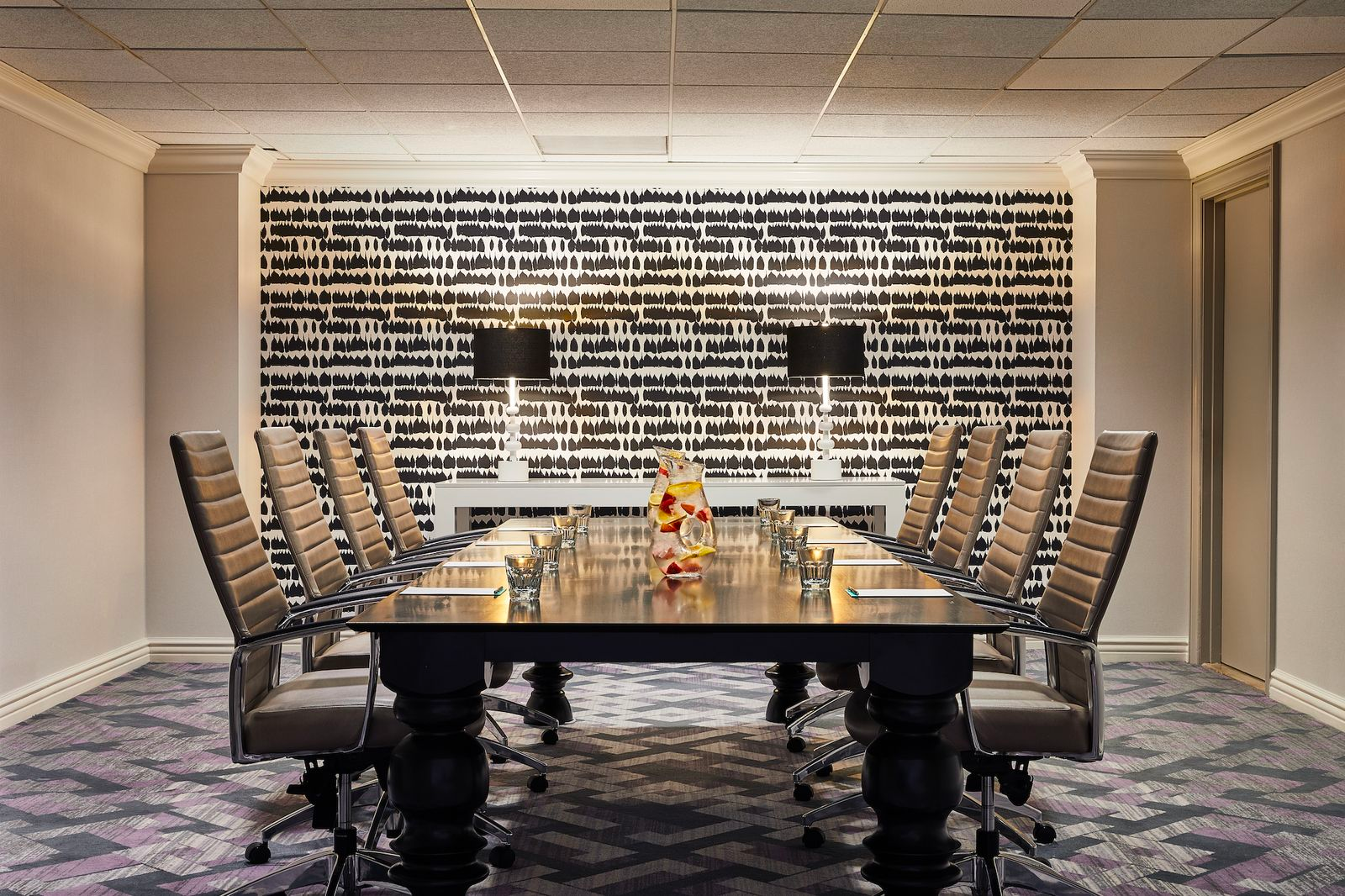 This San Francisco hotel offers a whopping 18 meeting rooms to choose from in total, and a chic dining room if you choose to extend things into the evening. The hotel offers customized conference services, highly curated professional spaces, and impeccable group service for your business meeting. The recently redesigned rooms are ideal for meeting big and small.
Location: Tenderloin
Capacity: up to 200
Cost: $$$
10. The InterContinental San Francisco: for classic meeting rooms high in the sky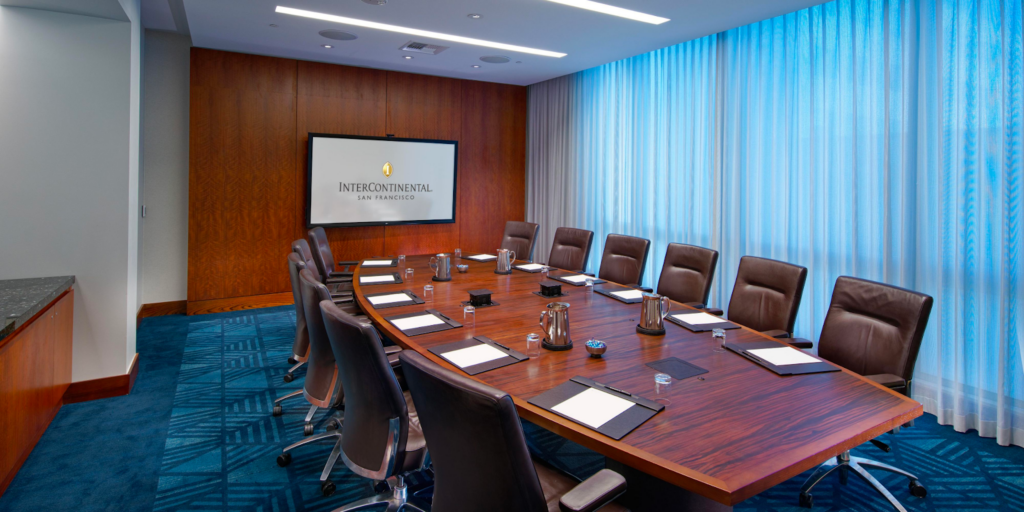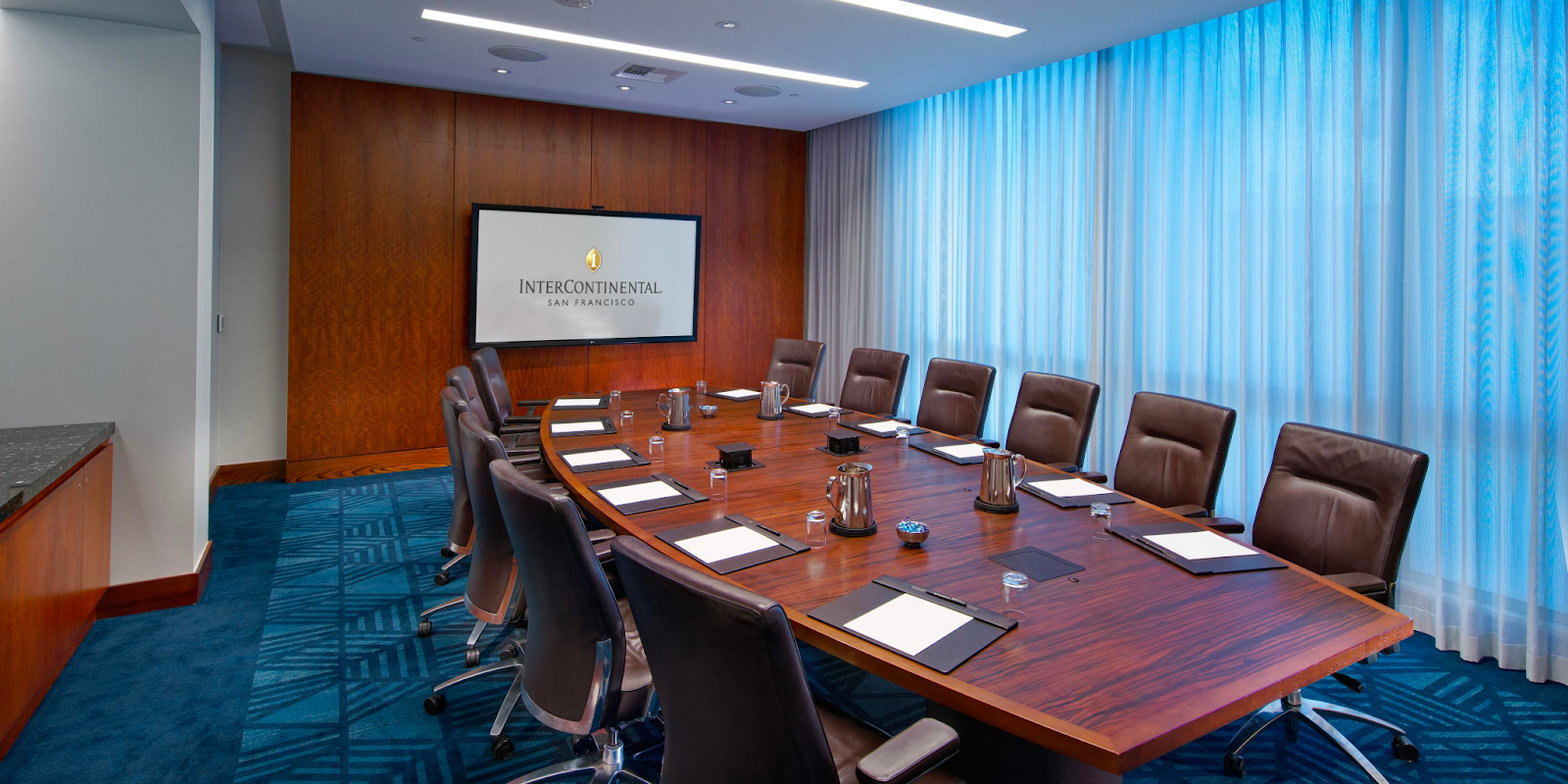 Looking for a classic boardroom meeting space in an SF skyscraper? The 23 meeting rooms on offer at the InterContinental hotel almost give you too much choice. It's the ideal spot if you're looking to impress attendees, and its Soma location makes it easy to get to and from via public or private transport.
Location: Soma
Capacity: up to 1000
Cost: $$$$
Get ahead and start organizing your corporate event today
Whatever the next event you're hosting is, whenever you're hosting it, it's never too early to start planning—and you can use TravelPerk's event management checklist to make sure you're ticking all the boxes.
If you feel you could benefit from support with the organizational side of things, TravelPerk can help with the booking and management of your event, taking the administrative weight off your shoulders. You pick the venue, let TravelPerk planners take care of the rest!
See how our specialist event team can save you time and money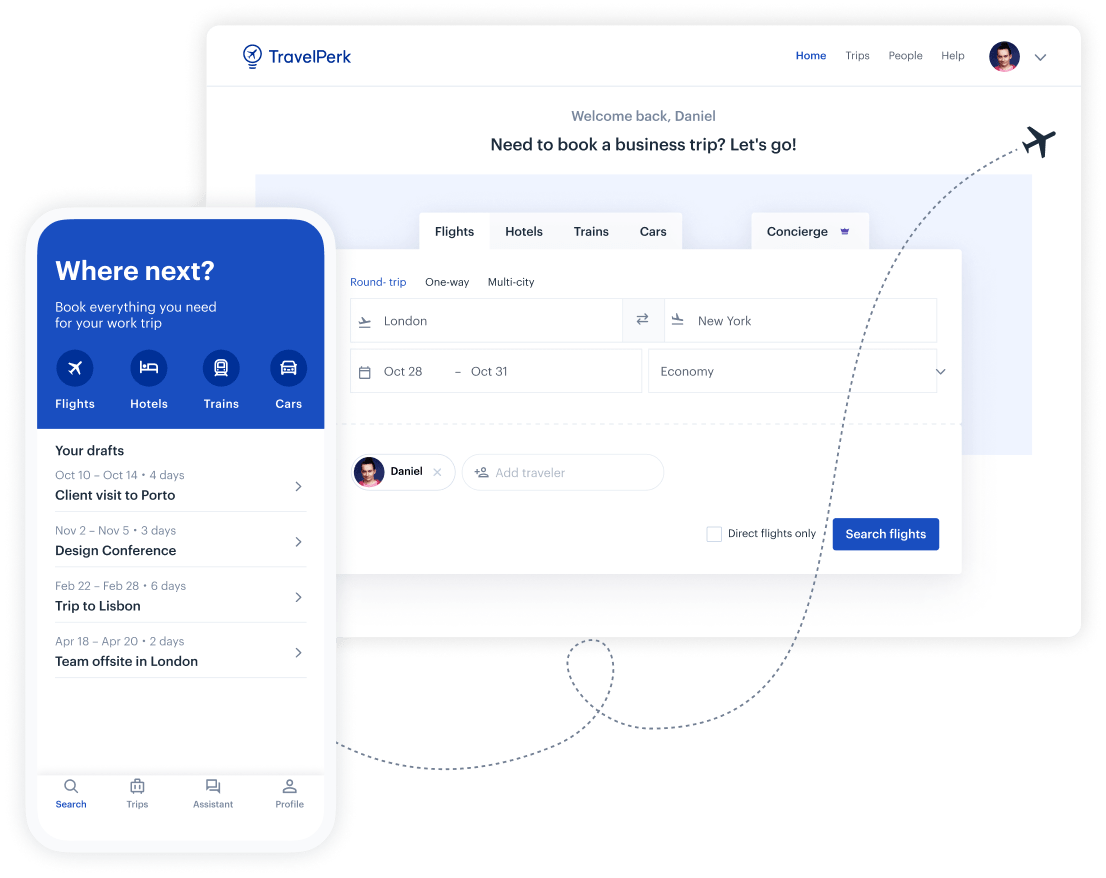 Make business travel simpler. Forever.
See our platform in action. Trusted by thousands of companies worldwide, TravelPerk makes business travel simpler to manage with more flexibility, full control of spending with easy reporting, and options to offset your carbon footprint.

Find hundreds of resources on all things business travel, from tips on traveling more sustainably, to advice on setting up a business travel policy, and managing your expenses. Our latest e-books and blog posts have you covered.

Never miss another update. Stay in touch with us on social for the latest product releases, upcoming events, and articles fresh off the press.