At TravelPerk our mission is to streamline corporate travel management for our users. We strive to solve challenges for business travelers, and we love to keep abreast of similar startups in the corporate travel industry! 

In this article we're going to we share ten travel startups who have caught our eye! These companies are using new technologies and innovative ideas to disrupt the industry and improve our travel experiences. These startups have developed highly innovative softwares and services designed to make customer experience that much smoother. Let's dive in! 
Before the pandemic hit, we were incredibly proud to be named the world's fastest-growing SaaS company in The SaaS 1000. Our all-in-one platform aims to simplify every aspect of corporate travel. TravelPerk aims to assist travel managers in achieving new levels of travel policy compliance from business travel bookings to expense management.

On average, our users save 20% on their annual travel spend and countless work hours thanks to our automated approvals system. Unlike other online travel booking tools, TravelPerk is fully integrated, so travel managers won't need additional software to generate reports or handle expenses. Plus, our customer service teams offer real human support 24/7, 365 days a year. If you're looking for the top business travel startups, start with TravelPerk.
Headquarters: Barcelona, Spain
Other office locations: Boston, Chicago, Miami, Berlin, Birmingham, Edinburgh, London
Number of employees: 1,142
Funding: raised a total of $408.2M over 9 rounds
Start saving money on business travel for your company today!
The travel app we have all been waiting for! Timeshifter aims to help global business travelers beat jet lag for good by using the latest developments in neuroscience. Travel tech at its finest, in just two minutes, travelers can program in upcoming itineraries to receive handy notifications with easy-to-implement advice!

We sat down with Timeshifter Co-Founder and CEO Mickey Beyer-Clausen in April to debunk some jet lag myths and learn more about this groundbreaking travel technology. You can watch the entire webinar here.
Headquarters: New York
Other office locations: Southampton, NY, Water Mill, NY
Number of employees: 861
Funding: raised a total of $3.5M over 3 rounds
Backed by a roster of impressive investors, including CitiGroup and Deutsche Bank, Berlin startup Get Your Guide is one to watch. Its straightforward booking engine allows travelers to skip the line and book activities in various destinations worldwide.

Plus, whether you choose a private helicopter tour of New York City or a cruise down the Seine, all tours booked through Get Your Guide come with free cancellation up to 24 hours in advance. If you're missing your adventurous vacations, take advantage of their great wishlist feature or check out what's available in your local area. 
Headquarters: Berlin
Other office locations: Zurich, Sydney, Vienna, Paris, Hong Kong, Rome, Dubai, San Francisco, New York City, Cape Town, Barcelona, London, Rio de Janeiro and Tokyo
Number of employees: 928
Funding: raised a total of $886.2M over 12 rounds
Set up in the UK in 2011, Crowdvision is a tech company looking to revolutionize our airport experience. Using the latest video technology, Crowdvision analyzes crowd movement in real-time so that airports can manage the flow of passengers and reduce frustrating bottlenecks.

From London to Tokyo, the world's busiest airports are already using Crowdvision's technology to improve user experience. Even as coronavirus travel restrictions lift, social distancing will continue to be vital, so we are sure this tech startup will go from strength to strength in the years to come. 
Headquarters: London
Other office locations: Dubai, Belfast, Melbourne, Austin Texas
Number of employees: 30
Funding: currently funded by four angel investors
Based out of Hong Kong, Lemi aims to promote small businesses and a more sustainable approach to travel. A community-based platform, Lemi's mobile app enables people to support local spots by leaving recommendations for travelers. Users leave one review, and then Lemi gets to work putting their favorite bar or restaurant on the map!

Using shout-outs on their social media, other social networks, and search engine algorithms, they help spread the word further. Currently operating in 97 different countries, Lemi provides a feel-good step towards sustainability and making your business trips more socially responsible. 
Headquarters: Hong Kong
Other office locations: N/A
Number of employees: 20
Funding: no funding rounds raised yet
A service provider with ambitious goals, SafetyWing was established as the world's first international medical insurance issuer. Cleverly engineered with travelers in mind, SafetyWing removes many pain points corporate travelers experience with insurance.

As well as being able to buy insurance after departure, travelers can also avail themselves of policies without a duration cap. So when issues turn that short business trip to Singapore into an extended visit, you can feel assured you will still have healthcare coverage for the duration of your stay. Available in 180 countries, SafetyWing is looking to become a one-stop shop for both global banking and insurance.
Headquarters: California
Other office locations: N/A
Number of employees: 121
Funding: raised a total of $47M over 4 rounds
If you travel internationally for work, you have no doubt come home with a pile of coins in your pocket on numerous occasions. Rather than collecting dust in an old jar, thanks to Coindrum, travelers can now convert their change into vouchers to spend on snacks for their flight in duty-free stores. Named best startup in travel a few years ago, keep your eyes peeled for a self-service Coindrum machine the next time you enter departures. 
Headquarters: Dublin, Ireland
Other office locations: N/A
Number of employees: 10
Funding: raised a total of $2M over 1 round
Founded in Copenhagen in 2016, travelers can now find Luggage Hero sites in 46 major cities across Europe and North America. Based on a simple premise, Luggage Hero lets you store your bags securely for less than the cost of lunch.

However, you no longer need to stretch out the last of your foreign currency to take advantage of a luggage-free last day! Users simply search for a local partner store on their website, book their spot with a credit card and drop off their gear. Plus, thanks to Luggage Hero's security seal system and free insurance, you can enjoy your last few hours worry-free. 
Headquarters: Copenhagen
Other office locations: N/A
Number of employees: 30
Funding: raised a total of $3.9M over 5 rounds
Your company's top priority is always your corporate travelers' safety. When they arrive tired after a long-haul flight, the last thing you want is them hopping in a car rental and driving into a major city. With Blacklane, travel managers can pre-book a professional chauffeur service for their team members.

Whether it's airport transfers or a city car to drive them between meetings, you can have peace of mind knowing they have a safe ride. Plus, Blacklane users benefit from transparent pricing. All fares include one hour of free waiting time for airport pickups and 15 minutes for non-airport journeys, meaning travelers won't rack up a bill on the meter if they get delayed.
Headquarters: Berlin
Other office locations: New York, San Diego, Miami, Dubai, Paris, Brisbane
Number of employees: 343
Funding: raised a total of $103M over 10 rounds
If you need to remain contactable throughout your business trip, you can't be relying on Wi-Fi. But buying international roaming plans or seeking out a decent local SIM can be both expensive and exhausting. E-commerce startup Airalo set out to remove the pain points of keeping in touch while traveling by becoming the world's first eSIM store.

Most smartphones come with an eSIM installed, and now Airalo allows users to purchase different temporary mobile plans. Separate from your usual network, you can search by destination and pick a local provider at the click of a button.  
Headquarters: Singapore
Other office locations: Toronto, Delaware, Istanbul
Number of employees: 70
Funding: raised a total of $7.3M over 4 rounds
Get started today
Whether you're traveling for business or leisure, this list of the top travel tech companies is guaranteed to make your trip that much smoother and more enjoyable, take your pick.
Travel's great, but it's even greater if you don't have to worry about little inconveniences like luggage storage, SIM cards, and last-minute cancellations. With the best travel startups on the market, you'll be able to get the most out of every trip from check-in to landing, leaving the headaches behind and putting your best foot forward. Take a look at where TravelPerk can take you, today.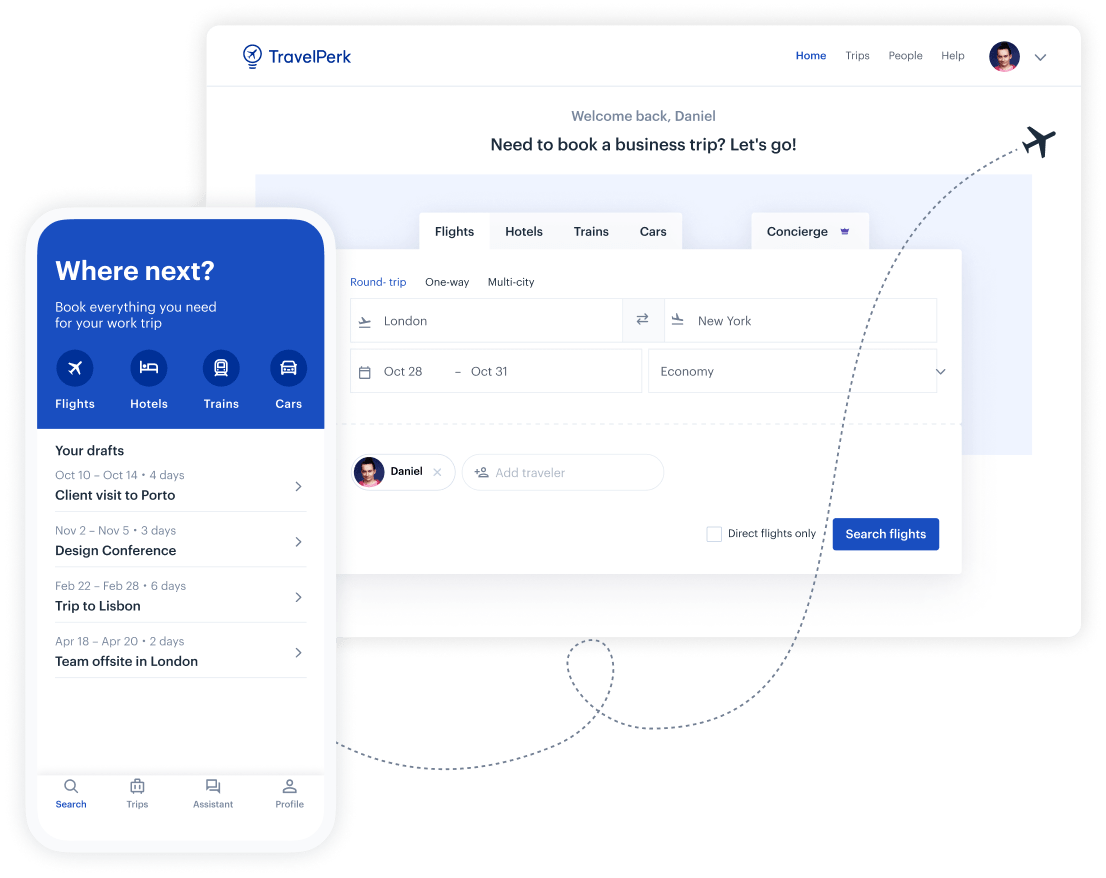 Make business travel simpler. Forever.
See our platform in action. Trusted by thousands of companies worldwide, TravelPerk makes business travel simpler to manage with more flexibility, full control of spending with easy reporting, and options to offset your carbon footprint.

Find hundreds of resources on all things business travel, from tips on traveling more sustainably, to advice on setting up a business travel policy, and managing your expenses. Our latest e-books and blog posts have you covered.

Never miss another update. Stay in touch with us on social for the latest product releases, upcoming events, and articles fresh off the press.