reTravel has been a TravelPerk partner since April 2021 and is an autonomous cross-selling service for the travel industry. Based in Israel, reTravel orchestrates multi-channel messaging and campaigns offering travelers the products they need the most—when they need them most. We joined forces during the global health crisis brought on by COVID-19 when reTravel was looking for an API (application programming interface) that could provide their customers with real-time travel restriction information worldwide.

That's where the TravelSafe API came in. Our one-of-a-kind API is aimed at travel companies looking to help their customers travel safer, reduce operational costs, and increase booking conversion in a COVID and post-COVID world.

And that's exactly what it did. With TravelSafe API, reTravel was able to:
Seamlessly provide their customers with the most up-to-date travel safety and restriction information, saving them time and effort.
Create value for their users and increase their customer feedback, satisfaction, and retention by providing the most useful information for them in these times.
TravelPerk customers also rely on the data provided by TravelSafe API through our TravelCare service. This allows our customers to access real-time information on all COVID-19 travel restrictions and requirements at every stage of their journey. From browsing to booking to going on the trip, travelers and travel managers can stay on top of these changing restrictions. They even receive alerts informing them of any changes that may affect upcoming or ongoing business trips!

reTravel's mission
Helping travel companies, travelers, and providers make better use of marketing, ML, and AI technologies
reTravel was founded by Revital Kristal and Nir Gurevich in Tel Aviv in 2020. Up until that point, they had been leading tech and product at a renowned online booking tool and grew fascinated by the opportunities that online travel agencies and travel management companies had. They realized that these businesses weren't taking full advantage of the incredible technologies the sector had to offer and decided to create a tool to help them do just that.

reTravel was born to help travel companies cross-sell products and providers using simple, yet powerful technology. They focus on delivering real value to travelers, improving their overall experience, and increasing loyalty to their customer's brands.

They primarily focus their customer base on online travel agencies, travel management companies, and airlines. reTravel is driven by their customer's success, and it's this customer-centric approach that empowers them to provide them with the best-in-class cross-selling technology on the market.
reTravel: who's who
Revital Kristal - CEO & Co-Founder

Revital runs the company's overall operations, working directly with all relevant stakeholders to make sure the company achieves its goals.

Nir Gurevich - CTO & Co-Founder

Nir is the technical pillar of reTravel. He is committed to seeking out new, innovative, ground-breaking features to generate even more value for their customers.
The challenge reTravel faced
Offering accurate travel restrictions information reduced operational costs
As the COVID-19 pandemic spread across the world and travel became increasingly restricted, reTravel needed to find a way to provide customers with reliable, up-to-date information. At the height of the pandemic, travel all but stopped. Since then, travel restrictions have been changing so quickly that it became extremely difficult to understand which source had the latest information.

reTravel decided to start searching for a travel restrictions solution within that context. Their customers invested a great deal of time and effort into keeping travelers informed of any restrictions and safety measures that might affect their trip. reTravel's customers were trying to keep their operational costs as low as possible given the circumstances, and they struggled with keeping their travelers informed of all the changes, requirements, restrictions, and local guidelines.

Between searching through international government websites, consumer platforms aimed at leisure travelers, and online news publications—they realized that they needed something more efficient and reliable. They needed to find something that would eliminate all of the grunt work they were doing and streamline these processes.

They were looking to engage the travelers with detailed restrictions and guidelines pertaining to their destinations. Ultimately, they also hoped to offer them COVID tests and enable them to deal with every aspect of travel in a COVID world on one, centralized platform. The goal was to provide travelers with all of this information and enable reTravel's customers to engage with their own clients during sensitive touchpoints along the traveler journey, including pre-booking and pre-trip. This would ultimately give their customers a competitive edge by attracting more users to their service, and increase net revenue per trip by selling the COVID tests as well.
TravelSafe API was the only solution worth trying
reTravel was looking at a number of different travel restriction solutions but only tried one. TravelSafe API.

The criteria were simple. reTravel needed a COVID-19 restriction and regulation API that they could use for their customers. They wanted to improve the way their customers were keeping travelers informed of these changes.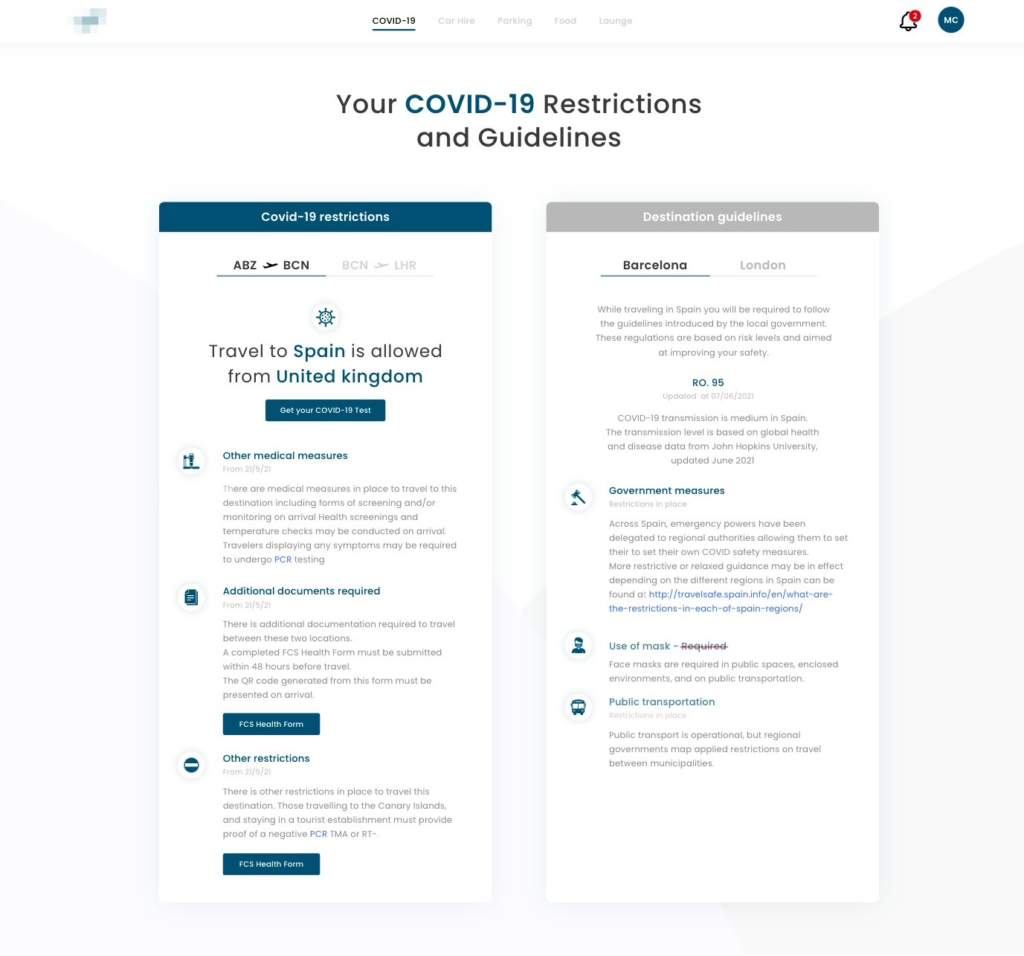 Why reTravel chose TravelSafe API
TravelSafe API initially caught Nir's eye because of the destination guidelines feature it offers. He was excited by the prospect of enabling their customers to inform travelers of what they could and couldn't do at their destination—from quarantine requirements to having a beer at a local bar. He was also drawn to the simplicity of the API itself. It's user-friendly, clean, and easy to integrate into any other platform.

The choice was simple. TravelSafe API would be reTravel's travel restriction solution. They chose it for two main reasons:
It was the only solution that provided information about destination guidelines and in-flight regulations.
The documentation was clear and well-organized, meaning that they could complete the integration quite quickly.
And the rest, as they say, is history.
How reTravel is using TravelSafe API
reTravel provides each traveler with a unique landing page for their itinerary that contains all of the information they need pertaining to COVID-19 restrictions, regulations, and guidelines. They also offer cross-selling opportunities that the traveler may need depending on their trip. This could be anything, including COVID-19 tests, airport parking, lounge offers, destination tours, or car hire, to name a few.
Up & running in just 3 days
The implementation documents were extremely easy to follow. reTravel loved the fact that the documents featured examples of how to leverage and use the tool. It took just 3 days for them to have the tool up and running, including all follow-up Q&As with the TravelSafe API team.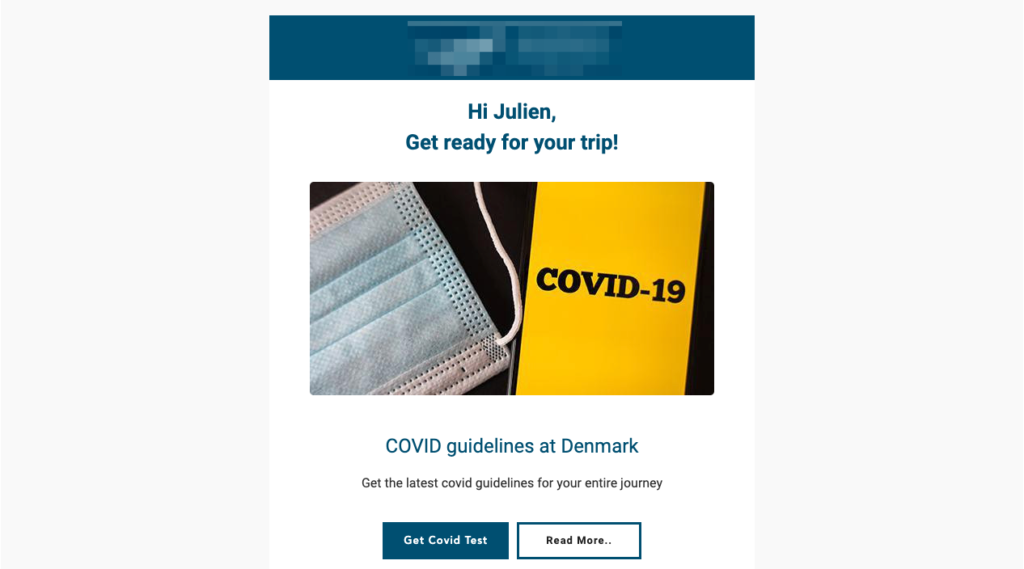 Main results
Increased traveler engagement & cross-sells
By using TravelSafe API, reTravel customers are now able to provide their travelers with the most up-to-date, real-time information on all travel restrictions worldwide. This requires no additional action on their part, saving them time and money. This, ultimately, translates into incredible cross-selling opportunities for them.

By integrating TravelSafe API into their platform, reTravel solved a huge problem for its customers. The integration has helped travelers, companies, and providers at every stage of the journey—from booking to departing on their trip to coming back home. They use this service to gather all the information that may affect their trip all in one place. They can even book their COVID-19 tests through their platforms!
Key stats:
In Europe, almost 40% of the cross-sells supported by reTravel began with a traveler reading information on COVID-19 travel restrictions and guidelines.
Travelers were thrilled to receive this information, to the point that this information doubled reTravel's unique email open rate to 40%. Our click-through rate also tripled.
A quick tip from the reTravel team
"Don't skip over cross-sell and upsell opportunities, grab them by the horns! If done properly, that will give you a competitive edge and happy travelers."

About TravelCare & TravelSafe API
TravelCare is our market-leading solution for those looking to book and manage travel for their own company. It offers admins and travelers real-time information and alerts on all COVID-19 travel restrictions and requirements, at every stage of the process of booking, preparing, and going on a trip.

TravelSafe API is our solution for companies that want to integrate market-leading travel restrictions information into their own products and services.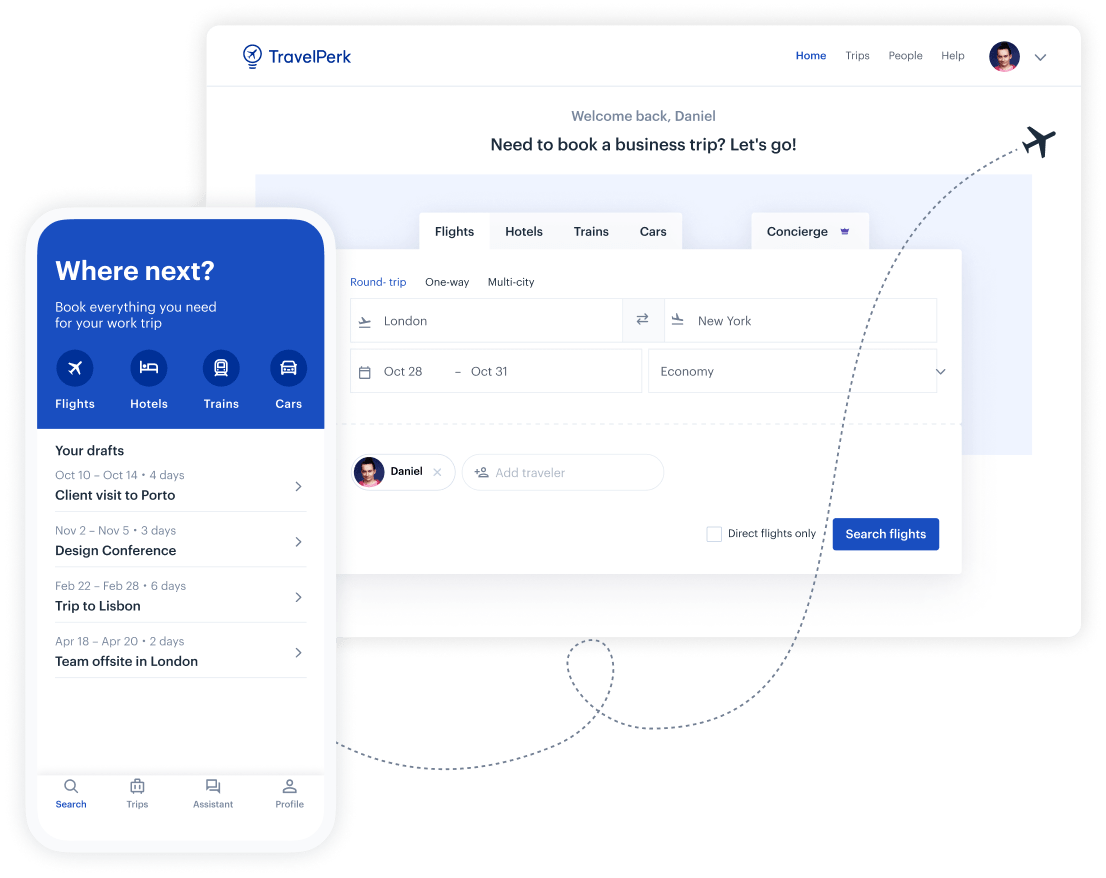 Make business travel simpler. Forever.
See our platform in action. Trusted by thousands of companies worldwide, TravelPerk makes business travel simpler to manage with more flexibility, full control of spending with easy reporting, and options to offset your carbon footprint.

Find hundreds of resources on all things business travel, from tips on traveling more sustainably, to advice on setting up a business travel policy, and managing your expenses. Our latest e-books and blog posts have you covered.

Never miss another update. Stay in touch with us on social for the latest product releases, upcoming events, and articles fresh off the press.