Travel management software provides solutions to businesses looking to plan, book, manage, and analyze corporate travel. There are ample options on the market, and it depends on your unique corporate travel needs to decide which is best for you.
Navan and SAP Concur are two of the most widely used choices—and they're the two solutions we'll be comparing today. We'll also introduce you to another corporate travel management solution to give you a wider view of what's on offer.
This guide will offer a comparative breakdown of Navan vs SAP Concur to help you make the right decision—buckle up.
Navan
Navan is a versatile travel management platform that includes expense management software and corporate card management functionalities. This all-in-one tool offers an adequate global inventory for all things travel—flights, hotels, cars, rentals, and more.
On top of giving you a wide variety of travel choices and 24/7 customer support, Navan also leverages its technology to produce real-time insights into your travel spend.
Let's analyze Navan' complete functionality to see how it fares against SAP Concur.
Navan core differentiators and main strengths
Let's dive into what Navan considers their top solutions for your travel management needs.
1. Sustainable travel management
Over 90% of CEOs consider sustainability an essential aspect of their success. Business travel is increasingly environmentally conscious.
Navan provides sustainable travel options by enabling you to track and reduce your company's emissions with a carbon emission budget.
2. Risk management and mitigation
Navan' risk management functionality gives you visibility on where your employees are traveling and how you can best protect them.
Your extensively visualized dashboard and a Live Traveler Map will give you insights into any possible unexpected event that could hamper a trip.
3. Reporting technology to increase savings
Navan gives you the advantage of working with its sophisticated reporting tool to maximize your savings without any compromises. This real-time reporting tool offers in-depth insights to identify any inefficiencies in your travel spending.
In addition to uncovering any gaps, Navan also comes with a centralized billing system to track all invoices, expenses, and accounts payable. It helps travel and finance teams work more efficiently.
4. AI-powered setup
Navan delivers high-performance and seamless corporate travel management solutions—packed with AI technology. The tool analyzes past bookings and preferences to offer personalized recommendations based on your policies.
You also have the advantage of creating dynamic policies to encourage compliance to shifts in the market conditions.
Navan user reviews
User reviews highlight what Navan' users think of the product—both the good and the bad. Positive reviews highlight the online booking tool functionalities as stand-out.
"Booking through Navan ensures I get the best rates on travel by listing all major transportation and lodging options where I can compare in one view. The listings come directly from the service providers, as well travel sights, so you see all options without gimmicky fees." - Christian T, review from G2
However, some negative reviews complain that Navan only provides basic travel options.
"Add-ons aren't able to be booked through Navan, which means if the only seats available are economy, you can't add the ability to choose seats or pay for checked bags in the app. You have to pay for those separately and be reimbursed." - Grace H, review from G2
Overall, Navan is an alright choice for businesses looking to make corporate travel easier. Users highlight the easy-to-use interface and stress-free booking, but some report that limited options and difficulties changing trip details cause unnecessary hassle.
SAP Concur
SAP Concur offers a complete suite of products for corporate travel management, expense tracking, and invoicing. Concur offers a range of features to go head-to-head against Navan.
The tool leverages automation to simplify all processes related to travel booking and spend management. Let's take a look at some of Concur's core strengths and differentiators vs Navan.
SAP Concur core differentiators and main features
Let's take a closer look at what, according to SAP Concur, their travel management solution offers.
1. Integrated travel and expense platform
Concur combines business travel and expense management into a single tool for greater ease of planning trips for your employees. Similar to Navan, the tool tracks and collects real-time data to prepare exhaustive expense reports for all your trips.
The platform offers a large inventory for every budget range to create a one-stop corporate travel management avenue. You can draft your customized policies and be on top of your travel program with a single dashboard.
2. Automated invoicing process
Concur Invoice leverages machine learning and AI capabilities to give you greater control over your budget and profitability. You can manage all payments and enforce compliance effortlessly.
Here's how Concur Invoice positions itself as a one-of-a-kind functionality:
Three-way match: the tool analyzes and matches every payment's purchase order, receipt, and invoice. This automated process is a fast and error-free alternative to manual processing.
Invoicing intelligence: you get an integrated analysis of your travel expenses alongside ERP and credit card data to control your expenditure. These customized reports and dashboards can significantly enhance decision-making.
Streamline payments: on top of bringing a complete breakdown and analysis of your expenses, Concur Invoice is also integrated with a variety of payment gateways. So, you can create an approval workflow and make payments instantly.
3. Partnerships with big suppliers
Concur TripLink is another one of its key differentiators connecting you to an array of travel brands globally. TripLink creates a direct line of communication between you and Concur's global suppliers. It also brings you negotiated rates that fit your travel policies and budgets.
4. Compliance and risk management
Concur has a stringent framework to enforce policy compliance. With Concur Expense, you can audit your entire travel program with detailed expense reports for each trip.
SAP Concur user reviews
Let's take a look at what SAP Concur users like about the platform.
"I like that it is a very intuitive tool for all the people who want to make or request reimbursements. Likewise, we can have tracking of the expenses and the types of costs, allowing us to have a complete summary of the value, invoice, and approvers." - Johan M, review from G2
Now, what they don't love.
"Concur was a little "clunky" to learn how to use. The first time I had to add a multiple room night stay with different rates, it took me several tries to figure it out before I got it just right. Seems like that sort of process could be made much easier." - Erica B, review from G2
Overall, users report that the interface can be tricky to pick up. However, after turning the learning curve—it offers top solutions for corporate travel management.


TravelPerk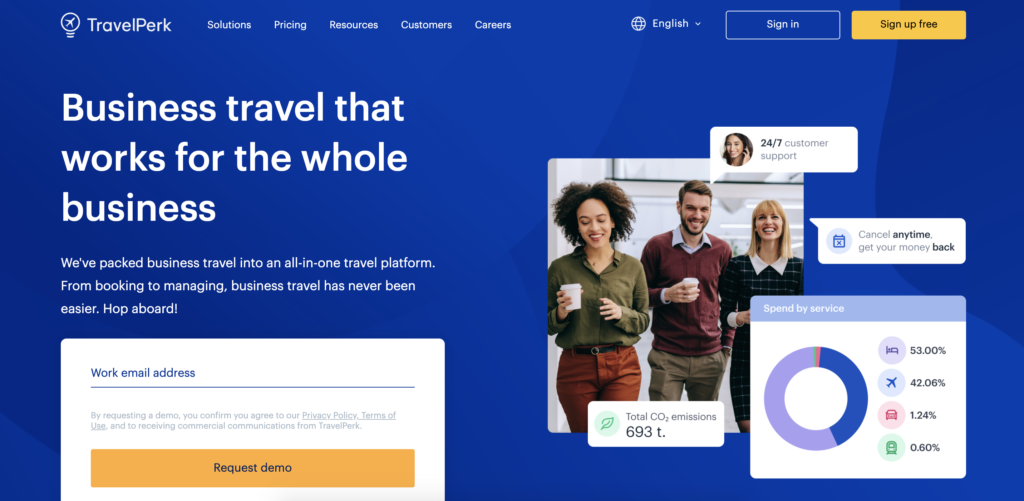 Choosing between Navan vs SAP Concur is difficult—but they're not your only two options.
TravelPerk is a feature-packed corporate travel management software covering all bases for your travel program. With an industry-leading inventory and 7-star customer service, TravelPerk is built to cater to every business travel need with top-notch corporate travel features, such as a comprehensive android and iOS mobile app with traveler notifications.
TravelPerk core differentiators and main strengths
Let's take a look at where TravelPerk is leading the pack.
1. Industry-leading travel inventory for the best rates
Direct flights, convenience, airport location, and price are among the top factors affecting travel managers' choices for planning a trip. TravelPerk's industry-leading travel inventory ensures you find the best rates available for your corporate travel.
You don't have to worry that better rates are elsewhere. TravelPerk's negotiated pricing and endless options will help finalize every trip at record speed and cost. Plus, the easy-to-use booking tool simplifies the booking process from start to finish.
2. Top-rated customer service
Preparing for the worst isn't fun, but it's a must. With TravelPerk's dedicated customer support team, you can keep all your worries at bay.
TravelPerk's team of seasoned travel agents works 24/7 to get you support in 15 seconds or less. This service is available in English, and in German and Spanish during office hours—no matter where you are, TravelPerk's customer support is on hand to help.
3. Greater flexibility and ease of travel
There's some degree of uncertainty in every trip, be it unfavorable weather or flight bans. Your plans can also change due to internal factors—no itinerary is set in stone.
TravelPerk's exclusive FlexiPerk feature enables you to get 80% of your money back. It's hassle-free and quick, and can be a lifesaver in times of uncertainty.
The biggest differentiating factor giving TravelPerk the upper hand in the Navan vs SAP Concur debate is its advanced technology. "Many of our customers are tech companies full of developers, so we're confident that if we give them the tools it will be boundless what they can create," says co-founder and CEO, Avi Meir.
Its developer-friendly API enables companies to to:
Develop the integrations they need, besides the standard ones offered
Enhance the platform's automation capabilities and ROI
Embed it within your business workflows and augment its utility
New APIs are constantly being added to suit current needs, like Covid-19 API, GreenPerk API, and TravelCare API.
5. Sustainable travel options
Finally, TravelPerk's GreenPerk allows you to offset your business travel carbon footprint by investing in verified, sustainable projects. You can then see the impact of your investment with transparent, comprehensive sustainability reports.
TravelPerk user reviews
TravelPerk user reviews love how easy and painless it is to book with TravelPerk. Reviews report that the platform is intuitive and efficient, and that customer support is incredibly attentive.
"TravelPerk is an excellent tool to use while on a business trip. I had used my App and computer software to navigate Travel Perks with ease. Competitors' software does not match TravelPerk." - Angelo T., review from G2
"There is nothing negative that I can mention. I had many cases when I contacted the team for support and there was no case that wasn't resolved by them. I just recommend them to everybody! They are professionals in that field!" - Szilárd S., review from G2
Overall, users love TravelPerk's easy-to-use software and ample travel options. TravelPerk's a top pick for corporate travelers looking to make corporate travel a breeze—whether you're a startup, small business, or enterprise.


Let's take a side-to-side look of the differences and similarities between there three travel management solutions:
| | | | |
| --- | --- | --- | --- |
| | Navan | SAP Concur | TravelPerk |
| Implementation cycle | Long | Long | Short |
| Customer support | Moderate | Poor | Excellent |
| Pricing | Expensive | Expensive | Budget-friendly |
| Travel inventory | Moderate | Poor | Excellent |
| EU-readiness | Poor | Excellent | Excellent |
| User experience | Excellent | Moderate | Excellent |
| Mobile experience | Excellent | Moderate | Excellent |
| Governance and control | Poor | Excellent | Excellent |
| Reporting & analytics | Moderate | Excellent | Excellent |
| Duty of Care | Moderate | Moderate | Excellent |
| Traveler experience | Moderate | Moderate | Excellent |
| Rewards program | Excellent | Poor | Excellent |
| Integrations | Moderate | Moderate | Excellent |
| Expense management | Excellent | Excellent | Excellent |
Prepare for take-off with TravelPerk
Finding an ideal travel management solution requires proper research and trial runs. This Navan vs SAP Concur helps identify the pros and cons of each of these tools.
If you're looking for a more flexible and more powerful substitute, TravelPerk is the go-to solution for your business. Try a demo today to experience how TravelPerk can benefit your business and improve the travel experience from start to finish.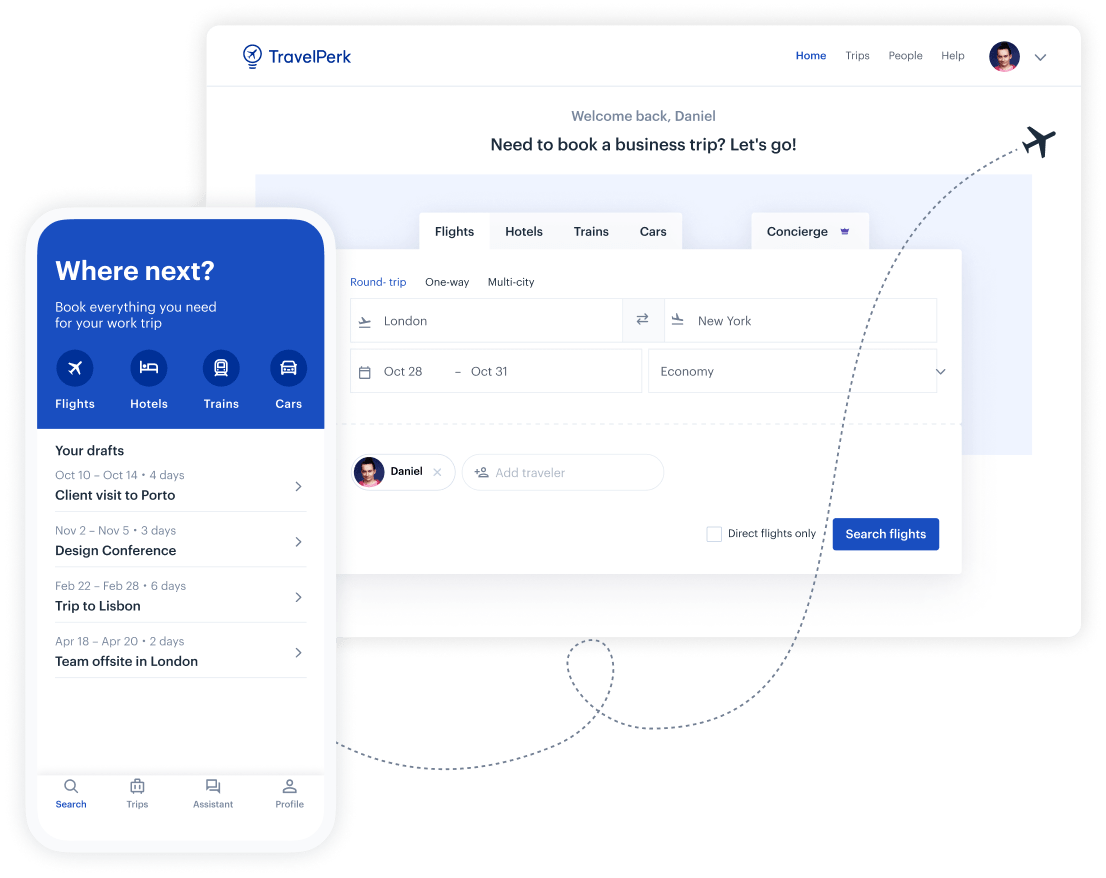 Make business travel simpler. Forever.
See our platform in action. Trusted by thousands of companies worldwide, TravelPerk makes business travel simpler to manage with more flexibility, full control of spending with easy reporting, and options to offset your carbon footprint.

Find hundreds of resources on all things business travel, from tips on traveling more sustainably, to advice on setting up a business travel policy, and managing your expenses. Our latest e-books and blog posts have you covered.

Never miss another update. Stay in touch with us on social for the latest product releases, upcoming events, and articles fresh off the press.