As travel managers and HR professionals will know all too well, various elements go into coordinating a successful team event. Finding a suitable date, sourcing airfares, making group hotel bookings, and organizing transportation are just the start of the challenges faced when planning team events.
The last few years have seen companies switch to new ways of working. With more employees working remotely, bringing teams together to foster belonging and tackle certain tasks face-to-face has never been more important.
Team events can take many forms. From conferences to company retreats, team building get togethers to offsite brainstorming sessions, in the hybrid working world, there are many additional reasons teams will need to travel to meet in person.
With team travel on the rise, how can planners ensure spending doesn't spiral out of control? As with any event, you can establish a budget, but with so many employees in transit, it is easy for unexpected costs to crop up. So how can you save money on your team events and take advantage of the special group discounts on offer?
6 tips to get group travel discounts for your next team event
Plan ahead 
It might sound simple but planning your event as far ahead as possible can dramatically impact the bottom line. Airlines, transportation, and accommodation all charge a premium for travelers who choose to book at the last minute. With multiple team members on the road, making your group booking late in the day can quickly eat through your budget and waste precious resources you could spend on other elements of your team event.
Be strategic 
When planning the dates of your team event, it pays to be strategic, especially if your plans involve booking flights for employees. Research suggests that midweek airline fares are cheaper, with Tuesday being the best day to search for the lowest ticket prices.
The time of year of your event can also have big implications for transportation and accommodation costs. Avoiding periods that are typically busy for leisure travelers can significantly reduce your travel spending and widen your options for accommodation.
The most cost-effective months for corporate travel are midweek dates in April, May, September, or October. These months avoid the holiday price hike and will see hotels more incentivized to offer group rates.
Be flexible 
When it comes to corporate events, it pays to be flexible. Someone gets sick or needs to take an unexpected period of absence. There is a whole myriad of reasons you are bound to have at least one cancellation when bringing together a large group.
While cancellation policies have been more generous in recent years, it's now crucial to pay attention to the small print. Opting for flexible fares is always sensible, but airlines and accommodation providers often place a premium on these options. Plus, as many travel managers can attest, you can spend hours on hold trying to change your travel arrangements.
Solutions like FlexiPerk from TravelPerk take the hassle out of planning group travel by offering the most flexible fares on the market. Corporate travelers can cancel their plans without questions up to 2 hours before departure and receive a guaranteed refund of 80% of their costs. Plus, with FlexiPerk, you won't be left waiting for hours. Travelers can change their itineraries in the straightforward dashboard or speak to a travel expert in just 15 seconds, 24/7, 365 days a year.
How to cancel a trip and get a refund with FlexiPerk
FlexiPerk offers you the most flexible business travel ever. You a pay a small fee on top of your booking and if your plans change, you can cancel up to two hours before and get 80% of your trip refunded. No questions asked.
Promote public transport 
If your team event is taking place close to your HQ, where appropriate, encourage employees to skip hiring cars or taking a taxi and opt for public transport instead. Not only is this better for your event's carbon footprint you can also purchase group-saver tickets for trains and buses in most major cities. But for safety reasons, ensure team members know they can take a cab if they need to travel alone late at night.
Work smarter, not harder 
As we alluded to earlier, booking travel for team events can be time-consuming without the right tools. Travel management solutions like TravelPerk can help managers streamline the booking process by integrating company travel policies and automating approvals. With these tools, travel managers and corporate travelers can save significant time. Scrapping the need to wade through several browsers, users can book flights, accommodation, car hire, and train tickets in one simple-to-use platform.
Planning a large event? TravelPerk's event management tool can help track your team's RSVPs and share itinerary details en mass with just the click of a button. Plus, with TravelPerk's solution, keeping attendees safe is easier, with real-time visibility and instant notifications for any security or itinerary updates.
Take advantage of corporate rates 
From frequent flyer miles to free hotel stays to business car rentals and rideshare accounts, business travel discounts come in many shapes and sizes. Getting signed up for corporate discount travel programs can not only save you money, but it can also improve the travel experience for your teams.
Hotels and airlines will often offer preferential treatment and incentives for loyalty club members. Belonging to these programs can bag your corporate travelers' perks, like a special customer services phone number or fast-tracked check-in at the airport. But racking up the miles or number of nights to benefit from corporate rates can be trickier for smaller businesses. Utilizing the services of a travel management company (TMC) can help you jump the line.
TMCs have vast networks in the travel industry and negotiate corporate rates with hotels on businesses' behalf. TravelPerk, for example, has an industry-leading travel services inventory, and users can take advantage of over 26,000 special rates when choosing hotels on their platform. Plus, on average, businesses can save a further 25% on travel spending thanks to their VAT recovery solution.

Check out our free and personalized demo today to see how TravelPerk's event tool can take the stress out of planning your next corporate gathering.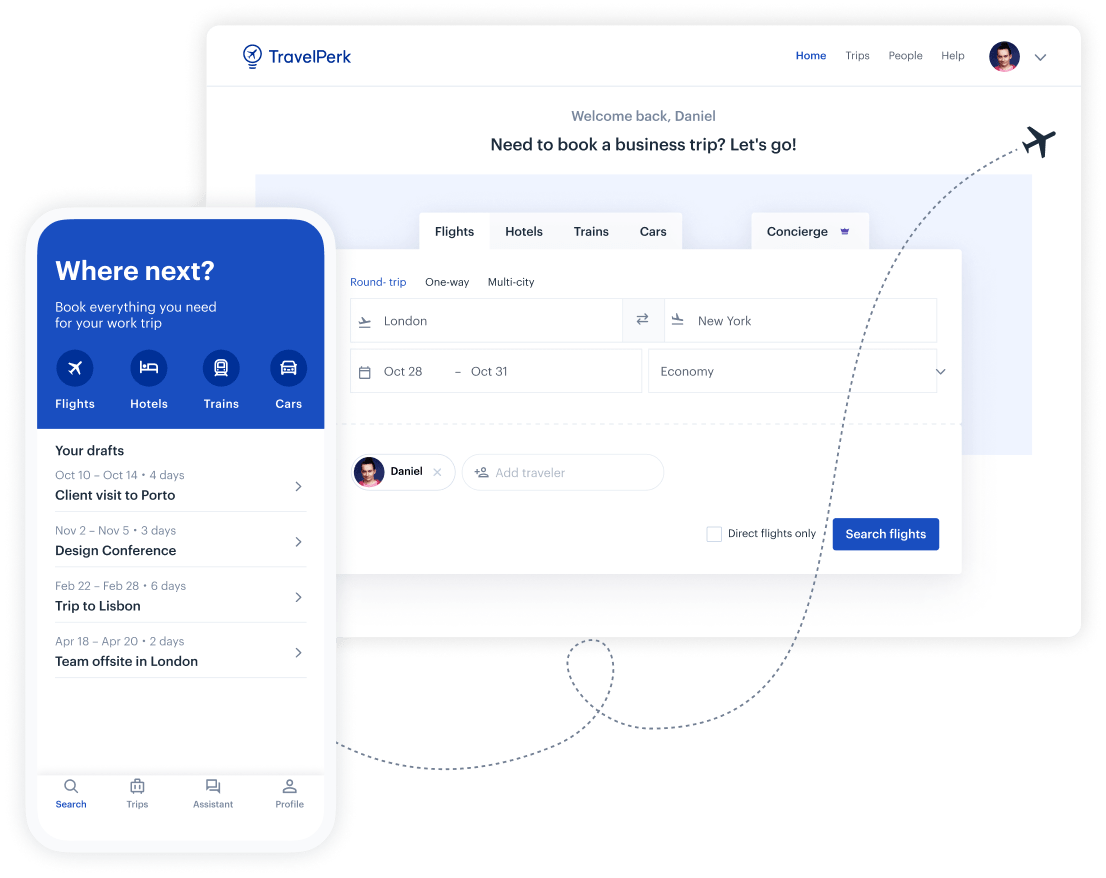 Make business travel simpler. Forever.
See our platform in action. Trusted by thousands of companies worldwide, TravelPerk makes business travel simpler to manage with more flexibility, full control of spending with easy reporting, and options to offset your carbon footprint.

Find hundreds of resources on all things business travel, from tips on traveling more sustainably, to advice on setting up a business travel policy, and managing your expenses. Our latest e-books and blog posts have you covered.

Never miss another update. Stay in touch with us on social for the latest product releases, upcoming events, and articles fresh off the press.