Managing business travel involves juggling numerous moving parts. From booking flights and accommodations to ensuring compliance with corporate travel policies, business trips are not easy. This highlights the importance of finding the right travel management platform to facilitate seamless travel experiences.
However, not all travel management software is created equal, which is why conducting thorough due diligence becomes essential. Here we will delve into ten essential services that a good travel management company should provide. By understanding these key services, you will have the necessary knowledge and insights to choose the most suitable corporate travel management company for your organization's specific needs.
10 Essential services a travel management company must provide:
Let's look at the ten essential services that a TMC must provide in order to take the stress out of your corporate travel.
A reliable travel management platform should offer in-built travel policies and approvals. This feature ensures compliance and prevents rogue bookings that exceed the allocated budget. By enforcing predefined policies, companies can maintain control and align travel expenses with business objectives.
Travel can be unpredictable, and having access to round-the-clock customer support is crucial for travelers, office managers, and other stakeholders.
Timely assistance is vital for traveler safety, especially during nights and weekends when traditional support channels may be limited. It's essential to ensure that customer support is responsive, minimizing wait times and providing real-time assistance.
3. Extensive inventory across accommodation, flights, car rentals, and train
A comprehensive travel management platform should offer a wide-ranging inventory that includes low-cost carriers, Airbnb, and various accommodation options.
It is important to have access to a diverse selection of flights, car rentals, and train services, ensuring travelers can choose the most suitable options for their needs.
4. Exclusively negotiated rates for hotels
Securing exclusively negotiated rates for hotels is a key benefit that a travel management company should offer. These rates can significantly reduce travel costs for both individual and group travel.
As a modern business travel management platform, TravelPerk boasts one of the travel industry's biggest inventories with over 25,000 exclusive rates, ensuring companies can access competitive prices.
5. Self-booking platform with excellent user experience (UX)
The success of a travel management solution heavily relies on user adoption. Without it, it becomes challenging to ensure compliance with travel policies, maintain a centralized invoicing system, and provide unified customer support.
A reliable platform should offer a user-friendly interface and a seamless self-booking experience. Legacy travel management companies often offer clunky and outdated booking processes, which hinder adoption.
By prioritizing a tech-first approach and offering an intuitive booking platform, companies can encourage employees to use the solution effectively for all their travel arrangements.
Find out how TravelPerk makes business travel stress-free
Unforeseen circumstances inevitably require changes or cancellations of travel plans. A reliable travel management platform should provide flexibility for travelers to modify or cancel bookings when needed.
This flexibility ensures that companies can adapt to changing circumstances without incurring unnecessary costs or penalties—and it helps in overall traveler safety.
With TravelPerk's FlexiPerk you can cancel up to 2 hours before the trip and you'll receive 80% of the cost refunded.
To optimize budgets and track travel expenses, businesses require detailed travel reporting. A good travel management platform should provide robust reporting capabilities, allowing companies to analyze travel spending patterns, identify trends, and allocate resources strategically.
Accurate and insightful travel data reports enable informed decision-making and help drive cost-saving initiatives.
In an era of increasing environmental awareness, companies are seeking sustainable travel options. A forward-thinking travel management company should offer carbon-offsetting features, allowing businesses to mitigate the environmental impact of their business travel activities.
Carbon offsetting initiatives allow your travel program to demonstrate corporate social responsibility and contribute to sustainability goals.
Companies often have existing tech stacks that include HR and expense management platforms and they don't necessarily want to start afresh with the tools offered by some TMCs. A travel management solution should integrate seamlessly with the systems that are already in place, eliminating the need for manual travel data transfer and streamlining processes.
TravelPerk, for instance, offers a wide range of integration options, ensuring smooth collaboration with existing software tools to make travel expense management, policy compliance, duty of care, and other travel needs as easy as possible.
All the aforementioned services should be available without exorbitant costs or hidden fees. A trustworthy travel management company should offer transparent pricing models, allowing businesses to budget accurately and avoid unexpected expenses.
Some of these unexpected expenses are things like amending trips, booking over the phone, or a fee whenever you use customer support. However, with TravelPerk, you pay a fixed fee which includes all the support you'll need before, during, and after your trip.
Clear and upfront pricing ensures that companies receive the full value of the services provided.
Now you know which travel services your travel management platform should have. This way you'll know you're dealing with three travel experts that will be there with you on every step of the journey.
Ready to start saving money on business travel for your company today?
Let TravelPerk provide the corporate travel services you need!
Choosing the right travel management company is crucial for efficient and cost-effective business travel management. By ensuring that essential services like built-in policies, 24/7 customer support, comprehensive inventory, and flexible cancellations are in place, companies can streamline their travel operations and optimize their business travel experiences.
Conducting thorough research and selecting a reliable travel management company like TravelPerk will empower businesses to navigate the complexities of business travel successfully.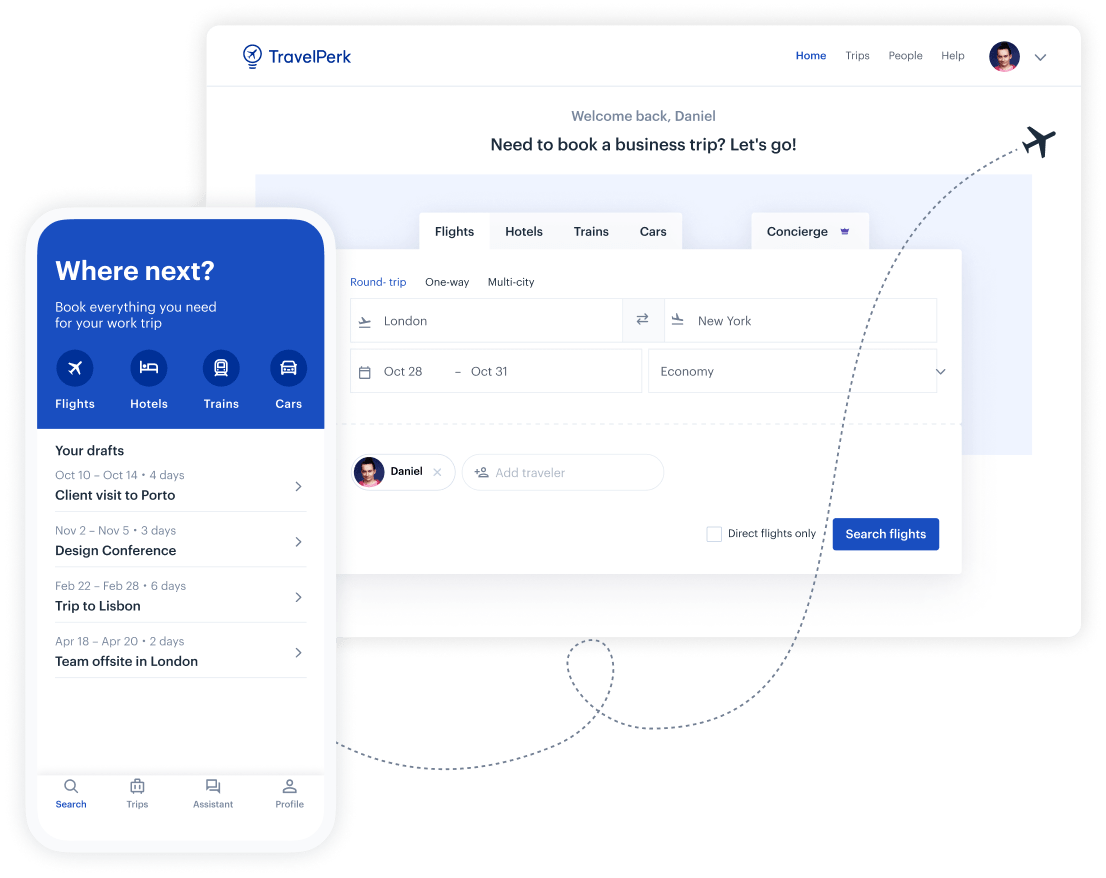 Make business travel simpler. Forever.
See our platform in action. Trusted by thousands of companies worldwide, TravelPerk makes business travel simpler to manage with more flexibility, full control of spending with easy reporting, and options to offset your carbon footprint.

Find hundreds of resources on all things business travel, from tips on traveling more sustainably, to advice on setting up a business travel policy, and managing your expenses. Our latest e-books and blog posts have you covered.

Never miss another update. Stay in touch with us on social for the latest product releases, upcoming events, and articles fresh off the press.