Travel managers and those in charge of organizing business trips will need their travelers to submit a business travel report. This printable business travel report template gives travel managers an overview of expenses and budgets to help improve future business travel.
The business trip report is crucial for the company. It's an important management tool to facilitate budgeting, reporting, and auditing of costs. Put simply, it ensures the company has a comprehensive view of the trip, which in turn helps towards accurate reporting and overall improvement.
Before we get to our business travel report template, let's take a look at what information you should include and why.
Business trip overview
Here you will give an executive summary of the business trip including:
The purpose of the trip
Travel destination
Duration of the trip
Participating employees
Plus any other information needed to summarize the trip.
Trip itinerary
The trip itinerary collects information on the places visited, flight tickets used, hotels booked, and car rental information to enable efficient expense reporting.
In case you're looking for a business trip itinerary template, you can check our fully-customizable template for business travel itinerary–best of all it's free to download and ready to use.


Meetings, events, and activities
Now that you've established all the important information about the trip, transport, and accommodation, you'll need to specify the different activities, meetings, and events that took place.
Expense report
In this section you'll present the expenses—including amounts and payment methods used—to enable the finance team to accurately report expenditures and process any necessary reimbursements.
Attachments and documents
This part of the report can be divided into two important categories:
Invoices and receipts: all the proof of each one of the expenses made
Other relevant documents: contracts, certificates, and declarations that were produced during the business trip
Additional comments
In this last section you can mention important things that happened during the trip, feedback about issues encountered, and whether there are any important follow-up actions for the activities taken during the trip.
Get your business travel report template
Compiling a business travel report is easier with a premade template—just plug your travel information into the relevant section. While using travel report templates is helpful—it's not the best way to get the job done.
Filling out endless reports could be a thing of the past with a travel management platform like TravelPerk. The platform enables you to book and manage your travel, and automatically creates a business travel report following any trip.
You can connect it with your expense management solution to include expenditure details, and automatically compile travel reports that make life easier for everyone involved—travel managers, traveling employees, and your finance team. Try TravelPerk today to experience simpler business travel management and reporting. If you're not quite ready to make the leap—take a look at our ready-to-go business travel template below or head over to our customizable version to get started in a flash.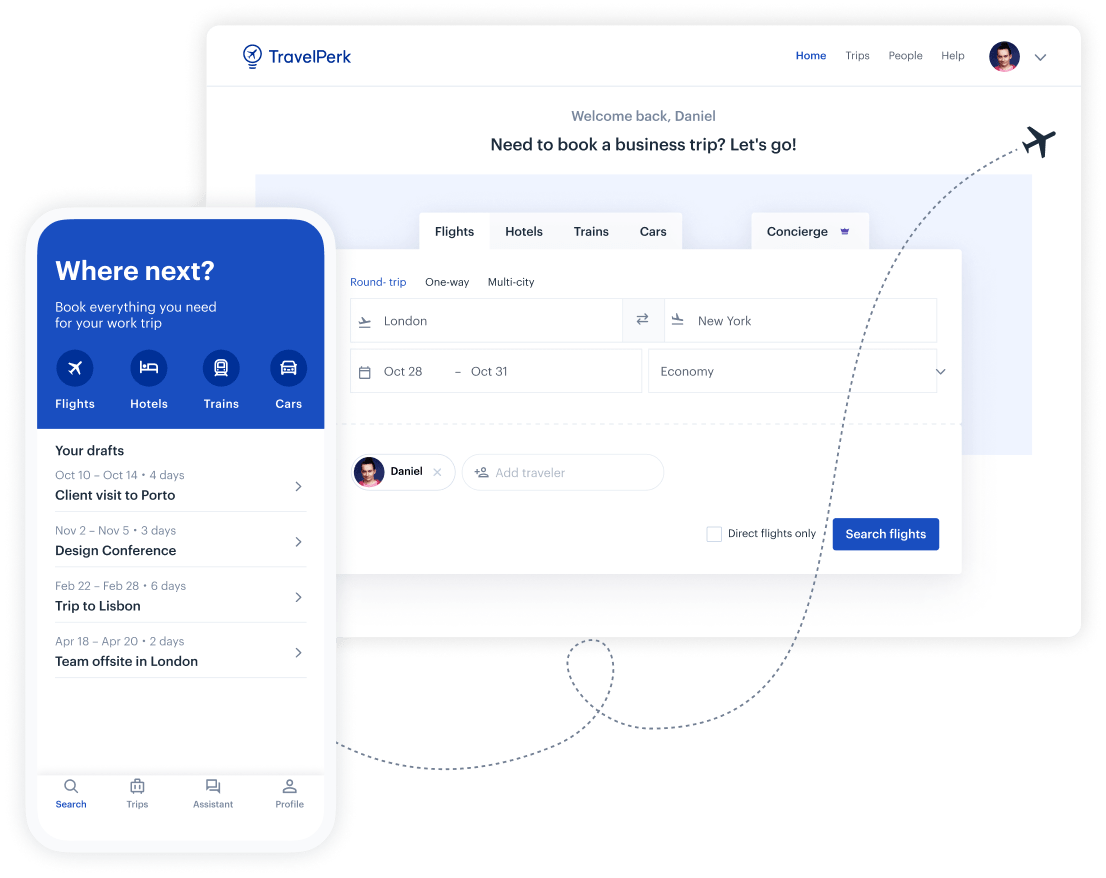 Make business travel simpler. Forever.
See our platform in action. Trusted by thousands of companies worldwide, TravelPerk makes business travel simpler to manage with more flexibility, full control of spending with easy reporting, and options to offset your carbon footprint.

Find hundreds of resources on all things business travel, from tips on traveling more sustainably, to advice on setting up a business travel policy, and managing your expenses. Our latest e-books and blog posts have you covered.

Never miss another update. Stay in touch with us on social for the latest product releases, upcoming events, and articles fresh off the press.