Business travel. It's complicated. From strikes to cancellations to botched bookings, stuff happens in the travel industry. When it does it can have a ripple effect that could cost your company way more than the cost of the trip. 

But how do you know if it's time to outsource your company's corporate travel management to a professional business travel outsourcing platform? 

Maybe this story will give you a few clues. 
Diary of a business trip
John's alarm clock goes off at 5 am. It's a big day. He has to be at Stanstead airport in a few hours to catch a red-eye to Seville, where he is the keynote speaker at a sustainable energy conference.

John has been working till midnight the past week on his presentation so hasn't had time to make any travel arrangements himself. Laura, his company's travel manager, has taken on other responsibilities over the past year while company travel has been on hold during the pandemic. John is confident however that Laura had the time to organize everything for this important trip. Thank goodness he remembered to get his PCR test (negative, yay!) on the way home from work last night.

On the airport train, he has a look at his printed itinerary. The flight isn't direct - there is an hour's layover in Madrid. Did Laura tell him that? Maybe she did, but he was so involved in his preparing his presentation it didn't register. She probably chose a cheaper non-direct flight because the company's travel budgets have been slashed in recent months.

John arrived on schedule at Madrid Barajas airport and sails through border control, PCR in hand. However, his heart sinks when he looks at the departure board and sees his flight to Seville has been canceled. How can that be? He learns there has been a snap strike at Seville airport.
Why didn't Laura let him know? Oh, that's right, she is in a sales meeting all day and probably has her phone turned off. He is due to speak this evening in Seville and has no idea how to get there, but guess he's going to have to figure out this one by himself.

Ah yes! A train. He remembers a friend telling him he took a fast train from Madrid to Seville last year. Taxi to the main train station. Phew! The next train to Seville leaves in an hour, but 225 euros one way? Ouch! That won't make him popular with Greg, his company's finance manager. But what can he do?

On the train to Seville, John again pulls out Laura's printed travel itinerary and looks for the hotel she has booked on Google Maps. Hang on! She said it was a short walk from the conference center and Google says it's a 30-minute drive away. Can't be right surely? Ah I see, the hotel group has two properties in Seville, and Laura booked the wrong one. He reads the 'no changes or cancelations' conditions on his voucher and his heart sinks.

Despite a stressful start, John's presentation at the conference is a success! He spends the next days enjoying Seville, especially the city's amazing tapas, this time remembering to pick up all food and taxi receipts to present to Greg. He expects some push back for the five-star dinner he paid for a handful of potential clients, but at least he can get a refund on all sales tax right? That should make Greg happy.

John arrives at the airport a few hours early for his flight home and heads to the VAT refund office with a pile of receipts. After waiting about 30 minutes for his turn in the queue, he hasn't moved. John gives, up, heads to his departure gate, and tries his best to not feel guilty about presenting Greg with a tone of VAT-related paperwork when he gets home.

Outsourcing travel management
None of the above is uncommon scenarios - they happen to thousands of travelers, every single day.

If they sound familiar to you it may be time to consider business travel outsourcing.

But first, let us break down why John's business trip did not go according to plan, starting from the back office.

Like many travel managers in small to medium-sized companies, Laura's job has changed over the past year. With employees traveling less, people like Laura have taken on extra roles in the company or even had their travel management duties reduced to part-time.
Either way, navigating travel bookings, business processes, timetables, and all the new COVID restrictions are draining both time and resources.

Now more than ever the company's finance manager Greg is tasked with cutting corners wherever he can, but particularly on corporate travel. He knows Laura's is time-pushed, but he still relies on her to cultivate good relationships with travel agencies and travel agents to get the best corporate travel discount programs out there.
He is aware business travel generates a lot of VAT that he is entitled to claim back, but rarely has the time for the complicated claim forms to take advantage of these cost savings.

And John. He barely had a moment in the past week to speak to Laura, so left all arrangements to her. He understands that things can happen, but what he needed was human contact to get him through it all. He needed a digital platform or app to provide him with real-time solutions. Or even better, Someone who is on call 24/7, and would have given him peace of mind and guided him on the most efficient way to get to his conference on time and stress-free.
Choose 360º business travel outsourcing
Outsourcing your business travel requirements to a travel management company is a way to keep your employees traveling well, efficiently, and with optimum traveler experience. But make sure you choose outsourcing services that cover all bases in travel risk management.

Facilitating cancellations or modifications an instant, no questions asked is key. TravelPerk's Flexiperk booking tool does this, on an easy-to-use platform that guarantees the best rates and the highest quality within your budgets.
What's more, contact information, invoices, travel policies, and travel programs can be generated with a swipe, so no more fumbling for printed documents and log-in codes for multiple suppliers of travel services. All these features save in-house travel managers like Laura time, additional costs, and headaches.

Rather than feeling stranded at Madrid airport, John would have been able to contact TravelPerk's 24/7 concierge service via our app, who would have provided peace of mind and advised him on alternate travel arrangements.
He could have switched his hotel booking for a more convenient location without paying a heavy penalty. With TravelCare, our duty of care tool, he would have even received a push notification before he left London, warning him of any potential delays, and reminding him to make sure he has proof of his negative PCR test to board the plane.
As for Greg, the finance manager, TravelPerk's VAT recovery service could save time and large amounts of money in unclaimed sales tax. And having every single expense for John's business trip itemized on the one invoice? Well to people like Greg, that's priceless.

Did you find this article useful?
If you did, please follow us on our social media accounts on LinkedIn or Instagram. Please share the article with your friends or colleagues!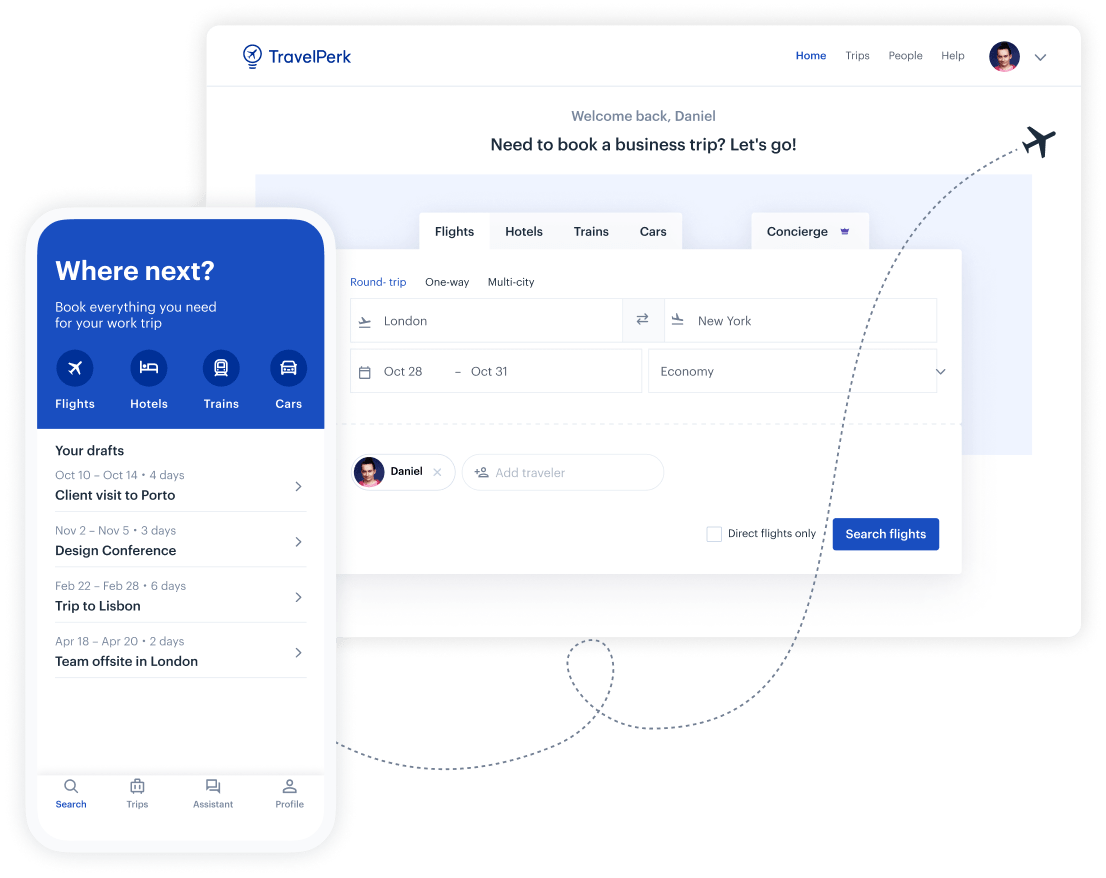 Make business travel simpler. Forever.
See our platform in action. Trusted by thousands of companies worldwide, TravelPerk makes business travel simpler to manage with more flexibility, full control of spending with easy reporting, and options to offset your carbon footprint.

Find hundreds of resources on all things business travel, from tips on traveling more sustainably, to advice on setting up a business travel policy, and managing your expenses. Our latest e-books and blog posts have you covered.

Never miss another update. Stay in touch with us on social for the latest product releases, upcoming events, and articles fresh off the press.