After a series of global disruptions, inflation has ramped up in the last few months and everyone is impacted by the current cost of living crisis we're going through – including businesses, forcing them to make more cautious expenditure choices.
What has been the effect of inflation on business travel, though?
How are travel costs evolving, compared to previous months and quarters?
How do they compare to pre-pandemic levels?
That's exactly what we set out to find out with our report on business travel inflation in 2022.
For companies to cope successfully with the rising prices of corporate travel, plan their travel spending successfully, and even save money on it, they need to know where they stand and also what to expect in the near future.
Key points on how inflation has impacted the business travel industry
After experiencing a +50% YoY (year-on-year) peak in the middle of 2022, prices have dropped to an increase of +26% YoY at present. The chaos the business travel industry experienced in 2022 is now stabilizing.
After record highs in spring and summer 2022 (Q2/Q3), business travel inflation is slowly decreasing in Q4/2022, with a quarterly reduction of -8% QoQ (quarter-on-quarter).
Lodging and flight prices reached record highs in comparison to 2021, with an 60.2% YoY increase in the second and third quarter of 2022, respectively.
However, contrary to airfare and hotel prices, car rental prices are still increasing in Q4/2022, by +5.5% QoQ.
Corporate travel prices are currently 20% higher than pre-pandemic levels on average (compared to the last quarter of 2019).
Prices are expected to continue rising in 2023.
The global view: Prices are stabilizing after a record high in spring and summer 2022
So, what happened with business travel prices in 2022? In short, things were wild but the market is slowly cooling right now.
Below, you can see an overview of the movement of prices in 2022 in comparison to last year. To get a more realistic picture and isolate the impact of COVID in 2020 and 2021, we've also included information on year-on-year inflation compared to 2019.
As you can see, the spring and summer of 2022 were chaotic. Prices peaked by nearly +50% in comparison to 2021 (the blue column).
After these record highs, however, business travel fares are now slowly going down and stabilizing, with an almost -8% QoQ (quarter-on-quarter) decrease (the orange column). Otherwise said, the chaos the industry experienced earlier this year has been normalizing ahead of the year's end.
If you look at the data from 2022 vs 2019 (the red column), things are looking more stable overall, but increases are still significant, ranging from 12.4% (in Q1) to 24.3% (in Q3). At the moment, corporate travel prices are approximately +20% higher than in 2019 and are expected to continue growing into 2023.
The Global Business Travel Association (GBTA) is expecting the global business travel spending to reach pre-pandemic levels and a full recovery around 2026.
Zooming in: Business travel prices by type of expense
Let's now look at how business travel prices are evolving by vertical and look at the costs for air travel, hotels, train, and car rentals.
Overall, prices are stabilizing across all verticals except for car rentals, which is seeing an increase of +5.5 QoQ in the last quarter of 2022. Other prices are recovering from earlier this year, with prices of flights down by -7% QoQ, hotels by -3% QoQ and train travel by -2% QoQ. Compared to pre-Covid levels, however, these higher prices aren't expected to go down.
In the table below, you can see a detailed breakdown of prices per category, which we'll also analyze in the next few sections:
Airfare and train prices
Globally, airfare prices exploded in the second and third quarter of 2022 (with Q3 prices 60% higher than prices from 2021) and still haven't recovered.
At the moment, inflation for business air travel is at +34% compared to pre-COVID levels (i.e. the last quarter of 2019), making it one of the most significant increases, together with car rentals.
While train prices have also seen an increase in spring and summer 2022, it was to a much more modest level: they were 18% higher compared to 2021 in the third quarter of the year, but were actually lower than pre-pandemic levels throughout the year (ranging from -27.2% in the first quarter to -5.7% in the last quarter).
Additionally, sustainability being an increasingly important consideration for businesses, a large number of companies are starting to make bulk purchases of sustainable aviation fuel (SAF), which is becoming available in more and more markets, Reuters reports. SAF is more expensive than conventional fuel, however, which could also impact costs in the next year.
From all categories, train prices have been the most stable, meaning that for European companies, it might make sense to rely more on train travel for business trips at present, or at least to rigorously compare costs with the help of a business travel management platform like TravelPerk.
Hotels
Globally, hotel daily rates reached their highest levels in April and May 2022, reaching a +60% YoY compared to last year. Compared to pre-pandemic levels, lodging inflation is at +17%, i.e. considerably lower than airfare inflation.
What could be a possible explanation for this discrepancy between hotel prices and airfares? Most likely, fuel costs, which are driving up air travel costs.
Car rentals
Car rental prices have remained relatively stable in 2022 in comparison to 2021 and quarter-to-quarter, but have steadily increased compared to pre-Covid levels, and are currently 68% higher than the last quarter of 2019.
Across all verticals (airfare, lodging, trains, and car rentals), this is the most significant increase.
Business travel inflation by location
Let's now zoom in even further, to see how business travel prices are evolving in different locations.
Airfare in Europe vs. the US
In Europe, the recovery of flight prices has been slower, taking place only in the last quarter of 2022, with a -11% decrease QoQ.
Why is this? Raising fuel costs in Europe, resulting from the war in Ukraine and the present energetic instability on the continent, are a major factor to Europe's high airfare inflation.
European airfares reached record levels in Q3 (and July 2022), with YoY inflation ranging from +96% for the UK to +45% for Germany, with Spain and France in between, at +64% and +48%, respectively.
In the last quarter of the year, the decrease in prices was driven to a big extent by Spain (-15% QoQ) and the UK (-12%), followed by France (-9%), and Germany (-8%).
Airfare inflation in Europe is currently sitting at 30%, compared to pre-pandemic levels. In Germany, this figure is at 46% (compared to the last quarter of 2019), which is also the highest amongst the four we're comparing: in the UK, we're at +36%, in France at +23%, and in Spain at +18%.
US prices, on the other hand, had already started recovering since July, with a -8% decrease in Q3 and are currently stable in Q4 (0% increase).
US travel prices reached peak levels during the second quarter of the year, with +81% YoY increase, compared to 2021, and then began to stabilize, making domestic travel expenses somewhat more predictable for companies.
The reason? Fuel in the US has been cheaper in the second half of 2022, compared to Europe, following the overall Consumer Price Index (CPI) trend. Europe's fuel industry and supply chains seem to be much more impacted than the US, which inevitably also affects air travel.
In the US, business airfare is even 10% cheaper than pre-pandemic levels, following a different trajectory than in Europe.
Lodging in Europe and the US
Lodging has also seen an increase, compared to pre-Covid levels: a night in a hotel is 12% more expensive than in the last quarter of 2019 across the world.
In the last quarter of 2022, there has been a slight increase in hotel fares in the US, compared to the previous quarter (2%), compared to a somewhat more significant decrease in Europe (-7%).
In Europe, hotel rates are stabilizing at present. This trend is driven by Spain (-10% QoQ), Germany (-6.5%), and France (-3%), after a peak of over 50% YoY in May 2022.
Compared to pre-pandemic levels, average hotel costs for business travel are +11% higher, the highest inflation being in France (+25%), with a much lower increase in Germany (+6%) and Spain (+5%).
In the UK, prices have currently stabilized at pre-Covid levels, only 0.7% higher than the last quarter of 2019, with a YoY peak in the second quarter of 2022 (+58%).
What about US travel, though?
In the US, the most significant peak was in the spring of 2022, with a +72% increase YoY, and prices have kept increasing in the second half of the year. A night in a hotel is 13% more expensive than at the end of 2019.
What to expect in 2023 and how to best manage business travel expenses
Inflation has ramped up in the past few months, fueled by the global pandemic and the increase in fuel prices resulting from the war in Ukraine. So, what should we expect in 2023 – and what's the best way to manage rising business costs and adapt your travel plans?
Companies can expect these prices to continue to increase in 2023, according to CWT and the Global Business Travel Association (GBTA). Raising fuel costs is an important factor that drives prices up, especially of air travel, in addition to staff shortages and the overall rise of the cost of living, making companies particularly cautious about travel expenses.
With an all-in-one travel platform like TravelPerk, however, corporate travel becomes much easier to manage. With it, employees and business travel managers can compare offers in one place and benefit from the biggest travel inventory in the world, with more options and at a better price than anyone else, making business travel more affordable and easier to manage.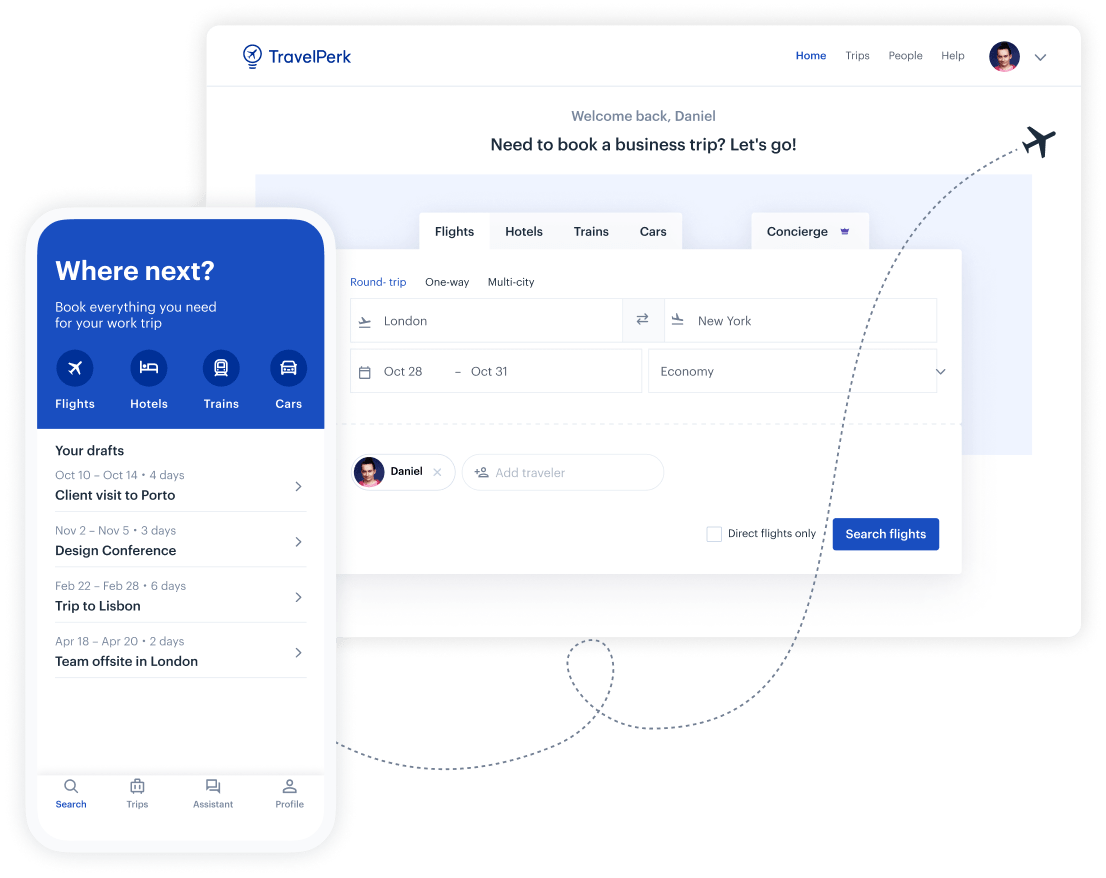 Make business travel simpler. Forever.
See our platform in action. Trusted by thousands of companies worldwide, TravelPerk makes business travel simpler to manage with more flexibility, full control of spending with easy reporting, and options to offset your carbon footprint.

Find hundreds of resources on all things business travel, from tips on traveling more sustainably, to advice on setting up a business travel policy, and managing your expenses. Our latest e-books and blog posts have you covered.

Never miss another update. Stay in touch with us on social for the latest product releases, upcoming events, and articles fresh off the press.