If your employees regularly go on business trips, the right travel management platform can be your best friend and can make all the difference between getting overwhelmed by admin tasks and creating a smooth and easy travel experience for everyone who's on the road.
A SaaS travel management tool enables you to plan itineraries, compare and book flights and hotels, manage expenses, and change plans if needed. In short, it helps you optimize travel plans and expenses in a way that is stress-free for both admin staff and travelers — and that doesn't harm employees' productivity while they're on a trip.
CWT (formerly known as Carlson Wagonlit Travel) is a travel management company that helps companies of all sizes, as well as government institutions and NGOs, optimize their travel programs and provide swift assistance to travelers.
That being said, CWT might not be the best option for every company out there. Depending on your needs, you might be better served by another corporate travel management platform.
In this article, we'll explore some of the best CWT competitors to help you choose a provider that really meets your needs.
Let's dive in.
1. TravelPerk
TravelPerk is an end-to-end travel management company with an all-in-one digital platform for businesses and corporate travelers.
The modern platform is built with traveler self-management at its core and enables users to manage the business travel booking process from beginning to end from its centralized platform. From travel management, reporting and trip approvals to policy compliance and traveler safety features, TravelPerk aims to provide a quality experience for business travelers and finance managers.
As well as access to an extensive inventory of flights and accommodation, TravelPerk offers many corporate travel features. These include a VAT recovery solution, a carbon offsetting program, and FlexiPerk, an add-on that allows users to cancel their travel plans up to two hours before departure with a guaranteed refund of 80%.
TravelPerk noteworthy features
On top of the comprehensive features listed above, TravelPerk also offers a meetings and events management solution and enables users to book alternative transportation options, such as trains and rental cars from within the TravelPerk platform.
How customers rate TravelPerk
G2 rating: 4.6/5 (as of June 2023)
Capterra rating: 4.8/5 (as of June 2023)
TravelPerk pricing
Since TravelPerk is suitable for businesses of all sizes, there are four pricing plans to choose from, starting with a free tier. All plans have access to the world's largest travel inventory and the 7* customer care support team, and customers can add an unlimited amount of travelers or administrators to the platform.
Across all of TravelPerk's paid plans, businesses only pay the monthly fee if they travel that month. Here's an overview of TravelPerk's pricing tiers:
Starter: The first 5 bookings each month are completely free too, with a 5% booking fee thereafter. Users have access to consolidated invoicing, unlimited cost centers, one policy and approval workflow, and travel restrictions information and alerts.
Premium: Priced at $99/month with a 3% booking fee, this plan offers concierge services for special requests, savings of up to 25% with VAT-ready invoices, and secure traveler sign-in and automated user setup.
Pro: This plan costs $299/month with a 3% booking fee and provides unlimited policy and approval workflows, unlimited budgets by cost center, custom reports and insights, and access to negotiated rates.
Enterprise: This tier is designed for enterprise businesses that want to customize their requirements. To find out more about this plan, get in touch with an expert.
Languages supported by TravelPerk
TravelPerk supports the following languages: English, Spanish, German, Italian, and French.
CWT vs TravelPerk
So, how do CWT and TravelPerk compare?
On G2, CWT has only 6 reviews and a rating of 3.7/5, while TravelPerk has a score of 4.6/5 (with 1476 reviews). Of the small number of reviews, one user reported that "CWT is reliable".
Users report that TravelPerk "takes the complexity out of booking business travel" and that the platform provides "great UX, good prices, and top customer service".
CWT isn't present on Capterra, while TravelPerk has a rating of 4.8/5.
Start saving money on business travel for your company today!
2. SAP Concur
SAP Concur is one of the most popular corporate travel management software solutions out there, enabling you to manage travel bookings, expenses, and invoices in one location.
It has three core functionalities:
Concur Expense streamlines expense management and auditing and automates expense reports.
Concur Invoice can be used to automate and integrate account payable processes and invoice validation and gain better visibility into spending.
And lastly, Concur Travel lets employees book business travel on their own via an extensive network of travel suppliers.
The main features of SAP Concur
SAP Concur provides travel management services to medium and large companies and has plenty to offer:
Travel, expense, and invoice management in one platform
Automated expense reports and management
All-in-one event planning and management to simplify attendee registration and event spending
Three-way match, analyzing purchase orders, receipts, and invoices for every payment
A consolidated dashboard with all your corporate travel data and customizable reports
Quick API integrations with other providers, such as Xero, NetSuite, and Quickbooks
G2 rating: 4/5
Capterra rating: 4.3/5
Pricing: 3-tier plan: Automate ($9/report), Insights (quote-based), Optimize (quote-based)
Languages supported: 20+ languages, including English, French, German, Spanish, Italian, Portuguese, and more.
(Info checked on January 23, 2023).
CWT vs. SAP Concur
If we're speaking about customers' reviews of the two platforms, it's difficult to make a toe-to-toe comparison, because CWT's presence on review sites such as G2 and Capterra is not that strong.
SAP Concur is a part of the SAP ecosystem, which means that it integrates well with all other SAP products, such as SAP CRM, SAP Advanced Planner and Optimizer, and more. Both SAP Concur and CWT provide an end-to-end travel service that helps them keep track of their travel arrangements.
In fact, SAP Concur and CWT work together: SAP Concur supports CWT in providing full data transparency to its users and adapting to different languages, currencies, and tax requirements.
3. CTM
CTM (Corporate Travel Management) is another business travel management software that is devoted to providing personalized travel solutions to companies. It focuses on simplicity, sustainability, and safety, and gives you an overview of the savings you make with each trip.
The main features of CTM
An intuitive mobile app, from which travelers can plan, book, and change travels on the go
A self-serve online booking tool to find and book the best deals
Competitive fares and a strategic budget control, enabling you to benchmark employees' spending and save money
A customized dashboard regrouping all your corporate travel data
A dedicated account manager to help you optimize your travel program
Industry-specific solutions for sports, academic travel, small businesses, and more.
G2 rating: 3/5 (1 review)
Capterra rating: N/A
Pricing: Upon request (subscription fee)
Languages supported: English
(Info checked on January 23, 2023).
CWT vs. CTM
So, how do CWT and CTM compare? It's a bit difficult to say, because both companies have only very few reviews on app comparison sites: CWT has only 6 reviews on G2, while CTM has only one. Both aren't present on Capterra.
On G2, one commenter said that CTM's customer support was poor but that the platform itself was intuitive and provided the ability to add multiple destinations to a trip. Another reviewer said about CWT that the platform had been reliable but that customer service quality varied from agent to agent.
4. FCM Travel
FCM Travel has recently rebuilt its platform to make it more flexible and provide better corporate travel management solutions to its customers. It used to be a conventional business travel management company but is now offering AI-enabled online travel management solutions.
The main features of FCM Travel
Simple and intuitive bookings managed through the platforms
Optimized approval workflows to simplify complex procedures
Advanced safety and risk management for travelers
A streamlined expense management process
Actionable reporting and analytics to help you optimize your travel program
A mobile app to enable travelers to manage and update bookings on the go
G2 rating: 5/5 (1 review)
Capterra rating: N/A
Pricing: Upon request
Languages supported: English
(Info checked on January 23, 2023).
CWT vs. FCM Travel
Both CWT and FCM Travel don't have a lot of ratings online and aren't present on some of the more popular comparison websites. That being said, we found a couple of reviews of FCM Travel in which customers are mostly expressing their dissatisfaction with the company and its slow and inefficient processes.
5. BCD Travel
The last CWT alternative we'd like to mention is BCD Travel. The company operates in more than 100 countries and offers streamlined reporting, expense management, and even CO2 emissions tracking. It has an online booking system with multiple tools and platforms.
The main features of BCD Travel
Real-time alerts in BCD's mobile app to make sure all travelers are safe
Streamlined spend management and full data visibility
Data reporting within 90 minutes of making a booking
TripSource®, a tool allowing admin staff and travelers to manage trips in one place
24/7 customer service
G2 rating: N/A
Capterra rating: N/A
Pricing: Upon request
Languages supported: English, Dutch, French, German, Italian, Spanish, Portuguese
(Info checked on January 23, 2023).
CWT vs. BCD Travel
It's difficult to say: BCD Travel's online presence on comparison websites and customer review websites like Capterra and G2 is practically non-existent, while CWT has only a handful of reviews on G2.
Conclusion
In this article, we've covered 5 alternatives to CWT. All of them have solid features, but it's important to make the right choice based on your business needs.
Curious to see how TravelPerk can help? Request a free demo today to see how TravelPerk can simplify business travel for you and improve your travel experience from A to Z.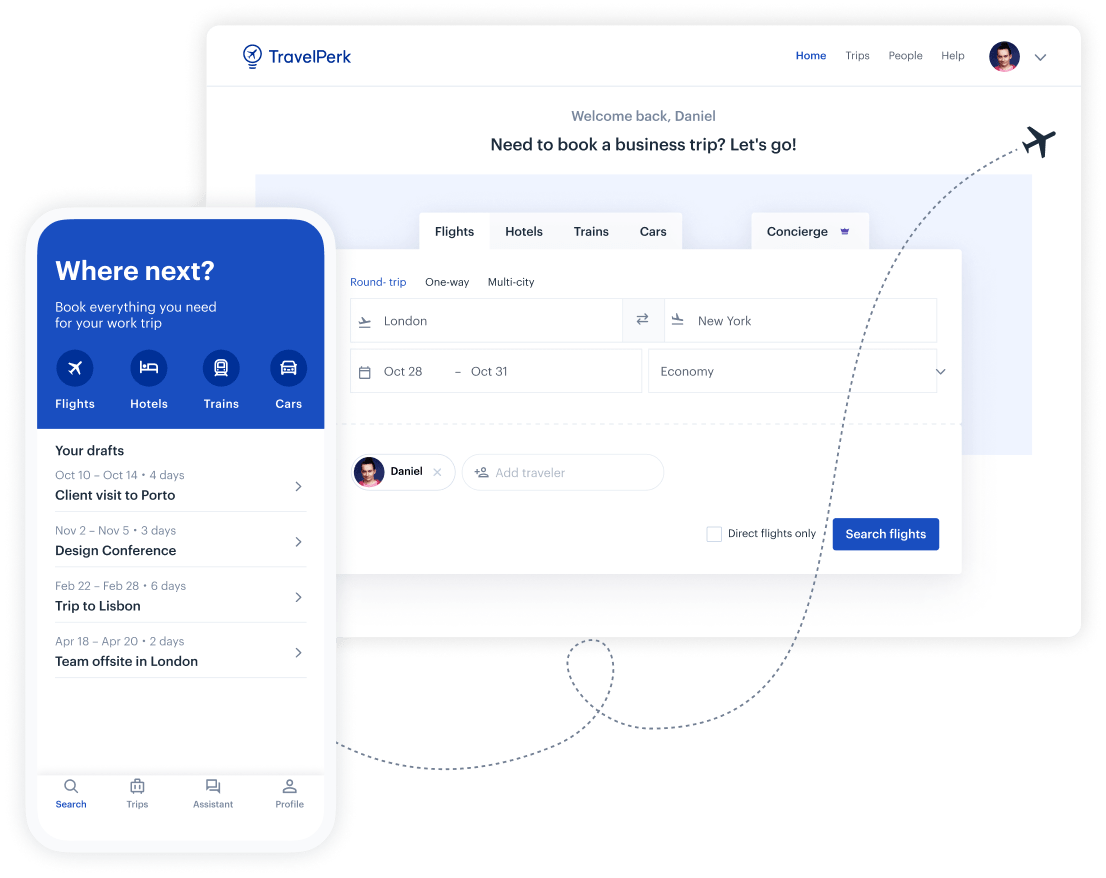 Make business travel simpler. Forever.
See our platform in action. Trusted by thousands of companies worldwide, TravelPerk makes business travel simpler to manage with more flexibility, full control of spending with easy reporting, and options to offset your carbon footprint.

Find hundreds of resources on all things business travel, from tips on traveling more sustainably, to advice on setting up a business travel policy, and managing your expenses. Our latest e-books and blog posts have you covered.

Never miss another update. Stay in touch with us on social for the latest product releases, upcoming events, and articles fresh off the press.