Did you know business travelers are the most frequent car renters? Not only do they rent often, but they also have very specific needs when it comes to finding the right car for their business trip. But we're sure you know this well, too!

Some of their priorities might be special rates, dedicated fast lanes, easy pickup and drop-off processes, and generous rewards programs.

So which is the best car rental company for business travel? It depends on what the priorities are for you and your company. Are you looking for special rates, dedicated lanes, easy pickup and drop-off processes, or generous loyalty programs? Let's take a look at what to look for when you rent a car for your business, what the top car rental companies for corporate travelers are, and their pros and cons.
How to choose the best car rental company
Choosing a car rental company for your business trips can be quite a hassle, considering all the excellent options available. Think about what you're looking for exactly: a better price, or top-quality service and extras? If time is a priority, consider which companies will offer you to go through the pickup and drop-off as smoothly as possible.

These are some of the most important factors to take into account when choosing a car rental company:
Location and length of rental: this will determine the availability and rates for your rental.
Reviews: when you find a similar offer from different companies, it's a good idea to choose the one with the best reviews.
Fast pickup and returns: you don't want to spend valuable time on long queues during your business trip!
Extra fees: pay special attention to what's included and what's not. Some of the most common extra fees are insurance and damage waivers, cancellation, extra mileage, additional drivers, GPS, and other accessories.
Payment method: some companies still don't allow to pay with a debit card, and require a credit card instead.

Best car rental companies for business travelers
It's clear that companies have very specific needs when it comes to car rentals. Considering these needs, as well as the pros and cons of the main car rental options on the market, we put together a list of the top car rental companies for business travelers.
Avis
Best for: airport rentals, prepaid reservations
Avis may be one of the most expensive brands on the market, but quality does come at a price. It's actually one of oldest car rental companies, and among the first to open airport offices. Throughout the decades, it has expanded to over 1,400 locations in the US only.

Some of the pros about Avis include interesting discounts for small businesses, a best price guarantee plus a 10% discount, and e-tolls for car rentals in the North-East.
Enterprise Rent-A-Car
Best for: range of office locations, service, avoiding extra fees
While Enterprise's daily rates are higher than average, on the flip side that means less additional charges and hidden costs. We're talking about the largest North American car rental company, with over 6,000 locations across the US—making it very likely you'll find one wherever you're traveling for work!

Enterprise is a great choice for businesses as their fees for extras and tolls are very convenient, and they even offer a pickup service that brings customers to their rental offices. Other pros of choosing Enterprise are their special rates for long rentals, and the wide range of cars offered—including an exclusive premium collection with brands such as Ferrari and Maserati. Their outstanding service has received many awards throughout the years, including the Travvy Awards in 2020.
Europcar
Best for: range of cars, worldwide locations
Europcar has over 2,400 locations in over 140 countries, making it a top choice for international business travelers. The brand is also renowned for its wide variety of vehicles, including premium, luxurious, and hybrid cars in their Prestige class.

Their car rental rates can be very attractive in comparison to the main competitors, offering also special daily, weekly, and monthly rates for businesses. Small and medium businesses can also benefit from lower rates and discounts, a dedicated team, and express pickup, as well as a delivery and collect service. 
Hertz
Best for: customer satisfaction, airport locations
Considered the founder of the car rental business, Hertz has over 3,000 offices, out of which 1,600 are airport locations in the US. Always ranked among the top car rental companies, Hertz has won numerous awards throughout the years for customer service and rental car satisfaction. Rates are on the high side, but you do get what you pay for.

Apart from a good range of vehicles to rent, Hertz offers a best price guarantee plus a 10% discount, fast pickup options, and interesting extras. Some of these extras include an online trip planner, guides, and a concierge trip planning service.
National
Best for: benefits for businesses, best corporate car rental programs
National belongs to the same parent company as Alamo and Enterprise, which means customers can enjoy some benefits between the three companies. It's known for its outstanding customer service and a wide variety of vehicles to choose from.

However, the main pro about National Car Rental is the range of options available for corporate customers—their biggest customer group. Some of the benefits for businesses are special programs, contracted rates, a "drop and go" option, and an interesting loyalty program.
Sixt
Best for: variety of vehicles
With 2,200 locations around the world, including many airport locations, Sixt is another big favorite. The company is said to offer the widest selection of vehicles available, including high-end brands such as Mercedes Benz, Porsche, or Tesla.

Sixt's fleet is also one of the newest on the market, with a three-month average. Sixt is also a great option for long-term rentals, offering interesting savings on rentals of 28 days or longer.
Dollar
Best for: budget car rental
Dollar is part of the Hertz group, and it's known for being among the cheapest car rental companies on the market. The company offers low rates and frequent promotions, making it a great option for those looking to save a dollar on their rental.

On the other hand, Dollar doesn't score that well when it comes to customer service. The return process is also not as easy and smooth as it is with other companies. However, the rates can be very attractive, and they also have a special program available for business travelers. Some of the perks of this program are shorter lines and an easier booking process.
Budget
Best for: prepaid reservations, discounts, and special deals
Budget is a subsidiary of Avis, and it offers some of the cheapest rates of all car rental companies. The company has over 2,900 locations in the US and another 2,200 worldwide, making it a great option both for national and international rentals.

To make the best out of Budget's rates, customers should go for prepaid reservations—eligible for discounts of up to 35%. The company also offers a business program, which saves corporate renters up to 30% off their costs. On the downside, be weary of the extra fees that might be applied. One of them is an e-toll fee, which is applied for every rental day regardless of whether you use the e-toll or not.
Best car rental companies for long-distance trips
When it comes to long-distance trips, the key feature you want to look for is unlimited mileage. Watch out for companies which don't offer this option, as their strategy is to make up for the great deals with extra mileage fees. It makes sense, right? But there are also two other features that will make your long-distance road trip a success: long-term rental discounts and the right insurance.
These are some of the best car rental companies for long trips:
Hertz: a great option for their unlimited mileage and their fast reservation, planning, and pickup process
Avis: offers an unlimited mileage option in many cases, although it's not always available
Budget: another excellent option if you're looking for unlimited mileage and low rates
Europcar: is a perfect option when combining unlimited mileage and longer term rentals

Best car rental companies for small businesses
Most rental companies offer special programs and deals for businesses. Bigger corporations often have the possibility of getting special, contracted rates. But what about the best car rental company for small businesses? Here's a list of some of the best options on the market for these cases.
Avis
Avis is a great option for business rentals, offering exclusive offers and up to 30% discount on their rates. There are different billing options available for businesses—for example, all rentals in an account can be billed to a single company credit card.
Budget
Apart from the low rates, Budget also offers exclusive options and deals for small and medium-sized businesses, as well as individual business travelers. Enjoy a 30% discount on your rentals, different billing options, and $3 credit for each rental day. A minimum of five rentals per year is required.
Hertz
Hertz offers up to 25% discount on their rates, as well as exclusive offers to business travelers—including a free rental every 15 credits. One rental day equals to 1 credit, and you can get 10 free credits on sign up. Some businesses can also benefit from customized billing options.
Loyalty programs and rewards
All companies on our list offer reward programs for frequent renters: this table offers a summary of the main benefits of each rental company's loyalty program.
Name
Strong points
Avis: Avis Preferred
- Faster service for members

- Choose your vehicle through a mobile app and proceed directly to pick it up

- Earn points to claim rewards, such as free rental days and accessories

- Redemption rates are slightly lower than that of other companies
Enterprise Rent-A-Car: Enterprise Plus
- Different tiers: Plus, Silver, Gold, Platinum

- Earn points with each rental that you can use towards rewards

- Free car upgrades starting at Silver tier

- Dedicated phone number
Europcar: Privilege
- Free weekend rental after three rentals

- Priority pickup

- Four tiers: Club, Executive, Elite, Elite VIP

- Higher tiers' benefits: free upgrade, free additional driver

- Elite VIP benefit: airport lounge access
Hertz: Hertz Gold Plus, Five Star, and President's Circle
- Skip the line for pickup and drop-off

- Bonus points

- Free upgrades

- Dedicated customer service line

- Higher tiers get guaranteed upgrades
National: Emerald Club
- Skip the line

- Free additional driver

- One free rental every seven rentals for all tiers

- Option to choose any car from the Emerald Aisle when booking a midsize car or above
Sixt: Sixt Advantage Circle
- Different tiers: Gold, Platinum, Diamond

- All members get the Sixt Express card to skip the line

- Gold status after three rentals

- Gold and Platinum members get free additional drivers, free upgrades, and up to 20% discount
Budget: Fastbreak Program
- No points and rewards system

- Fast-track service for pickup

- Easy drop-off

- Exclusive deals

- Earn credits towards future rentals
Dollar: Express Rewards
- Great redemption fees and other benefits

- Skip the counter option

- Travel rewards from partners
As you can see, the selection of vehicles, rates, extras, and loyalty programs offered may vary from one company to another, but they all offer interesting options. It really is all up to what your company's preferences and priorities are—but with all these options, you can be sure you'll find the perfect car for your next business trip!

Did you know that on TravelPerk's platform you can choose from a wide variety of car rental companies when planning your business trip? For any other rental company that's not on the platform, customers can submit a booking request via our concierge service. Additionally, you have the possibility to book a long-term rental, and to select VAT-friendly car rental options. We make business car rental easier for you!

Did you find this article useful?
If you did, please follow us on our social media accounts on LinkedIn or Instagram. Please share the article with your friends or colleagues!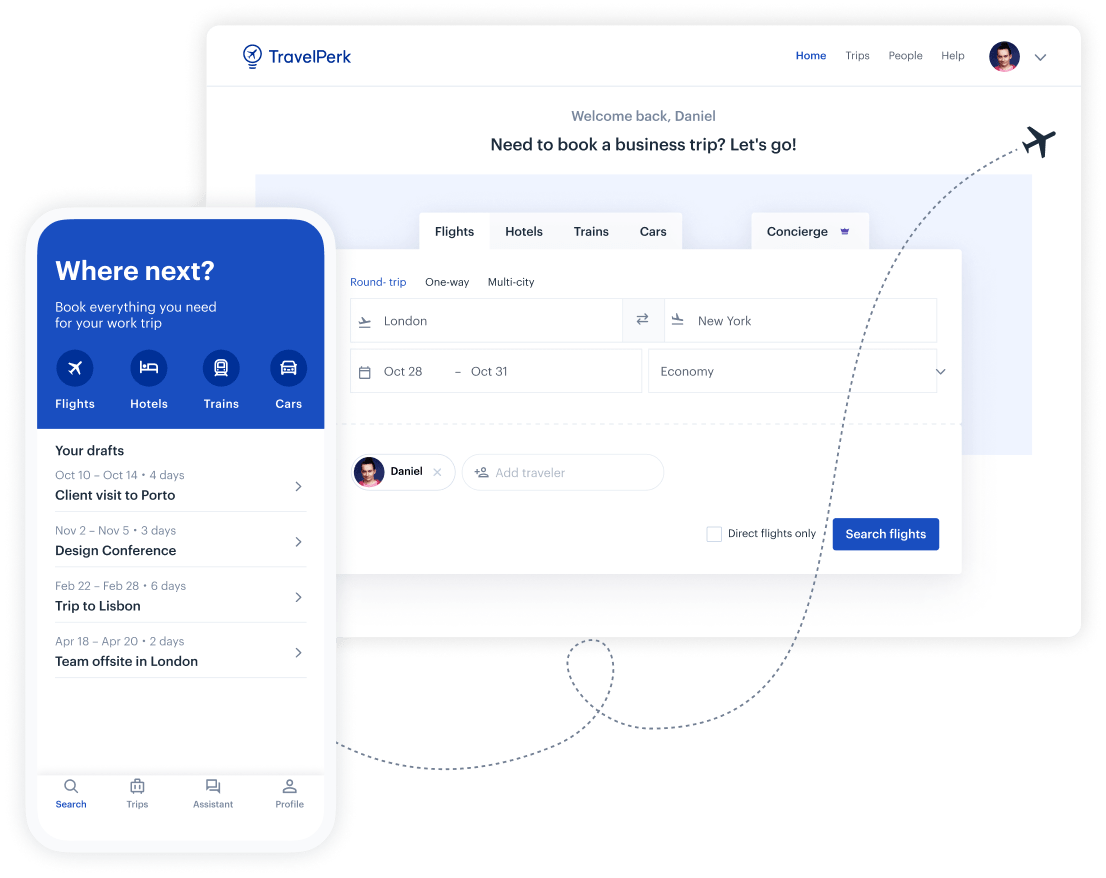 Make business travel simpler. Forever.
See our platform in action. Trusted by thousands of companies worldwide, TravelPerk makes business travel simpler to manage with more flexibility, full control of spending with easy reporting, and options to offset your carbon footprint.

Find hundreds of resources on all things business travel, from tips on traveling more sustainably, to advice on setting up a business travel policy, and managing your expenses. Our latest e-books and blog posts have you covered.

Never miss another update. Stay in touch with us on social for the latest product releases, upcoming events, and articles fresh off the press.