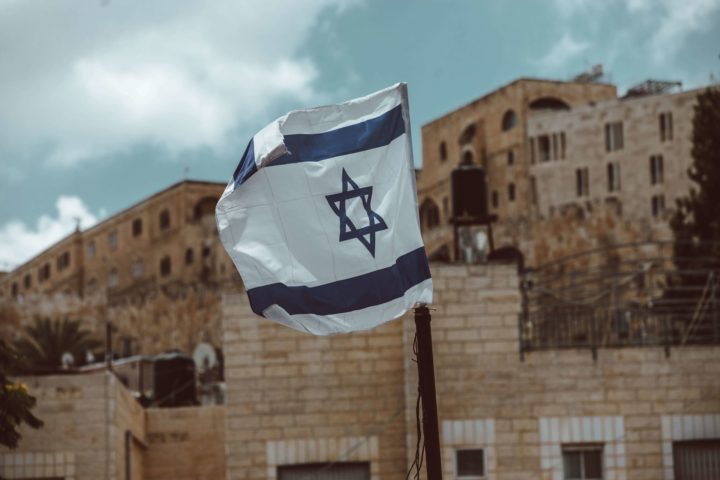 Corporate travel is often key to improving customer engagement and closing business deals for your Israel-based company. That's why it's important to partner with a business travel management company that can meet your ever-changing corporate travel requirements. There are several options available to you, including corporate travel agencies in Israel.
Why choose an online business travel management solution?
Working with travel agents across brick-and-mortar corporate travel companies in Israel doesn't necessarily represent the best option as they often have hidden costs.
If you are responsible for managing corporate travel for your Israel-based business, there is great value in partnering with a business travel management company in Israel that offers a more convenient and transparent way to manage corporate travel for your company.
Relying on email threads, countless telephone conversations and instant messaging to coordinate travel bookings, or using spreadsheets to log travel expenses, is inconvenient, impractical, and time-consuming.
Instead an online, corporate travel management platform gives you greater flexibility, transparency, and control over your business travel management, improving the travel experience for travel managers and travelers alike.
You can compare the best business travel management companies Israel has to offer, right here.
The best in business travel management in Israel overall
TravelPerk is the perfect companion for business travel management in Israel. Giving you everything you need to manage corporate travel all in one place, you can book, manage and report on business travel with a range of powerful, integrated online tools.
The platform enables you to scale up your corporate travel management in a cost-effective way, and better organize business trips for travelers. A key benefit of TravelPerk is that it reduces your reliance on separate tools to manage all aspects of business travel.
Rather than having to search through emails to find booking confirmations or use separate software for expense management and reporting, TravelPerk centralizes your entire corporate travel management process. You don't even have to jump between websites to arrange air travel, car rental, hotel or Airbnb accommodation, or train travel.
TravelPerk is packed with a range of great features and benefits, including:
Integration with third-party software - Connect with a catalog of third-party software integration partners and access some great apps from health and wellness to meeting spaces.

Events management - From kick-offs and offsites to seasonal parties, organize your work events with ease and enable remote and hybrid teams to connect in real life.
See how TravelPerk makes business travel stress free
#2 - FCM Travel
FCM travel switched from its conventional business travel management solution to incorporate online travel management tools as part of its services - declaring themselves to be one of the 'top five corporate travel agencies in Israel'. Their platform enables organizations to book business travel and track travelers from a range of different devices.
Key features of FCM Travel, include:
Checking airfares
Booking flights, hotels, transfers, and car hire
Travel approval system customized to suit company travel policies
Duty of care
Payments and expense management
Reporting and analytics
Intuitive mobile app for travelers to manage trips
Sustainability incentives program
24-7 support
AirPlus integration to simplify payments
Dashboard personalization enabling individual departments to monitor travel expenses and provide detailed reporting
Despite a host of features, FCM travel has a limited inventory, offering fewer travel and accommodation options than other providers. TravelPerk offers the world's largest travel inventory, 7-star customer service, FlexiPerk for flexible travel, and travel safety alerts.
#3 - BCD Travel
BCD Travel offers an impressive suite of digital solutions for business travel management in Israel. They claim that many of their tools are designed around company travel policies and already established travel management processes.
Solutions offered by BCD travel, include:
Dedicated business travel management solutions for specific industries
Corporate travel management software for a host of different business departments
Real-time travel and accommodation deals
Meetings and events management
24-7 support for travelers every day of the year
Duty of care solutions
Travel and expense management tools
Travel insurance
BCD Travel is heavily digitally driven, including aspects of its 24-7 support, which means that in a travel emergency, there's no guarantee of speaking to an actual person to resolve issues.TravelPerk offers flexible trips with FlexiPerk, a larger inventory with cheaper travel options available, and third-party integrations with expense management tools.
Click below for a more detailed comparison between both platforms:
#4 - Signal Tours
Operating since 1977, Signal Tours describe themselves as 'one of the most experienced business travel management companies in Israel'. The company claims to offer 'comprehensive travel services to 1000 business organizations', and provides a number of solutions for business travel management in Israel, including:
Services network for the corporate traveler
24-7 support
Complete travel management services
Visa and passport assistance
Events management
Advanced reporting systems
A travel coordinator portal
Despite being one of the more established corporate travel companies Israel has to offer, its services are split between business and leisure travel management. This means that it is not entirely dedicated to managing corporate travel, which could limit the level of support provided.
Meanwhile, some of its digital solutions, such as its business travel management system, are outsourced to third-party software companies.
#5 - MyCWT
Based in the Israeli capital Tel Aviv, CWT has 150 years of experience in the travel industry, and claims to be one of the largest travel management companies in the world. The company's myCWT app offers a range of features, including:
Fast, streamlined booking within 30 seconds for domestic flights
Reservations with more than 800,000 business-appropriate hotels
Car rental booking
Organized travel plans, including access to itineraries
24-7 support through a chat-style messaging system
Expense management
Travel policy compliance
Risk management
Real-time travel alerts
Sustainable travel options
Despite a range of innovative tools, the myCWT app is seemingly limited to domestic business trips. Not ideal if you need to travel internationally. While offering 24-7 support, this is limited to an online chat feature, meaning that there is no access to a real person if a major travel issue arises.
Choosing the right business travel management company in Israel
The corporate travel landscape is always changing. That's why you need a business travel management company in Israel that adapts to the evolution of corporate travel and can accommodate the needs of your organization in line with industry trends.
Now that you have an insight into what the best business travel management companies in Israel have to offer, you can make a more informed decision about which provider is right for you.
When selecting a TMC in Israel, look out for the following attributes:
Technology - At the forefront of modern business travel, your chosen corporate travel management company in Israel should be able to utilize the right travel tech for your business. If your business is optimized with the right travel technologies, it can help to manage travel risk, automate repetitive processes, and identify time and cost savings.
Responsiveness - Travel delays and disruptions happen. When they do, you want a business travel management company in Israel that's available and responsive to tackle any problems that arise. Ideally, you want to communicate with a real human rather than a bot when time is of the essence.
Flexibility - Travel plans can change. A TMC that makes adjusting travel arrangements simple is a must to make life easier for travel planners and travelers alike.
Complete coverage - You want a corporate travel management company that covers everything. A TMC should be your go-to provider for all things business travel related. From booking flights and accommodation to managing travel expenses and VAT recovery, you want to limit the number of touchpoints to ensure a streamlined travel management process.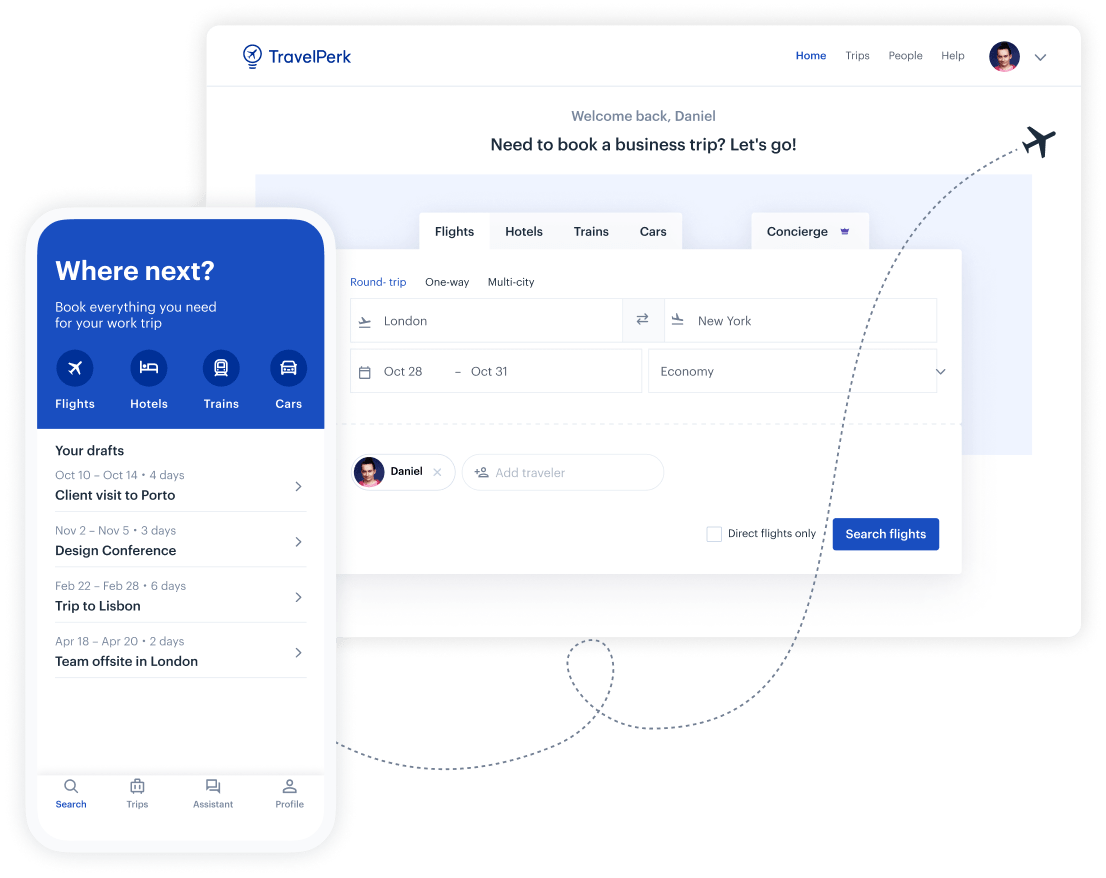 Make business travel simpler. Forever.
See our platform in action. Trusted by thousands of companies worldwide, TravelPerk makes business travel simpler to manage with more flexibility, full control of spending with easy reporting, and options to offset your carbon footprint.

Find hundreds of resources on all things business travel, from tips on traveling more sustainably, to advice on setting up a business travel policy, and managing your expenses. Our latest e-books and blog posts have you covered.

Never miss another update. Stay in touch with us on social for the latest product releases, upcoming events, and articles fresh off the press.