As both individuals and businesses, we're all trying to save money and cut costs wherever we can. Travel accommodation is one aspect of our personal and business lives where saving a few dollars is easier, thanks to the availability of online travel agencies and corporate travel management systems.

Most of us have searched for the "best hotel apps to save money" or the "best hotel discount app". But which is the best app for hotel deals? Which is the best app for cheap hotels? Which app is best for business travel, and which is best for leisure travel?

To help you make the right choice for your next trip, whether you're booking in advance or looking for last-minute deals, we go through the best apps for cheap hotels, both for business travel and leisure travel.
Best apps for cheap hotels: Business travel
Those managing corporate business travel programs have different needs than individual travelers, especially when trying to save money on travel costs. From rewards programs to customer support, and price match guarantees to reporting capabilities, we'll go through the four best hotel apps to save money on business travel.
1. TravelPerk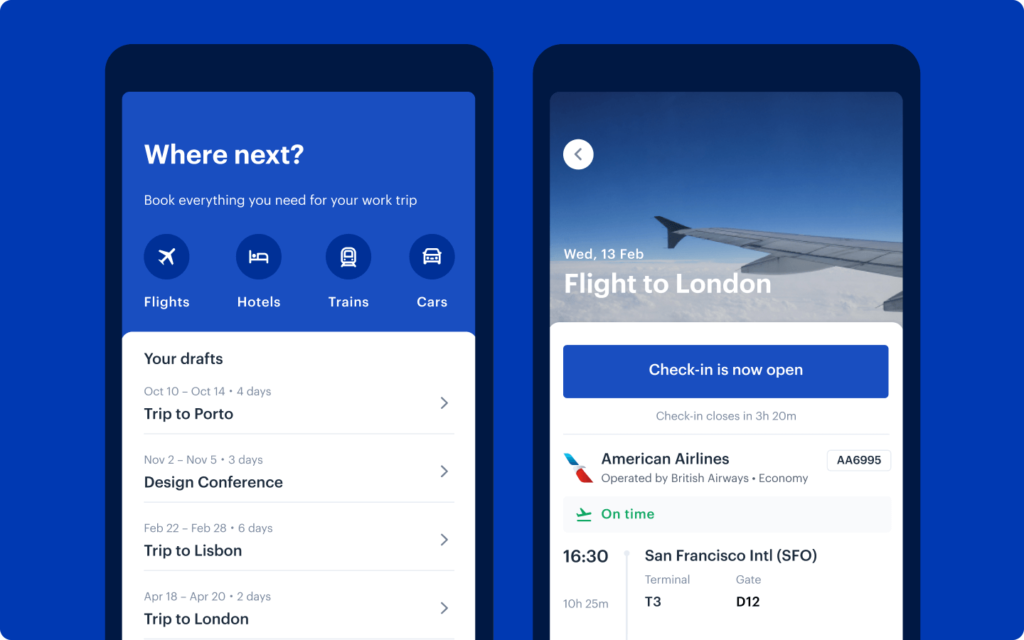 TravelPerk is a dedicated business travel platform that offers business travelers the world's largest travel inventory from which to select their hotels and accommodation. As well as drawing hotels from online travel agencies like Booking.com, TravelPerk also integrates with metasearch portals like Airbnb.

Business travelers and travel managers can book accommodation and transportation and manage travel itineraries, costs, and business expenses from within the same platform.

TravelPerk also enables loyalty point collection with many hotel partners and offers executive, luxe experience hotels that come with extra perks. Companies also have access to negotiated corporate rates, and with TravelPerk's VAT recovery solution, they can save up to 20% of their annual travel budget.

On top of this, TravelPerk also enables companies to incorporate their own corporate travel policies into the travel management process, helping them save money on all of their travel business costs.

Key features:
Access to the world's largest travel inventory
Proprietary VAT recovery solution
Built-in corporate travel policies
Access to negotiated corporate hotel rates
Manage and book all aspects of business travel from within one platform
Save money on accommodation for business travel today!
2. Kayak for Business
Kayak for Business is a platform for corporate travelers that helps employees plan and manage business travel.

It's a free platform that operates in the same way as its consumer version, Kayak, and gives travelers a comprehensive overview of all of their travel options. Business travelers can search for more personalized accommodation options, and can use their travel towards the loyalty program of their preferred hotel.

Companies can also bake their travel policies into the hotel search to make sure that employees don't overspend on accommodation, and can overall track travel spending via reporting features.

Key features:
Access to corporate hotel rates
Integrated travel policies as part of the hotel search
Large hotel inventory
Track travel spend
Streamlined approval process
3. Airbnb for Work
Similar to the consumer version, Airbnb for Work is a travel marketplace that allows individuals to rent out their properties to business travelers. While you can't book hotels via the app, it's an alternative accommodation choice for businesses looking for cheap lodging options.

One of its main draws is that businesses can save money on booking multiple hotel rooms and instead rent a whole property for a cheaper overall price.

Businesses have access to a "smart dashboard" that allows them to manage their trips and also obtain reports on each trip. Features like price alerts and specific payment groups also help businesses keep accommodation costs down.

Key features:
Dashboard helps businesses access travel reports, invoices, and expense reports
Track team spending
Limits can be set on how much an employee can spend per night
Price alerts and payment groups
Traveler safety features such as risk scoring, background checks, and 24/7 global assistance
4. Booking.com for Business
Booking.com for Business is an online booking tool for corporate travel that's geared towards small businesses without managed travel programs.

The app offers access to over 1.2 million properties worldwide, including hotels, B&Bs, homes, and apartments, as well as an itinerary creation feature.

Booking.com for Business also offers a price match guarantee to help businesses secure the best rates, and automatically tracks company travel spend to identify areas where savings can be made.

Key features:
Access to over 1.2 million properties worldwide
Reporting capabilities to help reduce corporate travel spend
Price match guarantee on accommodation
Ability to set corporate budgets
24/7 access to customer support
Best apps for cheap hotels: Leisure travel
Whether they're used to staying at the Hyatt, or the Hilton, or whether they're staying in San Francisco, New York, or making their way around Europe, individual travelers are always looking for the best deals on hotel stays. They're also on the lookout for programs that can help them save money in the future through rewards and points programs, and those that offer free cancelation terms.

Below, we go through five of the best hotel booking apps for leisure travelers looking to book their next getaway.
1. Kayak
Kayak is a metasearch engine for travel deals that scrapes third-party travel sites to show customers the best deals available. The site displays results from over 2 million properties and millions of verified guest reviews, and users can apply various filters and compare the same hotels to get the best hotel deal.

Users can also use Kayak's map feature to help them select hotels in a specific area, and can also set alerts to notify them of the best hotel prices. Kayak's "Hacker Stays" enable guests to split bookings between different websites to enjoy cheap hotel deals.

Kayak also offers a points reward program where users can earn between 1,000 and 10,000 points for staying in one of the 400,000 participating hotels.

Key features:
Displays 2 million properties from across hundreds of third-party sites
Millions of verified customer hotel reviews
Points reward scheme
Price alert function
Kayak Hacker stays enable cost savings by splitting hotel bookings
2. Orbitz
Orbitz is a travel fare aggregator website that offers a generous rewards program and a unique LGBTQ-welcome filter for hotels.

Every time a traveler uses Orbitz's rewards program they earn "Orbucks", where one Orbuck is worth $1 and can be redeemed for hotels. Travelers can earn 3% for hotels booked via a desktop, and 5% for bookings made via the Orbitz app.

Orbitz also has its own version of elite status, where guests can earn benefits like breakfast and Wi-Fi. Members can also access Insider Prices, which provide travelers with extra hotel discounts.

Key features:
Rewards program
Save up to 40% on mobile-exclusive hotel deals
Great search functionality to find hotels
Insider Prices
Best price guarantee
3. Expedia
Expedia is an online travel agency that offers a rewards program with bonus points, exclusive offers, and no blackout dates for reward redemption. Guests also earn two Expedia points for every dollar spent.

Guests can also benefit from split-rate hotel bookings, which are two separate reservations made at the same hotel and tend to be cheaper. Expedia also offers an extended low-price guarantee whereby guests can submit a claim up to 24 hours before their stay.

When booking via the Expedia app, guests can also obtain double rewards points, and save up to 40% with mobile-exclusive hotel deals.

Key features:
Expedia Rewards points
Extended low-price guarantee
Save up to 40% on mobile-exclusive deals
Split-rate hotel bookings
4. Priceline
Priceline is an online travel agency that helps guests find discounts and cheap hotel deals, with multiple options for booking the lowest price hotels.

One of these options is the Express Deals, where the details of the hotel are kept a secret until the booking is complete. Although the bookings are pre-paid and non-refundable, the best-price guarantee means guests will receive a 100% refund of the price difference if they find a better deal within 24 hours of the reservation.

Another option is Priceline's Pricebreakers, where guests are shown three similar hotels with similar ratings and are listed under a single price, not knowing which hotel they'll be assigned. Pricebreaker prices are guaranteed to be up to half price of published rates on other sites. Once the traveler makes the booking, the "winning" hotel is revealed to them.

Key features:
Best price guarantee
Trip updates and reminders
60% off selected hotels
Pricebreakers
Express Deals
5. Hotels.com
Hotels.com is a hotel booking site that allows you to plan, book, and manage last-minute hotel stays.

Its best feature is its rewards program: When a guest books 10 nights from the app, they'll receive the 11th night free. Rewards members can also unlock "Secret Prices'' that are not available to non-rewards members.

Key features:
Rewards program
19,000 available locations
Over 325,000 hotels to choose from
Multi-language websites

So, which are the best apps for hotel deals for business and leisure?
Everyone's needs are different. While some individual travelers may only take trips once a year, there are others who are frequent flyers and travelers. In this case, the latter might benefit more from an app through which they can earn points and rewards, or become members, while the infrequent traveler might browse a combination of mobile apps before finding the best hotel deal for them.

When it comes to the hotel search for business travel using apps that aren't designed with business travel in mind, however, several issues can arise. From invoicing mistakes and out-of-policy bookings, to planning errors and a lack of customer support, the mistakes can be extremely costly to businesses. Using a dedicated corporate travel management app is the best choice for businesses looking not only to save money, but to ensure their travel booking, management, and reporting processes help them save time and remain compliant, too.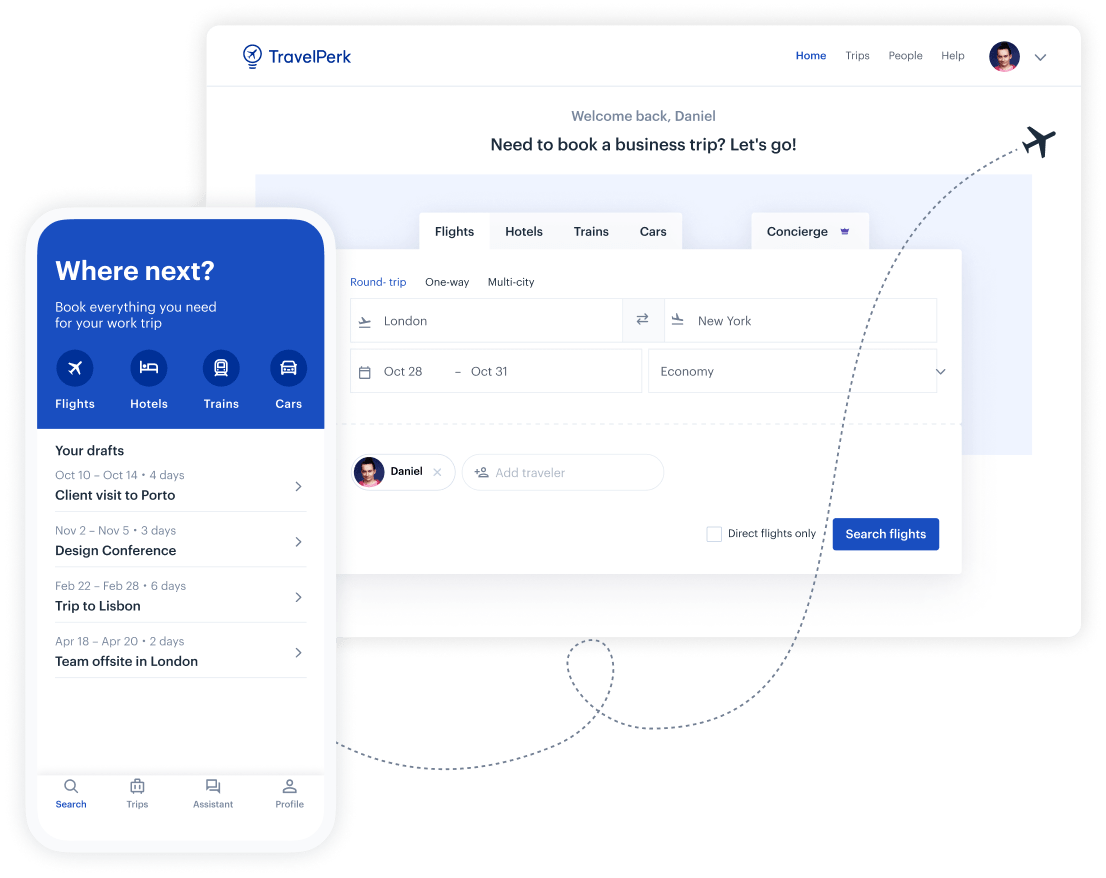 Make business travel simpler. Forever.
See our platform in action. Trusted by thousands of companies worldwide, TravelPerk makes business travel simpler to manage with more flexibility, full control of spending with easy reporting, and options to offset your carbon footprint.

Find hundreds of resources on all things business travel, from tips on traveling more sustainably, to advice on setting up a business travel policy, and managing your expenses. Our latest e-books and blog posts have you covered.

Never miss another update. Stay in touch with us on social for the latest product releases, upcoming events, and articles fresh off the press.