No matter how big or small, thousands of organizations set off on business trips to capture better business opportunities every single day.
Whether you're sending employees to New York, Tokyo, or Jersey City—you're going to make life easier with corporate travel software. That being said, is Amex GBT your best bet?
With some reviews claiming that American Express GBT uses outdated tech, and others reporting it's not very user-friendly, you might want to consider looking into some alternatives.
There are plenty of other options when it comes to corporate travel, like TravelPerk, SAP Concur, and more. Consider your business needs and what matters most when it comes to corporate travel—maybe it's flexibility, maybe it's customer support.
So, if you're looking for the top American Express Global Business Travel alternatives—this page is for you. We've put together our best American Express GBT alternatives—all the same services and functions with improved processes and pricing. Prepare for take-off.
Amex GBT Alternatives
Business travel is a key part of any international business—having the right software to manage your traveling employees is a must.
The American Express Company has been a big name for a long time–for a reason. It's many companies' go-to solution for corporate travel needs. However, Amex GBT is not for everyone, especially smaller businesses.
Here are some of the best American Express Global Business Travel alternatives in the market to take care of your business travel needs:
TravelPerk
BCD Travel
SAP Concur
Navan
TravelBank
Let's take a look at each of these in detail. We'll be looking into the top competitor's main features and solutions, as well as how it compares to Amex GBT. First up, TravelPerk.
When it comes to corporate business travel, TravelPerk is a strong solution for businesses of all sizes. It enables you to take care of everything from managing business trips to automating expense reports.
TravelPerk's industry-leading travel inventory ensures your business travelers are offered the best deal around by connecting with Airbnb, Expedia, AVIS, and more. You won't find a more comprehensive list of travel service providers and accommodation options.
Let's take a closer look at where TravelPerk excels.
TravelPerk features and solutions:
TravelPerk's comprehensive corporate travel solutions make it a strong contender against Amex GBT—let's see how it matches up.
Amex GBT vs TravelPerk:
When it comes to managing business travel, TravelPerk takes the lead for a number of reasons:
TravelPerk receives higher overall ratings on user review platform G2
TravelPerk delivers high-quality solutions at a lower price point
TravelPerk deliver a better user experience when it comes to easy of booking and itinerary management
TravelPerks 24/7 support team are on hand at all times in 15 seconds or less
TravelPerk's reporting features are easier to use and more comprehensive
Overall, TravelPerk's up-to-date software and simple interface enable smoother business travel for businesses of all sizes. Amex GBT falls short when it comes to tech, support, and options—TravelPerk is a refreshing alternative.
Click below for a more detailed comparison between both platforms:


2. BCD Travel
BCD Travel is another good alternative for American Express Global Business Travel. It is a traditional corporate travel management company with offices in over 100 countries. It works with the traditional agent and online booking system and strives to serve companies all over the world.
Here are some of the ways it does just that.
BCD Travel features and services:
Real-time alerts: the platform delivers real-time threat notifications through a mobile app (available for both iOS and android) for traveler security
BCD Travel's TripSource®: helps organizations minimize travel costs and incentivize good traveler behavior
COVID-19 information hub: make better travel decisions with up-to-date COVID-19 related information
Data reporting: to allow you to analyze category spending and key metrics with its business intelligence platform
Duty of care obligations: ensure your employees are safe and secure when traveling—whether they're a chief executive—such as an executive officer or vice president—or a junior-level employee
Spend management: BCD Pay offers end-to-end travel spend management visibility and eases payment setup
How does it compare to Amex GBT?
Amex GBT vs. BCD Travel
Both of these travel management solutions are similar in many ways: they're been around for years and offer the core features you'd expect from a TMC.
Normally, this would come down to customer reviews—as there's no clear winner on features alone. While Amex GBT gets a lot of reviews, there's fairly little on BCD Travel. The platform isn't on review sites, nor do they actively publish customer reviews.
For this reason, Amex GBT triumphs. The social proof from user reviews claims that—although outdated—the tool serves its purpose as a travel management solution.
3. SAP Concur
SAP Concur is a corporate travel agency that has been around for a long time. Founded in 1993, it has been a pioneer in travel management before the age of the internet. It's a comprehensive travel management solution that's spent years building up consumer trust.
Similarly to Amex GBT, SAP Concur is often hit with reviews claiming it's 'outdated and not intuitive'. Experienced TMC's tend to stick to a traditional approach to travel management—one that just can't keep up with modern business travel.
Let's take a look at SAP Concur's key features and solutions.
SAP Concur features and solutions:
Experienced teams: SAP Concur's got 15+ years of experience in corporate travel management
Automated expense reporting: so you can easily manage and report on corporate travel expenses
Policy compliance: to help ensure that all your corporate travel abides by your policy
Mobile app: for updating mileage expenses or receipt tracking on the go
Let's see how it compares to another long-standing player, Amex GBT.
AMEX GBT vs. SAP Concur:
There's not much between Amex GBT and SAP Concur—both offer similar solutions and have overlapping pros and cons. SAP Concur's edge when it comes to customer support—both during onboarding and throughout travels—gives it a slight win over Amex GBT.
Both travel management solutions lack when it comes to updated software, so take this into consideration if looking for an easy-to-use travel management software.
4. Navan
Navan is a comprehensive travel manager that takes care of all your travel needs right from booking to payments. It is a global platform that offers personalized services with online booking, expense and spend management.
It operates through the cloud and partners up with various travel companies around the world to give you a wide choice of options. It also places emphasis on employee protection and cost control during business trips.
Let's take a look at its main features and solutions.
Travel management features and solutions:
Online travel booking: up-to-date software enables businesses to review and book corporate trips in less than six minutes.
Expense management: Navan Liquid empowers businesses with smarter spending capabilities for meeting compliance requirements, automating reconciliations, and eliminating manual expense reports.
Spend reporting: helps you uncover saving insights with real-time spend reports.
Travel services: Navan also offers a range of travel services, including Navan VIP Services, consulting, and success accelerators.
Navan is a modern solution for businesses—let's see who comes out on top.
Amex GBT vs Navan:
These two solutions offer the same core solutions, but Navan triumphs for these reasons:
Navan has up-to-date software that enables easier booking
Navan received higher overall ratings on review websites
Navan offers more support to traveling employees
For these reasons, Navan is a good alternative to Amex GBT. However, some businesses report that Navan is good in US markets, but not so great in European markets. Customer service knowledge isn't as great for businesses operating outside of the US—something to take into consideration when making your choice.
5. TravelBank
TravelBank is an all-in-one travel platform that manages your travels, expenses, and cards all in one place. It's a user-friendly platform that offers end-to-end solutions for businesses.
TravelBank offers a number of solutions: travel management, expense management, and business-specific travel support.
Let's look at how TravelBank meets business travelers' needs:
TravelBank main features and solutions:
Corporate travel management: book everything in one place and incentivize employees to make better travel plans.
Business expense tracking: understand your business spending with seamless reports. Businesses can also enable one-tap trip approvals and add multiple stops to mileage expenses.
Custom reports: view travel spend insights with an easy-to-use and customizable dashboard.
Corporate card management: monitor corporate expense compliance with easy bank integration, transaction status sync, and faster reconciliations.
Integrations: TravelBank allows you to easily integrate data with existing ERP, SSO, HRIS systems, and cards.
TravelBank's a good solution, but is it better than Amex GBT?
AMEX GBT vs. TravelBank:
The deciding factor when it comes to Amex GBT or TravelBank is business size. Amex GBT is best for enterprise businesses, whereas TravelBank mainly serves small to mid-size businesses.
Overall, Amex GBT edges ahead of TravelBank for a couple of reasons:
Amex GBT offers real-time alerts for employees whereas TravelBank doesn't
Amex GBT offers restriction management to ensure you can keep everything under control
TravelBank's software is more modern than Amex GBT's, but it's not as comprehensive of a travel solution for businesses.
Wrapping up our top 5 Amex GBT alternatives
Nearly 1.3 million people in the USA travel for work every single day.
Businesses of all sizes should embrace corporate travel for the opportunities it brings. As we've highlighted, Paul Abbott's Amex GBT isn't your only option. You may have noticed a couple missing from this list—such as Egencia—and it's for good reason.
The five alternatives on our list are the top options for businesses looking for an up-to-date B2B travel platform. They provide everything you need from your TMC whilst remaining intuitive and simple.
Switch to a business travel platform that takes care of the fine details when it comes to organizing travel. Focus on flexibility and ease with your travel solution, but make sure you're getting the travel solutions you need.
To find out more about how corporate travel management can be of benefit to your organization, get in touch with the TravelPerk team today.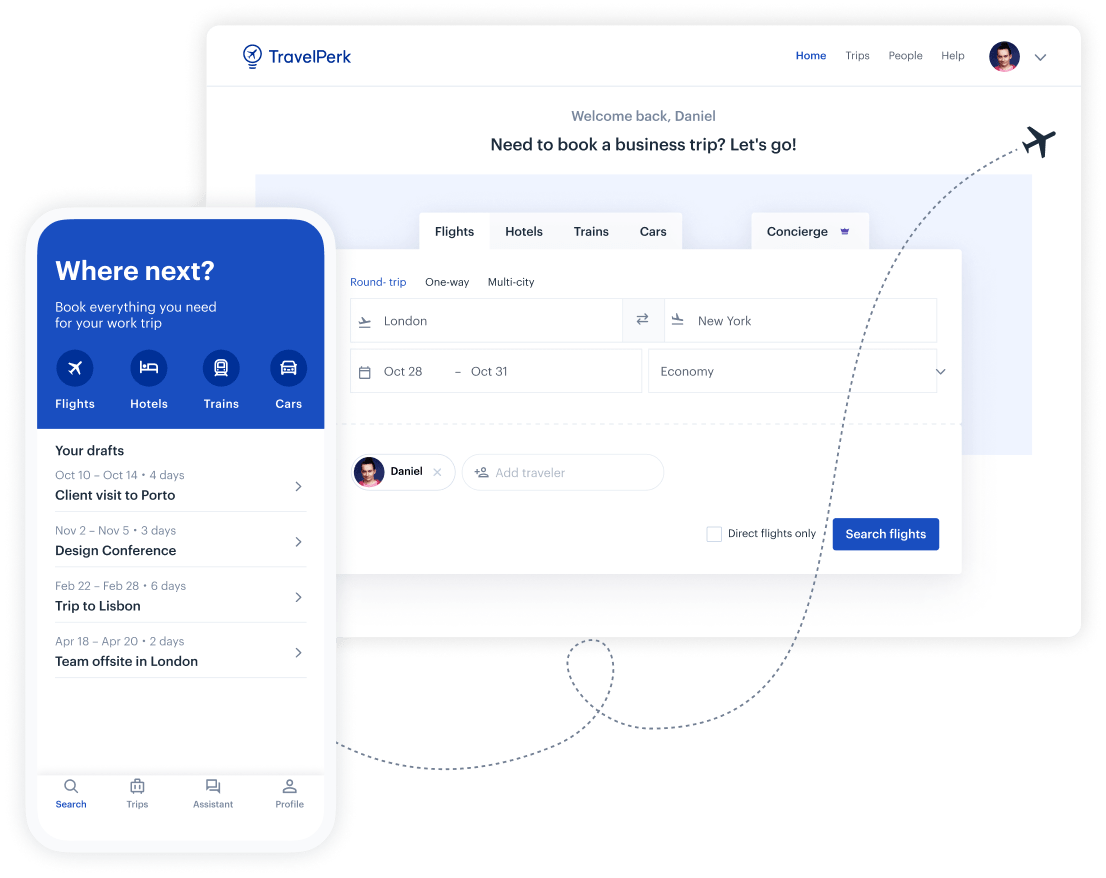 Make business travel simpler. Forever.
See our platform in action. Trusted by thousands of companies worldwide, TravelPerk makes business travel simpler to manage with more flexibility, full control of spending with easy reporting, and options to offset your carbon footprint.

Find hundreds of resources on all things business travel, from tips on traveling more sustainably, to advice on setting up a business travel policy, and managing your expenses. Our latest e-books and blog posts have you covered.

Never miss another update. Stay in touch with us on social for the latest product releases, upcoming events, and articles fresh off the press.