There are a lot of tasks to execute, manage, and track when you have employees traveling internationally. Everything from booking flights, accommodation, approvals, and car rentals, to employee safety and trip changes to mention a few.
It's essential to partner the right travel management tool with your strategy, if you want to design and manage a corporate travel program that works. The trick is to find the business travel management software option that best suits you.
Travel booking provider options are many, and in this article, we will help you evaluate core features, main strengths, and user reviews of both Amex GBT and CWT.
We have included another option, TravelPerk, that is well worth looking into to round off your options.
American Express Global Business Travel (Amex GBT)
Amex GBT serves companies across all industries as a multinational travel management company that has been operating since 2013. They offer a cloud-based and licensed travel management product that offers efficiencies across:
Budgeting
Employee wellbeing
Promises a smooth travel experience
Amex GBT core differentiators and strengths
Amex GBT is one of the travel management companies (TMC) better suited to larger corporations. They offer a travel solution for corporate travel. To cater to the travel requirements of SMEs, they acquired Egencia as their solution was not that well suited for smaller users.
There is a range of product features that differentiates Amex GBT as a travel management platform provider, such as:
Travel savings: you can monitor rate drops and easily rebook tickets to save money with the re-shop tools.
Travel Vitals™: allows you to stay up-to-date about recent events to inform your travel decision-making.
Airline credit reporting: a holistic view of total refund amounts and any unused tickets available is visible in the easy-to-use reporting tool.
Amex GBT's Premier Insights™: provides insights into benchmarks, data integration, automated suggestions for how to save, and how different adjustments will affect the bottom line through advanced projection models.
Risk alerts: provides you with direct communication during disruptions.
Rates and options: offer pre-negotiated rates and 2 million accommodation options on the online booking tool.
Personal assistant: allows you to navigate business travel challenges while traveling with personal assistants ready to assist.
Cooperation: working with you to maximize the value and efficiency of your travel program.
Amex GBT User Reviews Testimonials
What users like about Amex GBT
"American Express Global Business Travel helped me to get access to airport lounges, get benefits with the airline, and helped me book a great deal on a great hotel in New York. It was a pleasant experience." - Owner/Principal in Information Technology and Services, Amex GBT review from G2
"Keeping me and my employees all in one place and ASSURING we all as individuals and our belongings make it safely." - Kali O, Amex GBT review from G2
What users dislike about Amex GBT
"Some of the technologies they prefer to use are outdated, and it has been a lengthy process to align our processes with their own." - G2 User in Professional Training & Coaching, American Express GBT review from G2
"It is not much user-friendly and easy to go with the application. If you are a new user or have visited only sometimes, you may need the help of their live 24/7 support to get information and for a better understanding of your plan." - Other in Information Technology and Services, American Express GBT review from G2
Explore other valid alternatives to Amex GBT. Click below:


CWT
Operating across more than 150 countries, CWT has catered for all size companies for many years. Their API-based corporate travel and expense management product offers a simplistic experience for trip planning, flight bookings, and hotel reservations.
CWT core differentiators and strengths
Integrated hotel management and bookings: offers an integrated and streamlined hotel management and booking reservation experience.
Accommodation inventory: offers a choice between more than 800,000 properties with a global distribution system.
RoomIt: offers lower prices for budget-friendly trips while still offering convenience and comfort.
myCWT™: a mobile app to access itineraries, profiles, and supplier programs around the clock.
International SOS: offers extra support to corporate LGBTQ+ community travelers.
Safety and security: dedicated resources to keep travelers aware of pandemic-related and other emergencies. Capability to locate employees in an accident and trigger assistance efforts.
Consultant assistance: to ensure the right travel arrangements.
ECO Framework: Employee-wellbeing, climate impact, and organizational performance to align your sustainability and travel needs.
AnalytIQs: analytics and visualization capabilities to track your travel expenses with actionable insights.
Data security: access to a global cybersecurity team for assisting employees with navigating data threats and security issues. Meant to ensure information confidentiality, integrity, and availability.
CWT User Reviews Testimonials
What users like about CWT
"Online platform CWTtoGo where you can book travel, check-in, and track future reservations. CWT provides a good reporting website which is helpful for the T & E department. A lot of options of cooperation they are very flexible." - Małgorzata N., CWT review from G2
"The system will send travel notifications reminding you to check in, alerting you of delays, etc." - Lauren J., CWT review from G2
What users dislike about CWT
"The system is clunky, not user friendly, and often has flight prices listed at a cost higher than the airline's website." - Lauren J., CWT review from G2
I wish it would also be available to book trips through a bus service or train in order to change the variation of travel." - Project Team Member in Financial Services, CWT review from G2
TravelPerk
TravelPerk is the fastest-growing business travel company in the world and serves companies of all sizes across the globe.
If you empower your employees to book their own corporate travel and you are looking for a travel system that enables scalable business travel management growth and offers increased control, then you need to review TravelPerk.
With 24/7 easy-to-use customer support tools to help you handle any changes and special requests they offer peace of mind to any SMB.
Their travel system will allow you to centralize all aspects of travel, especially booking and invoice collection easily and the tool is quick to implement.
TravelPerk trumps on most fronts as it locates and offers better rates, solves problems more efficiently, and reduces the total cost of ownership for your business.
The TravelPerk booking platform strives to make business travel work for you by offering the following features and benefits:
Travel industry's biggest travel inventory: no need to consult multiple websites or travel agencies. Included you will find air travel, hotels, and rail options with unique offerings, such as Amtrak, SouthWest Airlines, cars, and large hotel chains, and the system gives you access to great pricing options.
Booking freedom with control: while travelers get the freedom they want with a tool that lets them book for themselves, it also frees up your resources. You gain the control to ensure that your business travel is costing you the right amount with built-in business features like travel policies, approvals, and invoice management.
No fees and free implementation: only pay when you travel. There are no fixed fees, no cancellations penalties, and no system implementation costs.
FlexiPerk: All trips are refundable with this feature. If your plans change, you get your money back with no questions asked.
Concierge services: assist you with events, such as group bookings, Airbnb bookings, transfers, and tickets.
Instant service access: with the around the clock 7-star human customer support provided, you will get assistance in 15 seconds. They offer dedicated, experienced agents with one centralized point of contact via the app, website, and phone.
TravelCare: a built-in travel risk management solution to provide information on safety and travel requirements. It offers guidelines, and real-time updates with visibility of business travelers and what disruptions might affect their trip.
VAT solution: identify and process all claimable VAT refunds for your trips in the EU with this comprehensive solution to save up to 25% on your travel spend.
GreenPerk: offset all your carbon emissions for more sustainable travel with this feature.
Duty of care solutions: you receive in-depth trip reporting and travel alerts and ensure your traveling employees are fully covered. You can manage evacuation and auxiliary services from a single portal with the International SOS integration.
Open-API platform that is developer-friendly: enables a seamless integration with other business tools and workflows, such as for expense consolidations, or your HR management platform. You can also integrate with the other apps you normally use, with one click using the open marketplace.
As a corporate travel management partner TravelPerk is worth considering. They meet the ever-changing world of work and drive toward digitization with flexibility and adaptability. See how this option would best work for you. Click here for a free demo.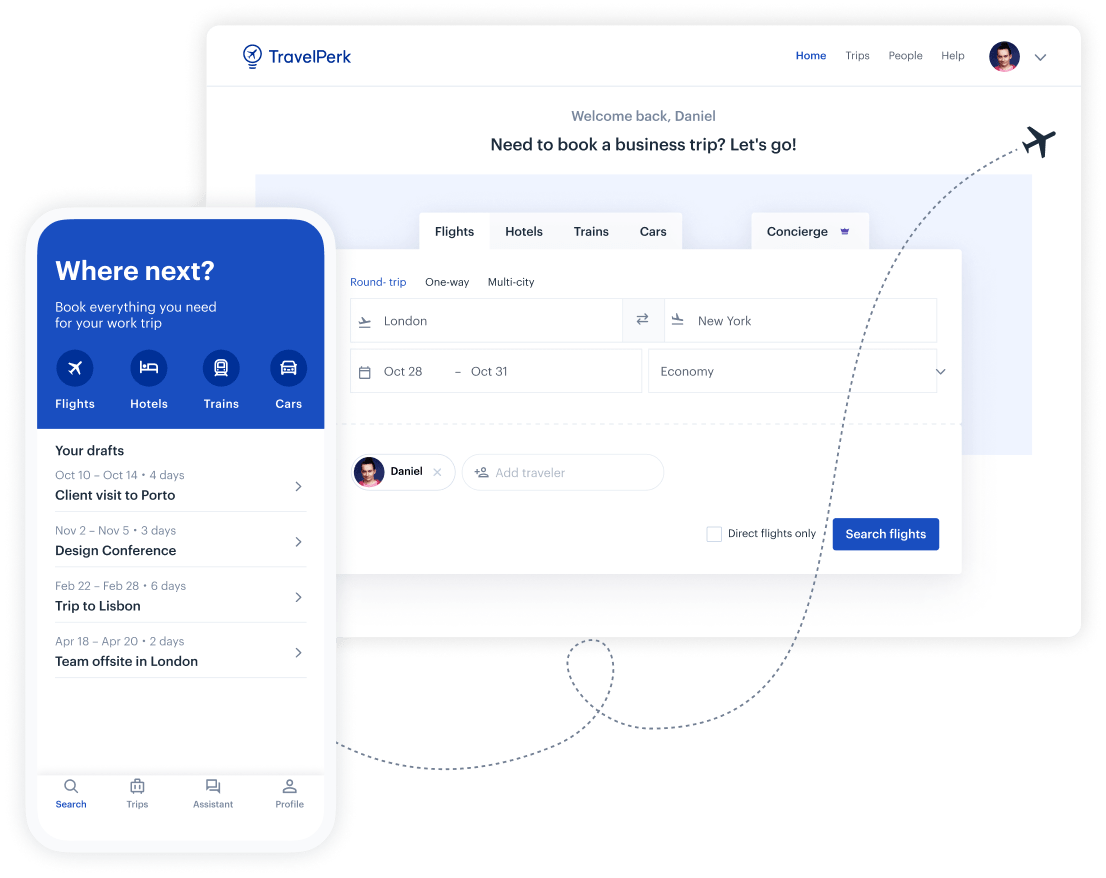 Make business travel simpler. Forever.
See our platform in action. Trusted by thousands of companies worldwide, TravelPerk makes business travel simpler to manage with more flexibility, full control of spending with easy reporting, and options to offset your carbon footprint.

Find hundreds of resources on all things business travel, from tips on traveling more sustainably, to advice on setting up a business travel policy, and managing your expenses. Our latest e-books and blog posts have you covered.

Never miss another update. Stay in touch with us on social for the latest product releases, upcoming events, and articles fresh off the press.