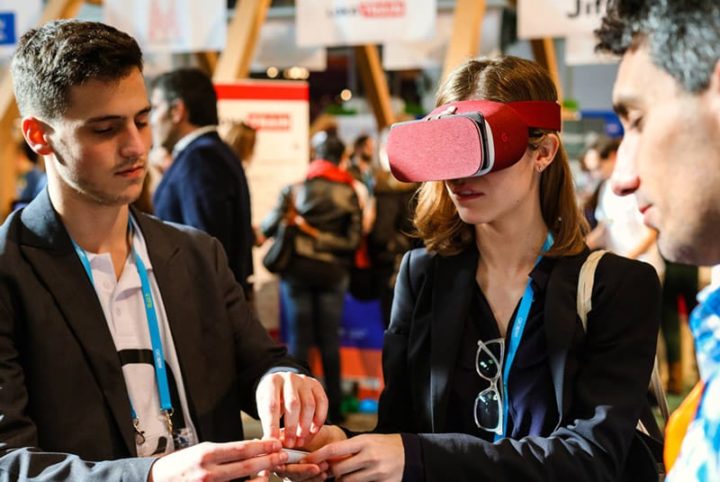 It's wise to plan for conferences well in advance. You can take advantage of early bird pricing, get multiple people from your team on board, and strategize networking goals for the big event. So, in this first month of 2018, put down your New Year's Resolution list and start booking the conferences you want to attend instead — it's action that usually gets you to the goal anyway.

Here's our list of the best tech conferences in Europe for 2018. From AI to customer success to IoT security, we've got you covered.
Emerging Tech
Dublin Tech Summit has named IoT as its chief theme for 2018. Like AI (a theme of lesser priority at DTS), IoT is an emerging technology that's actually already here. Sustainability and FinTech are on the plate as well.
The Next Web | Amsterdam | 24 & 25 May, 2018
The Next Web Conference in Amsterdam features 18 unique content tracks that cover inspiring subjects like the transfer of power and control inherent in emerging technologies (i.e. blockchain), resource problems for future generations, and the role of creativity in tech.
VivaTech | Paris | 24 – 26 May, 2018
For its hands-on exhibition halls full of innovative technologies, VivaTech in Paris tops our list for conferences to attend if you're into drones, robotics, AI, and VR. The conference boasted 68,000 attendees in 2017 from diverse industries, including luxury fashion, hospitality, and agriculture.
As the largest tech conference in the entire world, it's no surprise that Web Summit has morphed into 25 conferences in one. The Talk Robot conference is the best place to meet other hardware experts and robotics researchers.
SaaS
SaaStock | Dublin | 15 – 17 October, 2018
The premier SaaS conference in Europe, SaaStock is an event to network and fill your sales pipeline, in addition to brush paths with potential investors. True to the nature of the SaaS model, the conferences aim for attendees is to walk away with contacts and strategies for growth.
Pulse Europe | London | 2018 dates unannounced (likely November)
Pulse Europe is leading the way in redefining what customer success teams deliver (not just putting out fires, but being part of the customer-developer feedback loop and increasing product value and ROI). Pulse Europe London is attended by customer-centric SaaS companies across dozens of industries.
With past speakers that include the founders and co-founders of Slack, Dropbox, Asana, and Zendesk, WebSummit's SaaS-focused conference is a must-attend. The nuggets of insight are endlessly inspiring. Case in point: "Employees should not come to work to use tools that are worse than the tools they use at home." – Sean Ryan, VP Workplace, Facebook
Data & IT
Most of the world's cloud-based systems run on Azure. The Microsoft Tech Summit is a chance to improve your skills with Azure and Microsoft 365, in addition to networking with leading experts and getting inspiration and backing to lead digital transformation at your organization. Side note: it's free!
Cisco Live | Barcelona | 29 January – 2 February, 2018
One of the biggest IT conferences in Europe, Cisco Live is a five-day event featuring sessions on cloud, collaboration, security, data center, enterprise networks, and mobility. With instruction from top technology experts and opportunities for new certifications, Cisco Live is a full professional development experience.
From data science and machine learning to cybersecurity and ethics concerns, the Strata Data Conference in London is the top conference for data engineers in London. Considering that data-driven decision making and business management will be a hot topic, it won't be hard to see ROI on the registration.
VMWorld | Barcelona | 5 – 8 November, 2018
With hands-on labs and product discoveries, VMWorld is not only a networking opportunity for IT professionals, but also a way to stay current with technology trends and what's required to ensure digital business success, namely cloud infrastructure and business mobility.
UX & Design
UXScotland | Edinburgh | 13 – 15 June, 2018
A hands-on, practical conference focusing on UX and service design, UXScotland aims to give participants new skills and of course, networking opportunities. Now 6 years old, UXScotland is a favorite amongst our own design team.
SmashingConf | London | 7 – 8 February, 2018
While some conferences lead towards the inspirational and motivational, others (like SmashingConf) are more "in the weeds," and it's a wise to attend a mix of both. This practical conference covers a/b testing, web performance topics like designing for ads, and advanced CSS techniques.
EuroIA | Dublin | 27 – 29 September, 2018
EuroIA is Europe's leading information architecture and user experience conference. Talks are led by teams at the world's best companies, such as Google, Samsung, and Apple. Now in it's 13th year, the prestigious, volunteer-led conference continues to be hosted in a different European city each year.
Startups
4YFN | Barcelona | 26 – 28 February, 2018
Four Years From Now (Or 4YFN as it's commonly called) is the best event for startups ready to do business. Startups, investors, corporations, and public institutions join to discover one another and launch new ventures. The focus is on practical, usable, mobile-first technologies that could very well be dominating the future…in just four years. Health, diversity, and social change are key themes.
Seedstars Summit is the premier event to attend for startup innovating in emerging markets. The growth of emerging markets (owning 80% of the world's smartphones in 2020) equals opportunity for entrepreneurs. If your startup serves consumers and businesses in Africa, Asia, LATAM, CEE, and the MENA regions, this is where you need to be to meet the right investors and government officials.
The NOAH Conference gives startups access to Europe's top investors. Each year, 90 startups get a chance to pitch to investors in 6-minute elevator pitches. It's an amazing opportunity to find your investment team, and because of this, the event is invite-only and you must apply for the chance to attend.
South Summit | Madrid | 3-5 October, 2018
There's a lot of great stuff happening across many tech sectors at South Summit, and we're putting it in our startup bucket for two reasons: the conference's focus on fast-growth disruptors and the chance to meet with investors in the Investors' Den.
Slush | Helsinki | 4 – 5 December, 2018
Attended by 17,500 souls in 2017, Slush has been called "Burning Man meets TED." As if that's not exciting enough, the conference pulls speakers from the hottest companies in B2C and B2B tech (we're talking Spotify and Trello) and is very well attended by venture capitalists.
Rounding up a big group for one of these conferences? On our Premium plan, we handle group bookings for you.