Had you asked anyone 5 years ago what they thought of having to show vaccine passports to enter a concert, they would have told you it was something out of a science fiction novel. Today, it's very much our reality.
The outbreak of the coronavirus pandemic in 2020 changed so much about our lives. From flights being grounded to restaurants closing their doors, to festivals being canceled, to most of us going into full lockdown in our homes—life post-March 2020 is very different.
But, science is amazing. It was able to come out with a safe and effective vaccine against COVID-19 in a matter of months. Now, as vaccine rollout picks up the pace around the world, regulators are asking themselves "what can we do to get people back out there safely?".
Enter the COVID-19 vaccine passport.
What is the COVID-19 vaccine passport?
Or better yet—what on Earth is a vaccine passport in general? It is what it sounds like. It's a legal document that proves what vaccinations you have received and when. It's basically proof of vaccination in digital format. A digital health pass, if you will.
And actually, storing this information in a designated format is not new. Think back to when you were a kid. Chances are, your doctor had a card that reflected your vaccine status for a number of illnesses like polio, for example. As an adult, if you've traveled anywhere exotic, you've probably been vaccinated for things like yellow fever. That would have been carefully noted in your vaccine records that form part of your broader health record. Don't remember? Ask your doctor.
So, what's a COVID-19 vaccine passport specifically?
It's basically a record of whether you've been vaccinated against COVID-19 or not. It stores information like when you received the COVID-19 vaccination, how many doses you've received, and what vaccine you got (Pfizer, Moderna, AstraZeneca, Sputnik etc.). The point of this passport is to allow you to move around freely with a lower risk of spreading or contracting COVID-19.
Where might you be required to present a COVID-19 passport?
That greatly depends on where you live. Some governments, like in France for example, require visitors and residents to show proof of vaccination before entering any public place. Whether that's a restaurant, a gallery, or a theatre, the French government made a public health decision to make vaccination a requirement if you want to visit these places.
Other countries, on the other hand, are requiring COVID-19 passports for specific things only. Concerts are a good example of where someone might need to show their vaccine status.
It's also a fundamental entry requirement for international travel to many countries. For those traveling abroad (or, in some countries, between states or regions), you need to provide proof that you don't have COVID-19. That can be in the form of a negative test result (PCR or antigene), or with clear proof of your vaccination status. Make sure you check your destination's entry requirements before you travel.
What are the best COVID-19 vaccine passport apps?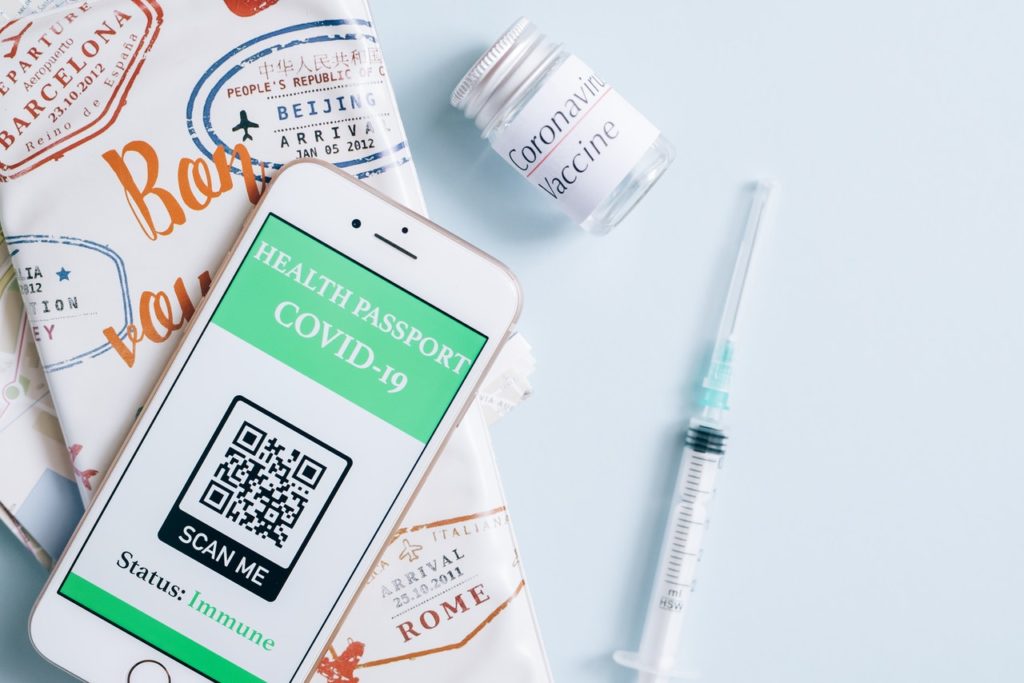 Living in the 21st century means that we don't have to carry around vaccine cards anymore. Even this has gone digital. But, as you well know, there are apps for everything nowadays—and MANY of them. So, how do you know which is the best COVID-19 vaccine passport app?
We did the research for you. Here's our list of the top 10 best apps to help you:
TravelPerk's Mobile Vaccine Certificate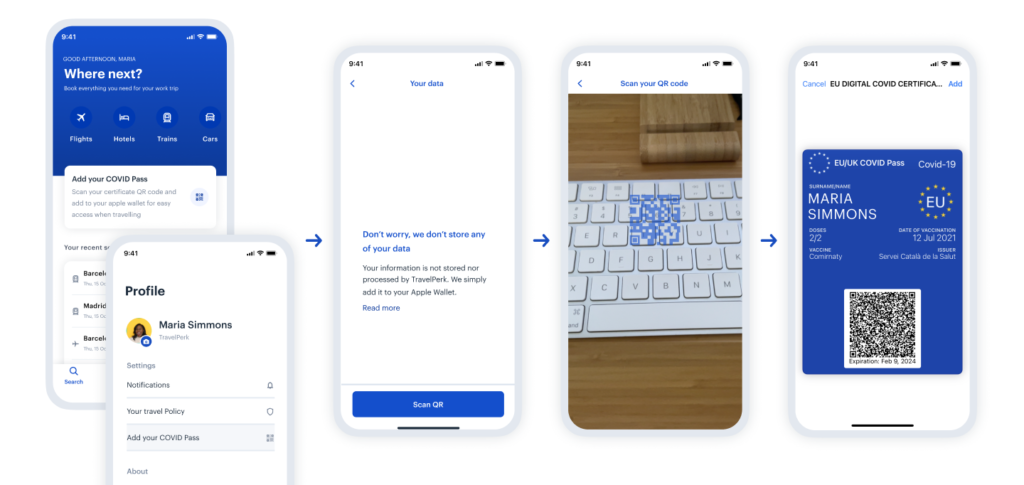 TravelPerk aims to provide simplicity to business travelers by giving them the opportunity to manage every aspect of their trip within the app. And yes, that includes storing vaccination records! All TravelPerk iOS users will now be able to use the app to create a COVID Certificate Pass. This will then be accessible in the apps' mobile wallet. It's simplicity itself! Download it for Apple and Android today!
Clear Health Pass
Flying to Hawaii any time soon? Clear Health Pass is the state's very own health app that can show both proof of vaccination and negative COVID-19 test results. The result? You don't have to quarantine in paradise for 10 days straight. It's praised for being one of the safest apps on the market as it requires you to upload a photo ID, your CDC-issued vaccination cards, a selfie, and information about where you were vaccinated. The company is known for using biometrics to ID a person.
VeriFly
This COVID-19 vaccine passport app is "very fly" (pun intended). British Airways, Iberia, and American Airlines are implementing VeriFly as their preferred app, as it stored both test results and proof of vaccination. It offers secure credentials and helps travelers get from point A to point B faster and safer.
CommonPass
Created by the great minds at the World Economic Forum and The Commons Project, this app connects a traveler's test results to a country's entry requirements. JetBlue, United, Lufthansa, Swiss International Airlines, and Virgin Atlantic are currently implementing the use of this app for their travelers.
Excelsior Pass
This is New York State's very own health app helping the region reopen safely. It securely stores an individual's proof of vaccination and negative test results so that you can enjoy everything New York has to offer safely. It's available for both Apple and Android, and is an absolute must for anyone traveling to New York City at this time.
Green Health Pass
Although only available to Europeans at the moment, the EU's Digital COVID Certificate will soon become available to non-EU travelers as well. It can store information pertaining to whether you've been vaccinated, received a negative test result, or recovered from COVID-19. This is the only app standardized across all nation-states in the EU.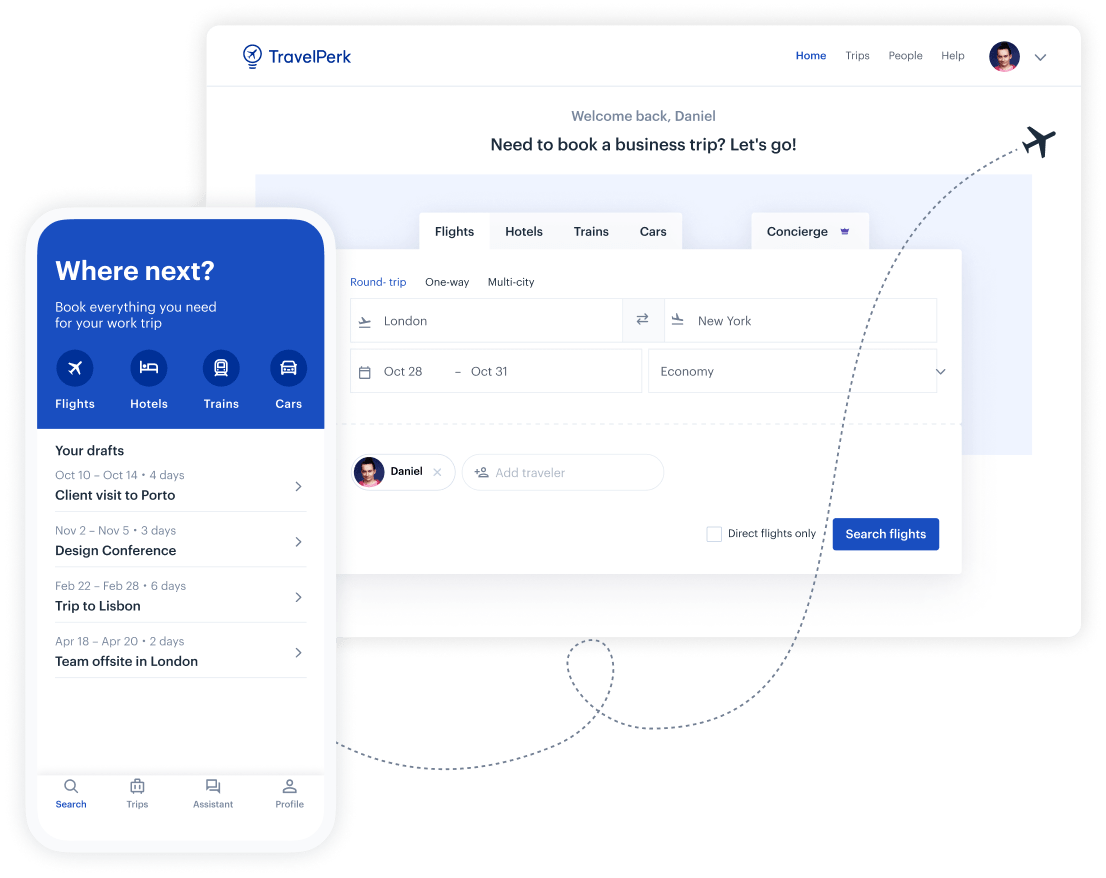 Make business travel simpler. Forever.
See our platform in action. Trusted by thousands of companies worldwide, TravelPerk makes business travel simpler to manage with more flexibility, full control of spending with easy reporting, and options to offset your carbon footprint.

Find hundreds of resources on all things business travel, from tips on traveling more sustainably, to advice on setting up a business travel policy, and managing your expenses. Our latest e-books and blog posts have you covered.

Never miss another update. Stay in touch with us on social for the latest product releases, upcoming events, and articles fresh off the press.