Traveling for business requires a lot of planning and preparation. You might need to prepare presentations or perfect your sales pitch. You might need to carry out some research on the conference you're attending or the client you're meeting. You probably have a whole list of tasks you'd like to finalize before you travel so as not to leave a lot of unfinished work for your colleagues to deal with while you're away.

While you're dealing with all of this, it's easy to forget about planning and preparing for the logistics of your upcoming trip such as what to take with you or what arrangements you need to make to ensure you have a safe and pleasant business trip.

To take the stress out of this process, we've created the ultimate business travel essentials checklist along with some useful travel tips. You're welcome!
The ultimate business travel essentials checklist
Having a checklist that you can refer to before every trip, whether business or pleasure, can make your life much easier and reduce your chances of forgetting anything vital. You can take some time to create your own checklist or business trip packing list. Open a spreadsheet and think about everything you would generally need for a trip. Think about all potential situations such as different climates and occasions and how these might change what you need. Chances are, you will add (or remove) items from your checklist over time as you identify new business travel essentials or as your needs change.

To get you started, we've created the ultimate business travel essentials checklist that you can use for your next trip. The list is pretty exhaustive and not all items might apply to your situation. There might also be other items we haven't included.
Documentation & Currency
| | | |
| --- | --- | --- |
| Item | Packed? | Carry-On |
| Passport / Personal ID | | |
| Bank & Credit Cards | | |
| Business ID | | |
| TSA Pre-Check | | |
| Boarding Passes | | |
| Hotel, Car Rental Info, etc | | |
| Driver's License | | |
| Business Cards | | |
| Local Currency | | |
| Vaccination documents | | |
| Insurance documents | | |
| Any necessary COVID-19 travel documentation | | |
Clothing
| | | |
| --- | --- | --- |
| Item | Packed? | Carry-On |
| Suit | | |
| Dresses | | |
| Shirts | | |
| Trousers / Skirts | | |
| Underwear | | |
| Jacket and/or raincoat | | |
| Gloves and scarves | | |
| Hat | | |
| Sleepwear | | |
| Clothing accessories | | |
| Shoes | | |
| Belt | | |
| Watch | | |
| Sunglasses | | |
| Gym clothes | | |
| Swimwear and beach towel | | |
Toiletries & Medication
| | | |
| --- | --- | --- |
| Item | Packed | Carry-On |
| Shower gel, soap, shampoo & conditioner | | |
| Toothbrush & toothpaste | | |
| Deodorant | | |
| Skincare products | | |
| Hair products | | |
| Feminine hygiene products | | |
| Shaving products | | |
| Perfume | | |
| Mouth wash | | |
| Lip balm | | |
| Comb or brush | | |
| Hand sanitizer | | |
| Face masks | | |
| Prescription & non-prescription medication | | |
Electronics
| | | |
| --- | --- | --- |
| Item | Packed | Carry-on |
| Laptop/tablet and chargers | | |
| Mobile phone and charger | | |
| Powerbank | | |
| Headphones (Bluetooth) | | |
| WiFi Hotspot | | |
| Plug adaptor and/or voltage converters | | |
Food/Drink
| | | |
| --- | --- | --- |
| Item | Packed | Carry-on |
| Reusable water bottle | | |
| Snacks for the trip | | |
Others
| | | |
| --- | --- | --- |
| Item | Packed | Carry-on |
| Book or e-reader | | |
| Download music, films, and TV series for offline use | | |
| First aid kit | | |
| Earplugs | | |
| Notebook and pen | | |
| Umbrella | | |
| Travel iron | | |
| Stain remover pen | | |
| Lint remover | | |
| Shoeshine kit | | |
| Travel pillow | | |
| Language phrasebooks and apps | | |
Documentation & currency
Corporate travel rates and discounts. When traveling for business, you are normally entitled to more competitive rates from hotels to flights and car rental. In some cases, you might need to present your Business ID when checking in so be sure not to leave it at the office! If you have any Corporate Credit Cards, be sure to take them with you too. For more information, read our guide on corporate travel discounts.

If you're in the United States, you can join other business travelers by signing up for the TSA PreCheck program which allows you to navigate faster security screening for domestic and some international flights.

There's a good chance you've got a lot of travel documents and information needed to get to your destination such as boarding passes, car or hotel information and so on. If you're more of a paper person, it's a good idea to keep all these documents in a folder in your carry-on. Alternatively, you can organize all of your documents and information using TravelPerk's mobile app filled with great features and giving you the possibility to contact our world-class travel agents (not chatbots) 24/7/365 with a response time of no more than 15 seconds. You can download the app for free for iPhone or Android.  

You're likely to find ATMs inside most airports around the world. That said, these ATMs might not be functioning when you get there or might charge exorbitant withdrawal fees. It's good practice to keep a bit of cash in the local currency of your destination handy just to be able to pay for the taxi and a quick snack upon arrival. You should also familiarise yourself with the exchange rate before you land in order to avoid panic and confusion when faced with local prices.

Finally, we've added the item any necessary COVID-19 travel documentation to this section which we hope won't be relevant for much longer. This depends on your country of origin and destination and their respective COVID-19 travel policies. For more information check out our article about carry-on must-haves during COVID-19.

Clothing
Deciding on the clothes you'll need for any trip is always the trickiest part of packing. Start by checking the weather at your destination to see what sort of clothing to take as well as things like umbrellas, raincoats, gloves, and hats for example.

When preparing for a work trip, think about the reasons why you're traveling and how that might help you decide what sort of clothes to pack. You can also do some research on things like business customs and traditions in the country you're traveling to or the typical dress code of your industry at that destination.

Another good packing tip is to economize on space by sticking to simple colors and patterns that are easy to match together. If you've got the space for it, try and take enough clothes so that you won't need to do any laundry while you're there. You can also invest in some performance workwear that doesn't wrinkle to save you the hassle of packing a travel iron or trying to find one at the hotel.

Finally, we've added gym and beach clothes to the list just in case that's the sort of thing you might want to do in your free time.
Toiletries & medication
We've added anything you might need from the essentials like soap, shampoo, a toothbrush, and toothpaste to shaving products and feminine hygiene products depending on your needs. It's also vital to remember to take any medication you might need while you're away.

Remember that any liquids above 100ml cannot be kept in your carry-on luggage. Keep any liquid in a zip lock bag to protect the rest of your belongings since liquids are prone to expanding and spilling with changes in air pressure.
Electronics
You're not so likely to forget your phone or laptop but you won't get much use out of them without their chargers so be sure to get those packed right away. And while we're on the subject, it's a good idea to fully charge all of your devices before leaving the house.

If you're traveling to another country, check this website to see what sort of sockets they use. You might need to get your hands on travel adapters or voltage converters in some cases.

It's difficult to get any work done in a hotel room with poor or, even worse, no internet connection. Consider investing in a portable WiFi hotspot and ensure that you've got a good data plan with your network service provider even when roaming.

Finally, check with your company's IT department before traveling as there might be travel and security policies in place. You might be required to travel with loan devices and adhere to certain procedures regarding the safety of sensitive information such as removing certain documents from your devices or using a VPN.
Food & drink
Carrying a reusable water bottle with you means you're more likely to remain hydrated and reduces any unnecessary plastic waste. Snacks are always a good idea and you might want to take a container with you to carry your food in.
Others
In this section, we've added a few other travel accessories which we think might improve the quality of your trip. If you're the sort of person who likes to take notes during a meeting, don't forget to pack a notebook and pen. You can find notebooks that allow you to transfer your notes straight to the cloud after every meeting.

Getting good rest and allowing your body to recharge is vital for your health so we also recommend a good travel pillow especially for long flights or trips. Find yourself a pillow that gives you adequate neck support to avoid any injuries.

Finally, it always helps to know a few phrases in the language of the country you're visiting. In the weeks leading up to your trip, try spending a bit of time every day on a language learning app like Duolingo just to familiarise yourself with the basics. You can also download that particular language on your Google Translate app to make sure that it's available offline.

Did you find this article useful?
If you did, please follow us on our social media accounts on LinkedIn or Instagram. Please share the article with your friends or colleagues!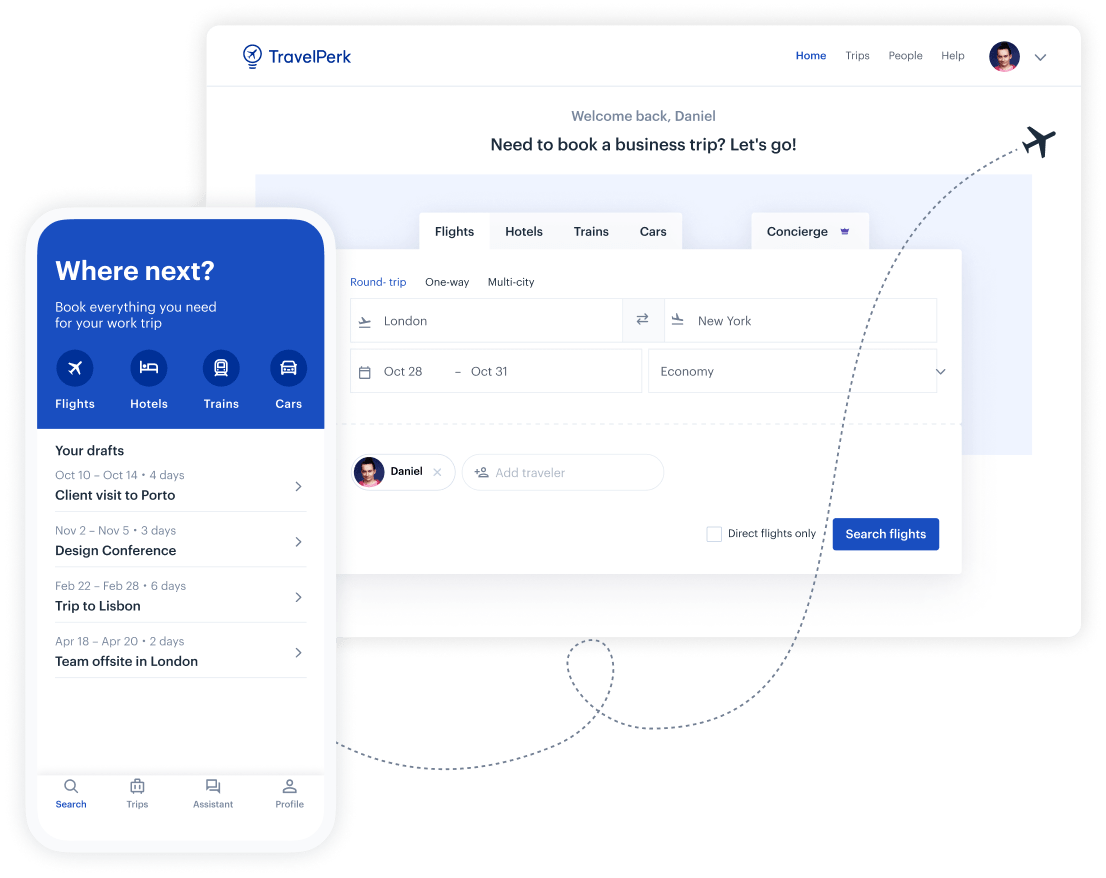 Make business travel simpler. Forever.
See our platform in action. Trusted by thousands of companies worldwide, TravelPerk makes business travel simpler to manage with more flexibility, full control of spending with easy reporting, and options to offset your carbon footprint.

Find hundreds of resources on all things business travel, from tips on traveling more sustainably, to advice on setting up a business travel policy, and managing your expenses. Our latest e-books and blog posts have you covered.

Never miss another update. Stay in touch with us on social for the latest product releases, upcoming events, and articles fresh off the press.