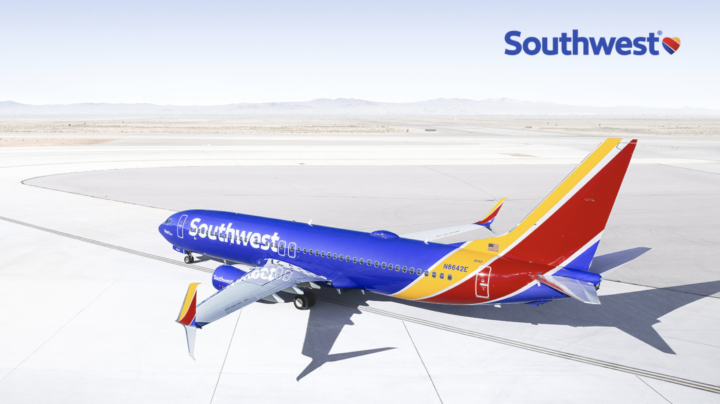 We are overjoyed to announce our partnership with Southwest Airlines®! TravelPerk customers can now book any Southwest flight directly on the TravelPerk platform - a one-stop-shop! It's one of the largest airlines in the US, which operated over 4000 daily flights during peak season in 2019. This represents a huge milestone for TravelPerk in broadening our US-based inventory, as one of the first non-US travel management companies to enter a partnership with Southwest Airlines.
Everything you need to know about Southwest Airlines®
You already know that they're an incredibly significant player in the US market. In fact, until the pandemic, roughly 1 in 4 domestic travelers chose Southwest for their travel needs, and they are one of the world's largest low-cost carriers. Based out of Dallas, Texas, Southwest Airlines has been in operation for 50 years and is celebrating its 50th anniversary in 2021. From its humble beginnings of serving just three cities, the carrier today serves more than 100 destinations across the United States, Latin America, and the Caribbean. Prior to the pandemic, the carrier was transporting more than 130 million passengers on an annual basis.
What that means for TravelPerk customers
TravelPerk is one of the few consumer-grade platforms that offer Southwest's inventory directly to customers. TravelPerk users can enjoy the most extensive inventory for US domestic flights from all 4 of the US's main airlines including American, United, Delta, and now Southwest Airlines. Together, they account for almost 90% of the total commercial flights in the US, giving our customers the greatest possible range of options.

All of Southwest's perks delivered straight through your TravelPerk account:
Shop for a Southwest Airlines ticket
Change any flight and only pay the fare difference as the carrier has always refused to charge change fees
Complete a Southwest Airlines booking straight through our platform
Select Southwest Airlines's "EarlyBird Check-In" option for your booking
Add Southwest Airlines - Rapid Rewards
See Southwest Airlines family fare benefits while shopping
Access deferred ticketing
Apply unused funds (ticket credits) as a form of payment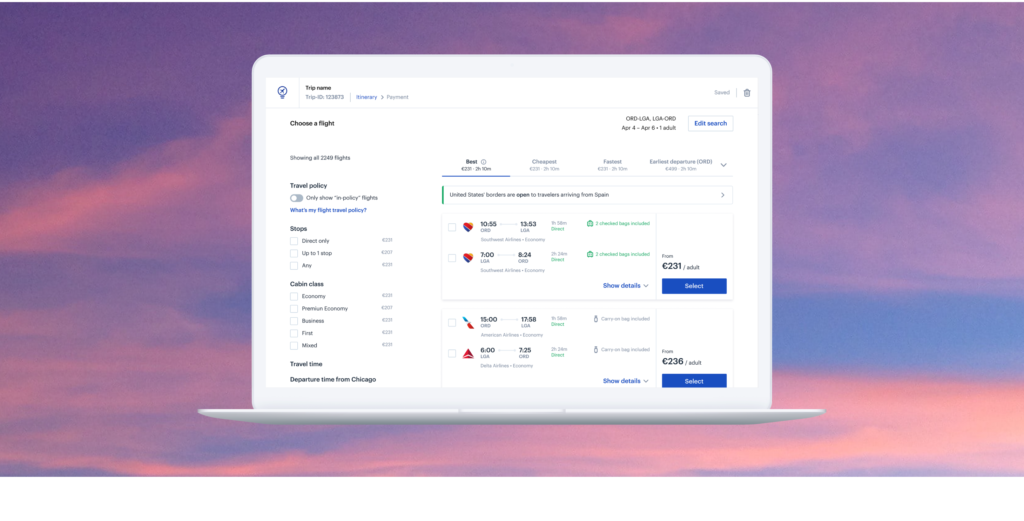 A growing inventory for the business traveler of today and tomorrow
As one of the first travel management platforms outside of the United States to integrate Southwest Airlines content, we are in a unique position to keep growing in the region. Through this partnership, we are combining our global inventory with the most relevant local partners, and creating cutting-edge technology to manage business travel.

The "next normal", or the time in the wake of the coronavirus pandemic, will pose a new set of challenges for business travel. At TravelPerk, we spent 2020 future-proofing our product and anticipating our customer's needs for this new reality. We realized that it would be centered on safety, flexibility, a large inventory, efficiency, and cost-effectiveness.

That's exactly where Southwest Airlines comes in. Having a broad and global inventory in TravelPerk's centralized platform will save time and money. It will give you the chance to easily compare the best offers on flights, trains, car rentals, and hotels all in one place. Being able to choose and make informed decisions based on prices, availability, flexibility, and more will mark the way we manage business travel.

The future is here. TravelPerk is ready for it.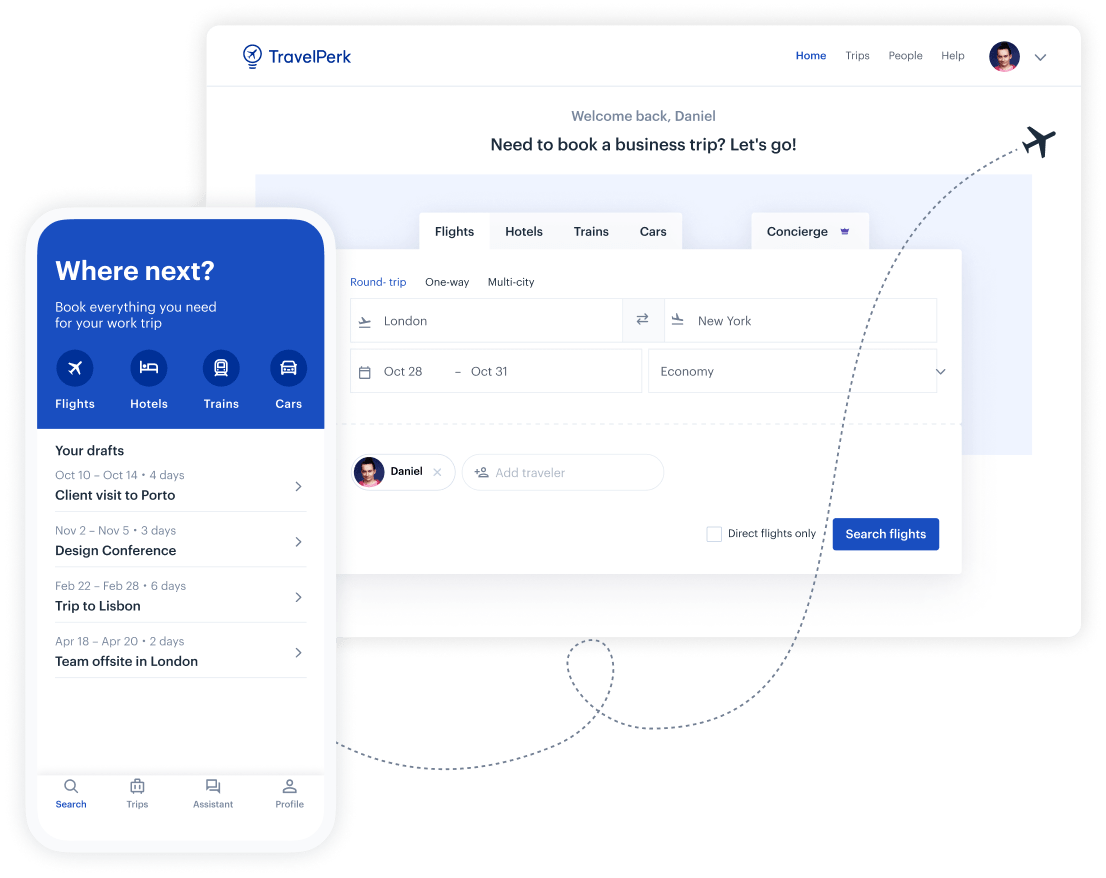 Make business travel simpler. Forever.
See our platform in action. Trusted by thousands of companies worldwide, TravelPerk makes business travel simpler to manage with more flexibility, full control of spending with easy reporting, and options to offset your carbon footprint.

Find hundreds of resources on all things business travel, from tips on traveling more sustainably, to advice on setting up a business travel policy, and managing your expenses. Our latest e-books and blog posts have you covered.

Never miss another update. Stay in touch with us on social for the latest product releases, upcoming events, and articles fresh off the press.