We have some exciting news to share following a year of explosive growth. TravelPerk has just closed a massive financing round with investors who are hot on the EU tech scene, including Target Global and Felix Capital. If you're wondering how this impacts you, keep on reading!
How did we get here?
After selling my previous startup Hotel Ninjas to Booking.com, I worked alongside Javier and Ron at Booking.com, where we built the great products that you've probably used when booking a weekend trip to London or a long family holiday in Greece. For several years, leisure travelers have been very happy with the online booking experience. We felt that this side of the global travel industry was well-served.

So then we turned our gaze to the business traveler, and realized that she'd been neglected for far too long.

Executives in companies would sit in their comfortable corner office, and make decisions that impacted the travelers' quality of life, without taking the traveler into account. It was all about cost reduction and efficiency.

And guess what happens? When today's traveler is asked to use an obsolete, clunky and frustrating travel agent service, they say "yeah right" and book their trip on Expedia instead. This results in tons of time wasted, loss of control, and lack of financial visibility into what is a very significant expenditure for many companies (often the second largest controllable cost after payroll).

Coming from the leisure side of travel, we found ourselves scratching our heads, not understanding how business travelers didn't have access to the travel options and appealing user experience that leisure travelers do.

We had found a huge pain in a massive market ready for disruption.
So we decided to fix it
We raised initial funding from top investors such as LocalGlobe, Spark Capital, Sunstone and a group of amazing individual investors and immediately got to work.

Since then, we have built the world's first and best consumer-grade, all-in-one platform to manage your business travel.

Our 1000+ customers absolutely love what we've built. Companies such as Uber, Typeform, Transferwise, GetYourGuide, and Outfittery are using TravelPerk to manage their corporate travel, and it's saving them countless hours and tons of money. Plus they ENJOY using the product, which is as important as saving cost, if not more.

Our early customers felt the pain of corporate travel so heavily. All that time wasted booking trips. All those late nights providing support to travelers on the road. All the frustration of chasing invoices and expense reports. All the confusion over where the money was going.

Without your support and feedback and trust—without you betting on us to fix these problems—we wouldn't be in this position to rapidly scale our solution.

And as the title says, we have just closed a fresh round of funding. We raised $21m from new investors Target Global, Felix Capital, and Amplo, and with the backing of our existing investors Spark and Sunstone.
Cool, why should I care?
Raising this massive round means that we're going to do much more, faster and better. And you, our customer, will be the one benefiting from this. You will see important improvements in three areas in the coming few months:
1. We're taking the traveler's mobile experience to the next level
Until recently, we have been focused on building our web application, because the first user we served was the office manager/travel arranger in small and medium-size companies. While we keep working on features and products for this user, in 2018 we are going to heavily invest in the traveler experience.

We wanted to build a native app that would serve as the foundation for so many upcoming upgrades for the traveler. Our mobile app is in beta, already being used by customers, and will be rolling out to the app stores really soon.

TravelPerk will be with your travel companion that's with you in your pocket while you travel, whenever you need us. We'll help you stress less during your trip.

Our AI assistant will alert you when something changes unexpectedly (yes, French air traffic controllers, I'm looking at you). Plus, you'll be able to reach us directly from the app to accommodate any change you need us to make. And we'll even help you check-in and get through airport security faster, and a whole lot more.

Our mobile app will nicely complement our web application, and create a more complete and enjoyable experience for you, the traveler.
2. You'll be able to find even more bookable inventory on TravelPerk
We built the world's largest bookable inventory allowing you to book almost any flight and hotel you see online. Thanks to the new funding round we'll be able to add more services that you've been asking for. Expect to be able to book more within the app very soon. As of today you can book some trains and cars, and also with AirBnb.

We'll be adding even more inventory and taking it to the next level so you can really manage and track all travel in one place.

We're also doubling down on our work with our partners. Here's what's really exciting: hotels will get MUCH cheaper very soon, as we're getting access to unique inventory that you can't find anywhere online.
3. Our UX is about to get even better
We're already leading the path by bringing a consumer experience to business travel, something that was never done before. But we're just starting.

Expect our product to keep improving and to be more intuitive, to know you better, and to make your life easier and less frustrating. At least when it comes to managing your travel.

By the way, we wouldn't be able to keep improving the product if it weren't for the ongoing honest feedback that we're getting from our users. Please keep sending us requests, suggestions and comments (I'm available at avi@travelperk.com). We try to take everything into account, and we always prioritize what to build next according to the impact we expect it to have on you, our end user.
Thank you!
TravelPerk customers, we love you. You've been so patient. You've allowed us to focus on building something that seems incredibly basic, a booking platform, because you felt the pain. And now that the booking pain is out of the way, we can move on to the stress and frustration felt by the traveler on the go.
So tell us what you need. We're listening. We have more resources and more passion than we've ever had before. We're ready to travel with you, get you out of sticky situations, and make your day super smooth.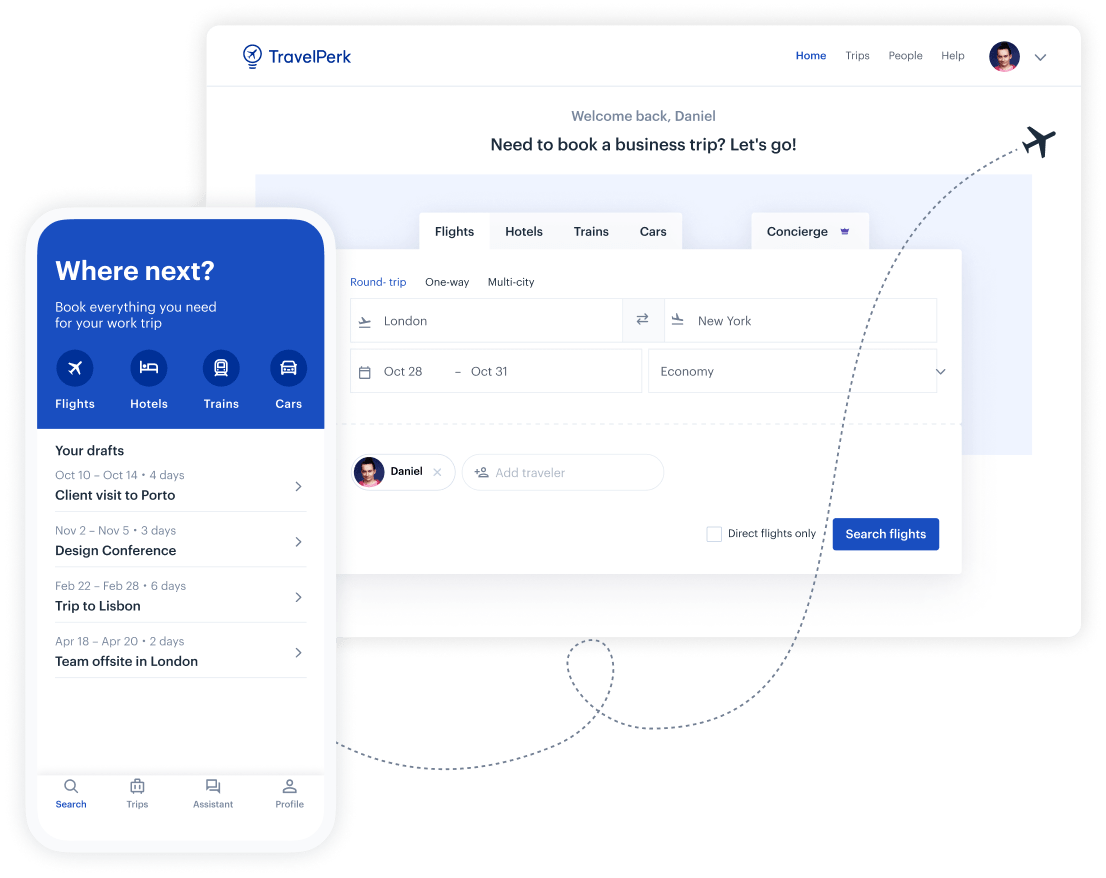 Make business travel simpler. Forever.
See our platform in action. Trusted by thousands of companies worldwide, TravelPerk makes business travel simpler to manage with more flexibility, full control of spending with easy reporting, and options to offset your carbon footprint.

Find hundreds of resources on all things business travel, from tips on traveling more sustainably, to advice on setting up a business travel policy, and managing your expenses. Our latest e-books and blog posts have you covered.

Never miss another update. Stay in touch with us on social for the latest product releases, upcoming events, and articles fresh off the press.