Grüss Gott! From its fairytale castles to its charming festive markets to its picture-perfect lakes and rolling hills, Austria has so much to offer for team-building activities.
Austrian culture is recognized for its characteristic way of enjoying life (a concept called Gemütlichkeit), giving importance to things that encourage a feeling of warmth and community—like art, coffee, and sports. Allow Austria to inspire your team and draw on these values for a successful corporate team-building event that encourages employees to build strong relationships while truly enjoying themselves.
With in-person team-building activities gaining popularity again after the pandemic, 88% of businesses are making sure to fit them into the company calendar: they're a must for building cohesive teams and employee engagement.
Whether you're based in Austria or just visiting for a few days, we've done the legwork and compiled a list of the best team-building activities Austria has to offer. From Vienna to Salzburg to Innsbruck, we've left no stone unturned in our hunt for the most engaging, memorable team events around.
Let's get started!
Austria's top 10 unmissable team-building events
1. Vienna city hunt: explore the beautiful capital together
Let's start in Austria's capital, recently crowned the world's most liveable city for the third year running. Lying on the Danube River, it has a history that's bursting with famous names such as Mozart, Beethoven, and Freud. What could be better than discovering this extraordinary city's unique history by completing a team-building scavenger hunt?
Following a series of clues and challenges, your team will explore the city's best-known landmarks, as well as being tasked with finding hidden gems. Along the way, groups will test their knowledge of local trivia, solve riddles, and complete photo challenges. Each team will compete to score as many points as possible in the allotted time to win.
Scavenger and treasure hunts are a brilliant choice of team-building activity: they develop problem-solving skills, add a dose of team spirit, and demand effective teamwork.
2. Ice-skating and a Christmas market in Vienna: the winter edition
When in Rome... do as the Romans do! But, what do the Viennese do? Vienna is a perfect destination to visit around Christmas time, filled with heartwarming traditions and soul-warming glühwein. If you want to experience how the Austrians celebrate, this day out is the ideal team-building activity for you and your team.
First stop, ice-skating! The Rathausplatz is the city's most popular ice rink among locals and tourists alike. Open from mid-November until late January, the eistraum transforms the iconic Rathausplatz square into a huge ice skating rink.
Better still, the city's most famous Christkindlmarkt (Christmas market) is just around the corner from the ice rink, typically sitting under the enormous Rathaus Christmas tree. It's the centerpiece of Austrian tradition, selling everything from roasted chestnuts to Viennese pastries to Fladenbrot (traditional flatbread with toppings).
This immersive cultural experience will provide a really memorable team event, as well as a glimpse into Austrian traditions.
3. Culinary tour: discover Austria's most tasty traditions
Vienna is known around the world for its artisan pastries, chocolate, and confectionery, part of its historic coffee house culture. Experience Vienna's sweet side by visiting the best bakeries, pastry shops, and chocolatiers the city has to offer.
You'll stroll through the city's old town, past its most iconic landmarks, and make three stops along the way.
The first two stops are for the sweets: you'll try strudel, homemade ice cream, artisan hot chocolate, and pastries. Next, you'll head to the third stop, where you'll get to taste Austria's most famous savory dishes, including goulash, schnitzel, and spinach dumplings.
As far as incentives go, this food-meets-walking tour is brilliant for getting your team to experience some authentic Austrian culture while getting to know each other in a relaxed, casual setting.
4. Paint your own souvenir: unleash your creative side in the capital
Painting a souvenir is a brilliant way to get those creative juices flowing with no pressure to create a masterpiece. You'll be able to choose between snow globes, mugs, or magnets, with stencils of typical Viennese motifs and step-by-step instructions from a professional artist for the beginners in your group.
With snacks provided, you'll have two hours to paint a variety of souvenirs—which you can either keep for yourself or gift to friends and family.
In this intimate setting, your team members will have the opportunity to discover each other's hidden talents while unwinding in a relaxed setting. It's a great icebreaker for new teams and for consolidating existing relationships—a quaint reminder of your team-building trip.
Struggling to keep track of everything that's going on at your corporate team-building event? Our ultimate team offsite agenda is your solution.
5. Hiking in the Austrian alps: build trust and communication alongside breathtaking views
There are around 140 mountain ranges and peaks in Salzburg, with alpine hotels and huts available all year round. All of these boast a wide range of possible team-building activities.
This one is ideal for the warmer months, and there are numerous hiking trails across the region, suitable for a range of abilities from leisurely beginners to sporty enthusiasts. There's also a vast range of hiking programs available, so here are a couple of recommendations:
As well as the physical aspect of the activity, the views you'll experience will be unlike anything you've experienced before. With vast green expanses and deep blue lakes, the Austrian alps are a breathtaking place.
Innsbruck, the capital of the state Tirol, is also a brilliant option for getting your team up on their feet and into the mountains. The routes are very accessible, with cable cars up the mountain and an abundance of hiking routes.
What makes Innsbruck stand out as a hiking destination is its free hiking program. Running from May to November, you can get a guide and rent your hiking gear for free!
6. The Sound of Music tour: exploring Salzburg as the iconic film location
There's nothing better for team bonding than taking a trip down memory lane together. Set in Salzburg, The Sound of Music is an all-time classic, which many of us will have grown up with (if not the film, then at least the soundtrack!).
Highly rated by over 5,000 reviewers, this tour provides a highly original outdoor team-building experience, combining history with sightseeing in a hassle-free trip around the city.
Tours are held in English, and you'll be shown around iconic sights, including Leopoldskron Castle, Nonnberg Abbey, Lake Wolfgang (where the Von Trapp family house is located), and Mondsee Cathedral. Each sight appears in the film. Your guide will test you throughout the journey on amusing trivia related to both the film and the city.
Your team will feel like they're traveling through a film set while learning from your local guides and taking in the stunning architecture and scenery around.
7. Create your own Winter Olympics: get your team to go for gold
If your team enjoys more physical activities, this 'old-fashioned Winter Olympics' activity designed specifically for corporate teams is the one for you!
Using old techniques such as wooden 'carving' skis, this is the perfect opportunity for you and your team members to try something new while taking a big step back from your desks.
With activities such as sack sledding, 'partner-skiing' (which looks much easier said than done!), and a snow show relay race, your team can use this valuable time together in a different setting to work on team cohesion and communication. You'll leave with long-lasting memories and a newfound love of the Austrian mountains.
8. Bubble soccer in Vienna: the ideal ice-breaker
Release some energy and get your team members moving with Bubble football! Guaranteed to bring plenty of laughs and increase the feel-good factor, your workforce will love this team-building activity, also known as Zorb Football.
The activity is best described as a take on 5-a-side football, while wearing an inflatable zorb ball. There are numerous games to choose from, including Last Man Standing, British Bulldog, and Bubble Bowling.
Chances are, most of your team will be unfamiliar with the activity, so you'll have the opportunity to learn something new together, allowing plenty of room for mistakes and lots of smiles along the way.
Suitable for small and large teams alike, this original, engaging activity is supervised by accredited workers. With changing rooms, showers, a bar, and function rooms, you'll be all set for a brilliant afternoon.
9. Global Innovation Game: test your team's pitching skills, Dragon's Den style
If you're looking for a team-building experience that'll really help your team hone their innovative and creative skills, the Global Innovation Game is for you. It's a rewarding, fun activity that'll engage and energize your team members.
The aim of the game is to put together a successful pitch (based on an object, service, or tool) without the use of search engines, PowerPoints, and screens in general.
Your team will need to think outside the box and rely on good communication to develop the winning pitch! The activity comes highly recommended for corporate groups, with multiple stellar reviews.
10. Private Innsbruck city tour: get to know the historic city with the help of a local guide
The best way to get to know a new place is with a walking tour—especially when your guide is from the area and helps you get a feel for the place.
With tours available in English and German, this tour of Innsbruck helps you get under the skin of the historic city, which has held two separate Olympic Winter Games in 1964 and 1976, and the famous battle against Napoleon in 1809.
Aside from its rich history, Innsbruck is also known for its speckknödel (Austrian bacon dumplings), local wines, and freshly-baked pretzels. It's a place that is well worth an in-depth visit, providing a memorable team-building experience absolutely brimming with culture.
Experience Austria while building a stronger, more engaged team
As you've probably gathered by now, Austria really is an ideal location for a vast variety of team-building events. Now, all you need to do is plan your trip!
If you're interested in learning more about travel management, look no further, and sign up for a free demo with TravelPerk today. Until then: Servus!
Start saving money on business travel for your company today!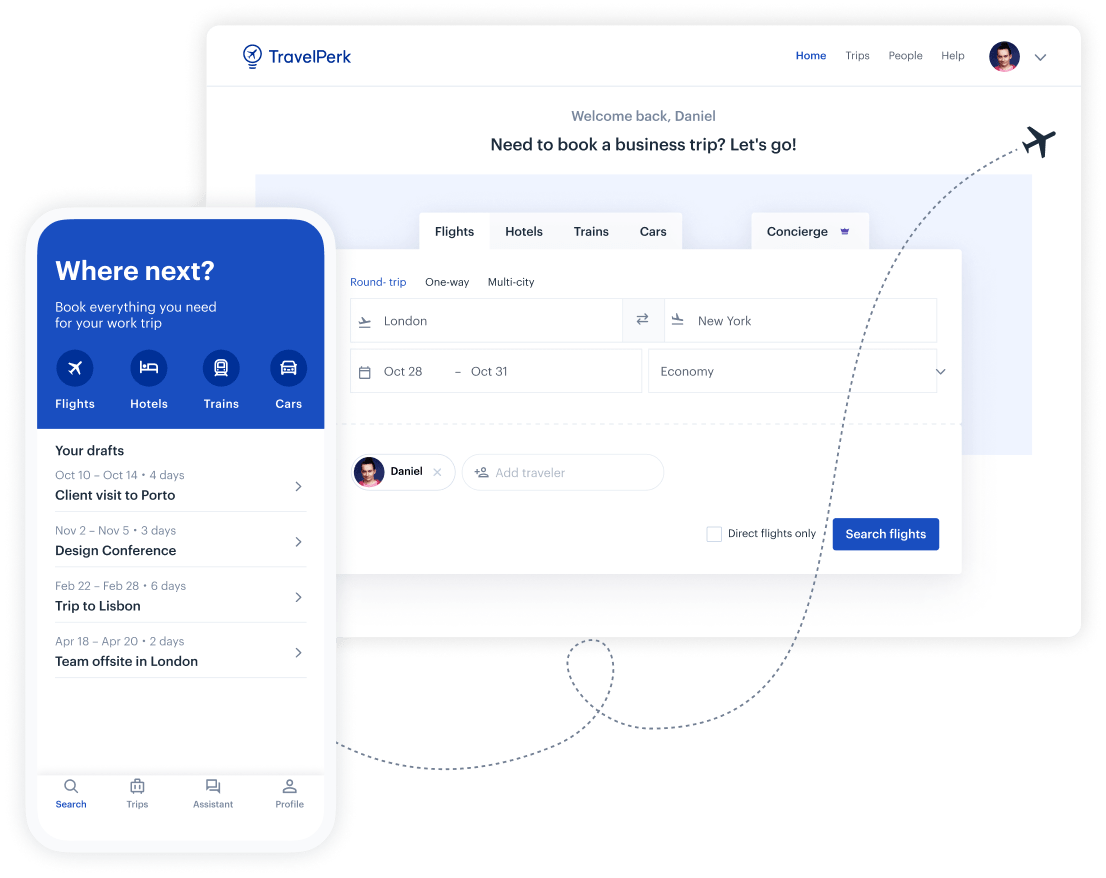 Make business travel simpler. Forever.
See our platform in action. Trusted by thousands of companies worldwide, TravelPerk makes business travel simpler to manage with more flexibility, full control of spending with easy reporting, and options to offset your carbon footprint.

Find hundreds of resources on all things business travel, from tips on traveling more sustainably, to advice on setting up a business travel policy, and managing your expenses. Our latest e-books and blog posts have you covered.

Never miss another update. Stay in touch with us on social for the latest product releases, upcoming events, and articles fresh off the press.